Gone are the days when we usually see 14″ or 15″ for large-size laptops. Now, companies are delivering models with even bigger displays, such as 16-inch, or even many are available with 17-18-inches in the market. The second generation of Acer's 16-inch high-end laptop, the Acer Predator Triton 500 SE (PT516-52s-73YD) is the 2022's latest addition to the company's Predator lineup. It features a strong 12th-generation Intel processor and a screen with a refresh rate of a blistering 240 hertz. It's not cheap, although if you're looking for a powerful option for extreme gaming, this is it, and it won't weigh you down too much.
The Acer Predator Triton 500 SE (2022) is a stealthy behemoth capable of getting you through almost an entire day when doing your usual office or study work. In addition, if you use your free time to charge up, you'll be ready to crush all foes and return to work in no time. This Predator has an Intel Core i7/i9 processor and Nvidia's powerful 3070Ti/3080Ti graphics card with 8/16 GB of video memory to provide a fantastic gaming experience. The air ducts themselves have a forceful yet subtle design that piques your interest. Here, we will discuss the model with the i9 CPU and RTX 3080Ti GPU. But if you don't have enough budget for this version, you can go with the i7 and 3070 Ti specs and these configurations are well enough to operate most of the famous demanding games.
It's the first laptop to include an Alder Lake processor, and we will see in this Acer Predator Triton 500 SE PT516-52s-73YD (2022) review how much this technology can offer and how well it can perform. We anticipate significant improvements across overall productivity, graphics, and battery life. The laptop has an FHD 1080p IPS display with 2560×1600 resolution, and 240Hz refresh rate and is Nvidia G-Sync-compatible. The Predator Triton 500 SE is a premium-looking notebook that is both lightweight and slim thanks to its silver coating. Furthermore, the Triton 500 SE includes a slight indentation between the hinges that contains the LED charging indicator lights. After this short intro, let's dive into the detailed review of Acer Predator Triton 500 SE (2022).
Acer Predator Triton 500 SE Specifications
| | |
| --- | --- |
| Processor | Intel i9-12800H up to 5.0GHz turbo boost |
| RAM | 32GB DDR5 |
| Storage | 1TB PCIe Gen 4×4 SSD |
| Display | 16″ WQXGA DCI-P3 100% IPS LED-backlit G-Sync |
| Display Resolution | Full HD (2560 x 1600) |
| Touch Screen | No |
| Screen Refresh Rate | 240 Hz |
| Graphics Processor | Nvidia GeForce RTX 3080 Ti 16GB GDDR6 |
| Wireless Networking | Wifi 6E |
| Dimensions (LxWxH) | 14.11 x 10.33 x 0.78 inches |
| Weight | 5.29 pounds |
| Operating System | Windows 11 Home |
| Battery Life | 4:30 |
Acer Predator Triton 500 SE (2022) Display, Design, and Build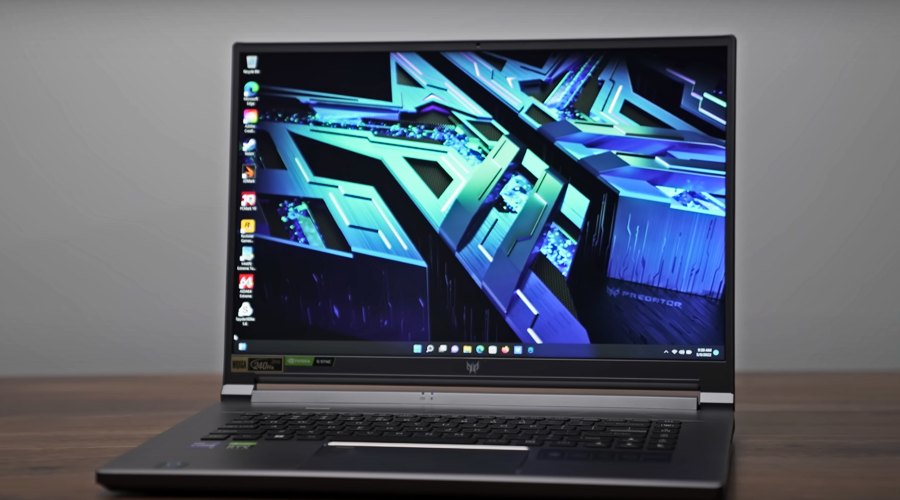 Having a 16:10 ratio instead of the more common 16:9 on the 2,560×1,600 resolution display is a nice touch. Even though it isn't a huge change, I'm glad that the larger display is the perfect feature for proper gaming. In almost every category, the panel performed better than its rivals. The screen is a visual feast, with its brilliant hues and sharp clarity. You will get solid and clear graphics if your laptop has a screen panel with a 240Hz refresh rate and 500 nits maximum brightness. Furthermore, such a high brightness level lets you use your system even in bright sunlight.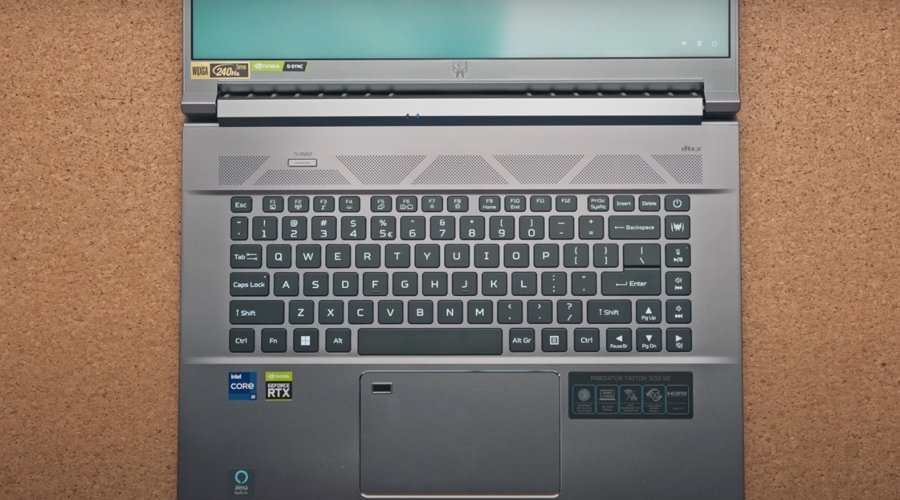 I think it's incredible when a gaming laptop can blend in with its surroundings. Triton 500 SE's gaming aggression is greatly exposed by its RGB backlit keyboard and gently hostile ventilation layout. The Acer Predator is an elegant and charming notebook made entirely of aluminum and comes in a gun-metal grey finish. Weighing 5.29 pounds, this laptop has dimensions of 14.11 by 10.3 by 0.78 inches. Despite it has weight just a hair above 5 pounds, its balanced design makes it feel much lighter. Furthermore, the laptop's lightweight and compact design makes it ideal for gamers who want to bring their gaming on the go.
You'll notice the Predator logo at the bottom of the screen bezel on the front side. Its upper area houses the high-definition camera, shown to be 1080p in resolution. The speakers don't pump out a lot of audio, but still, the quality is sharp and clear. The sound base is weak, although you can still pick out layered music. The laptop's Thunderbolt 4 port, Ethernet jack, USB Type-A, charging dock, and headphone jack are all on the left side. While an SD card reader, USB Type-A, Thunderbolt 4 connector, and an HDMI port are on the right.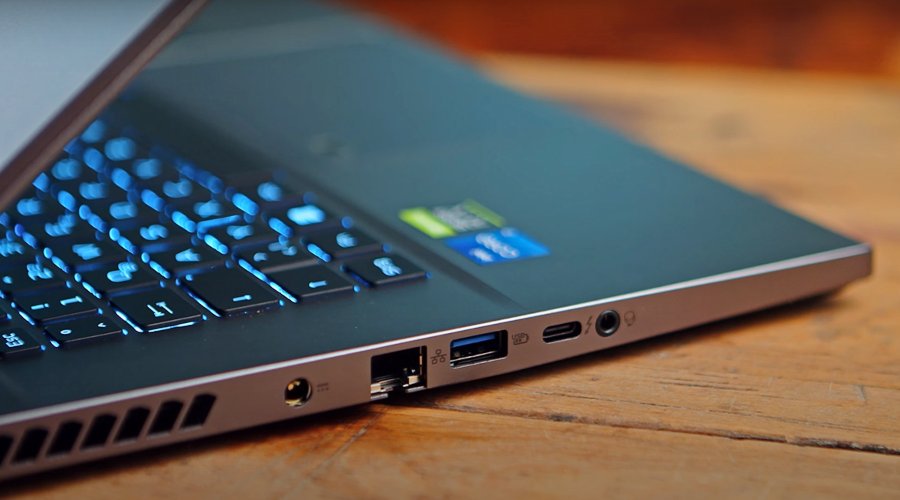 Regarding the deck itself, the keyboard is not top-notch for gaming to me, but it is acceptable to do the job. Although the keys are reasonably tactile and uniformly distributed, the keyboard as a whole seems a little tight. The mellow Corning Gorilla Glass touchpad, though, is a welcome addition. Although it is not utilized during the gaming session, as the players always attach the best gaming mouse separately, this pad is still enjoyable for regular navigation. The three-zone lights of the Acer Predator Triton 500 SE (PT516-52s-73YD) are controlled by the built-in PredatorSense application. Common to devices of this type, the software grants access to settings for adjusting airflow, controlling the system, and enabling overclock.
Acer Predator Triton 500 SE Performance and Hardware
To no one's surprise, the assessments reveal that the Acer Predator Triton 500 SE (2022) ranks among the best Acer gaming laptops and even the best among all companies' models. This system will serve you perfectly if you want higher fps (60 or even more) in 1080p or 1440p visual settings. Let me say right off the bat that this machine is a 1440p (QHD) gaming monster.
The Predator Triton 500 SE, powered by an Intel Core i9-12900H processor, a large 32GB of DDR5 RAM, and a fast 1TB PCIe NVMe SSD, promises to provide its users with an incredible experience beyond the scope of simple gaming. To offer exceptional graphics in the games, this Acer laptop for gaming comes with an Nvidia RTX GeForce 3080 Ti graphics card with 16GB DDR6 video ram.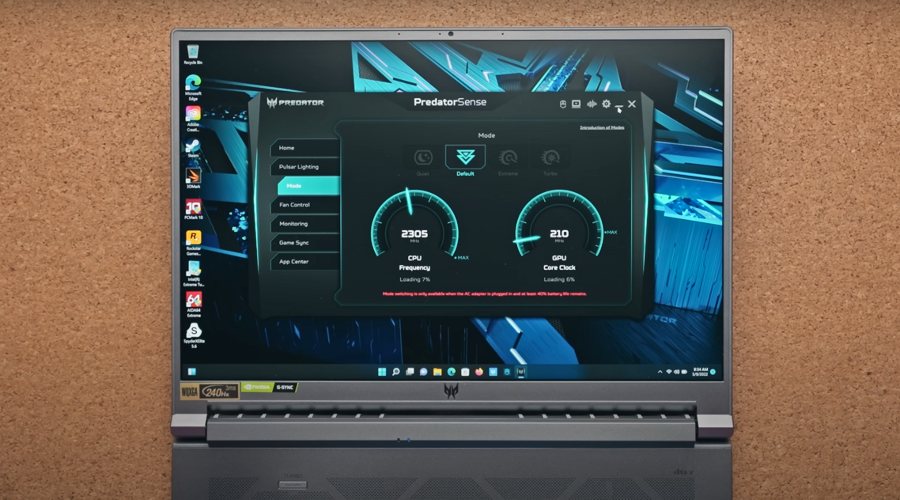 The 3080 Ti had no trouble running Assassin's Creed Odessy/Valhalla, and I was able to go crazy around the countryside, destroying villages and towns at a smooth 70-80 frame rates with no freezing or sluggishness occurring at any point. Red Dead Redemption 2, being one of the most graphics-intensive video games, ran at 90-100 frames per second (fps) on average in 1080p (FHD) and 70-80 fps in 1440p (QHD). The Triton 500 SE averaged only 110-115 fps in the GTA 5 benchmark at 1080p and high graphics level.
When I played the God of War on ultra settings with uncapped fps with the visuals entirely operated by the GPU, the game looked beautiful, the graphics were crisp, and I didn't encounter any hiccups while playing. Having Quality DLSS enabled, I could maintain a steady framerate of about 75.
Every game I tried ran smoothly, from first-person shooters, including CS:GO, Call of Duty, Borderlands 3, and Far Cry 6, and strategy titles such as Elden Ring, Age of Empires, and Civilization. Visually, they were stunning, but then again, an Nvidia RTX 3080 Ti 16GB GPU is specially designed for that and that's the same we want from this powerful card. Even when I had many players or objects closer to me, I could still play at high or ultra graphics without any delay. The Predator Triton 500 SE is designed from the ground up to be a gaming laptop, and it performs the task with all the elegance and precision befitting a device of this caliber.
You can imagine such fantastic performance places a heavy burden on the hardware, and that's the area where this Predator 500 SE laptop shows one weakness. While running benchmarks and tests, I consistently saw 90 degrees or higher levels of temperature, even when using it for tasks other than gaming. Even with Acer's AeroBlade 3D fans technology, the laptop reaches a heating level above par. The temperature hits around 90° Celsius following a couple of hours of gameplay.
Using the trackpad became extremely hard as the laptop's interior temperature rose to unbearable levels. Avoid keeping your laptop in your lap while operating for extended periods. It won't take long for that to become weird. You'll get as much fan noise and heat out of the Acer Predator Triton 500 SE (PT516-52s-73YD) as you could have guessed from its internal specifications. But you shouldn't worry too much if you experience high temperatures for some duration, as this is a common issue with most high-end gaming machines. We know that the computer gets very hot when the system uses high resources during demanding games and other heavy workloads.
Acer Predator Triton 500 SE Battery Life
As far as battery life goes, it is respectable for this gaming laptop having such powerful specifications. During the continuous web browsing and watching the videos, the battery survived for 8 hours and 30 minutes before we needed to charge it again. However, while playing games at a high graphic setting, the battery life plummeted to under 10% in just over an hour and fifteen minutes, necessitating a recharge.
As a consequence of their hardware, premium gaming laptops consume a lot of power, but this is a compromise that any gamer needs to endure. The Predator Triton's 8 hours or more of standby time for typical daily work isn't enough to overcome its understated design and impressive qualities as a content creator. Still, they're more than enough to seal the deal. In conclusion, this slim and lightweight Acer Predator gaming laptop is perfect for everything and may last an entire workday. However, if you'd like to play while traveling, you'll need to bring an adapter.
Is Acer Predator Triton 500 SE (2022) Worth the Value?
The Acer Predator Triton 500 SE is an attractive gaming laptop that also serves admirably as a desktop replacement or media production machine because of its high-quality design and build quality. It's stylish enough for your workspace and functional enough for your game room. This sleek gaming laptop is equipped with a powerful Intel Core i9 processor and Nvidia's 3080Ti graphics processing unit, providing more than enough processing capacity to outperform others in the games or complete graphics/editing projects, do coding and manage big data records.
If you're looking to play the current PC games in 1440p with little to no sacrifices or completely dominate in full HD 1080p graphics, the Acer Predator Triton 500 SE is an excellent choice, especially now that Acer has implemented a decent thermal dissipation technology. The top-notch display and cutting-edge internal components are evident at a glance. With its blistering acceleration, this system is built to last for a lot longer period. I heartily endorse the Acer Predator Triton 500 SE for stealth gamers who are also multitasking ninjas.
More Laptop Reviews: