Currently, no one can argue that Dell has been slacking off. After only a year, Dell launched a new edition of Alienware's flagship gaming laptop (Alienware x17), having 17.3 inches in size, and packed with the most advanced graphics card. Today's article brings a comprehensive and complete Alienware x17 review, and we will look at different features, positives, and negatives.
If you're in the market for a gaming laptop, Alienware has you covered. One of the most recent additions to the lineup is the Alienware X17, a powerful yet thin computer substitute. Intel Core i7, Nvidia GeForce RTX 3080, and two SSDs are included in the super-duper setup. Is there anything else you'd like? A Cherry MX keyboard, strong speakers, and a 17.3-inch 4K display?
Styles are diverse when it comes to top gaming laptops. However, many prefer the classic black-and-red scheme, and some go all out with RGB lighting. Some gaming laptops have become more delicate and sophisticated than they were earlier; this is the latest standard in the industry. If Alienware's latest offering is anything to go by, it may be perhaps the most understated and sleek to date.
Visually, the Alienware x17 features softer corners and more connectors on the back, but this isn't all that's changed. Among other things, Dell has developed a unique thermal interface substance and a new quad-fan cooling system.
The graphics output of the X17's 3080 is 165W, and its boost clock speed is 1,545MHz. It's immense potential for a mobile graphics card, and it's close to Nvidia's maximum portable GPU power. Compared to other laptops we have reviewed, this one is the best in terms of graphics performance.
There is a price to pay, however, for this real innovation. You can get about a $3,600 laptop with a mechanical keyboard, high-end Intel and Nvidia chips, 2TB of storage, and more if you want. As a result, the x17 is primarily a laptop for the wealthy. To get a designer laptop, you'll have to spend on the trademark.
Design
Despite its lack of radical aesthetic changes, the Alienware x17 R1 has one unusual feature that immediately catches the attention when turning it on. Previously, the trackpad was only a black rectangle. Now, it's a colorful RGB quad. Even though this does nothing to help your gaming experience, it feels pretty.
In general, 17-inch gaming laptops are large, hefty, and designed primarily for performance beyond aesthetics. The Alienware x17, on the other hand, strives to be either slimmer and thus more capable beyond its competition, yet keeping a design that implies that it's exclusively prepared for advanced gamers. It is 0.84 inches in diameter, although it contains an Nvidia GeForce RTX 3080 and an 11th Generation Intel CPU, perfectly managed in one sleek construction.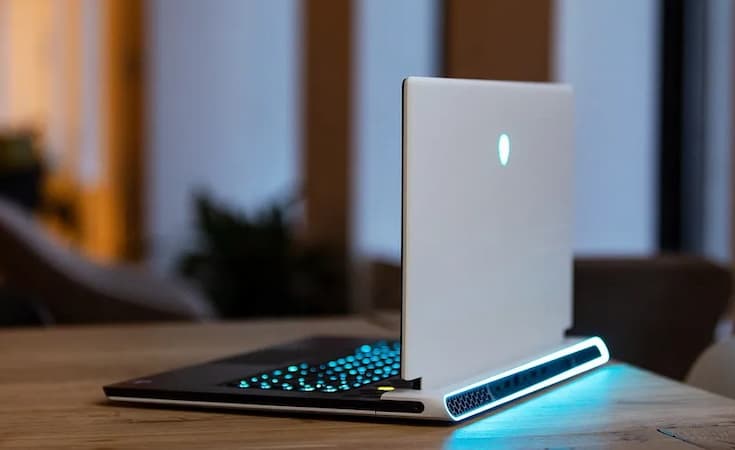 The Alienware logo shines softly, and a massive ring of lights encloses the USB ports on the back of the case. There is a sleek, recognizable white touch on the surface, but when the lid is opened, you'll find a dark inner that's perfect for showcasing the RGB and directing your attention to the screen.
Alienware refers to the laptop's lid and bottom as "lunar light," a light grey color. However, we will have to see whether or not the additional "strong persistence" clear coating of paint the manufacturer promises will keep it stain-free. For the first time in a few years, Alienware's trackpad is illuminated. However, there is a bit of a black accent surrounding the RGB.
The hexagon vents just above the keyboard are also back. However, a new innovative cooling mechanism is buried behind it. There are four internal fans and specific thermal interface substances in the Alienware x17 that Dell claims make it more remarkable than its predecessors, but the standard is somewhat lower.
Alienware x17 Display
In our Alienware x17 review, we examined a 17.3-inch model with a 16.9 display, 4k resolution, and a refresh rate of 120 Hz. It's also quite vibrant and has a great deal of color. Additionally, you are allowed to select whether you want 1080p 165 Hz or you will be happy to go with a 360 Hz display.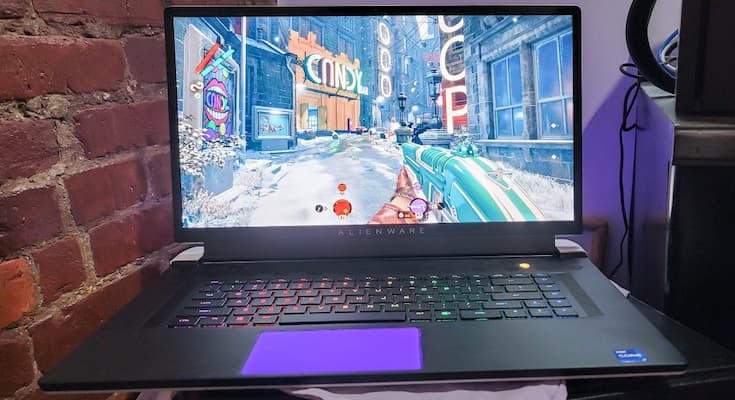 The combination of 4K resolution with a 120 Hz refresh rate is a strange one indeed. As strong laptop GPUs strive to maintain certain games running at 60 fps at 4K, 120 frames per second feel a little out of the ordinary. I think that might perform for certain independent games and also for 1080p gaming.
At 4K and 1080p, Deathloop ran fantastic on the Alienware x17. Some '60s orange colors appeared in the icy detailed level, which was an excellent contrast to the primarily dreary castles.
In our lab analysis, we found that the Alienware x17's display replicates 116.2 percent of the DCI-P3 color gamut, beating the rest of the pack by a large margin. Additionally, the x17 had an average brightness of 438 nits, significantly brighter than the other machines we examined. The MSI GE75 Raider, with 319 nits, would be the next finest.
Performance
Nobody should be surprised to learn that the Alienware x17 R1 is one of the greatest laptops for gaming, beating even the most potent gaming Desktops and emulating Alienware gaming PCs in terms of performance. Our 1080p benchmarking of Shadow of the Tomb Raider yielded specific surprisingly poor scores, but the x17 R1 never went below 60fps in all of the games we tried.
Having RTX 3080 graphics card, it doesn't sound right to compromise on processing capacity. The Alienware goes up blazing when it comes to performance, boasting an Intel Core i7-11800H processor, 32GB of RAM, and two 1TB M.2 NVMe SSDs in RAID 0. The X17 is a multitask killer. YouTube, Twitch, and other streaming services were among the 50 Google Chrome tabs I opened. Although I was playing Deathloop, the laptop didn't seem to slow down at all.
However, we don't receive anything that surprises us at 4K. The RTX 3080 isn't nearly as powerful as its pc counterparts. However, it's a fantastic notebook graphics card. For competitive games, such as Overwatch performing efficiently over 60 fps, whatever we tried was functional at 4K. It was true that RTX configurations had a performance impact, though it wasn't as awful as we experienced in previous-generation GPUs.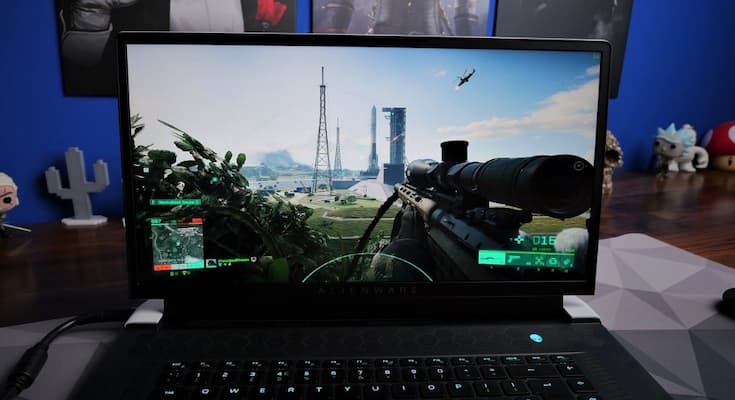 Many titles, such as tactical blockbuster Total War: Three Kingdoms, appear hampered by the x17 R1's CPU, resulting in lower benchmark scores than the other titles we tried. Observed CPU temperatures and examined Total War: Warhammer II, which had a similarly warm Processor.
Well, how can the quad-fan cooling mechanism fare? If you don't have a top-of-the-line gaming headphones, you'll observe that this laptop gets quite hot when playing games, and the fans have become incredibly loud when they're running in "performance mode." Despite our reservations about the new cooling system, we checked the stress on the processor and GPU without experiencing critically intense heat, so we can say that it does at least work.
We were more concerned with the venting sound, although the system was idle or executing non-intensive applications. Most people may find the high-pitched whining of the laptop while seated at their workplace to be annoying. In prior Alienware notebooks, this wasn't as noticeable because of the quad-fan arrangement.
Alienware x17 Cooling
A new version of Alienware's exclusive Cryo-Tech cooling technology has been developed to maintain the system's powerful components cool. The Gallium-Silicone matrix used in the Element 31 thermally conductive material provides a 25 percent increase in heat capacity over the material used in the previous generations of X17 devices with an RTX 3070 or 3080.
The Alienware x17 comes with four cooling fans, which makes it ahead of many other gaming systems. Usually, we don't see laptops having over two fans. According to Alienware, the quad fan technology is "a patent-pending industrial exclusivity." The fans' purpose is to circulate the air across the device and disperse any heat it may encounter. Users can set variable speeds to prioritize airflow for either the CPU or the GPU.
Thermal paste isn't enough for the Central Processing Unit. Alienware's Element 31 is a "gallium-silicone" substance that the corporation claims will make it possible to play for longer durations at a consistent speed. There is no Element 31 in Alienware's machines that feature RTX 3060 GPUs.
Keyboard and Touchpad
The Alienware X17's keyboard is an absolute joy to use. The X17 may be configured with Cherry MX's mega profile keys, just like the Alienware 17 m4. It's a little pricey, but the noise of the tap is worth the investment of $50.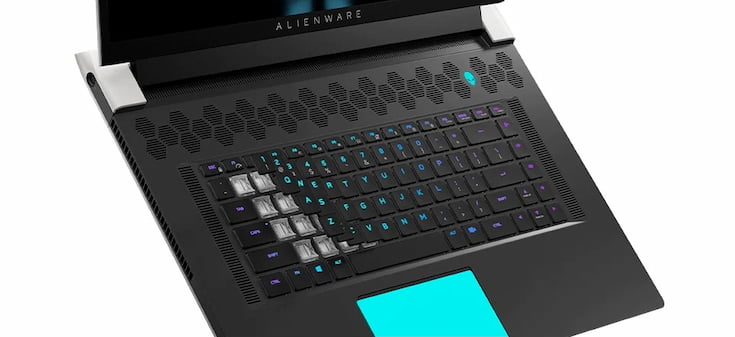 However, the buttons aren't just lovely to play with; they're also good to touch. My fingers seemed as though they were bouncing all over the place when I played the game. My fingertips don't ever hit a snag, and the response was solid.
A gaming laptop and an Alienware wouldn't be the same without the ability to customize a light display. I really can not wait to get into Alienware Command Center and play around with the lighting settings.
In the context of the trackpad, the illuminated touchpad is the most notable feature. Touching the input module triggers the unit to produce a light yet again. Having missed it, I'm glad to see it back in action. When I used Windows 10 movements like three-finger flick and pinch-zoom on the touchpad, it operated flawlessly.
Alienware x17 Battery Life
If you're looking for the most powerful processor and graphics card on the market, look no further. We expected the battery life of the Alienware X17 to be significantly less than that of other AMD-powered systems, like the Asus ROG Zephyrus, that we've tested recently.
A primary function of most 17-inch gaming laptops is to act as desktop substitutes. Short battery life is among these, as is the case with so many gaming laptops.
The Alienware x17 survived 4 hours, and 31 minutes on our battery test, which includes online surfing, streaming video, and performing OpenGL tasks while connected to Wi-Fi and with the display set to 150 nits of brightness.
Audio
The x17's speakers are a bit hit or miss. But the speakers are located beneath the laptop's wrist support and point outward. Gaming is OK with them. Deathloop's language was easy to understand, but the gunfire didn't have enough of an impact. There wasn't much to get excited about in the music in the background.
"How Not to Drown" by CHVRCHES lacked clarity, with a messy mix of drums, keyboards, and guitars. In Alienware Command Center, turning it to music audio preset didn't do much to improve things.
Final Words
Although the Alienware x17 R1 has a lot of noise, it's a powerful gaming machine that may be used as a desktop replacement. It's not just the reworked design that's eye-catching; it's also capable of running the most intensive titles in stunning 4K resolution.
Without a doubt, Alienware's new x17 gaming laptop is one of the most aesthetically pleasing devices I've seen in some years. Nowadays, gaming laptops are as beautiful and cutting-edge as they can be. The display, meanwhile, is a visual treat. When it comes to gaming laptops, it's unusual for me to keep enjoying staring at one.
In addition, Element 31 has a traditional cooling material and four fans. The device, though, got a little warm in our use and running tests. And while the x17 was workable and effective for most games, there were some occasions when overheating may have contributed to the laptop's lack of top-tier performance.
The price of the x17 R1 is going to be a significant turn-off for several prospective customers. A year's elite tech support is included. However, this is a high-end notebook, and it's not cheap. Laptops with RTX 3060 or RTX 3070 graphics cards will be less expensive, but the x17 R1 is a step above its rivals if you can afford it. That concludes our Alienware x17 review. Don't forget to tell us about your thoughts in the comments below.