Regarding gaming laptops, we can't complete our discussion without talking about the Acer brand, as it is among the top industry leaders, mainly thanks to its Predator and Nitro lineup of high-end gaming laptops. These Acer laptops are among the market's most vital and most pleasing. You can find them in various configurations to meet any requirement, such as competitive gaming, graphics/editing work, business activities, or educational tasks. To assist you pick a perfect laptop that can significantly enhance your gaming experience, we have listed some of the best Acer gaming laptops you can buy now.
In this tough competitive market where many contenders apply their marketing strategies to draw your attention towards their brand and products, you should be very careful before spending cash and buying any product. Research your desired product and then decide the best one suitable for you. We have also created this detailed guide to help you in this regard. You are at the right place if you want to buy a top-notch gaming laptop, even as a professional gamer.
Choosing a gaming system to fulfill your high playing demands is not easy because you have to look for certain things, but Acer usually does not disappoint its gaming users. The company aims to provide reliable performance without breaking the bank. Most users will find Acer's products appealing because of the high-quality displays, powerful CPUs/GPUs, strong batteries, and numerous connectivity choices that the company thoughtfully includes. These are the exact specifications any true gamer wants in his gaming machine. After going through this buying advice, you will hopefully find the best Acer gaming laptop that fits your needs and budget.
Best Acer Gaming Laptops: Our Top Picks
Acer Predator Triton 500 SE
Best Acer Gaming Laptop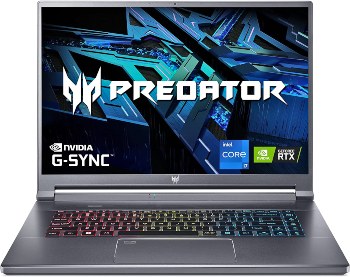 Powerful 12th Gen Intel CPU

Excellent gaming performance

Very thin and lightweight

Overheat and generate noise
Display: 16″ WQXGA (2560 x 1600) IPS LED-backlit Nvidia G-Sync | CPU: Intel Core i7-12700H 4.7GHz | GPU: Nvidia GeForce RTX 3070 Ti 8GB GDDR6 | RAM: 16GB DDR5 | Storage: 1TB PCIe Gen 4×4 SSD | Weight: 5.29 pounds | Dimensions: 14.11 x 10.33 x 0.78 inches | OS: Windows 11 Home
The Acer Predator Triton 500 SE is a top-tier 16-inch notebook and is our top pick in this list of the best Acer gaming laptops thanks to its extreme hardware configurations and gorgeous display with a high refresh rate. By having a powerful 12th Gen Intel Core Core i7-12700H processor combined with the latest 8GB RTX 3070 Ti graphics card, it offers a cutting-edge gaming experience.
Further, the 16GB of DDR5 RAM and 1TB of SSD enhance the overall processing speed of the system and allow you to multitask efficiently. Regarding the display, this Acer Predator Triton 500 SE gaming laptop features a 16″ 2560×1600 IPS display with 240Hz refresh rate, and it is also Nvidia G-Sync enabled. You can run the most popular games, such as Forza Horizon 5, Oculus Quest 2, Elden Ring, Modern Warfare 2, and Gear 5, at higher settings without facing any hiccups. The strong GPU and higher display refresh rates offer good fps in the titles.
It also comes with a great collection of ports, as you will find a power connector, USB Type-A 3.2 (Gen. 2) port, Thunderbolt 4 slot, and mic/headphone jack on the left side. The right side also features similar USB and Thunderbolt 4 connectors alongside the SD card slot and HDMI port. The battery can last between 8-10 hours while browsing the web, watching videos, and doing other regular chores. But you know that the battery juice drops fast if you do heavy gaming on any laptop. Because of its top-tier internal components, this laptop can handle any task at its absolute limit.
Acer Nitro 5 2022
Best Acer Laptop with Intel i9 CPU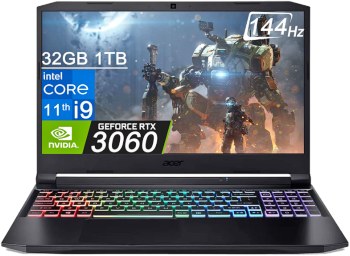 Powerful CPU for this price

Great price-to-performance ratio
Display: 15.6″ FHD (1920 x 1080) 144Hz IPS LED Backlit | CPU: Intel Core i9-11900H up to 4.9GHz | GPU: Nvidia GeForce RTX 3060 6GB GDDR6 | RAM: 32GB DDR4 | Storage: 1TB PCIe SSD | Weight: 4.85 pounds | Dimensions: 14.3 x 10.04 x 0.94 inches | OS: Windows 11 Home
Here is another beast gaming laptop from the top manufacturer brand. This 2022 refreshed edition of Acer Nitro 5 is stronger than our best pick Acer Predator Triton 500 SE, in terms of processor. It features an 11th-generation Intel Core i9-11900H CPU but comes with 6GB GeForce RTX 3060 Ti, this is where it falls short of the above model. That's why we have not picked it as our top recommendation because the graphics card matters more than the processor in gaming systems. However, you will still get solid overall productivity and can run most of your favorite demanding games.
Further, it comes with 16GB of DDR5, and 1TB fast SSD means everything works fine on this device whether you are gaming, performing editing tasks, multitasking, or streaming videos. Including massive 1TB storage is the best aspect for professional gamers as they can install as many games as they want while keeping their other personal or important data. The included Acer Coolboost technology can speed up its dual fans by 10% to ensure the laptop will not overheat, especially during a heavy workload.
Additionally, the sound quality of the dual speakers is fine as well. You will always know the exact position of your enemies by hearing the sound courtesy of DTS:X Ultra's crystal-clear audio and 3D sound ability. The keys on Nitro 5's keyboard are very soft to type, and the RGB lighting lets you use it even in the dark. You can type at lightning speed with no discomfort or fatigue. It's not just a laptop to play video games, but it is the best Acer gaming laptop that is even a solid performer for graphic designing or video editing tasks.
Acer Swift X (SFX14-41G-R1S6)
Best AMD Ryzen Acer Gaming Laptop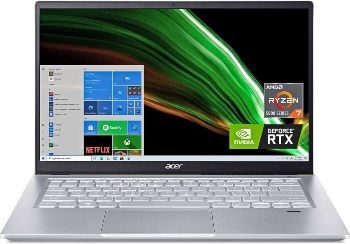 Very lightweight and portable

Strong 7th Gen AMD Ryzen CPU

Well-built RGB backlit keyboard

Not an amazing display for gamers
Display: 14″ FHD (1920 x 1080) IPS LED-backlit sRGB | CPU: AMD Ryzen 7 5800U up to 4.9GHz | GPU: Nvidia GeForce RTX 3050 Ti 4GB GDDR6 | RAM: 16GB LDDR4X | Storage: 512 PCIe SSD | Weight: 3.31 pounds | Dimensions: 12.71 x 8.35 x 0.7 inches | OS: Windows 10 Home
This Acer Swift X notebook is for you if you are a serious competitive gamer or AMD lover. It's the best budget Acer laptop for gaming with a strong AMD processor and graphics card. The other best feature of this laptop is its low weight, just 3.31 pounds, which means you can easily carry it anywhere you go. When comparing its pricing and portability, the laptop performs admirably. It contains the powerful AMD Ryzen 7 5800U CPU and Nvidia GeForce RTX 3050 Ti with 4GB DDR4 VRAM. These components enable you to easily multitask and play many high-end intensive games at a minimum of 50-60 fps.
In addition to its speedy processor, the availability of 16GB of LDDR4 RAM and 512GB NVMe SSD makes the system boot up and shut down within a few seconds. Further, this Acer Swift X gaming laptop delivers quality results no matter what you throw toward it. It is mainly the best laptop for all creators and professional developers. The cooling system on this laptop is excellent and is controlled by a single fan. Although the CPU can get hot sometimes, it typically experiences brief temperature spikes before returning to a respectable level.
To get the best gaming experience and more perfect visuals during refreshment, the 14-inch Full HD (1920 x 1080) IPS Backlit sRGB display with decent colors and visuals fulfills your demands. The screen's maximum brightness is 300 nits which is acceptable but not fantastic and you may find it hard to use in bright sunlight. The laptop's body and lid are both well-built, showing minor stiffness, and are made of metal. The keyboard is backlit and comfortable to type on, and the touchpad is responsive as well as nicely designed. The battery performance is satisfactory for its class which can go through 7-8 hours during everyday use. Overall, this laptop is perfect with its specifications.
Acer Predator Helios 300
Best Value Acer Gaming Laptop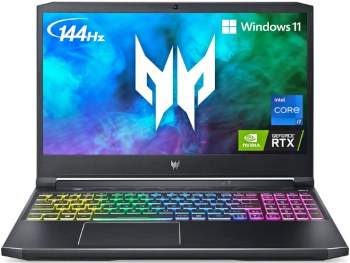 Powerful specs for gaming

Nice keyboard and touchpad

Gets hot during heavy use
Display: 15.6″ FHD (1920 x 1080) IPS LED-backlit 144Hz | CPU: Intel Core i7-11800H up to 4.6 GHz | GPU: Nvidia GeForce RTX 3060 6GB GDDR6 | RAM: 16GB DDR4 3200MHz | Storage: 512GB PCIe SSD | Weight: 5.51 pounds | Dimensions: 14.31 x 10.04 x 0.9 inches | OS: Windows 10
Acer Predator Helios 300 PH315-54-760S is a fantastic affordable gaming Acer laptop with a bigger display that provides decent functionality for less cost than competitors. This Acer weighs 5.51 pounds, measuring 0.9 by 14.3 by 10 inches in dimensions, and has a stylish black aluminum body with a luminous Predator trademark. The sound is produced by a speaker grille located well above the keyboard and is relatively flat. This laptop is a wonderful option for those who want a portable gaming computer that can replace their desktop PC.
By having an 11th Generation Intel Core i7-11800H processor in combination with a powerful Nvidia GeForce RTX 3060 6GB GPU, 16GB DDR4 RAM, and 512GB quick SSD, you are not going to miss a lot at such a price. Use this good Acer gaming laptop for anything, whether gaming, coding, editing, business tasks, or educational activities. You can play most famous high-intensive titles on at least medium settings and even some at higher graphics. Further, running multiple programs simultaneously is also not a concern in this notebook. But, it overheats during heavy processing, most notably when playing games or running other demanding applications. Most gaming laptops have this typical problem, and you can use a laptop stand with cooling fans to overcome this issue at some level.
The 15.6-inch LED-backlit display with a 144Hz refresh rate provides beautiful images with 100% sRGB color accuracy, adequate brightness, and broad angles of view. The screen has quite thick bezels surrounding it. By looking at the front side including the lid, it is built of aluminum, which is a drawback given that you can find many alternatives with similar prices that come with the metal surfaces. However, this is not a big issue considering its hardware specifications and overall productivity. On the left, you can find two USB 3.2 Type-A ports, a security lock connector, Ethernet, and audio jacks. The right side contains Thunderbolt 4, one USB Type-A slot, a mini DisplayPort, and HDMI connectors while the charger connects to the back.
Acer Nitro 5 (AN517-54-79L1)
Best Acer Nitro 5 Gaming Laptop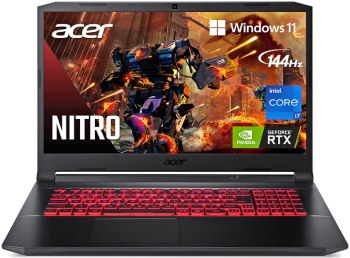 Run many high-intensive games
Display: 15.6″ FHD (1920 x 1080) IPS LED-backlit 144Hz | CPU: Intel Core i7-12650H | GPU: Nvidia GeForce RTX 4060 | RAM: 16GB DDR5 3200MHz | Storage: 1TB PCIe SSD | Weight: 5.51 pounds | Dimensions: 14.19 x 1.06 x 10.67 inches | OS: Windows 11 Home
This Acer Nitro 5 AN517-54-79L1 is one of the best Acer gaming laptops in the Nitro 5 lineup. What makes these Nitro 5 notebooks unique is their massive 15.6-inch displays and this is a real treat for game lovers. The Nitro 5 AN517-54-79L1 is a great gaming machine for those who prioritize performance and cost. There was clearly a lot of attention put into the design of this laptop, as it looks great. The overall red and black appearance looks very nice. It is not lightweight as it weighs 5.51 pounds and its dimensions of 14.19 x 1.06 x 10.67 inches mean it won't fit easily into the bag. Definitely, the model with a bigger display and size comes with more weight.
In terms of hardware, this cheap Acer laptop for gaming features an Intel Core i7-12650H processor, an Nvidia GeForce RTX 4060 graphics card, 16GB of RAM, and a speedy 1TB of SSD storage. Keep in mind that not all VR games will operate well on this laptop, you may need to do some adjusting before you can start playing. You should do some light optimization on this laptop, eliminating unnecessary components. However, testing the limits of the device in intensive gaming is a thrilling experience.
At first glance, the Nitro 5's screen appears to represent the biggest technological advancement in the history of gaming systems. We are talking about a 15.6-inch Full HD IPS LED 144Hz display with a respectable 1920 x 1080 pixels resolution which allows you to do 1080p gameplay on this Acer Nitro 5. The plastic structure is obvious, but the device still feels quite solid, which is a standard feature of most gaming laptops in this category. The inclusion of a NumberPad is excellent, although the smaller-than-average keycaps may be off-putting to some.
Our Verdict
It's no secret that Acer is one of the greatest laptop brands for gamers. You can choose from a wide selection of Acer notebooks, but doing some research should always be your priority before deciding on any suitable model. Acer's products feature cutting-edge technology, like RGB lighting, FHD displays, and powerful hardware configurations, which together make for an excellent online gaming experience. However, it places a premium on affordability, with a wide selection of the best Acer gaming laptops available for around $1000-$2,000.
You should prioritize your most critical requirements whenever you buy a laptop. A professional gamer needs a system with great overall productivity, massive storage, and fantastic gaming performance. For your help, we have listed the top 5 Acer laptops for gaming, which we consider the best available options in the market, considering the specifications and price point. Hopefully, you will find a suitable gaming laptop from the above-mentioned to fulfill your demands. All of these are fine all-rounders no matter what you throw on them, but each with its positives and a few troughs.
More Gaming Laptop Buying Advice: