If you are also facing the laptop screen flickering issue and you don't know the actual cause, try some common solutions mentioned in this article to troubleshoot this problem.
There can be a lot of reasons that can cause your laptop screen to blink constantly. This issue is commonly seen when people upgrade their Windows version improperly, but not mandatory. Moreover, one of the most common reasons why this issue occurs is because of some corrupted application or outdated display driver.
You can fix laptop screen flickering problems easily with Windows integrated troubleshooter, update device drivers windows with Device Manager, and other simple methods. So, keep reading this write-up to get knowledge about different methods through which you can fix your laptop flickering screen.
How to Fix Laptop Screen Flickering Issue in Different Devices?
First, check out and confirm that your notebook screen is fine and not broken. If it is, then take your laptop to the nearest repair shop and take a professional opinion. However, having an old PC can also lead to screen glitching or flickering issues. That's why getting professional advice before trying to repair your device on your own always makes sense.
There are many other reasons why you can face these kinds of problems, so consider getting in touch with a computer expert to make professional diagnostics and then find the right and affordable solution. Otherwise, follow these below-mentioned tips to overcome this problem:
1. First Things First
First, check out whether this flickering issue is due to broken hardware or any application. To do so, you need to open Task Manager by right-clicking on the taskbar and selecting Task Manager from the option list or by pressing Ctrl+Shift+Esc simultaneously.
Now see if the Task Manager is flickering along with the whole screen. If yes, it means there is a problem with your hardware. If no, it means this is happening due to corrupted or incompatible application(s). Go through this article to get rid of this flickering screen issue caused by an application.
2. Check for Loose or Damaged Wires
Ensure that the connecting cord is fully tightened by unplugging the monitor's cord and plugging it back properly. The same can also happen with other cables too. So make sure all the wires are properly connected with the devices. Nowadays new generation monitors come with HDMI cables. If not, they can be connected by a VGA cable.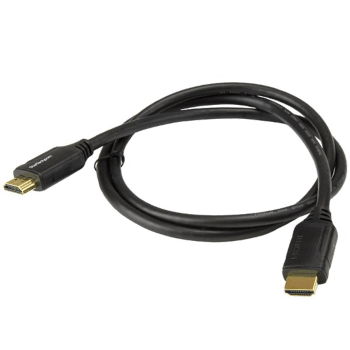 HDMI Cable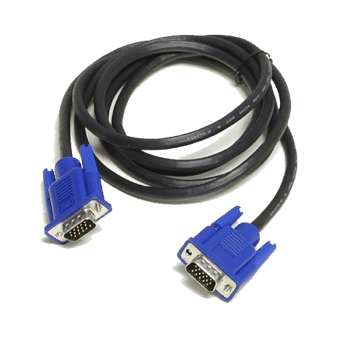 VGA Cable
3. Update Your Windows Display Drivers
Many people overlook the updates for Windows drivers because they want their system to work the same. But they don't know upgrading their drivers will improve the PC performance because every update comes with improvements and many new features.
Malfunctioning drivers can lead to glitchy display resolutions and poor performance. When bug fixes, updates, and patches are not kept updated, outdated drivers can hurt the functionality of your laptop parts.
Below you find the way through which you can update your display drivers with Windows integrated tool Device Manager:
Right-click on the Start button and select the Device Manager from the list.
On the Device Manager window, click on the arrow next to Display Drivers to expand it.
Now, right-click on all of the graphic card(s) and select Update driver from the list.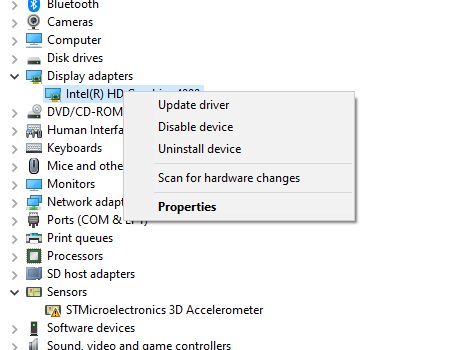 A new window will appear, click on "Search automatically for drivers".
Wait for a few minutes to let your computer search for the latest drivers.
Follow the on-screen instructions to complete the process.
After finishing the process, Restart your system and check if the laptop screen flickering has stopped. If not move on to the next method.
4. Update Your Windows Operating System
There might be a chance that some other driver is messing with your screen. To get rid of this issue, the best thing to do is to update your whole system.
Updating your operating system can help you in many ways like enhancing performance, introducing new features, and most importantly fixing bugs. If you want to update your Windows follow these steps:
Step1: Search Settings on the taskbar and press Enter.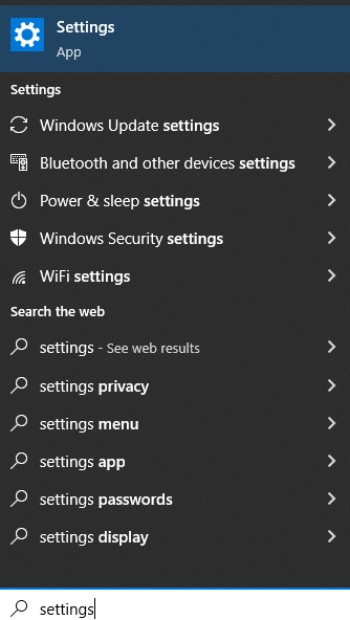 Step2: Select Update & Security and then click on the Windows Update on the left-side panel.
Step3: Under "Windows Update" you will see a button that says "Check for updates", click on it.
Step4: Wait for a few seconds, if there are any updates it will show you a "Download and install" button. Click on it to start the download.
Now it will take some time depending on your internet connection speed. When the process is complete, Restart your computer to implement the updated version. This should resolve your screen flickering issue.
Fix Laptop Screen Flickering: Bottom Line
We hope that the above-discussed solutions will help you to fix your laptop screen flickering or blinking problem. If not, there might be a chance that your laptop screen is damaged. The damage can be external or internal, so it is better to take it to a nearby repair shop to have a professional opinion. Don't try to open the screen on your own or else you will end up damaging it more. If you have any suggestions or questions related to this post please share them in the comment box below.