A quality aluminum body and strong components make Razer's newest Blade 15 a viable alternative for both gamers and creatives. In the $2,999 model, you get an Intel Core i7-12800H CPU, an Nvidia RTX 3070 Ti graphics card, and a 1440p display with a 240Hz refresh rate. However, for $3,999, you may buy an i9/3080 Ti combo alternatively. So, here is our Razer Blade 15 review of the 2022 Advanced model gaming laptop.
Even at full HD, the Core i7/RTX 3070 Ti setup is successful in maintaining 60fps in recent releases, yet preserving a luxury metal chassis. Razer Blade 15 is the greatest option for those with a big investment who prioritize mobility over everything else who wants the best of both worlds: powerful and portable. As far as actual performance goes, the Lenovo Legion 7 is the finest in this category, whereas the Asus ROG Zephyrus G14 is the perfect portable choice.
Smaller keys, a power button built into the keyboard, and more airflow on the bottom of the shell are all that's changed in the design of this laptop. We can't really complain, though, because the Blade's style was always superb, to begin with. There are two main drawbacks to this gaming laptop: its hefty price the base variant costs $2,499, and a lack of brightness on the display.
Razer Blade 15 Advanced Specifications
| | |
| --- | --- |
| Processor | Intel Core i7-12800H |
| GPU | Nvidia GeForce RTX 3070 Ti (8GB GDDR6 VRAM) |
| Memory | 16GB DDR5-4800 RAM |
| Storage | 1TB M.2 PCIe NVMe 4.0 SSD |
| Display | 15.6 inches, 2560 x 1440 |
| Screen Refresh Rate | 240 Hz |
| Dimensions | 13.98 x 9.25 x 0.67 inches |
| Ports | 3x USB 3.2 Gen 2 Type-A, 2x Thunderbolt 4 over USB Type-C, HDMI 2.1, UHS-III SD card reader, 3.5 mm headphone jack, Kensington lock slot |
| Camera | 1080p, IR for Windows Hello |
| Battery | 80 Wh |
| Power Adapter | 230 W |
| Operating System | Windows 11 Home |
| Networking | Killer Wireless Wi-Fi 6E AX1690 |
| Weight | 4.4 pounds / 2.01 kg |
Razer Blade 15 Review: A Sharp Design
Though the Razer Blade 15 Advanced isn't much different in appearance from last year's model, Razer's black aluminum exterior has traditionally been recognized as among the best in gaming laptop design, particularly by those who appreciate understatement. Razer's snake emblem is still a bit of a distraction from the rather clean look.
New models are often greeted with rapturous reviews, with many claiming them as the finest gaming laptops currently on the market. Although the Blade 15 is a high-end gaming notebook, you won't find it on the list of budget gaming laptops. There are still enough individuals buying devices in this price bracket to support the yearly improvements from Razer and many rivals.
Razer laptops, which are 13-inch variants with built-in GPUs, are available from the firm under the same silver color scheme. On Razer notebooks, you get a customized RGB-lit keyboard, which lends a little gaming quirkiness. Improved ventilation is the result of Razer eliminating metal from the body and modifying the base and hinge. However, the laptop's weight and proportions have not changed. The Blade 15 isn't really the tiniest or thinnest laptop, weighing in at 4.4 pounds (2.01 kg) and measuring 3.98 x 9.25 x 0.67 inches.  It's not small, but it's also not very heavy.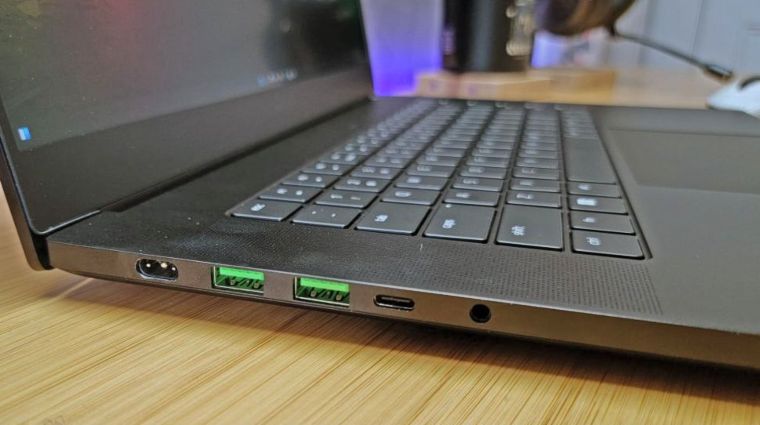 Small yet pleasant upgrades have been made to the latest Razer: larger keycaps and a fresh design for the speakers. The power button has also been updated. In spite of their small size, the larger buttons make it a little easier for typing. The power button located in the speaker's right-hand corner now is replaced by a full-size key on the keyboard, making it easier to use. The new design is more orderly.
Additionally, the newer speakers have a more streamlined appearance. Their position has not altered, however, I didn't appreciate how out of place the old speakers felt, which seemed more like mesh grilles set in a little recess than anything else on the wall. With the 2022 speakers, you may expect to see a similar array of holes in the body of most modern laptops. Despite its minor nature, the alteration has a more polished appearance.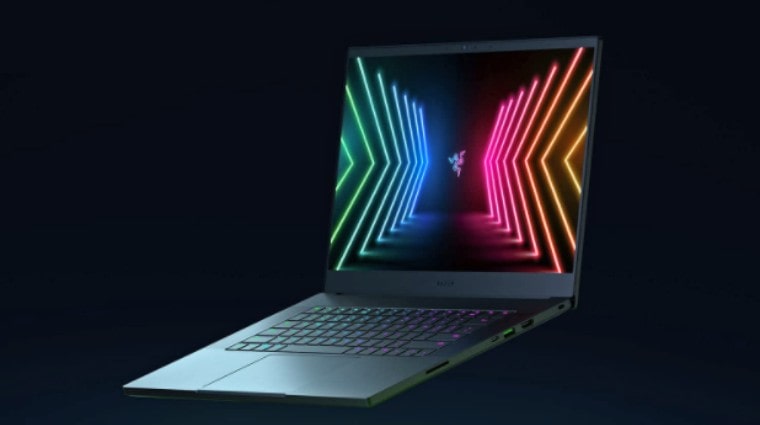 The Razer Blade 15's port range is still impressive. A headphone jack, two Thunderbolt 4 / USB-C connections and two USB-A 3.2 Gen 2 ports can be found on the device's left side. Additionally, Razer's custom three-prong power connector is on hand. Additionally, there is a locking socket on the left side, as well as an SD card slot, USB A and USB C ports, and full-size HDMI. When it comes to a gaming notebook, it's always nice to have a good selection of ports, and Alienware's newest x14 and x17 models do not disappoint in this regard.
Razer Blade 15 Advanced Model Display
Razer offers two alternative display options for the Blade 15 in most models. There are models with two screens: one with 1080p resolution (360 Hz) and one with 1440p resolution (240 Hz). No matter what's available, there's no difference in cost. If you're a diehard competitive player, you might go with a 1080p screen. However, most folks will be better served by a 1440p display panel. In addition, there's also a model that features a 4K 144 Hz display available at $3,999 cost when we are crafting this post. Featuring an HD display with a 2560×1440 pixels resolution and 240 Hz refresh rate will be particularly enticing to gamers.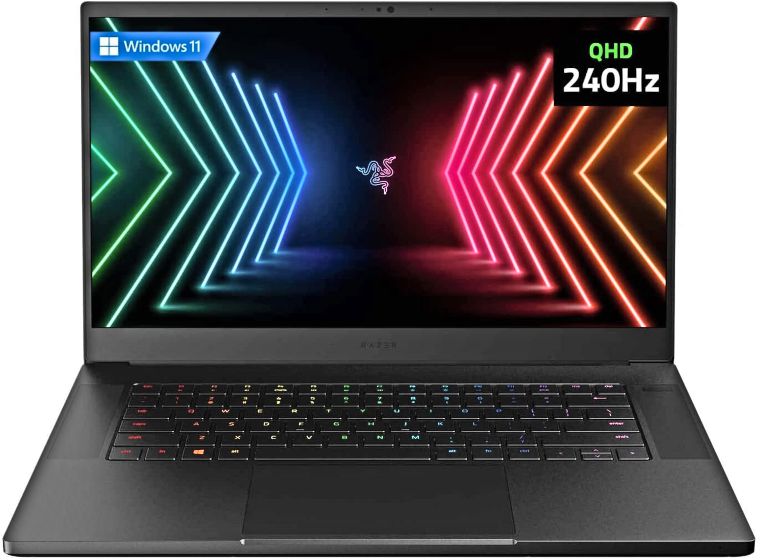 Generally speaking, the Razer Blade 15 Advanced's 1440p screen appears excellent, with vibrant colors. It isn't much great compared with OLED, although Razer claims that this is an IPS panel. In addition, Razer claims that the keys are somewhat larger. The Razer Blade 15 Advanced Model has a 123% of Adobe RGB and 87.1% of DCI-P3. These results aren't as good as the preceding Blade 15 Advanced variant. However, they're still superior to most of the competition.
The 232 nits are all the new Blade 15 can manage if we look at the brightness. Thus, it is the most dimly lit display in this selection. Compared to the Zephyrus G14, it's a bit falling well behind in its brightness. Blade 15's display does not appear to be overly dark. Playing games or watching different stuff on the Blade 15 didn't trigger any brightness problems for me at all. You can aim to discover alternative brighter gaming laptops if you frequently play in brighter or sunlight environments.
Configuration Details
Let's take a closer look at the hardware, which includes Intel's 12th Gen "Alder Lake" CPUs and Nvidia's RTX 30-Ti Graphics, as previously indicated. Powered by the Intel Core i7-12800H, our $2,999.99 test device has 16GB of RAM, a 1TB SSD storage, and an Nvidia GeForce RTX 3070Ti graphics card.
The GeForce RTX 3060 is the only difference between the standard version and ours, which costs $500 less. One other variant, which costs  $2,999.99, is nearly similar to our testing configuration, except that the monitor is replaced with a 360Hz high-definition screen. Additionally, if money isn't an issue, there are a few beefed-up RTX 3080 Ti setups at $3,999.99 top-end price and comes with an Intel Core i9-12900H CPU and the 4K 144Hz screen.
Razer Blade 15 Review: Gaming & Graphics Performance
If you're looking for something that can play games at the highest possible resolutions, you'll get some disappointment with the Blade 15's i7-12800H processor and GTX 3070 Ti graphics card because the results are better on MSI GE76 Raider.
Only a single fps separates the 2022 Razer Blade 15 from the Aorus in the GTA V test at 1080p, whereas six frame rates beat the earlier Blade 15 Advanced model at 1080p and 5 fps at 1440p. By adjusting the medium settings in Red Dead Redemption 2, the Razer Blade 15 managed 68 frames rates at a 1080p display, even though the Aorus 17 XE4 managed 76 fps at the exact resolution.
With its RTX 3070 Ti, Alienware X15 came out on top in most benchmarks, except for Valhalla and a few other simulated benchmarks. The Blade 15 Advanced, on the other hand, easily trounced the smaller Zephyrus G14. Using the 'Ti' term does not imply general supremacy. Therefore don't believe that the software variant indicates a standard power benefit.
Razer is a good deal, but it's not a great bargain overall. The RTX 3080 graphics cards in the Legion notebooks give better performance, although this isn't true for everyone, and their advantages aren't necessarily substantial. You'd want to conserve money if you went with the AMD-based Lenovo laptop; however, it implies you're only interested in outcomes. The Blade 15 focuses on mobility and style, so you're spending for both of those things in addition to its performance. You decide what's more necessary for you.
Audio Speakers
The Razer Blade 15 Advanced 2022's speakers, situated on both sides of the keyboard, are shockingly loud. It's not something that we notice regarding gaming systems very frequently, but the sound is hefty when sitting close to the laptop.
Keeping the level between 70-80% or even lower than that is the most straightforward approach, and it's still too enough for videos and games without being too painful.
Razer Blade 15 Advanced 2022 Battery Life
The Blade's battery life is getting better as the layout is refined in small steps. At 150 nits screen brightness, Razer's laptop battery lasted almost 5 hours on the battery test. The test was performed by browsing the web constantly and streaming videos while also doing some other tasks. Even without a recharge, you can use your Blade 15 to watch the videos or complete some other activities. You'll need the 230-watt power cord for playing, or a USB Type-C charger if you plan to use the Razer Blade 15 for a whole day.
Before, Razer laptops were known for their long larger batteries, but the advent of newer, better powerful features has said goodbye to this. There was an upgrade over the 2021 model's 4 hours and 30 minutes endurance with the 2022 Advanced; however other units outperform it in this regard. Since the Alienware x15 has a slight edge, the Razer's lifespan isn't life-threatening, but it is frustrating nonetheless. Despite its small size, the battery lasts enough to make its portability practical.
Verdict
Like previous years' updates, the Razer Blade 15 Advanced 2022 Model has a couple of extra enhancements over previous iterations. In addition to a few minor design modifications that are nevertheless improvements, there are also several outstanding innovative features. Although the Blade 15 isn't perfect, it's the ideal high-end gaming setup for those who want to take their rig with them when they travel.
Even though the Blade 15 isn't the most affordable gaming notebook on the market, it's good to look into for those who prefer black metal frames and would like a gaming laptop with a decent 1080p camera. This system could be a respectable premium workstation if the RGB lighting on the keyboard were dimmed a little bit more. The vivid green snake emblem on the top may draw heads if you don't cover it.