StarCraft is one of the amazing series of RTS genre games. Its later version which is known as StarCraft II is played at high-level competitive tournaments all over the world and is the most demanding game. Without any new StarCraft counterpart on the horizon, many players may be eager to play something comparable. So, today we are here with the best RTS games like StarCraft you will enjoy if you are a lover of real-time strategy games.
Over years, the RTS genre has been a trademark of video games. The broad array of settings in which the games actually happen has aided their popularity under no minor portion; the genre has seen WW2 shooters, mythological wars, and Ancient Egyptian conflict.
One other prominent RTS game genre is future sci-fi, which is driven by Blizzard Entertainment's StarCraft franchise. StarCraft earned a slew of awards on its initial launch. The StarCraft series is not only recognized for its compelling storylines, but it's also a successful game in the competitive world.
StarCraft 2 has been around for nearly a decade, and the last addition came about half a decade ago. Sadly, the dearth of fresh arrivals is unsurprising, given that the real-time strategy genre overall isn't getting enough focus, and large releases are the exception. As a result, most people now are looking back rather than forward to new games to enjoy.
List of Best Games Like StarCraft
Luckily, there've been a bunch of new fantastic RTS games developed over through the years. So, now we are going to tell you about the best games like StarCraft.
1. Command & Conquer 3: Tiberium War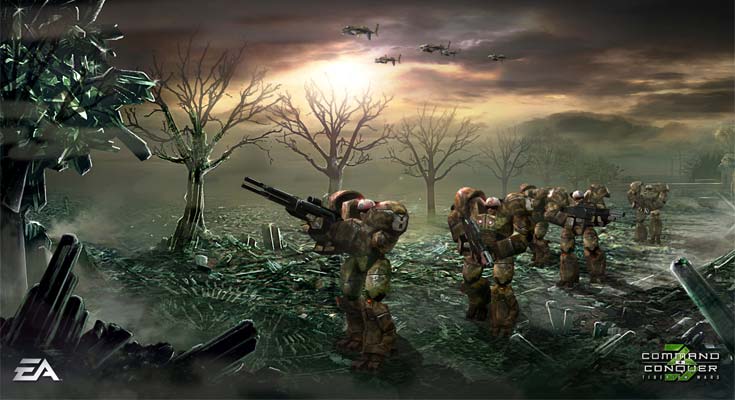 Command & Conquer 3: Tiberium War is an RTS genre science fiction game from the Command & Conquer series which was launched by Electronic Arts in 2007. Everything will seem comfortable if you already have experience with this game. Your entire experience will be full of sentimental emotions.
It's difficult to choose and play just one game from the Command & Conquer family because the quality and setting of the games vary greatly. Another excellent option is the classic Command and Conquer. With an amazing score of 94, it's a highly rated RTS game on Metacritic.
You'll be in charge of your own base, like in any other RTS game, and you decide how and where to use the resources which you collect. This resource is Tiberium, which may be obtained from the different crystal spots dispersed across the map.
2. Shadow Tactics: Blades of the Shogun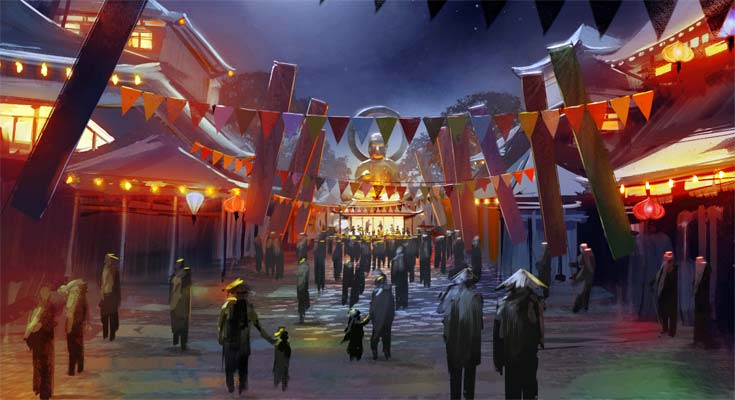 Shadow Tactics: Blades of the Shogun is another amazing real-time strategy genre game in the modern world. You don't command enormous forces with countless units; rather, you command an exclusive team of 5 characters, each with their own set of abilities and skills. Whereas it belongs to the RTS genre, it also has elements of stealth games, which means you must be very cautious when making choices.
It's a unique take in RTS, comes with new levels of campaigns, and offers unique stealth challenges. You have to tackle all of them with your five soldiers. Most of the time, there are a number of available choices to you that make things very difficult. No matter what the outcome is, you will consider yourself a strategic ninja after every victory because your opponents collapse behind you.
By nostalgic throwback to a lost style, genre, and flavor, Shadow Tactics: Blades of the Shogun ticks every box in modern gaming. It adds appealing characters, attractive imagery, and ingenious new elements to its brilliant, demanding playing. I haven't seen such a style of game that is successfully executed over the years.
3. Supreme Commander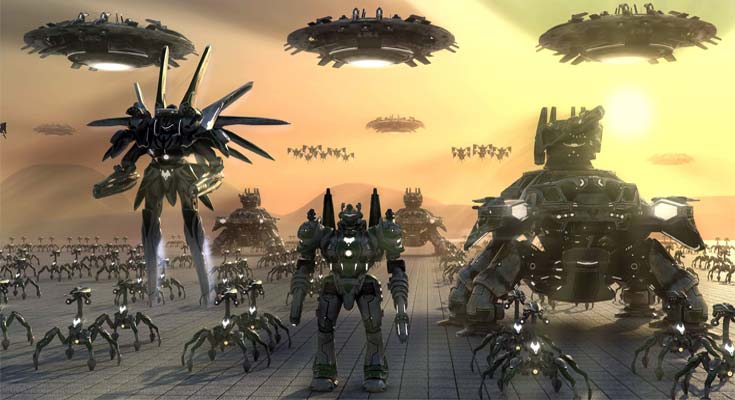 Supreme Commander is yet another fantastic RTS game you should definitely play whether you're looking for a StarCraft replacement. The game revolves around building a base, progressing up technological stages, and eventually conquering your opponents' bases.
Supreme Commander is based in the 37th century, in the far future. The game's strategic zoom was acclaimed when it was released in 2007. Players have superb strategic perspectives of their encounters thanks to the zoom. It also enables players to zoom out well enough to see the full map, which was remarkable.
As a result, the creator's Gas Powered Games did an excellent job of building each unit to a reasonable level, assuring that they blend in with the rest of the universe.
4. Halo Wars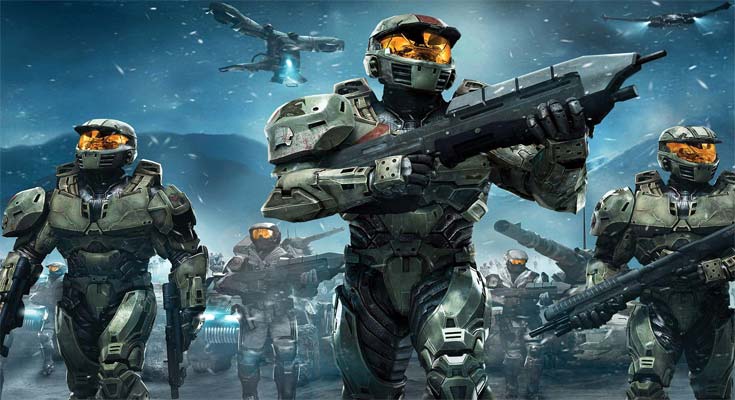 Although, the Halo franchise is well known for offering some of the best and famous first-person shooting games. But luckily, there is also a Halo RTS genre game which is named Halo Wars. If you don't know that before, then you should definitely check out this game. It's a totally unique perspective on the genre that lets you control huge armies and command them into combat against the opponents.
When Halo Wars was published in 2009, it would've been a great experience for both Halo and StarCraft lovers. Ensemble Studios reimagined the classic sci-fi franchise as a real-time strategy game. The game didn't reimagine the concept, instead sticking to RTS staples like base construction, unit development, and strategic planning.
Halo Wars is one of the best RTS games like StarCraft with many similar components. The major focus is on combat, with a concentrate on managing resources and unit production. You can also check out StarCraft 2 system requirements.
5. Age of Empires: Definitive Edition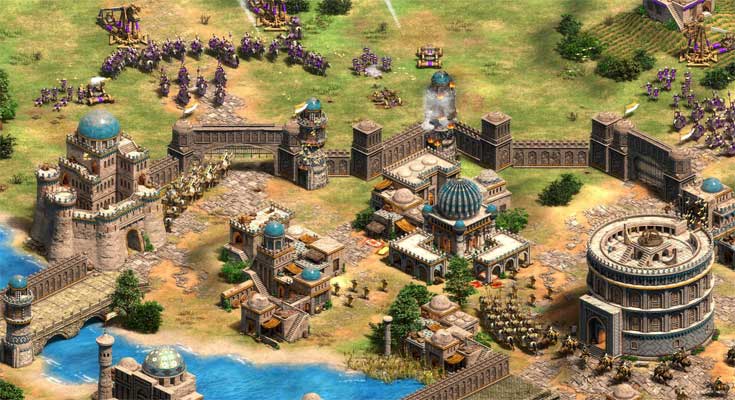 You can't complete the list of best RTS games if you don't include the legendary Age of Empires series in the list. I know, many of you have already got the experience and fun of this game. I strongly advise you to play revamped edition of the original, which is Age of Empires: Definitive Edition. The game includes all of the stuff from the iconic version, as well as improved gameplay. It has updated aesthetics and plenty of other additional features which the fans love.
Units and technology research merge to make the most entertaining RTS games available. The Definitive Edition is based on the rebuild of the previous one, with new scenarios and a slew of new societies to go along with the updated visuals and unit Intelligence.
Age of Empires is a famous real-time strategy game in which you choose a civilization. You begin from the neolithic period and gradually progress towards the current era. During the gameplay, you will also engage with many other civilizations, find alliances, and defeat enemies in the way. Players must plan their civilization's progress and keep one step ahead of their rivals in this game.
6. The Banner Saga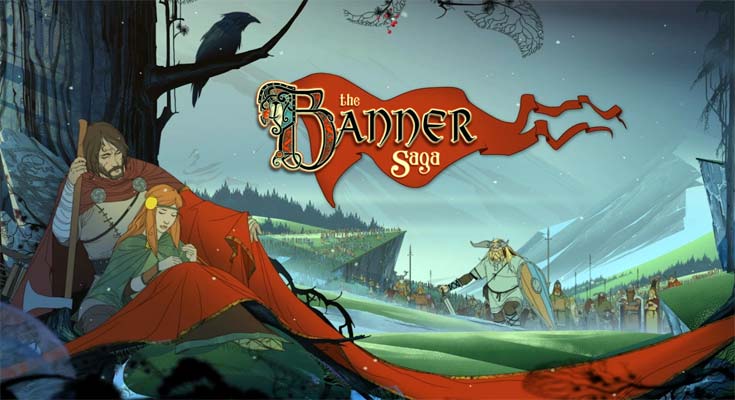 The Banner Saga is amongst the top-class real-time strategy games, and it was launched in 2014. Regarding the versatile playstyle and good narration, the game has developed a small fan following. The game also makes excellent use of animation to provide a distinct look.
There are two types of approaches in The Banner Saga. Players are challenged with efficiently maintaining a caravan by ensuring resources are filled and morale is up. During the battles, the players should think about the way in which they attack to lower down the damage. It's a tricky situation that demands players to consider all possible implications of every action they make, regardless of how minor they are.
The Banner Saga is deserving great praise simply for the quality of its graphics and sound, which defies expectations. The brutality of the Scandinavian countryside, in fact, mimics the struggle of mutually hostile immigrants, adding to a dismal picture of a civilization on the verge of collapse.
7. Ashes of the Singularity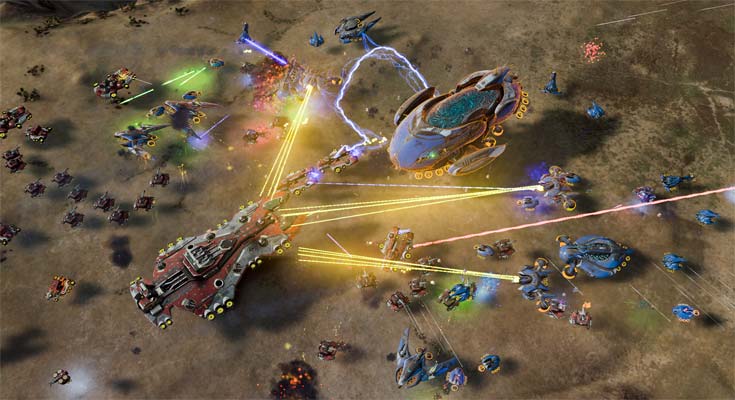 Though it's obvious that Ashes of the Singularity got off to a strange start, with a charmless campaign as well as what seemed like a scarcity of unit choices. It has improved significantly as a result of a continuous phase of development and validation. It's currently considered as amongst the most fascinating modern approaches to massive RTS genre games.
Stardock Entertainment, the studio behind the release of Sins of Galactic Civilizations and Solar Empire games, released Ashes of the Singularity in 2016. What sets this game apart from all other RTS games is the situation where a number of groups are battling at the same time on massive landscapes, giving it a futuristic vibe.
Ashes of the Singularity draws inspiration from Total Annihilation game playing style, as well as Company of Heroes, which has squad-based armored vehicles and linked resource nodes that are comparable to areas in Relic's iconic World War 2. It makes use of formation reinforcement similar powers to all of those present in Command and Conquer 3. The rare Quanta resource limits player modifications and unit deployments.
8. Warhammer 40,000: Dawn of War 2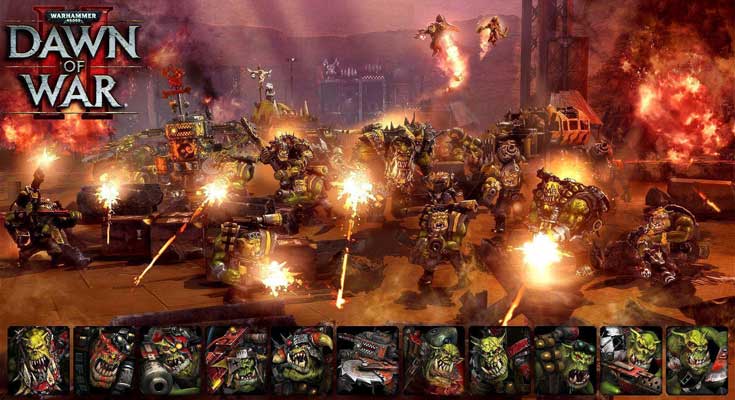 If you're seeking an exciting real-time strategy game, look no further than Warhammer 40,000: Dawn of War 2, the successor to Warhammer 40,000: Dawn of War, which literally takes players on a voyage unlike any other. The story of the game centers across the Spear of Khaine, a devastating weapon, and three armies pursuing it.
Warhammer 40k: Dawn of War is a strategy game that mixes serious war tactics with a sci-fi backdrop from the iconic Warhammer world. Because of the solid mechanics and great storyline behind the sci-fi surface, it is nonetheless an appealing RTS experience for beginners to the series.
The game is not just based on typical real-time tactics, but it more emphasizes combat techniques instead of demanding players to properly control an economy. Resources are obtained by using infantry units to occupy strategic spots throughout the map, which can then be reinforced to boost the resource-generating potential. When merged with power plants, this provides the foundation of your resource requirements, and it's a straightforward yet effective method.
9. Homeworld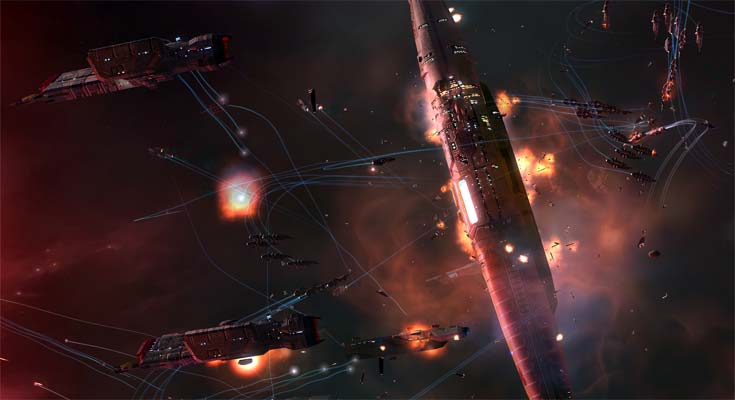 Homeworld is set in space, which sets it apart from other best RTS genre games. Given that abrupt transition, the story looks to concentrate on the main playing aspects that we generally found in real-time strategy games.
The 3rd addition of the Homeworld franchise, Homeworld 3, will be released in 2022. Blackbird Interactive created the game, and it's important to keep an eye on it if you're searching for the latest Sci-fi strategy game.
Homeworld: Remastered Collection has done great work by refining and representing these iconic RTS games that were previously difficult to find. It has been more than 20 years since when the game was first released, but such massive space wars have no comparison and are not overtaken by anyone.
10. Rise of Nations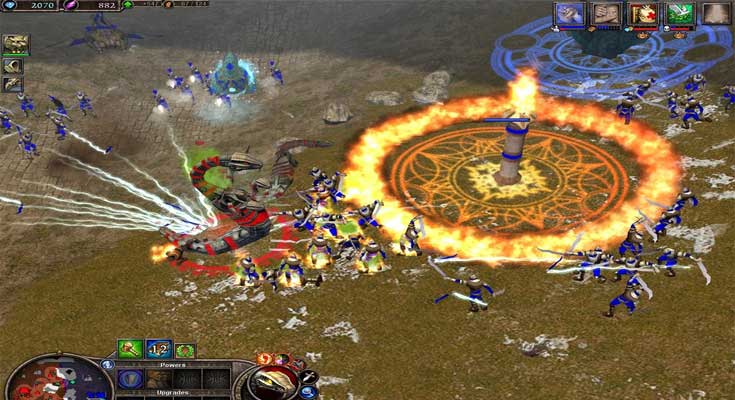 Despite the fact that Rise of Nations was introduced in 2003, it remains among the most famous and effective RTS games of all time. It provides a lot of creative intricacies as well as being incredibly approachable to players. This is something that not too many Strategy games have managed to do afterward.
The territorial structure in Rise of Nations restricts players from building in places close to their base. With the construction of defensive systems and more innovations by the players, the tiny region starts expanding very quickly.
If there is any perfect complement to the Age of Empire series, it is Rise of Nations and has been upgraded as well. Rise of Nations: Thrones and Patriots, the extended edition contains the actual game as well as a variety of latest additions such as better aesthetics and complete Steamworks compatibility.
The gameplay is similar to Age of Empires in terms of aesthetic and playability. The players beginning in the stone age and progressing to the modern era through collecting resources. You have the option to select any one tribe from the different 18 available, each of them having their own qualities and skills, giving the game plenty of interactivity.
11. Northgard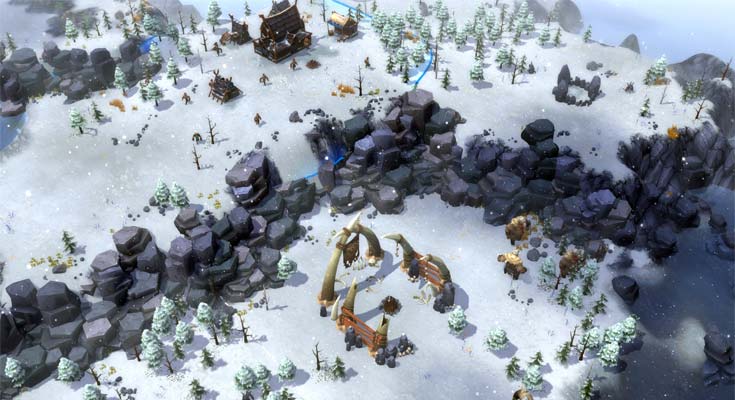 This creative RTS game came on the spot in mid-2018 and has then occupied its own comfortable place in a sober and effective fashion. Every match of the game, based on a fictional planet, places the players as strangers on the land which you must discover and grow to construct a new life.
Rather than constructing buildings and recruiting units, the players allocate their restricted population to different "activities" that are provided by buildings.
You will not be the only one on the island; many others will be looking for new places to live as well. Every Viking 'gang' has its own set of principles and playing styles. Some want to work cooperatively and make allies, while some desire to dominate. Some are simply looking for a way to generate cash, perhaps by summoning a Kraken.
12. Age of Mythology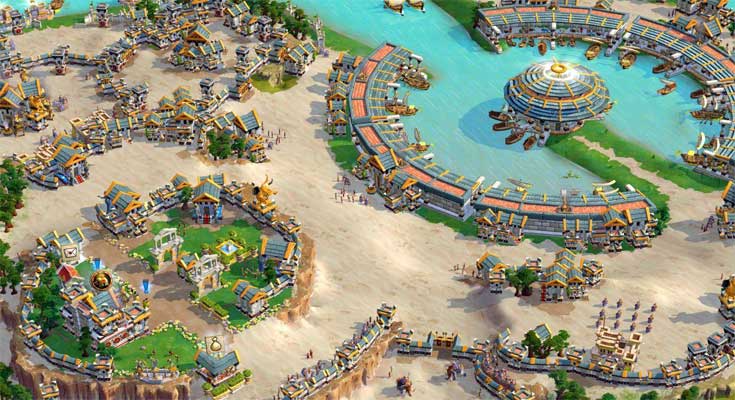 Age of Mythology is a deflection of Age of Empires, as the name suggests. The Age of Empires 2 is thought far better than its legendary predecessor. Age of Mythology, on the other hand, is a terrific game featuring the best playing style, and it gets a better ranking due to its mythical background.
The game incorporates significant legendary entities such as Zeus and Ra and is based on Egyptian, Greek, and Norse mythology. It follows the same concepts as Age of Empires, with resources planning, base construction, and military operations are all important aspects of the game. The players should need to build a base first, gather resources, prepare an armed force, and ultimately defeat the opponents.