Gaming mice have really stepped up their game lately. Now, they come with cool features like customizable DPI and ergonomic grips that make your gaming sessions way more enjoyable. There are a bunch of different models to choose from. Need something lightweight for quick movements? Or maybe you're looking for a wireless design to finally break free from the constraints of cables? You got it!
Of course, what's considered the "best" gaming mouse varies from person to person. We all play different games and need different things. Like, Those who play MMOs typically enjoy having more macro switches, and players who like to use their left hand may prefer an unbiased layout. A good gaming mouse can make a huge impact on how relaxed you feel while playing. Ergonomic mice that are also lighter are preferable since they reduce the risk of repetitive stress injuries (RSIs) and other hand symptoms.
If you need a lightning-fast reaction time during the highly-intense battle situations in the games, a wired mouse is a good pick, and they're generally easier on the wallet too. But if you're tired of dealing with wires and want to get rid of them, the wireless mouse is definitely worth checking out, even though they might cost a bit more. So, no matter what type of gaming mouse you're on the hunt for, there's definitely something out there for you. There's a lot to choose from here for any and all gamers.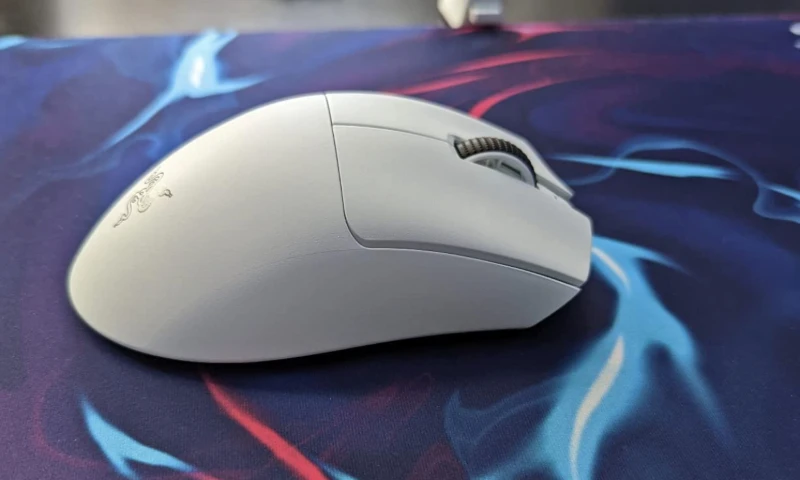 Razer DeathAdder V3 Pro
Best Gaming Mouse Overall
Tailored for right-handers with a comfy, slanted curve

Razer's fastest-ever Focus Pro 30K Optical sensor

A fast and reliable wrireless connection

New micro-texture coating

Design might not appeal to all

More suited for FPS games
Specs:
DPI: 30,000
Sensor: Focus Pro 30K Optical
Battery: 90 hours rechargeable
Interface: USB Type-C
Buttons: 5 Programmable
Ergonomic: Right-handed
Weight: 63g
The Razer DeathAdder V3 Pro is a total beast. They've trimmed it down, made it leaner and meaner, yet kept that beloved ergonomic touch. It's lighter now, with a fresh micro-texture coating to keep it snug in your grip even in the craziest gaming battles. But, not everyone's digging the new design. It's sleeker, less flared out, and kind of more like the Viper Ultimate, which might tick off some DeathAdder old-schoolers. Still, it's friendly for all right-hand gamers and glides like a dream, even without a mousepad.
It's loaded with Razer's fastest sensor, insane accuracy, and crazy fast click response time. Plus, the wireless connection is rock solid, thanks to Razer HyperSpeed. Although the cost is high, if you're all about that pro-level gaming life, might be worth shelling out for. However I have to say, it's a bit lacking in buttons and the scroll wheel is not the greatest for heavy scrolling. But the battery life is stellar, so you'll hardly be reaching for that charger.
So, bottom line? The new DeathAdder V3 Pro is a champ, no doubt. Perfect for the pro gamers out there, but the $149 price tag might feel like a bit much for the average person. It's like owning a race car for daily errands, you know what I mean? Amazing, but perhaps too overbearing for some.
| | | |
| --- | --- | --- |
| | Best Overall Gaming Mouse | |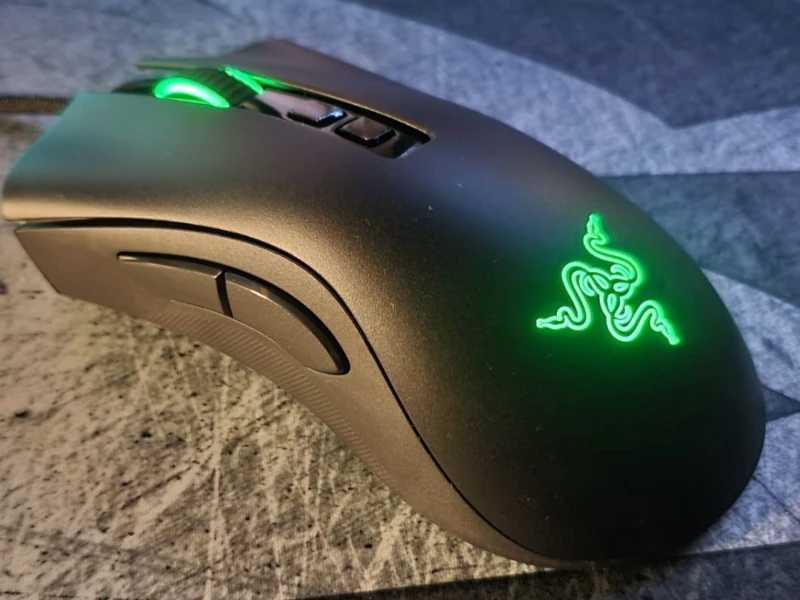 Razer DeathAdder V2
Best Value Gaming Mouse
Contains the top-notch sensors

Durable and responsive buttons

Buttons may feel a bit fragile
Specs:
DPI: 20,000
Sensor: Focus 20k DPI Optical Sensor
Battery: N/A
Interface: USB
Buttons: 8 Programmable
Ergonomic: Right-handed
Weight: 82g
The DeathAdder series by Razer is a legendary name in the gaming mouse world. The Razer DeathAdder V2, a total champ, made some sweet upgrades from its predecessor. That Focus+ Optical Sensor is the same as in the high-class Razer Viper Ultimate Wireless – it's a beauty.
Now, as for the V2, its scroll wheel and "Speedflex Cable" are the real deal. Smooth scrolling and flexible cable movement make for a seamless experience. No more annoying accidental scrolls or cable dragging. Left and right buttons are durable and ultra-responsive with optical tech. Razer promises a whopping 70 million clicks lifespan which is something serious.
However, despite the flashy sensor stats (20,000 DPI and 99.6% resolution accuracy), the button build could be a bit sturdier. A slight nudge sideways and they kind of wobble. Not a deal-breaker but something to keep in mind, especially if you plan on carrying it around a lot. In the end, this wireless gaming mouse is a solid choice, especially for its more budget-friendly mouse tag compared to the newer model. Just treat it nicely and it should serve you well in your gaming escapades.
| | | |
| --- | --- | --- |
| | | |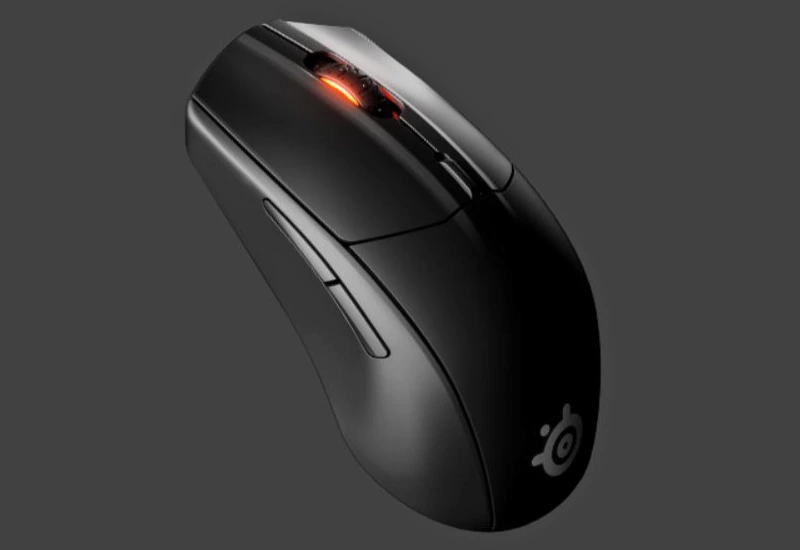 SteelSeries Rival 3 Wireless
Best Budget Gaming Mouse
Excellent 400 hours battery life

Multiple connection options

Upgraded TrueMove Air sensor

SteelSeries Engine app support

No onboard profile storage

Has issues with comfort and grip
Specs:
DPI: 18,000
Sensor: TrueMove Air Optical
Battery: Two AAA
Interface: Wireless, Bluetooth
Buttons: 6 Programmable
Ergonomic: Right-handed
Weight: 3.84 ounces
So the original Rival 3 had some hiccups, mainly a design flaw that was a bit of a bummer. But the wireless model turned those frowns upside down, mostly. It's priced pretty sweet at $49.99, and it packs some cool features that make it stand out in the sea of typical wireless gaming mice. However, the better sensor, incredible battery life, and flexible connectivity options almost compensate for its unsightly exterior, comparable to the prior model. It's slightly bigger than the original, but not by much, and it's got this plain but practical six-button setup with a single RGB lighting element in the scroll wheel.
A bit on the heavier side compared to the predecessor, but they made up for it by allowing it to run on just one battery, which is a neat touch, especially for eSports players. Although the design still leans towards claw and finger use gamers and is not the most ergonomic, the slight changes in size have made it more tolerable to use. The new TrueMove Air sensor in the SteelSeries Rival 3 is a game-changer, tracking up to 18,000 DPI and proving accurate at up to 400 inches per second. And the wireless connectivity is pretty solid with support for both 2.4 GHz connection and Bluetooth wireless.
Battery life is another big win. We're talking up to 400 hours with both AAA batteries in place. And even though there's no onboard profile storage, the CloudSync feature in the SteelSeries Engine app sorts that out, allowing you to download all your presets to any compatible computer. In the grand scheme of things, despite the not good ergonomic layout, it's a bang-for-the-buck wireless mouse that shouldn't be ignored, especially for the ones with a limited budget. It's packed with features that are a real treat for its price range. So, all in all, I'd say it's worth checking out!
| | | |
| --- | --- | --- |
| | SteelSeries Rival 3 Wireless | |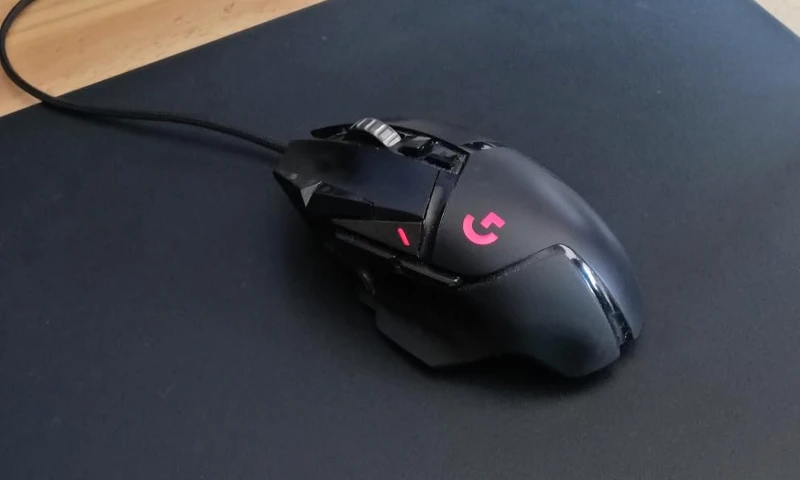 Logitech G502 Hero
Best Premium Gaming Mouse
Strong sensor with 25,600 DPI

Offers five onboard memory profiles

Adjust the heft to preference

Extra configurable buttons

Scroll wheel may feel awkward
Specs:
DPI: 16000
Sensor: HERO 25K Sensor
Battery: N/A
Interface: USB Wired
Buttons: 11 Programmable
Ergonomic: Right-handed
Weight: 4.27 ounces
You get some extras with the Logitech G502 Hero compared to the classic G502. We're talking a 16000 DPI sensor (up from 12000), improved click endurance (50 million clicks), and two more onboard memory profiles, totaling five. This edition feels lighter than its 121g, gliding smoothly like it's on air. And for those who like their mouse with some heft, you can add weights – up to 18g more. It's designed for the right-handed among us, super comfy with extra buttons that don't get in the way. You can configure them to whatever your heart desires.
Now, about that DPI – the G502 Hero lets you go from 100 to a whopping 16000, with a handy Sniper button for instant DPI adjustments. But honestly? Anything beyond 12000 DPI feels like overkill unless you have robotic eyes or something. The scroll wheel had a weird moment with it, feeling like I was in a never-ending Inception loop, but a button fixed that, giving me a nice, reassuring click with each roll. The RGB lighting is minimal, just on the logo, and you can make it as discreet as you like. While it's packed with features and customization options, you'll want to weigh these against the higher price tag and decide what's essential for your gaming or everyday use.
| | | |
| --- | --- | --- |
| | Best Premium Gaming Mouse | |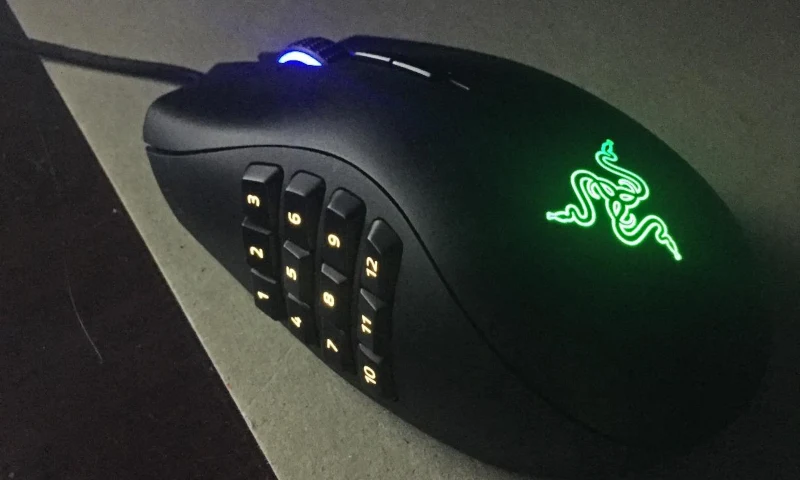 Razer Naga Pro Wireless
Best MMO Gaming Mouse
Razer HyperSpeed Wireless and Bluetooth connectivity

High-performance optical sensor

Larger and heavier than the Naga Trinity

Doesn't include the Mouse Dock
Specs:
DPI: 20,000
Sensor: Focus+ 20K Optical Senosr
Battery: 150 hours
Interface: Wireless, USB, Bluetooth
Buttons: 3 Swappable Side Plates with up to 19+1 programmable
Ergonomic: Right-handed
Weight: 4.1 ounces
Naga Pro from Razer is a dope upgrade from the Trinity, especially if you're into MMO games. They've cut the cord, swapping it with Razer HyperSpeed Wireless and Bluetooth, and thrown in optical mouse switches and a bonkers 20,000 DPI sensor. It's a bit chunkier, but it glides like butter, and even with its bigger size, it's comfy to grip. The optical switches are lightning-quick, perfect for fast-paced games.
The Naga Pro lets you swap out three different button plates, and readjusting them is a breeze with Razer Synapse. Don't worry about lag – the wireless is almost as fast as wired, with just a 0.1ms difference. The sensor's been upgraded, too, perfect for those obsessed with precision like me.
If you are battery anxious, the Naga Pro lasts an impressive 150 hours. And if it does die, plug it in and keep rolling. But it's kind of a bummer Razer didn't throw in the mouse dock. It would've been nice to plop it on the dock nightly. Overall, the Naga Pro is a sweet deal, especially if you value productivity, precision, and versatility. It's pricier, but it's a solid pick if you hate cables and love having control. Is it overkill for some? Totally. But it could be your new best friend if you're all about that gaming life.
| | | |
| --- | --- | --- |
| | | |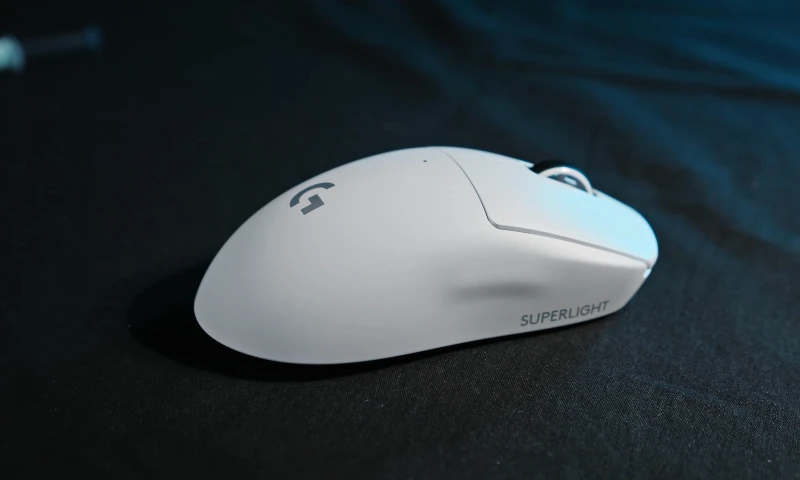 Logitech G Pro X Superlight 2
Best Lightweight Gaming Mouse
Wide enough to suit various hand sizes and grips

Smooth software integration

Good ports collection including MicroSD card slot

No dedicated button for DPI change
Specs:
DPI: 32,000
Sensor: Hero 2 Optical Sensor
Battery: 95 hours
Interface: USB-A
Buttons: 5 Programmable
Ergonomic: Right-handed
Weight: 2.12 ounces
With a slick, minimal look (no fancy lighting here!), Logitech G Pro X Superlight 2 is light as a feather at 60g, making it super comfy even for smaller hands – it doesn't feel cheap at all. But it's cost more at $159, putting it up with some serious competition. There are no dedicated buttons for changing DPI or selecting profiles, but it's got what you need with two buttons, a scroll wheel, and two side buttons.
It features a new HERO 2 sensor with up to 32,000 DPI. A bit skittish at first, but once you get used to it, it's like flying. The buttons are loud but super responsive, thanks to the new Lightforce Hybrid Switches. And the connection is snappy with a 2000Hz wireless polling rate, with practically no latency. Battery life is also solid, with around 95 hours of use without the next charge. It's even compatible with Logitech's PowerPlay mouse mat. It's expensive, but you'll never have to worry about plugging it in.
Moreover, the software is top-notch with G Hub. You can customize the heck out of DPI settings and even match it to your old mouse for a seamless switch. The downside is the lack of RGB lighting if you are that fancy type of gamer. But honestly, it looks sleek without it. So, if you've got the bucks and you're after something lightweight, reliable, and solid performance, the G Pro X Superlight 2 is the best choice for now in the gaming arena.
Logitech G Pro X Superlight 2

Best Lightweight Gaming Mouse
Should I Buy a Wired or Wireless Gaming Mouse?
Let's have a little chat about whether you should get a wired or wireless gaming mouse. The debate is real, and it's as hot as a freshly overclocked graphics card. Gaming mice today come in two flavors: the traditional wired ones and the freedom-loving wireless ones. But here's a fun little nugget for you – even in this high-tech age, many top-notch gaming mice are still rocking the classic USB cable to connect to your computer.
Now, rewind the clock, and you will find that most competitive gamers would only swear by wired mice. Why, you ask? They were all spooked about the wireless ones having this dreaded "latency" and the horror of the battery bidding goodbye in the heat of battle. But times are changing quickly – big names like Razer and Logitech are busting out wireless mice that promise teeny-tiny latency. So, unless you're gaming at a super-duper ultra-competitive level, these new-gen wireless models should keep you in the game without a hiccup.
But you've got to know how your mouse shakes hands with your computer. It could be a suitable old USB cable, a USB but make it wireless with an RF USB dongle or even Bluetooth. Now, that last one's a bit of a rare breed among gaming mice, showing up more in the productivity or mobile mouse world. Some wireless mice come with a rechargeable battery and a USB cable doing double duty – charging and connecting. Dead battery? No stress: plug it in and game on.
Now for the golden question: wired or wireless? Just make sure you know what you're signing up for. Do you have a free USB port or Bluetooth compatibility? Check the length of the mouse cable before you make a final decision. We don't want you doing acrobatics to make a short cable work. If the cable's outer sheath is made of nylon or cloth, that's just the icing on the cake regarding longevity.
Gaming Mouse Jargon Buster
DPI (Dots Per Inch):

What It Is: DPI is like the mouse's sensitivity magnifying glass. A higher DPI means the cursor will zip across the screen with the slightest wiggle of the mouse.
Real Talk: Unless you're doing some super detailed work or high-speed gaming, you probably won't need the highest DPI setting. Most gamers find their sweet spot around the mid-range.

Polling Rate:

What It Is: This is how often your mouse reports its position to your computer. A higher polling rate means it's chatting with your computer more often.
Real Talk: Common polling rates are 125Hz, 500Hz, and 1000Hz. More is generally better, but after a certain point, you might not notice the difference.

Lift-off Distance (LOD):

What It Is: This is how high you can lift your mouse off the surface before it stops tracking.
Real Talk: If you lift your mouse a lot, a lower LOD is your friend. It means less accidental cursor movement when you're just trying to reposition your mouse.

Acceleration:

What It Is: Mouse acceleration is when the cursor moves faster as you move the mouse quicker.
Real Talk: It's a love-or-hate thing – some gamers dig it, while others want their cursor movement to be consistent, no matter how fast they're moving the mouse.

Programmable Buttons:

What It Is: Extra buttons on the mouse that you can program to do different tasks.
Real Talk: Very handy for gaming (think quick weapon switching) or even just everyday computer tasks.

RGB Lighting:

What It Is: Those fancy, colorful lights on the mouse.
Real Talk: All about those aesthetics – it won't up your game, but it sure does look cool.