Are you looking for a gaming laptop with powerful performance, immersive visuals, and maximum portability? Lenovo Legion 5 Pro could be worth considering. Lenovo has been gaining immense traction recently due to its aggressive focus on gaming laptops. Lenovo's Legion series is known for its powerful gaming machines, and the new Legion 5 Pro (2022) is no exception. Their new installment, the Legion 5 Pro, is set to disrupt the market with its unique combination of cutting-edge hardware and design elements.
This latest release from Lenovo boasts some impressive specs, including a powerful 7th Gen AMD Ryzen processor, Nvidia RTX graphics card, and a 165Hz refresh rate display. It also comes with a convenient suite of thermal management tools to help keep your laptop cool during extended gaming sessions. But how does it really stack up?
If you're in the market for a high-performance gaming laptop that doesn't compromise on portability, then you won't want to miss this Lenovo Legion 5 Pro review. We break down all the key aspects of this powerful gaming computer so that you can make an informed buying decision. Read this Lenovo Legion 5 Pro review to find out what makes this notebook stand out from the crowd and if it's worth spending your money on this model.
More to read:- Acer Predator Triton 500 SE Review
Lenovo Legion 5 Pro: Design and Build Quality
The Legion 5 Pro isn't the best-looking notebook around, but it is definitely one of the most functional. It has a solid-yet-bulky chassis, with a design that takes cues from supercars and fighter jets. Talking about the look, this solid grey color notebook doesn't feature the flashy decals or designs that are now industry standard except for a single Lenovo logo on the outer side.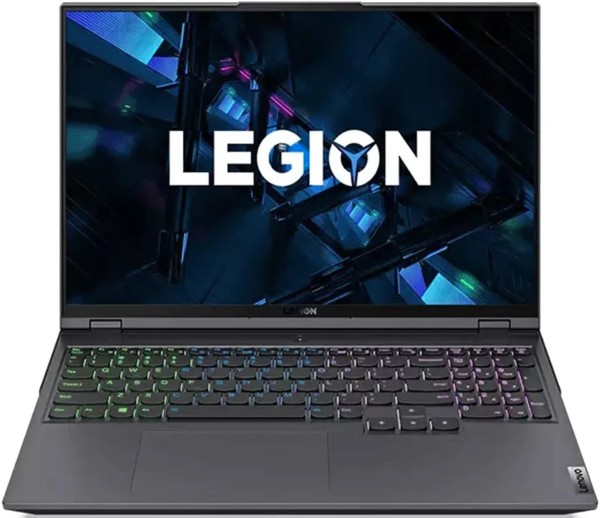 This year, the company has introduced a new Legion model with an improved design and build. When you open the Legion 5 Pro, it looks like something entirely different from the past. The screen's aspect ratio is 16:10, its bezels are narrow, and its hinges are compact though durable. The 16:10 ratio of the display panel is more typical of business laptops than gaming systems, but still, gamers won't mind having some fun on a 16-inch screen. With the additional height, not only do games appear better, but you can enjoy all the activities comfortably whether it's watching movies, browsing the web, or doing media editing work.
Another feature of the Legion 5 Pro is its RGB-illuminated island keyboard. Users can choose from several illumination effects in the software, and the laptop's keys are slightly larger than what you'd expect on a standard gaming laptop. Despite that, the keystrokes are still responsive. Lenovo Legion's keyboard has a decent mid-range, good response behavior, and is fairly comfortable to use. Also, the Legion 5 Pro has an e-shutter switch that shuts off the webcam, which is a nice feature for privacy.
The Lenovo Legion 5 Pro has a lot of ports, and most of these are located on the back of the device. Back of the device is a USB 3.2 Gen 2 Type-C port for display output, which may be used to either charge a laptop or provide power. For uninterrupted gameplay in the years to come, there is a Gigabit Ethernet port and a 4K/120Hz-capable HDMI 2.1 port. However, a single USB-A port is located on the left side while one USB-C alongside an audio/headphone jack is placed on the right side of the laptop. Along with the dual-band 802.11ax WiFi and Bluetooth 5.2, the internal connectivity options include a Gigabit Ethernet connector. Unfortunately, there is no SD card slot and fingerprint reader but it's otherwise a fully-featured setup.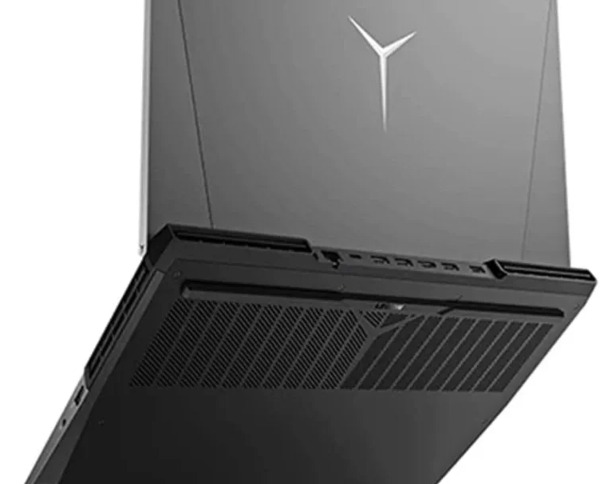 You'll have to keep in mind that the Legion 5 Pro weighs 10 pounds so its body is somewhat hefty when transporting it, as the device is unabashedly huge. But still, it is very pleasant to keep this device with you because of the fact that it brings the combination of working and playing efficiently. You won't find any flashing logos or turbo buttons to occupy your attention. All other considerations take a back seat to functionality.
Also read:- Razer Blade 15 (2022) Review
Lenovo Legion 5 Pro: Display
The display is one of the best you can get in a laptop of this size. It has an impressive 16″ IPS display that is tall and wide enough to straddle your desk. The 16:10 aspect ratio gives you more space to work than most laptops with the same size screen. And the high resolution, 165Hz refresh rate, and 1,300:1 contrast ratio make it a very pleasant and vibrant display. Its picture quality is superior to that of Full HD and 1440p displays thanks to its higher resolution of 2,560 by 1,600 pixels. Additionally, the 16-inch diagonal is a smart choice, as you will get a wider area to do the job than the standard 15.6-inch notebooks.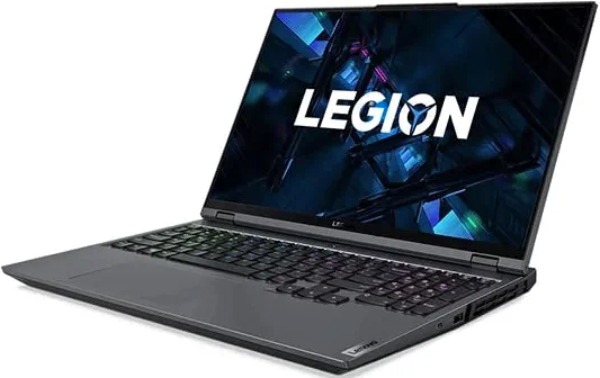 In addition, the Legion's black point is very good, and it is not too bright. But the display doesn't handle HDR situations very well. This means that it only does well in the most demanding gaming scenarios. At full brightness, it has a maximum brightness of 500 nits, which is great for working in bright lighting. Because of the high brightness and contrast ratio, this screen is capable of displaying incredibly vivid colors and subtle gradations, even in bright environments.
In a general, it's a type of display that can impress the majority of users even professional gamers. However, the Legion's performance is impressive in the majority of categories. Due to its higher aspect ratio and better quality, it provides a more immersive viewing experience than other laptop screens. If you are looking for even higher panel features such as 4K resolution, then this model is not for you and you have to stretch your budget for that. Usually, the competitive or serious always look for top-notch gaming systems which include 240Hz-300Hz refresh rates and can deliver higher fps in intensive games. This Lenovo Legion Pro 5 is not for those serious buyers.
Lenovo Legion 5 Pro: Performance
If you are looking for a mobile gaming laptop that performs well, the Legion 5 Pro might be your best choice. As for performance, the Legion 5 Pro's octa-core Ryzen 7 5800H CPU is a strong option. It boosts up to 4.4 GHz and is power-efficient in lower-power modes. The Legion 5 Pro's Nvidia GeForce RTX 3070 graphics card is also a good choice. Furthermore, there is a 1TB solid-state drive (SSD) accompanied by 16GB of RAM operating at a speedy 3200MHz on two memory channels. Those specs are adequate for general use and will maintain the computer running quickly, and a 1TB storage always is preferable for massive collections of games.
On the Legion 5 Pro, I was able to play every single game in my standard test at ultra settings and the highest possible resolution with no hiccups whatsoever. With the display graphics set on 1080p, I got 40-60 fps at the higher settings and even 90-100 frame rates when the in-game graphics settings are set after some tweaks. Many hours of playtime in Fortnite, League of Legends, Cyberpunk 2077, and CS:GO were met with no hiccups. Even older titles like Grand Theft Auto V or Call of Duty worked well at decent fps and resolutions on the maximum settings. Usually, the machine remains quiet when you don't put on too much, but you will notice the fan noise during heavy workloads when GPU uses a lot of power.
There are a few instances where lowering the graphical fidelity is necessary. In order to get at least 60 frames per second for most titles, you should need to adjust the settings at low or medium graphics. When the card's ray tracing and DLSS are enabled, you won't be able to get the desired output for many high-intensive PC games. To avoid delays in congested areas, you should have to adjust the settings to get good fps to enjoy a smooth gaming experience.
Although the Legion 5 Pro's chipset is quick and powerful, its rivals can still exceed it marginally. But I wonder how much of an actual difference that would make. If you're doing intensive work for some time, like 4K video streaming or heavy gaming, you might notice a change. The impact will be more subdued, though, if the most stressful tasks occur in intervals rather than continuously. However, it's been enjoyable to play games on the Legion 5 Pro. You can listen to music without worrying about being overheard thanks to the speakers' high volume.
More to read:- Alienware x17 Gaming Laptop Review
Lenovo Legion 5 Pro: Battery
Battery life is not as impressive as we had expected. It lasted just over three hours while running moderate-to-high-demanding work tasks. Even then, it was not likely to last through a cross-country flight. You'll need to charge your laptop completely before going outside with your notebook. From a gamer's perspective, this section of the device will disappoint its buyers as it barely survives for two hours during the gaming session.
The Legion 5 Pro is not designed for extended periods of gameplay without a power adapter, as is the case with the vast majority of gaming laptops. How long a battery seems to last to you may rely on how you use it. A Windows gaming laptop's battery life of five hours is standard during normal usage with low brightness, but it's far below that of productivity-oriented computers. The charger is essential and should be packed for every travel.