The one major difference between this year's Surface Pro model and the previous Surface Pro 8 is that Microsoft has released two different variants instead of one. It's true that this fall sees the release of not one but two brand-new Surface Pro systems. They share similar external characteristics and compatible peripherals but have substantial changes on the inside. One system comes with a typical Intel chipset but now, the company has included Intel's most advanced 12th Gen "Alder Lake" CPUs. However, the second model which is also our discussed unit in this Microsoft Surface Pro 9 5G review is equipped with Microsoft's ARM-based Qualcomm SQ3 chipset.
By releasing the Surface Pro 9 5G, Microsoft has demonstrated that it has matured as a tablet notebook manufacturer since its early attempts. It's the first-ever Microsoft Surface model since the initial launch of the lineup a decade ago which is able to connect to lightning-fast 5G networks. It's also disheartening to see Microsoft continue to make the same previous blunders that we discuss below. To put it simply, we can put this laptop into the list of ARM-based Windows models which have not attracted us too much and it's even hard to suggest this device.
The SQ3 chip replaces the Intel processor, however, the Microsoft Surface Pro 9 5G is mechanically identical. This Microsoft/Qualcomm ARM-based concept is optimal for lightweight mobile devices with low power requirements, such as laptops and tablets, because of its extended battery life and 5G connectivity. Microsoft's NPU (Neural Processing Unit) is built into the SQ3. Studio Effects are a set of supplemental camera features that make use of this, and they contain things such as improved backdrop blurring, auto framing, and eye contact, which is supposed to render it as if your eyes are constantly towards the camera.
Microsoft Surface Pro 9 5G: Price and Specifications
One could never describe Microsoft's Surface products as cheap. Seeing how Microsoft was pushing the Computer market towards exciting new design and business possibilities, it seemed unlikely that this had any significant impact anyway. However, the time never remains the same and the competition grows day by day. Currently, you can find a lot of 2-in-1 tablet PCs from many large brands and most of them even beat Microsoft's Surface Pro models. When there is a tough challenge to even spend your comfortable living due to the world crisis, who agrees to pay $1500-$2000 for a single portable device?
At its cheapest, the Surface Pro costs $999 (or £1,099 or AU$1,649). It has a basic platinum finish, a 12th-generation Intel Core i5 processor, 8 GB of RAM, and 128GB of SSD. The package only contains the slate (and a power cord). The stylus, as well as the keyboard case, are optional extras.
For an additional $100, you can purchase the identical setup with a 256GB SSD in either of four colors (Platinum, Sapphire (or Blue), Forest (or Green), or Graphite) for a total of $1,099. It appears that Intel provides the most worth, yet consumers should demand at least 16GB RAM in any machine costing more than $1,000. There's a noticeable price hike when going to 16GB of RAM, coming in at $1,399. Prices for Core i7 models range from $1,599 to $2,599, with as much as 32GB of RAM and 1TB of the solid-state drive available.
Considering the 5G edition, you're limited to a single color (platinum), but this time you can choose between four different configurations (beginning at $1,299), ranging from 8GB of RAM and a 128GB SSD to 16GB of RAM and a 512GB SSD. For my evaluation, I have a $1,599 model with 16GB memory and a 256GB of fast SSD.
Also check:- Lenovo IdeaPad 3 14 (82KT00GVUS) Review
Specifications
| | |
| --- | --- |
| CPU | Microsoft SQ3 |
| GPU | Qualcomm Adreno 8cx Gen 3 (integrated) |
| RAM | 16GB LPDDR4x |
| Storage | 256GB PCIe NVMe SSD |
| Display | 13″ PixelSense Flow (2880 x 1920) 120 Hz touchscreen |
| Networking | Qualcomm WCN685x Wi-Fi 6E, Bluetooth 5.1, LTE, 5G |
| Ports | 2x USB 3.2 Type-C, Surface Connect, Nano SIM |
| Camera | 1080p webcam, IR, 10-megapixel rear camera |
| Battery | 47.7 WHr |
| Power Adapter | 39 W |
| Operating System | Windows 11 Pro on Arm |
| Keyboard + Stylus Pen | Surface Pro Signature Keyboard with Slim Pen 2 ($279.99) |
| Dimensions (WxDxH) | 11.3 x 8.2 x 0.37 inches (287 x 209 x 9.3 mm) |
| Weight | 1.95 pounds (0.88 kg) without a keyboard |
| Price | $1,599 |
Microsoft Surface Pro 9: Design
The Surface Pro 9 maintains the same sturdy construction that makes its predecessor Surface Pro 8 the best 2-in-1 laptop. Its aluminum frame is strong without being cumbersome, and the tablet can be transformed from a laptop to a flattish painting canvas with the flip of a hinge. The other positive aspect of this year's release is the availability of four different color editions. The new Sapphire and Forest choices are very stunning and for those who love to pick a dark variant, the Graphite color is also in stock. It's amazing that  Microsoft included some brighter tints for the Surface Pro 9, as the newest iPad Pros have still been restricted to silver tones.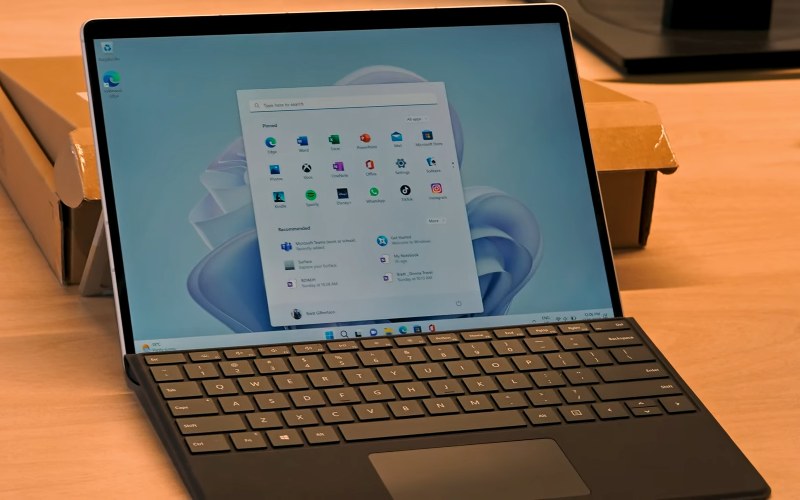 As we are writing this review with the Pro 9 5G system in our hands which is only restricted to platinum color and our is also no difference in appearance. Unfortunately, these multiple color options are only available for models with Intel processors. Although let's talk about the build and design, its slender frame and rounded edges call to mind the Surface Pro X a lot more but not very similar to what is seen on the Surface Pro 8. Just one identifying feature, other than the stripes denoting the antennae, is a Windows emblem that reflects light and stretches virtually flat from the kickstand.
The Surface Pro 8 brought the Pro series into the present day by cutting back and reducing the size of the bezels in the same way that the Surface Pro X does. Therefore, Microsoft didn't bother updating the Surface Pro 9 design despite the fact that it had been so successful in the last year. The high-quality aluminum frame has the same 0.37 × 11.3 × 8.2 inches (HWD) dimensions and weighs just 1.94 pounds as before. But due to the addition of antennae, the 5G-capable SQ3 unit weighs in at 1.95 pounds.
Taking away the headphone jack is the most divisive tweak. Since the release of the Pro 8, Microsoft has made some minor adjustments to the port collection and control buttons. Many people may be disappointed by the lack of a 3.5mm headphone jack, as they may have previously purchased earphones or costly over-the-ear headsets that can only be linked with this audio port.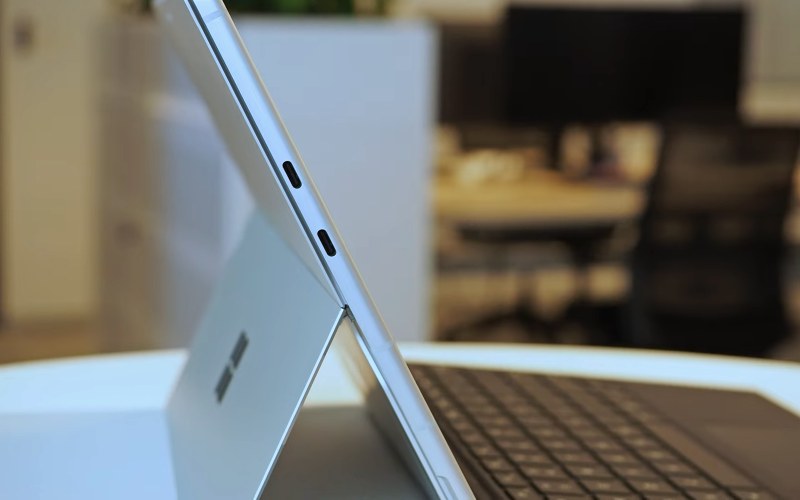 The notebook's two USB ports are now located on the opposite side of the device, free from interference from the Surface Connector charging dock. Unlike prior Pro models through the Surface Pro 8, the switch button is now located on the top bezel of the Surface Pro 9 5G, right next to the volume controller. Moreover, the SIM card slot is located just underneath the kickstand. Nano SIM slot and solid-state drive (SSD) are easily accessible after the back cover is popped off with any SIM ejector which is offered in the box.
Also read:- Razer Blade 15 (2022) Review
Surface Pro 9 5G: Display
The Microsoft Surface Pro 9 display quality remains unchanged from the previous year's version. The PixelSense display once more looks attractive thanks to its high-definition resolution of 2,880-by-1,920 pixels in a 3:2 aspect ratio. Even though a 120Hz refresh rate is more commonly associated with gaming computers, the panel nonetheless maintains this speed, making even mundane things such as browsing the web appear more fluid. It has enough brightness and touchscreen ability to function as a tablet and with the separately purchased Surface Pen.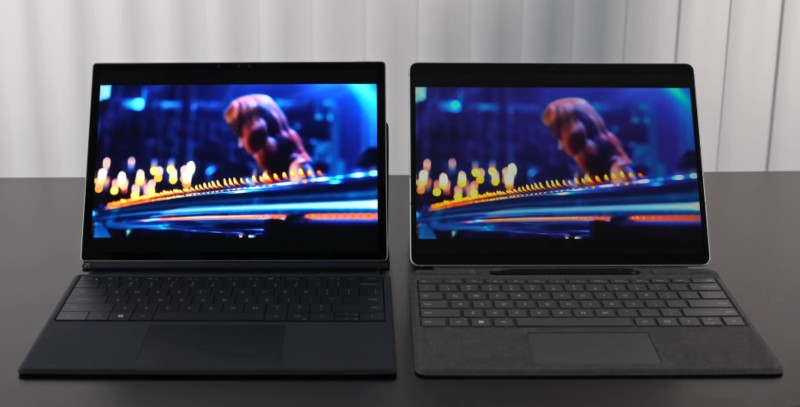 Still, the Surface Pro 9 5G's screen is great but it can't compete with the iPad Pro 12.9's in terms of brightness and contrast. Its contrast ratio is 1200:1, and its maximum brightness is 450 nits, both of which are lower than the iPad Pro 12.9's, which comes with 1,600 nits and 1,000,000:1. You will not be satisfied with the brightness when using Pro 9 in the direct sunlight. However, when working indoors, it is bad and good enough to do any work including watching videos, web surfing, or business tasks. A few of these configurations are bound to cause concern among editors and designers. Nonetheless, we experienced zero slowdowns or other issues whether editing, browsing, designing, or running different programs.
Nowadays, it becomes very normal to just slide or hit your finger on the screen to perform activities when it comes to Microsoft Surface laptops, but for sketching arts or writing notes, we still think the Slim Pen 2 is a great investment. The stunningly crafted Slim Pen 2 gives the impression that black ink is dripping from its tip and onto the display. The latest Surface Pen 2 has such improved tactile feedback that provides the experience of writing or designing on real paper.
When compared to the Dell XPS 13 and the MacBook Air, the Surface Pro 9's display panel achieved very identical results, covering 75% of the DCI-P3 color gamut and 105% of the sRGB. In this regard, the ThinkPad X13s scored higher, achieving 83% and 117% DCI-P3 and DCI-P2, respectively. The kickstand is flexible and can be adjusted to a flatter position than is typical. In addition to being helpful in general, this allows using the Surface Pen for sketching more naturally.
Microsoft Surface Pro 9 5G: Performance and Battery
Depending on your intended use and level of precision, the 5G variant's performance may or may not meet your needs. For the most part, this depends on whether or not you fall into the category of creative professionals that Microsoft has in mind when designing their Surface laptops. If you are a creative editor or designer, your mainly used software should be Adobe products or any other high-end editing tool of your choice. As our testing unit is a 5G one with an ARM-based SQ3 chipset, only Photoshop and Lightroom's ARM native editions will operate on this machine. Due to the lack of compatible apps of Adobe Premiere and other Adobe products, it's unfortunately not possible to use these tools on this Surface Pro 9 5G.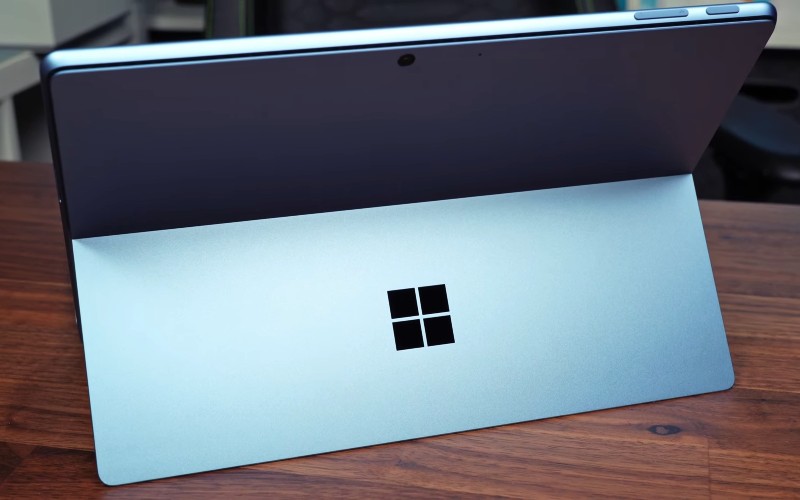 Because of having a different chipset from typical computer processors, this SQ3-equipped notebook is not able to run many sophisticated PC software, but this device still performs admirably and never gives the impression as if you're having a handset in the form of a computer. We simultaneously ran a number of applications and opened many tabs on the Chrome browser without seeing any slowdown on its HD display.
The Surface Pro 9 proved adequate for routine tasks such as checking email, web surfing, and working with documents. In contrast to the Surface Pro 9 model powered by Intel, the SQ3 version won't be able to provide the same level of performance. In the benchmarks, the performance of this Pro 9 is almost on the level when we previously experienced in Surface Pro 8, and the chip's single-core rating is the same as Lenovo ThinkPad X13s which comes with Qualcomm Snapdragon 8cx Gen 3 processor.
The SQ 3, powered by ARM, has significant advantages in terms of runtime. The ARM-based device performed worse than predicted in practically every category, with the exception of battery life, where the Surface Pro 9 5G achieved one hour extra during normal usage. According to Microsoft, this 5G model has a longer battery life of 19 hours while the Intel-based laptop is claimed a timing of 15 hours. According to our observation, the battery lasted for about 14-15 hours even when subjected to a variety of uses. Although, the battery life totally depends on the type of usage. The Microsoft Surface Pro 9 5G is among the best laptops with Windows 11 to buy if your preference is mobility and long battery life.
Also read:- Alienware x17 Review
Is it Worth Buying Surface Pro 9 5G?
Microsoft's Surface Pro 9 maintains the company's custom of offering high-end systems independent of the device's central processing unit. Microsoft appears to believe that Arm-based systems are ready for their moment in the spotlight on Windows, as evidenced by the company's decision to launch the same model with its SQ3 Arm chip. The Surface Pro 9, in either its normal or 5G iteration, is a fantastic notebook for activities like designing, watching videos, and taking notes.
Most probably, you are very confused about which version you should buy, if have decided to get a Surface Pro 9, we help you to make your choice. The SQ3 is the ideal choice if you place a premium on internet access. However, if speed and connectivity are priorities, Intel is the way to go. We can only expect that users who are attempting to decide between these models won't get thrown off by the fact that they share a title.
If you actually want it, 5G is fantastic (but don't most people simply connect their phones anyway?). Additionally, Studio Effects are a lovely addition however are barely essential. However, I might choose the Pro 9 5G variant due to the product's claimed longer battery life and the general improvement in the quality of ARM-based personal computers in recent years. But, by looking at the price of both tablet editions, we can feel that this SQ3 system costs more with less efficient when compared to the high-performance 12th-generation Intel processor.