The market for affordable laptops has a wide variety of choices. Some cheap models use a Core i3 or AMD Ryzen 3 chipset with an integrated graphics card and 4/8 GB of RAM. Even though more feature-rich gaming laptops are available, including strong processors, discrete graphics cards, and a considerable quantity of SSD storage, their hefty price tags put them on the cusp of the flagship while still placing them in the middle-cost list. It depends on your budget and requirements which one you should buy. But today, we are here with Lenovo IdeaPad 3 14 (82KT00GVUS) review – a cheap best gaming laptop under $500 with some excellent hardware specifications.
This Lenovo IdeaPad 3 makes no serious sacrifices in any crucial respects. While similar inexpensive models from some years back were shipped with a weak HD display, this budget laptop from Lenovo boasts a 14-inch full HD (1920 x 1080) display panel. This laptop has almost all the features you could desire in a portable computer, and it does not cost significantly. In addition, the Windows 11 Home OS is pre-installed in it, saving you the trouble of switching from the Windows 10 seen on many budget laptops.
The system comprises a powerful AMD Ryzen 5 5500U CPU, a Radeon Vega 7 GPU, and 8GB of DDR4 RAM. Compared to the meager 4GB RAM found in just about all cheap laptops, this inclusion of 8GB in this model is a significant aspect. Moreover, it includes fast 256GB SSD storage, and the battery life is also awe-inspiring. You can play a lot of basic and even many current demanding games at lower to medium settings. Additionally, this laptop is good enough to perform editing work and multitasking, but upgrading your RAM to at least 16GB for gaming and other heavy processing is better.
So, let's go through the detailed Lenovo IdeaPad 3 82KT00GVUS review to look at its specs, build, and how well it can perform.
Lenovo IdeaPad 3 14 (82KT00GVUS) Design and Build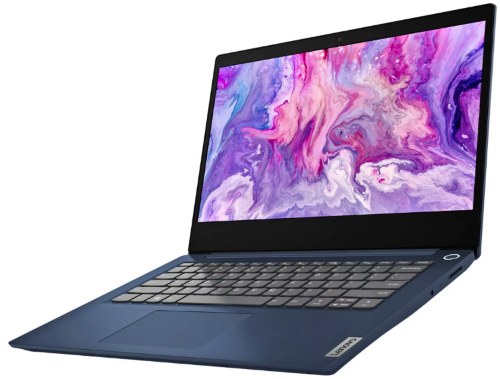 The Lenovo IdeaPad 3 (82KT00GVUS) doesn't feature groundbreaking design changes. It is available in a deep blue "Abyss Blue" color and has a simple, sleek design. However, it has a stylish appearance reminiscent of polished aluminum but is built entirely of plastic.
The laptop isn't very lightweight at over 4 pounds, making it less convenient to carry around than we prefer. It weighs 4.4 pounds, but its lightweight design makes it feel like much less. You'll appreciate the matte finish of this notebook, especially if you intend to work with it primarily in bright environments. Because of its narrow bezels, it looks quite contemporary.
There is also a decent webcam on the top of the side bezels. Furthermore, the keyboard is pleasant, offering decent ergonomics and an excellent key travel length. However, it does not have any keyboard backlight besides having a sensitive trackpad and a fingerprint scanner built into the power button.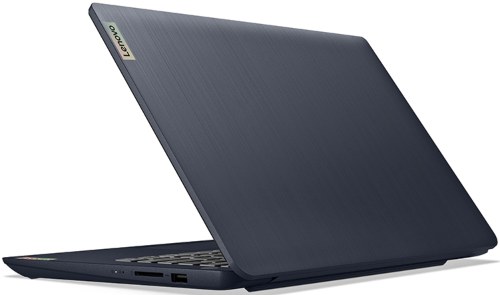 Considering the connectivity options, a charging socket, a USB Type-A port, an HDMI port, a USB Type-C port, and an aux jack can all be found on the left side. A Type-A USB connector and a microSD card reader are available on the right. Sadly, this laptop does not have an ethernet port. The vent grills and speaker openings are often located on the backside. The speakers are a bit lackluster, as they're acceptable but not particularly loud or have no boomy bass. Use earphones or a separate speaker for the best experience.
Lenovo IdeaPad 3 Display
The screen's quality is consistent with that of mid-range devices. With a diagonal of 14 inches and a Full HD 1080p (1920 x 1080 pixel) IPS display, this device stacks up favorably. The 14-inch size strikes a good balance between the more portable 13-inch and the more extensive 15-inch displays. Because of its small bezels, the Lenovo IdeaPad 3 (82KT00GVUS) is more comparable in size to a regular 13-inch model.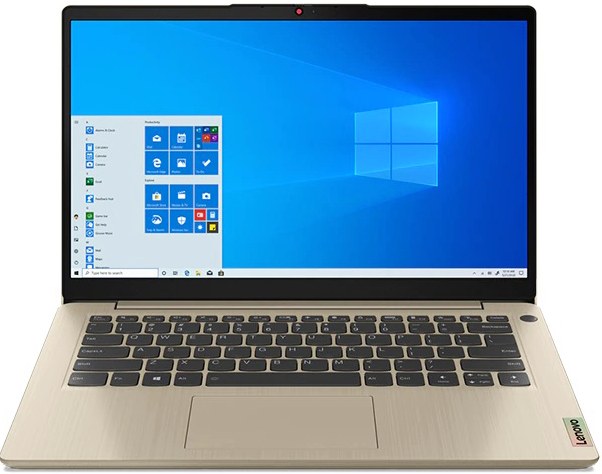 The display appears colorful, and the FHD 1080p panel is sharp and detailed – however, its brightness is inadequate. To my eyes, the colors seem a little flat and lifeless. The display has enough sharpness and reasonably crisp visuals, but it consistently lacks the premium feel of a screen. While this IPS screen may seem dim in direct sunlight, most individuals have found it bright enough for outdoor use and praised its wide viewing angles.
When seen from at least 56 centimeters away, the panel counts as Retina (at such a distance, the naked eye cannot distinguish between pixel intensities). The backlight stays on steady and bright. However, as is familiar with low-cost displays, it only reveals 54% of sRGB color space. It's worth noting that the screen is a big clue that this isn't an expensive flagship notebook.
Lenovo IdeaPad 3 14 Performance
Although the Lenovo IdeaPad 3 82KT00GVUS's appearance doesn't bring anything particularly new to the table, we were incredibly impressed by its hardware configurations even making it the best budget gaming laptop.
To get things rolling, there's a snappy 5th Gen AMD Ryzen 5 5500U CPU with a base clock speed of 2.1 GHz and a turbo boost of up to 4 GHz. The other decent component is the AMD Radeon Vega 7 graphics card installed in this laptop. It is responsible for all visual processing. When both CPU and GPU are combined with 8GB of DDR4 RAM and quicker 256 GB of NVMe SSD storage, you have a powerful configuration that can handle your typical tasks with ease.
The AMD processor is a reliable worker for casual gaming and basic video editing at the workplace. Some newer games might work on it if you set the graphics to low or medium, although for many popular high-intensive games, you must have a gaming system with a dedicated GPU. This laptop's more than enough built-in graphics card makes it ideal for a wide variety of graphics-intensive tasks, including video streaming, media editing, multitasking, gaming, and even development work.
The Lenovo IdeaPad 3 14 can keep up with the Aspire 5 and the VivoBook 15, both popular laptops, but it lacks some features present in its rivals. You can find backlit keyboards on these systems, and the former even has 512GB of SSD while being competitively priced. To sum up, we can remark that we are blown away by these specifications since we rarely come across such high-end features on laptops at such an affordable price.
Lenovo IdeaPad 3 14 (82KT00GVUS) Battery
Now let's talk about the Lenovo IdeaPad 3's battery life; it has not met our expectations completely but still is good enough to get the job done. This laptop has a battery life of about 6-7 hours. We wish it be much longer than that, but apart from that, we're pleased. It can last through the office and college time without forcing you to plug it in again for charging.
Our Verdict
You have to give up something to get an affordable laptop, and the IdeaPad 3 14's subpar speakers and uninspiring screen are where you need to compromise. However, they are relatively minor issues, and you are unlikely to recognize them. The Lenovo IdeaPad 3 14 (82KT00GVUS) still manages to convey an air of refinement. The model excels compared to rivals thanks to its fast processing, solid construction, features like a USB-C connector, and Wi-Fi 6.
It has a strong CPU and GPU, upgradable memory, enough space, and quite a decent battery life, making it possible to carry along with you on the go while not worrying about its charging. This IdeaPad 3 is an excellent laptop with a good range of features. For those who care less about aesthetics and more about having a capable and economical notebook, it's one of the better choices available.