Looking for a budget laptop? Ready to compromise on performance and features? That's not the whole reality, especially if you have been looking for the best laptop under $400. With around $400 amount in your pocket, you can bag a machine that doesn't just meet your needs but maybe exceeds them. Who said you have to empty your wallet to get a robust notebook loaded with essentials like a dependable Intel or AMD processor, a fast SSD, a good 4-8 GB of RAM, and a decent FHD 1080p display? And if that wasn't enough, some of the big-name manufacturers are even throwing in keyboard backlighting and more.
In this article, we are presenting our budget-savvy guide to the best laptops under $400. Remember, your perfect match is out there – just think about what you need. Processing power, performance, design, and user reviews – all these are essential ingredients in your decision-making choice. With a large number of options out there, choosing a laptop can feel like navigating a labyrinth. However, we've clocked in the hours, done the deep-dive research, and handpicked the top laptops for you, all based on rigorous analysis and expert wisdom.
However, let's set some expectations – these affordable champs aren't built for heavy-duty gaming or dealing with mega tasks. If you're dreaming of an affordable gaming rig or a workstation for high-end tasks, you might need to reconsider your budget. But on the brighter side, if you're all about everyday study or office tasks, basic photo and video editing, or just kicking back with some light or classic titles, you will not suffer. Some of these under $400 notebooks pack decent graphics cards and can handle these activities with a surprising amount of grace. If you want the perfect gaming rig, we recommend checking our picks for the best gaming laptops under $500 or gaming laptops under $600.
Best Laptop Under $400:
Lenovo IdeaPad Flex 5i (2022)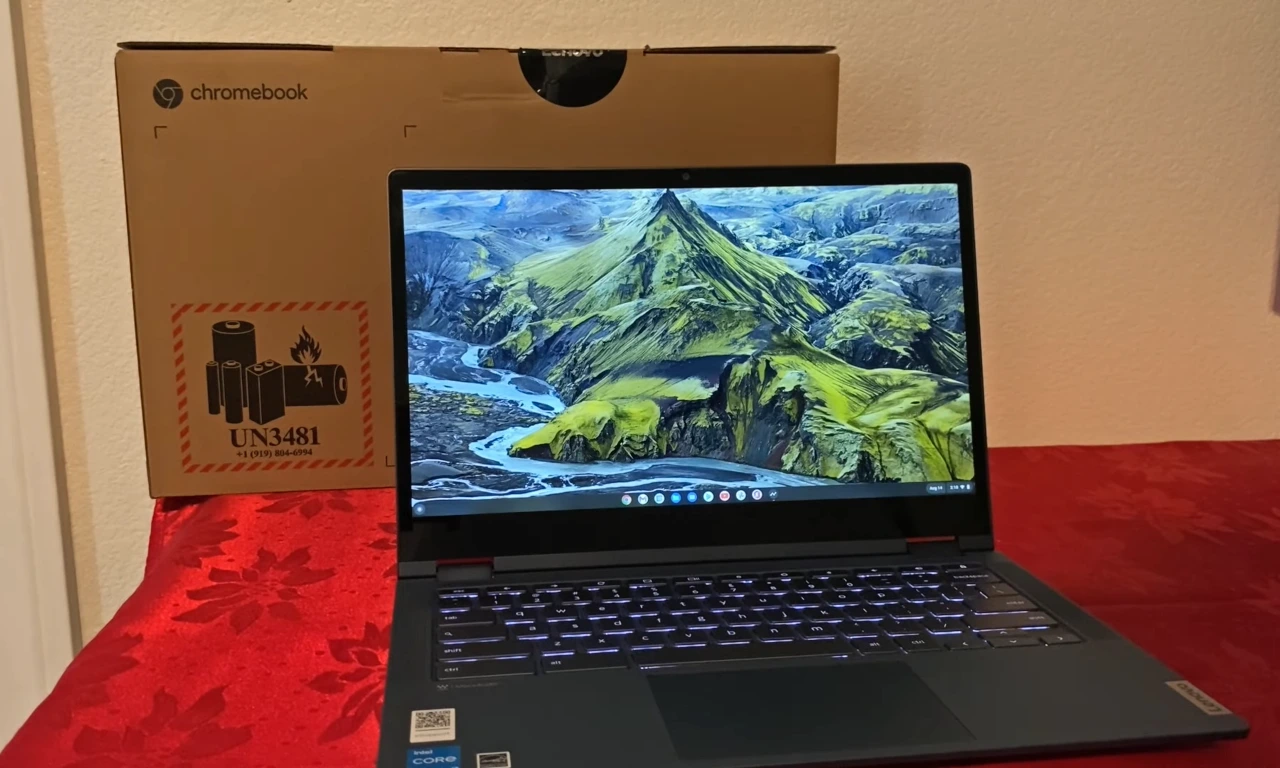 Stellar performance given its price

Good for the student or office workers

Webcam privacy is available

Not good to use in bright light

Stylus pen not comes in the box
Lenovo IdeaPad Flex 5i 2-in-1 convertible Chromebook is the best laptop under $400 we have analyzed and picked. It sports a 13.3-inch 1080p FHD display packs a punch in productivity, and boosts a long-lasting around 10-11 hours of battery life for its price. Credit that to its dynamic trio – an 11th Gen Intel Core i3-1115G4 processor, 8GB of RAM, and a 128GB solid-state drive. It doesn't disappoint on the performance front – whether you're typing away on Microsoft Word or Google Docs, streaming videos, listening to music, or dabbling in some photo and video editing tasks. Even with most Android games from Google Play Store, it doesn't miss a beat.
Even though it doesn't have a ton of extra features, the IdeaPad Flex 5i Chromebook manages whole wow with a few clever hacks. The interesting part is that you can always cover up the built-in webcam with a case while it's not in use, providing extra security. Plus, the touch display is pen-enabled, meaning you can jot down notes or let your creativity flow with a stylus USI pen.
Sure, you will find a few more low-cost Chromebooks than this model that might assist you with your immediate tasks. But, Lenovo Flex 5i is designed for the long haul, offering standout features and performance for just under $400 price point. Trust me, it is one of the best Chromebook models for its unbeatable combination of price, performance, and compact build.
Best Windows Laptop Under $400:
ASUS VivoBook 15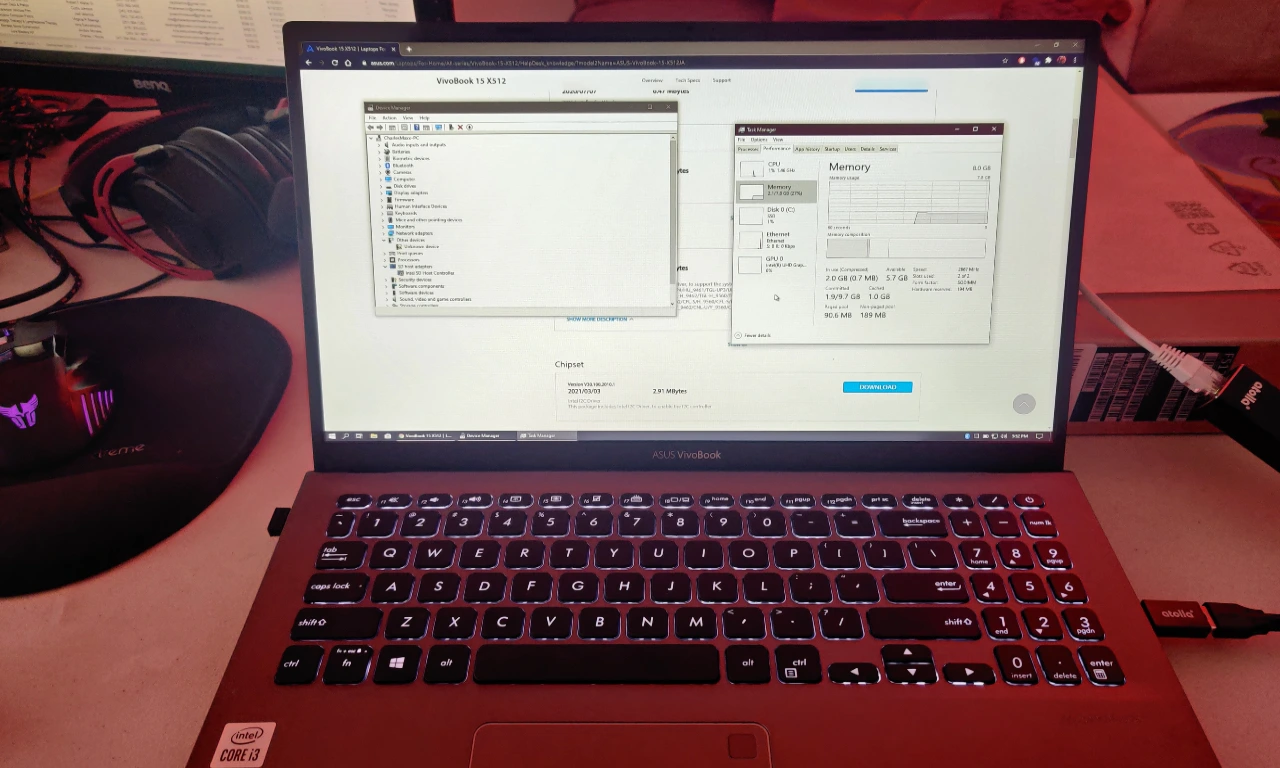 Strong 10th Gen processor

Overall solid performance

Good for light gaming and media tasks

Includes backlit keyboard and fingerprint reader
If you want to abandon Chrome OS because of its limited storage and other features or would like to work more comfortably under Windows, you can go with ASUS VivoBook 15. This laptop is head and shoulders above the competition in the sub-$400 category on account of its powerful hardware, extensive set of features, and reasonable price. You won't find many comparable devices that offer a lot of premium amenities at such a low price.
This laptop's Intel i3-1005G1 processor and Intel UHD Graphics are some of its most important hardware parts. Whether web browsing, video streaming, or using one of your preferred productive applications, this strong combo gives you the strength and productivity you require to breeze through it all. The VivoBook 15 is equipped with 8GB of RAM and a 128GB fast SSD, providing sufficient power and storage for most users.
More Info – ASUS VivoBook 15 Review: Everything You Need to Know Before Buying
Display-wise, the VivoBook 15 holds its own. This laptop has a stunning 15.6-inch 1080p HD display, thin bezels, and a backlit keyboard, making it a sight to behold. However, it's important to remember that even good economic notebooks have to make sacrifices at some point, and the display and speakers are where the modest impact is felt. The maximum brightness of 204 nits could not be satisfactory for using this notebook under intense sunshine.
Don't be fooled by its low cost; the VivoBook 15 performs like a much more expensive notebook. The backlit keyboard and fingerprint reader are thoughtful inclusions that make this laptop a great choice for those who often work in dim environments or value-added security. It can handle light to medium media editing work and run less demanding games like Fortnite, Apex Legends, and CS:GO at lower graphics settings. In short, the ASUS VivoBook 15 offers quality and productivity that defies its modest price tag.
Best Gaming Laptop Under $400:
Acer Aspire 5 (A515-46-R14K)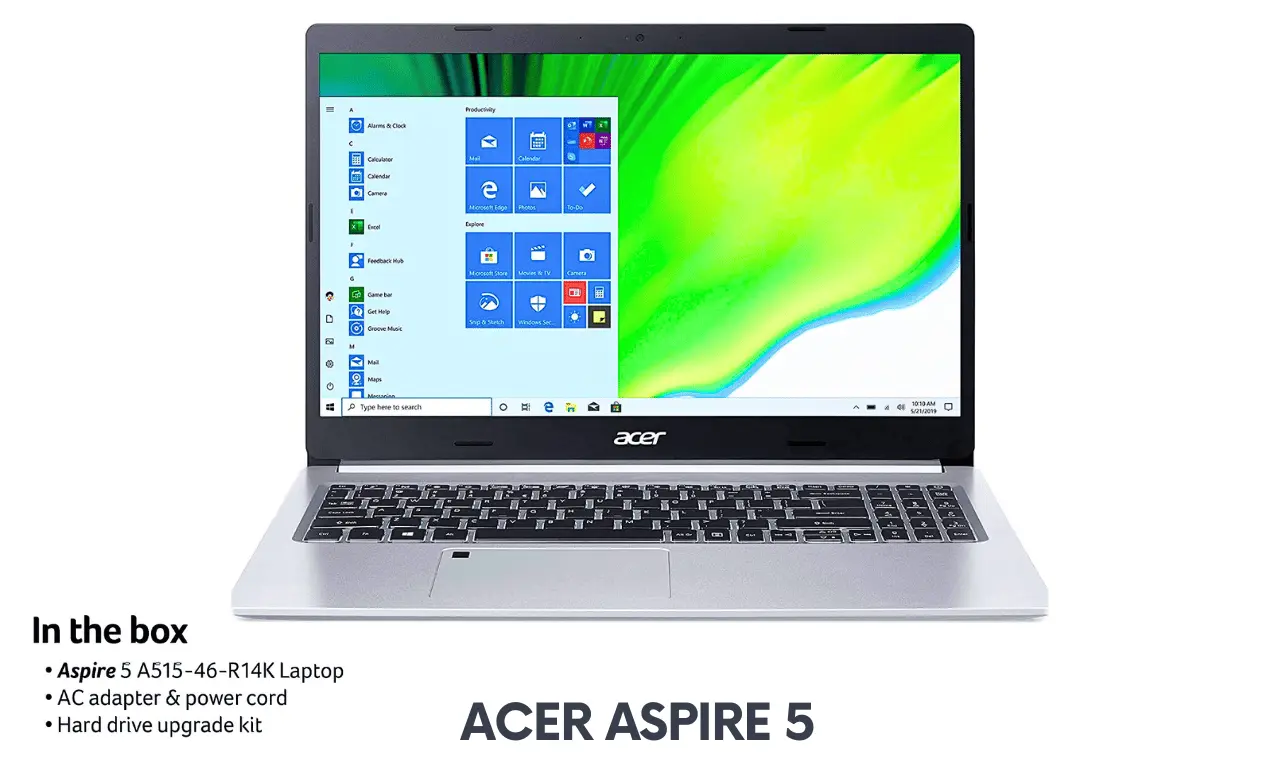 Decent AMD CPU and GPU combo

Wide sharp IPS display panel

Elegant, slim, and lightweight

Can't run demanding games

Limited RAM and storage (but upgradable)
If you are into gaming with a limited budget, we have picked Acer Aspire 5 Slim for those who hold an affinity towards AMD Ryzen configurations. This rig checks all the right boxes without breaking the bank, wrapped up in a pleasing design with powerful specifications. Its 15.6-inch FHD IPS display has won high praise for its stunning color calibration and viewing angles. Honestly, that's a feature we usually receive in the highly-priced premium models. But here, it's shining in all its glory in this cheap Acer gaming laptop under $400.
The AMD Ryzen 3 3350U Quad-Core processor with 3.5GHz turbo boost is what powers this machine. With the presence of the Radeon RX Vega 6 GPU, you'll have a solid tradeoff between speed, performance, and graphics. It can run simple games with high graphics settings and even certain challenging titles with lower or medium settings. To make this notebook run smoothly, it's equipped with 4GB of RAM and a 128GB SSD. Both memory and storage are short, especially for gamers, but they're easily upgradable.
The Acer Aspire 5 Slim is a sturdy laptop that can withstand for longer while remaining cool and comfortable to use thanks to its solid plastic chassis. It has all the required ports, built-in WiFi, and Bluetooth connectivity for the best possible productivity. In addition, it includes a backlit keyboard, a handy addition that makes the usage much more pleasant especially if you are a gamer. What's even better? After a couple of seconds of inactivity, the backlight turns off automatically to conserve the laptop battery.
Best Chromebook Under $400:
Lenovo IdeaPad Duet 3 Chromebook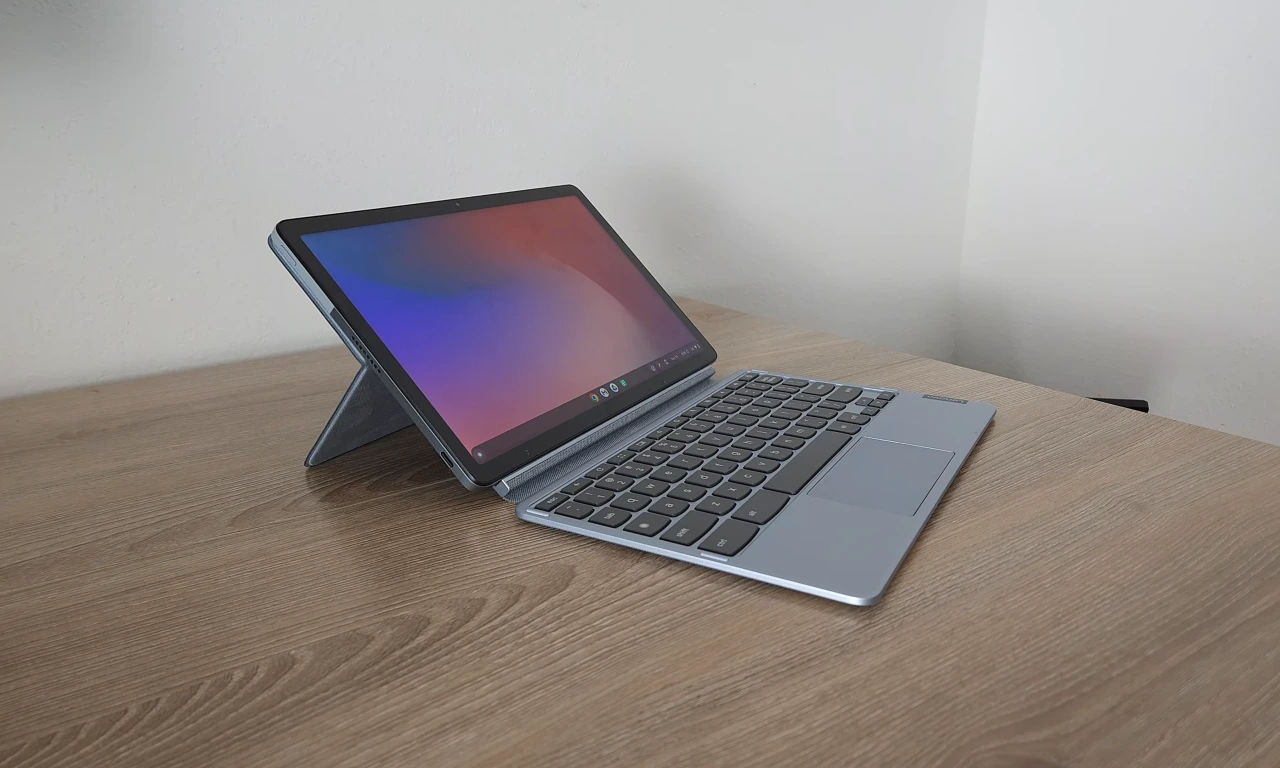 Comfortable keyboard cover

Good performance for the price

Flexibility to use as a laptop or tablet

Lacks headphone audio jack

Not best to use as a primary system
Lenovo IdeaPad Duet 3 is a cool 2-in-1 detachable Chromebook that takes the best parts of the original Lenovo Chromebook Duet and the 13-inch Lenovo IdeaPad Duet 5 Chromebook, updates them with the latest hardware, and then crams all that goodness into a compact 11-inch build. Furthermore, a keyboard cover and kickstand are given away for extra convenience.
With only two USB-C ports and no 3.5mm headphone connector, you'll have to spend on an external adapter if you want to make full use of your device's potential for connectivity. But the cool thing is, it's really versatile, and you can easily add on whatever you need. And let's not forget that Lenovo's tablet and detachable keyboard combo make it one of the most competent 2-in-1 notebooks. Plus, you'll get a fair performance from a Qualcomm Snapdragon chipset, all without making a huge dent in your wallet.
Lenovo IdeaPad Duet 3 Chromebook is an excellent option if you need a tablet that can also serve as a laptop. It's not the beefiest machine out there, and its compact size and performance might not make it to use it as your full-tine main system. But, if you're in need of a cheap ultra-portable device that's perfect for getting your tasks done, doodling or jotting notes, or just the basics like emailing, surfing the web, watching your favorite shows/movies, and playing light games, this Chromebook might just hit the sweet spot.
Best Portable Tablet Under $400:
Microsoft Surface Go 3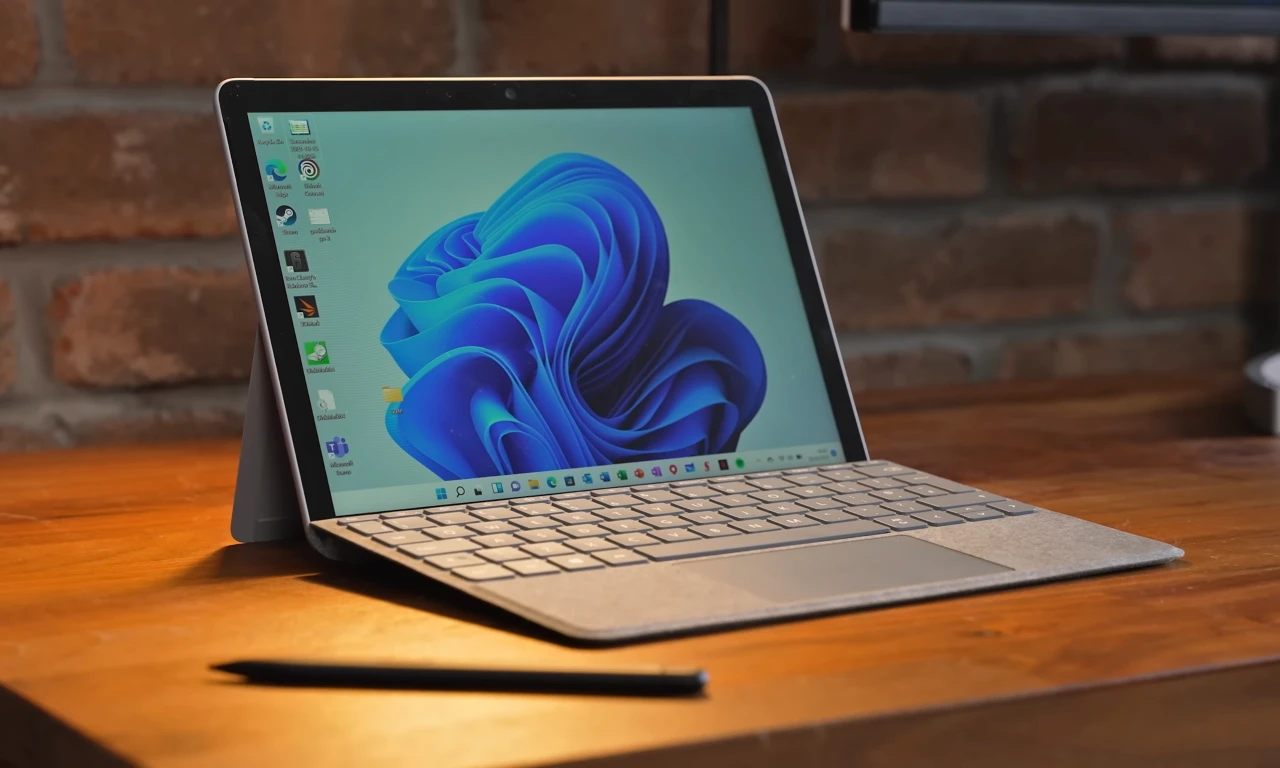 Bright touchscreen display

Small lightweight portable device

Great for regular working
If you need a lightweight portable device that can handle everyday tasks without lagging, the Microsoft Surface Go 3 is worth considering. This 10.5-inch tablet weighs only 1.18 pounds, making it easy to carry wherever you go, whether to the closest cafe or halfway around the world. It's pretty much the spitting image of its older sibling from 2020, and it feels just as solid, sporting a strong body. It's got a crisp, bright, and vibrant display and supports full sRGB color reproduction. Unfortunately, you will have to purchase a stylus pen and an attachable keyboard separately because you don't find them in the box.
You can find this device in two configurations with Intel Pentium Gold or Intel Core i3-10100Y CPU. They can handle the basics like online surfing, working on text docs, and playing videos, but don't push it with anything too heavy-duty. Its processor and integrated graphics card make it decent for simple tasks, but you might want to look elsewhere for serious gaming or graphics editing. A tip from me to you – if you can swing it, go for the laptop with 8GB of RAM, it'll make everything run a lot more nice.
The overall design and build quality are impressive, as expected from any Microsoft Surface model. It's also got a great 1080p webcam, the best for live video meetings, and a facial recognition IR camera. It would be nice to have a more bass frequency; otherwise, the speakers offer incredible sound quality. The laptop's long-lasting battery of around 8-10 hours is another excellent benefit, sufficient for a whole school or office day. However, there is just one USB-C port for all your linked devices, which is insufficient. So, it makes it a must to go for the dock or adapters.
Best 2-in-1 Convertible Laptop Under $400:
ASUS VivoBook Flip 14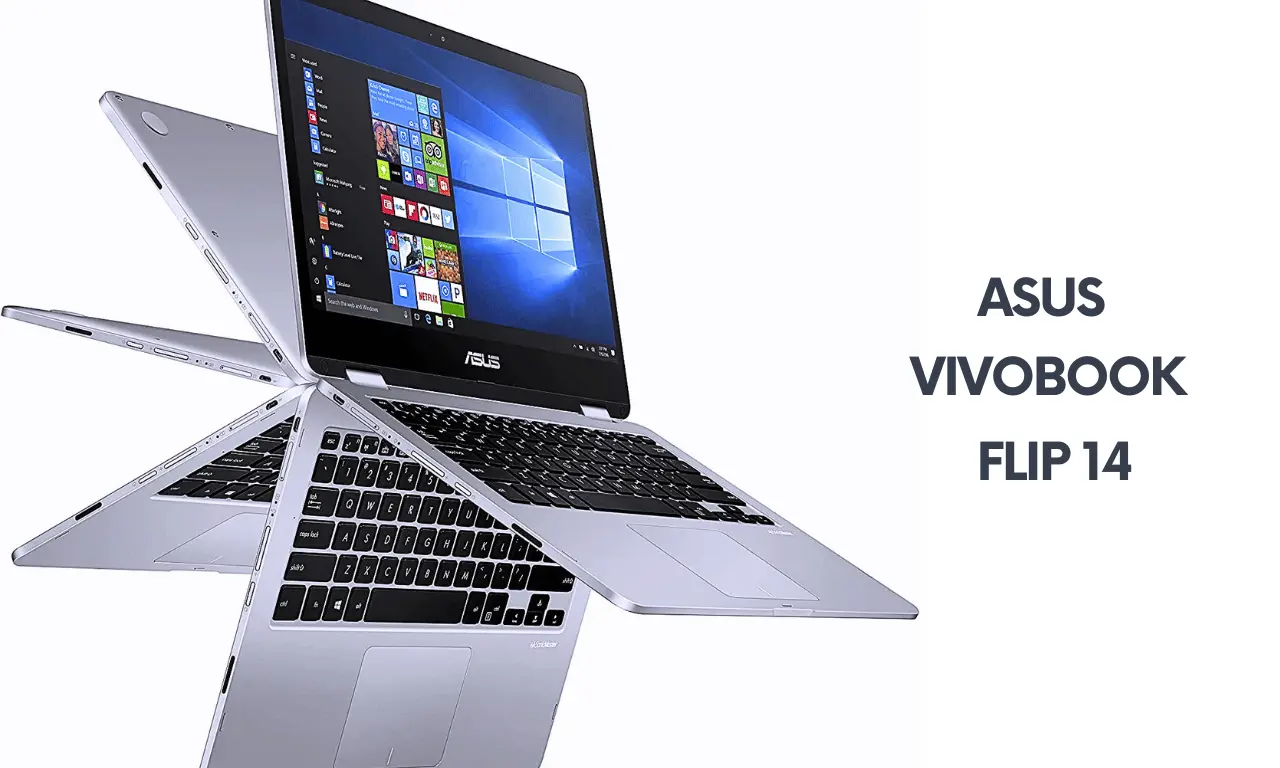 Sharp display with good details

Competent 2-in-1 portable laptop

Excellent long-lasting battery

eMMC storage is unsatisfying
ASUS VivoBook Flip 14 is a versatile, convertible 2-in-1 tablet notebook that's not just portable but also packs a good performance punch. The display on this gadget does its job quite well for most everyday tasks. But if you're someone who needs to work on super-detailed stuff like highly-detailed art or graphics, it might not be the best fit for you. It struggles a bit with covering the little subtleties. If that's what you're into, we'd recommend you check out the 2019 Apple iPad. It might cost a little bit more, but pair it with an Apple Pencil and you're all set to bring your artistic ideas to life. The VivoBook Flip 14's smart fanless build makes it quiet even during intense work.
But here's the deal with convertibles, especially the cheaper ones – you can't expect top-notch performance and the same is the situation in the case of the ASUS VivoBook Flip 14 J401MA-YS02. However, once you're clear on what this device can and cannot do, this cheap sub-$400 laptop is a pretty decent option – perfect for your study/office work, Netflix binges, internet surfing, and more. With an Intel Celeron n4000 processor, 4 GB of DDR4 RAM, and 64 GB of eMMC storage, the VivoBook is a reasonable machine you should consider buying.
Sound is on point too, taking your movie-watching or music-listening experience to new heights. As for the battery, you can get it around 7-8 hours during the routine work without thinking about filling it again. It lacks the typical USB ports, meaning you'll have to get an extra adapter or dongle to hook up the external necessary devices. But, once you consider the amazing portability, slim profile, and lightweight, you'll realize that this budget-friendly laptop gives you a lot of bang for your buck.
Best Budget Chromebook Under $400:
Samsung Chromebook 4+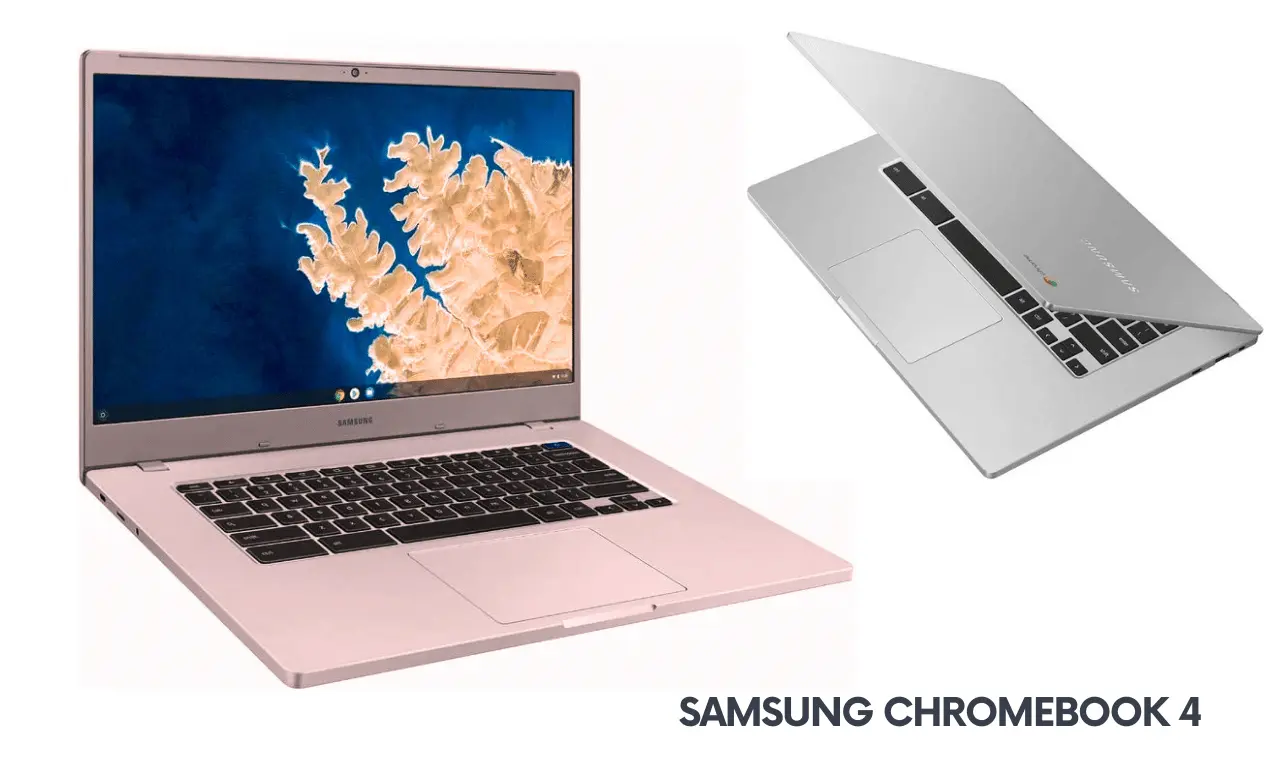 Fragile and lightweight design

Excellent performance in daily tasks

Includes a comfortable keyboard
Over time, the Chromebook market has experienced fluctuations in popularity, but there is now a range of models available that offer excellent value for money. The Samsung Chromebook 4+ stands out as a competent system, equipped with a range of impressive features that cater specifically to users looking for a seamless and convenient computing experience, particularly those who appreciate the benefits of Google's Chromebook OS. With Samsung's renowned technological expertise, this laptop boasts an ultra-sleek and compact 15.6-inch design, making it a noteworthy addition to the market.
Let's assume you are a person who travels regularly and also wants to carry your laptop with you. Then this Chromebook is a perfect pick for you that costs under $400 buckets. It's only 0.65 inches thick and weighs just 3.62 pounds making it the best portable budget laptop. Further, its long-lasting battery of up to 10 hours earned positive feedback. Combining it with the best keyboard, you have a nice-looking work machine if you can survive with Chrome OS restrictions.
Undoubtedly, it has received mostly favorable responses, but this Chromebook 4+ missed a few regions' marks. The display quality is the negative side of this machine, which is uncommon for Samsung as it has low brightness and narrow viewing angles, which are unsuitable for glare-prone environments. Furthermore, the audio quality of the built-in speakers could be better. It's not bad to go with this Samsung Chromebook 4+ for normal routine tasks, study, and office work.
Best Sub-$400 Laptop for Business:
Lenovo IdeaPad 3 (2022)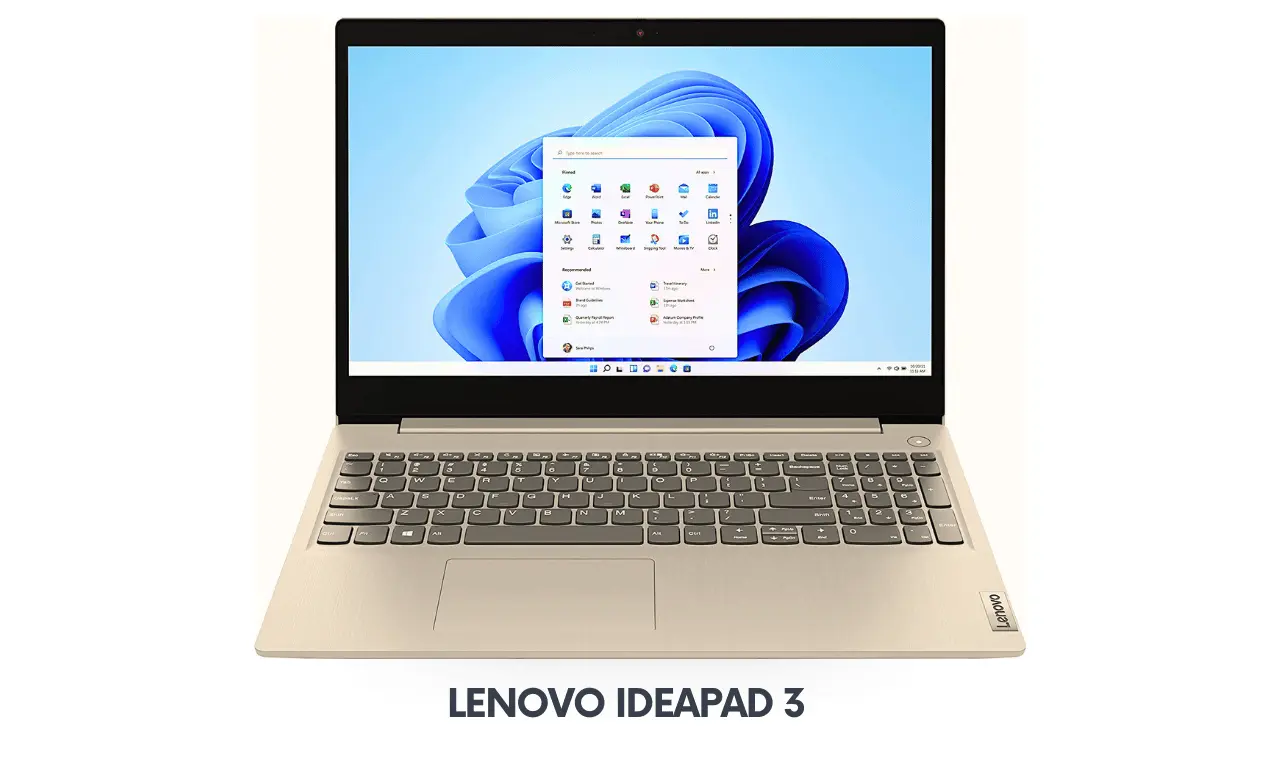 11th Gen Intel Core i3 CPU
This Lenovo Ideapad 3 is an all-around capable workhorse that beautifully balances performance, storage, and connectivity. With its solid specifications and affordable price tag, it shines as one of the good budget laptops under $400. It's equipped with the 11th generation Intel Core i3-1115G4 processor and built-in Intel GPU to offer you productivity power. It's not a high-end chipset but offers acceptable performance and efficiency compared to previous processors. Coupled with 8GB of DDR4 RAM and a quick 256GB PCIe NVMe SSD, you're looking at speedy working and quick boot-up times.
Thanks to its versatile form, this portable computer may serve individual and business purposes. The 15.6-inch touchscreen screen makes it simple to navigate and offers more screen space for clearer images, although it might be far superior. In terms of connectivity, this laptop doesn't disappoint either. You'll have no trouble connecting to other devices thanks to the HDMI port, the USB 2.0 Type-A port, the USB 3.2 Gen 1 Type-A port, and the headphone jack. Wi-Fi 5 and Bluetooth 4.0 are also available for worry-free internet connection and easier pairing with other electronic devices. Plus, there is a good front webcam for all of your crucial business calls and video conferences.
Things to Consider Before Buying a Laptop Under $400
No matter how much a laptop costs. Whenever you buy a new laptop, you should look at various things about the system before making your purchase. It includes several major hardware components on which the laptop's performance depends. So I am going to discuss them below:
Processor
We already know that the performance of any system largely depends on its processor. The more powerful a laptop's chipset, the more high-end tasks it can easily handle. If your budget is around or under $400, go with at least an i3 processor suitable for light activities. But if your laptop purchase is for gaming or other high-demanding tasks, the best option for you will be AMD Ryzen CPUs, primarily known for gaming performance.
RAM
Another essential hardware component that plays a crucial role in handling processes is the RAM, known as "Random Access Memory." You can get many laptops with 8GB of RAM that costs less or around $400. Because of speed and performance optimizations, always look for DDR4 RAM for better task management. As much RAM as possible would be ideal. A lot of games would benefit from this because it would eliminate latency. Most low-cost gaming laptops don't have this capability.
Storage
When it comes to storage, quicker SSDs are preferable to slower HDDs. Because SSD drives' data processing speed is breakneck, you will usually see 128GB of SSD storage for under $400 price laptop. But you can expand it to 256GB when you need more. If you are a serious gamer and want to play different games, you should at least require 512GB of space and even professional gamers add 1TB of extra hard drives to their gaming PCs to install many of their favorite games.
Display
Another critical feature to keep an eye out for is the display. For the best laptop under 400 dollars, a Full HD display screen of at least 15 inches in size is a good option for you. But the screen size depends on the user's choice or preferences. You may be the one who likes a small notebook or may want a large display laptop.
The best thing is that almost all the laptops mentioned above contain FHD display panels. Moreover, you can only go for the system with an IPS/HD display if gaming is also your concern. You will get the best refresh rate when playing games with IPS/HD display panels. Because of their low resolution, you should ignore TN/HD and HD+ monitors.
Battery
Decent battery life is another important factor you should consider before buying a laptop for around $400. The good thing for you is that most laptops mentioned above offer great battery timing on a single charge. You can also easily carry them during travel without worrying about charging.
Is Buying a Chromebook Worth It?
Once considered upscale netbooks with Google's ChromeOS, Chromebooks have transformed into a powerful alternative to traditional laptops. If you're a cloud-oriented professional, a Chromebook could easily satisfy most of your day-to-day requirements, comparable to a regular Windows or Mac machine in terms of productivity, but typically offer a longer battery lifespan.
Moreover, Chromebooks won't leave your wallet feeling light. Many models ring up for less than $300-$400, offering exceptional value for your investment. Remember, you'll need good and stable internet access as Chromebooks lean on cloud connectivity and have minimal offline capacity and storage. Chromebooks boot up super quickly, thanks to the lightweight Chrome OS, and they're all about providing a seamless, straightforward experience. No fuss, no unnecessary frills, just straight to the good stuff.
For light usage and budget-conscious buyers, a Chromebook powered by a Pentium or Celeron processor is more than sufficient. If you're after a high-quality Chromebook experience, you'll want to look at models boasting the more potent Intel Core and AMD Ryzen CPUs. However, keep in mind that Chromebooks might not be the best fit if you're into heavy gaming or require specific software that isn't supported by the Chrome OS. They're designed for web-based services, so something to consider depending on your needs. In a nutshell, Chromebooks have evolved from humble understudies to leading performers in the world of cost-effective, cloud-based computing.
Is a Laptop Under $400 Worth It?
First, let's clear the air: budget doesn't necessarily mean compromise. Laptops under $400 have a lot to offer. These budget-friendly notebooks can serve you well for everyday tasks such as web browsing, streaming your favorite shows or movies, managing emails, or getting stuck into some office work.
In this price range, you'll also find devices boasting sleek designs, portable sizes, and some even come with cool features like touchscreen displays. Whether you're a student, a digital nomad, or just someone looking for a laptop that can handle the basics, a laptop under $400 could perfectly fit you. Furthermore, these machines are typically equipped with the latest operating systems, which means regular security updates and new features.
The best part is that these laptops are kind on your wallet. Not everyone needs a flagship laptop with all the bells and whistles. For those who need a device for basic tasks, why shell out more when a laptop for under $400 can do the job? However, remember that these laptops might not be the best for high-intensive processes like heavy modern games or professional photo/video editing but only a solid choice if you're after a system for normal routine work.
So, is a laptop under $400 worth it? Absolutely! As long as it suits your computing needs, a budget-friendly laptop can be a shiny gem that provides value without costing a fortune. So, go ahead and explore this category with confidence!
Verdict
Navigating the landscape of budget laptops can be daunting, but rest assured, solid performance and functionality do exist under the $400 mark. Whether it's the top-rated Lenovo IdeaPad Flex 5i Chromebook, the versatile Lenovo IdeaPad Duet 3 Chromebook, or the highly portable Microsoft Surface Go 3, there's a laptop out there designed to meet your specific needs without breaking the bank.
Remember, these are budget laptops designed primarily for everyday tasks like web browsing, streaming videos, and simple productivity tasks. While they might not be cut out for high-end gaming or demanding multimedia editing, they pack in quite a punch for their price point. So, are there reliable, value-for-money laptops under $400? Absolutely! And our thoroughly researched guide is your ticket to finding that perfect device that balances performance, functionality, and affordability.
So, here's the bottom line: With careful consideration of your computing needs and a keen eye for the specifications, finding the best laptop under $400 is not only possible – it's just a click away.
Frequently Asked Questions
Q. Are Laptops Under 400 Dollars Good Enough?
Yes, a $400 laptop can still be used for simple administrative and knowledge work. Although, you have to check out our list of top recommendations before making a purchase.
Q. Is a $400 Laptop Capable of Handling Professional Activities?
We can use these budget notebooks for basic everyday tasks such as managing emails, web browsing, preparing assignments, word processing, and playing videos. These laptops are excellent for such work because these activities don't necessarily involve a lot of technical extravagances.
Q. In a Laptop Under $400, What are the Important Features to Look for?
Well, buying a cheaper laptop doesn't mean that you should have to make some major sacrifices. No matter how much budget you have, you always have to look for a good CPU, GPU, a decent amount of RAM/Storage, an HD display, and great battery life. Many options which we have discussed cover all of these factors so you can with any of them.
Q. Is it Possible to Play Games on a Low-cost Laptop?
Given the absence of a top-level graphics card, a budget laptop can only accept low-end basic games. It's not capable of playing most in-demanding video games. With a built-in GPU, frame rates cannot be processed quickly. As our list contains the best laptops under 400 USD, so each one is unsuitable for serious and advanced games.
Q. Should I Buy a Chromebook or a Laptop?
You'll need a standard laptop if you would like the advanced picture and video editing features. Primary photo and video editing are great, but Chromebooks usually lack the graphics horsepower needed for challenging activities, as well as the ability to run Windows or Mac games and applications.
On the other end, it is possible to use Chromebooks for much more than Android and online games thanks to streaming-game applications such as Google Stadia and Nvidia GeForce. There are indeed numerous photo and video editing applications for Android, such as Adobe choices.
Access to Microsoft Office is one of the major roadblocks for most users. However, you cannot install the full Office app on a Chromebook. Microsoft provides browser and Android variants in the Chrome and Play Store. However, in general, you shouldn't buy a Chromebook if you need a particular Windows or Mac program and there isn't a convenient web or app replacement, and you don't like to use VMware.
Read More