When it comes to purchasing a budget laptop, many people assume that they will have to make huge sacrifices in terms of performance and features. However, this is simply not the case, especially when searching for the best laptop under $400 price tag. With this budget, you can expect to find a decent notebook that boasts impressive specifications such as a conventional Intel or AMD processor, fast SSD storage, 4-8 GB of RAM, and an FHD 1080p display. Additionally, some of the top laptop manufacturers even include keyboard backlighting within these devices. It is indeed remarkable what one can expect from a frugal laptop costing less than $400.
We are very happy to present our budget-friendly guide about the best laptops under $400. But the one you can buy is according to your choice depending on processing power, performance, design, and user reviews. We understand that choosing the right laptop can be a daunting task, as there are numerous factors to consider, including processing power, performance, design, and reviews. Our team has dedicated countless hours to researching and selecting our top picks, ensuring that these recommendations are based on thorough analysis and expert insights. Before making a final decision, it's important to make a positive mindset and consider all aspects.
Remember, these budget laptops will not play new games or manage heavy workloads. Because of that, many users who purchase affordable systems can't use them for demanding high-end tasks or intensive gaming. However, if you wish to play your favorite titles, some best laptops under 400 dollars have reasonable GPUs. It means they are capable to operate basic photo and video editing tasks, and even handle some classic games smoothly. If you want the perfect gaming notebook, we recommend you check our picks for the best gaming laptops under $500 or gaming laptops under $600.
The Best Laptops Under $400: Our Picks
You will have to agree on some specifications depending on your buying purpose when purchasing a good laptop under 400 USD. The devices with this budget never offer a powerful GPU, large battery, sensitive display, and flexibility. So, you will need to figure out what kind of use and operations the device can perform. Below are the top picks for cheap laptops which we have chosen very carefully so that you will find the right model for your needs.
1. ASUS VivoBook 15:
Best Laptop Under $400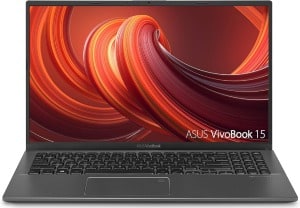 Key Specifications
Display: 15.6″ FHD (1920 x 1080) NanoEdge | CPU: Intel Core i3-1005G1 up to 3.4GHz | GPU: Intel UHD Graphics | RAM: 8GB DDR4 | Storage: 128GB PCIe NVMe SSD | Weight: 3.75 pounds | Dimensions: 14.1 x 9.1 x 0.78 inches | OS: Windows 10 Home
Pros
Strong 10th Gen processor
Overall solid performance
Good for light gaming
Backlit keyboard and fingerprint reader
Good battery life
Cons
ASUS VivoBook 15 has exceeded our expectations in terms of hardware features and functionality, which is why we have designated it as our top choice for the best laptop under 400 USD. Despite its accessible price point, this laptop boasts several features that are typically reserved for higher-end models. Equipped with an Intel i3-1005G1 CPU and Intel UHD Graphics, it delivers ample power to efficiently tackle routine tasks such as browsing the web, streaming videos, and utilizing productivity software. Additionally, the laptop is furnished with 8GB of RAM and a 128GB SSD, which provide more than enough for most users.
Looking at the screen option, it features a gorgeous 15.6″ 1080p HD display, including slim bezels and full keyboard backlighting. Notably, its NanoEdge display screen is the standout feature, delivering an 88% screen-to-body ratio and great visual clarity. However, it should be noted that the maximum brightness of 204 nits may not be adequate for use in bright sunlight. Nonetheless, it's important to bear in mind that budget-friendly devices often come with certain limitations, and in the case of this ASUS notebook, its display and speakers are the areas where it suffers.
Generally speaking, the VivoBook 15 is a device that does not even imitate a cheap notebook. It can quickly perform multiple tasks and fulfill all of your daily chores. The backlit keyboard and fingerprint reader make the ASUS VivoBook 15 a great option for those who frequently work in low-light environments or for those who want added security. Moreover, it has enough potential to tackle photo editing and run less challenging games like Fortnite and CS:GO on lower graphics. To conclude, this model is a feature-packed budget machine with good performance.
2. Acer Aspire 5 Slim:
Best Lightweight Laptop Under $400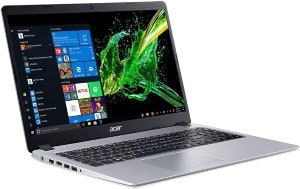 Key Specifications
Display: 15.6″ FHD (1920 x 1080) LED Backlit IPS | CPU: AMD Ryzen 3 3350U up to 3.5GHz | GPU: AMD Radeon Vega 6 | RAM: 4GB DDR4 | Storage: 128GB PCIe NVMe SSD | Weight: 3.97 pounds | Dimensions: 14.31 x 9.86 x 0.71 inches | OS: Windows 10 Home
Pros
Strong IPS display panel
Decent AMD processor
Elegant, slim, and lightweight
Good ports collection
Features backlit keyboard
Cons
GPU can't run high-end games
RAM and storage are limited for gamers
For those who hold an affinity towards AMD Ryzen technology, the Acer Aspire 5 Slim stands as our second-best recommended choice in the category of $400 budget notebooks. Boasting a visually pleasing design and robust specifications, this device garners tremendous acclaim for its 15.6-inch FHD IPS display panel, receiving exceptional marks in the process. The screen technology is renowned for its provision of optimal color calibration and viewing angles, a characteristic that is typically found only in premium models.
In terms of hardware, it includes an AMD Ryzen 3 3350U Quad-Core processor, which can clock at a maximum 3.5GHz turbo frequency. It also comes with an AMD Radeon RX Vega 6 graphics card for maximizing performance and graphics quality. It's good enough to play basic titles at higher graphics or even some demanding ones at lower or medium settings. Looking at the storage options, you can see the 4GB of RAM and a 128GB fast SSD. Both are limited, but you can easily upgrade those based on your needs later.
The Acer Aspire 5 Slim is an exemplary laptop built with solid plastic chassis that guarantees heat resistance to keep the device's temperature in check. The notebook is furnished with all the essential ports, stable WiFi, and Bluetooth connectivity for seamless performance. The backlit keyboard is a valuable addition to this cheap laptop, adding practicality and convenience to the user's experience. The illumination feature automatically turns off after a few seconds of inactivity to conserve power. It's an ideal choice for individuals seeking an efficient and cost-effective laptop.
3. Lenovo IdeaPad 3 (2022):
Best Budget Laptop Under $400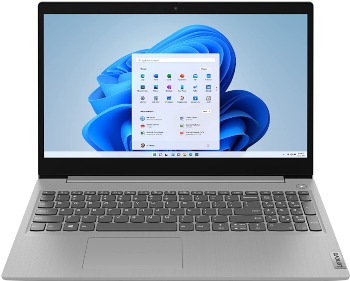 Key Specifications
Display: 15.6″ HD (1366 x 768) Touchscreen | CPU: Intel Core i3-1115G4 3.0GHz | GPU: Intel UHD Graphics | RAM: 8GB DDR4 | Storage: 256GB PCIe NVMe SSD | Weight: 3.74 pounds | Dimensions: 15 x 10 x 1 inches | OS: Windows 11 Home
Pros
11th Gen Intel Core i3 CPU
256GB of fast SSD
Nice appealing chassis
15.6-inches touchscreen display
Cons
Poor webcam
Battery life is short
The Lenovo Ideapad 3 (2022) is an all-around capable and dependable laptop that boasts a well-balanced combination of performance, storage, and connectivity. Considering its good specs and low price, we have listed it as a fine cheap laptop under $400. It is powered by the 11th generation Intel Core i3-1115G4 processor. It's not a high-end CPU but offers improved performance and energy efficiency compared to previous chipsets. The laptop also comes with 8GB of DDR4 RAM and a 256GB PCIe NVMe SSD for fast storage and quick boot-up times.
This laptop is designed for everyday use and is suitable for personal and professional needs. The 15.6-inch HD touchscreen display with a resolution of 1366 x 768 pixels allows for easy navigation and provides a wider screen for better visuals, but it should be much better than available. In terms of connectivity, you will find two USB 3.2 Gen 1 Type-A, one USB 2.0 Type-A, an HDMI port, and a headphone/audio jack. Moreover, Wi-Fi 5 and Bluetooth allow for easy connectivity to other devices, and the webcam makes video conferencing a breeze.
4. Samsung Chromebook 4:
Best Chromebook Under $400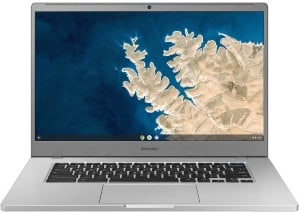 Key Specifications
Display: 15.6″ HD (1366 x 768) LED | CPU: Intel Celeron N4000​ 1.1GHz | GPU: Intel UHD Graphics 600 | RAM: 6GB DDR4 2133MHz | Storage: 64GB eMMC SSD | Weight: 3.10 pounds | Dimensions: 14.16 x 9.64 x 0.65 inches | OS: Chrome OS
Pros
Fragile and lightweight design
Excellent performance with daily tasks
Includes a comfortable keyboard
Battery has positive feedback
Cons
Poor audio quality
Mediocre display
Over time, the Chromebook market has experienced fluctuations in popularity, but there is now a range of models available that offer excellent value for money. The Samsung Chromebook 4 stands out as a competent system, equipped with a range of impressive features that cater specifically to users looking for a seamless and convenient computing experience, particularly those who appreciate the benefits of Google's Chromebook OS. With Samsung's renowned technological expertise, this laptop boasts an ultra-sleek and compact 15.6-inch design, making it a noteworthy addition to the market.
Let's assume you are a person who travels regularly and also wants to carry your laptop with you. Then this Chromebook is a perfect pick for you that costs less than $400 buckets. It's only 0.65 inches thick and weighs just 3.62 pounds making it the best portable budget laptop. Further, its long-lasting battery of up to 10 hours earned positive feedback. Combining it with the best keyboard, you have a nice-looking work machine if you can survive with Chrome OS restrictions.
Undoubtedly, it has received mostly favorable responses, but this Chromebook 4 missed a few regions' marks. The display quality is a negative side, which is uncommon for Samsung. Many users complained about the low brightness and narrow viewing angles, which are unsuitable for glare-prone environments. Furthermore, the audio quality of the built-in speakers could be better. It's not bad to go with this Samsung Chromebook 4 for normal routine tasks, study, and office work.
5. HP 14 (2022):
Best Laptop for Business Under $400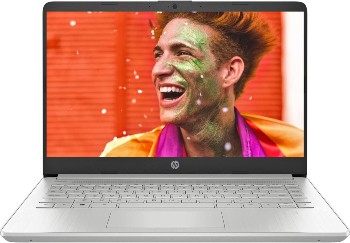 Key Specifications
Display: 14″ HD (1366 x 768) IPS | CPU: AMD Ryzen 3 3250U up to 3.5GHz | GPU: AMD Radeon Graphics | RAM: 8GB DDR4 RAM | Storage: 256GB M.2 SSD | Weight: 3.24 pounds | OS: Windows 11
Pros
Decent CPU & GPU combo
256GB M.2 SSD
Good for multitasking
Long-lasting battery life
Cons
No backlit keyboard
Only 220 nits display brightness
Boasting hardware specifications that are adequate for everyday use, this 2022's latest HP 14 laptop is a reliable workhorse that exudes impressive build quality without any unnecessary frills. The build quality is impressive, with no extra charms. It's a trustworthy system and would satisfy you. However, it should be noted that the absence of backlighting may pose some inconvenience in dimly lit environments.
It has a potent AMD Ryzen 3 3250U processor combined with integrated AMD Radeon Graphics to provide great overall productivity. Considering the memory and storage, it offers 8GB of RAM and a fast-speed 256GB SSD. So if space is your main concern, this is the best option to buy. These hardware configurations are perfect for getting in this affordable budget notebook. This HP laptop is best for business and study work and can perform any normal routine task you throw at it.
The 14-inch IPS display has 220 nits maximum brightness and decent viewing angles. This brightness is not enough to use in bright sunlight but good enough to use the device. Moreover, this notebook comes with pre-installed Windows 11 means you will get more extra system features and much better performance. But remember, it is a cheap laptop, so you may encounter some performance issues or delay if you try to do heavy workloads such as video streaming, gaming, or other heavy workloads. To get a system that can accomplish a lot and won't break down, this is the one to buy.
6. Lenovo IdeaPad 3:
Best 15-inch Laptop Under $400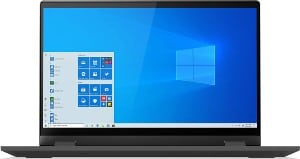 Key Specifications
Display: 15.6″ HD (1366 x 768) LCD | CPU: AMD Ryzen 3 3250U 2.6GHz | GPU: AMD Radeon Vega 3 | RAM: 4GB DDR4 2400MHz | Storage: 128GB M.2 NVMe SSD | Weight: 4.84 pounds | Dimensions: 14.26 x 9.98 x 0.78 inches | OS: Windows 10 S Mode
Pros
More than a budget laptop
Decent AMD CPU and GPU
Contains numeric keypad
Decent battery performance
Cons
USB Type-C port is missing
Limited field of view
If you are looking for a competent, affordable laptop to fulfill your demands, look at this Lenovo IdeaPad 3 because it comes with something good to consider. The hardware features an AMD Ryzen 3 3250U processor, which can clock at 2.6GHz of normal frequency. In terms of GPU, there is an integrated AMD Radeon Vega 3 Graphics to deliver nice visuals and overcome the graphics demands. Moreover, the hardware contains 4GB of DDR4 RAM and 128GB SSD alongside pre-installed Windows 10 OS, but you can upgrade to Windows 11 if you like.
There is also a conventional keyboard, a webcam, respectable speakers, and three USB ports on the side. This notebook's battery lasts about 6 hours, making it comparable to use and even to carry along with you during travel without thinking about its next charge. This Lenovo IdeaPad 3's 15.6-inch wide HD display benefits from minimal bezels on both sides, giving it a sleek, modern appearance. However, it takes some fiddling to make the screen's brightness seem better and sharp by manually adjusting the display settings.
Sound quality is mediocre, although this is quickly addressed by connecting external speakers. The microphone functions superbly, and when combined with a dedicated headphone/microphone combo, the resulting audio is of the highest quality. The IdeaPad 3 is said to be a budget notebook, but it's a lot more than just that. Additionally, the compact numeric keypad will increase your efficiency. It is a fantastic notebook to consider if you only have a little to spend.
7. ASUS VivoBook Flip 14:
Best 2-in-1 Tablet Under $400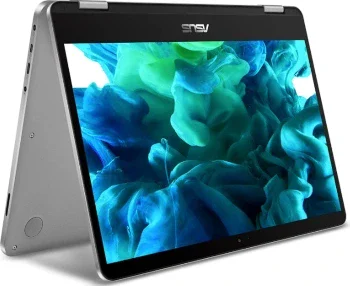 Key Specifications
Display: 14″ FHD (1920 x 1080) Touchscreen | CPU: Intel Celeron N4000 up to 2.6GHz | GPU: Intel UHD Graphics 600 | RAM: 4GB DDR4 2133MHz | Storage: 64GB eMMC SSD | Weight: 3.30 pounds | Dimensions: 12.9 x 8.9 x 0.6 inches | OS: Windows 10 S Mode
Pros
Brilliant display with good details
Eye-catchy design
Great 2-in-1 portable device
Excellent long-lasting battery
Cons
eMMC storage is unsatisfying
Missing typical USB ports
The ASUS VivoBook Flip 14 is a portable and convertible 2-in-1 tablet notebook that offers good performance thanks to the Intel Celeron N4000 processor, which can clock at a maximum speed of 2.6GHz. The integrated Intel UHD 600 GPU also gives admirably excellent results. You will also get 4GB of DDR4 RAM having 2133 MHz speed and a 64GB eMMC SSD storage drive that's perfect for speeding up the system. The VivoBook Flip 14's smart fanless build makes it quiet even during intense work.
It features a 14-inch Full HD touchscreen display with Nano Edge technology that provides a wide viewing angle of up to 178 degrees, making it perfect for streaming videos, browsing the web, and more. The display also has a glossy finish and a high screen-to-body ratio of 73%, providing an immersive viewing experience. This laptop weighs just 3.30 pounds with an ultra-thin frame and a highly rugged metallic pivot that allows 360-degree convertibility. Furthermore, the current modular design lets you use it as a stand, a tent, a tablet, or a notebook. The screen looks fantastic, and the tablet and convertible "flip" modes are fantastic additions.
Its interactive audio elevates the experience of watching movies or listening to music to new levels. ASUS claims that the battery of this best 2-in-1 laptop under 400 dollars can last up to 14 hours thanks to SuperBattery Technology. The absence of typical USB ports is a significant drawback of this system, and it necessitates you purchase an extra adapter to connect the flash/USB drive. However, after you factor in the incredible portability, tiny profile, and low weight, you'll find that this low-cost laptop is great value for money.
8. Microsoft Surface Go 3:
Best Portable Laptop Under $400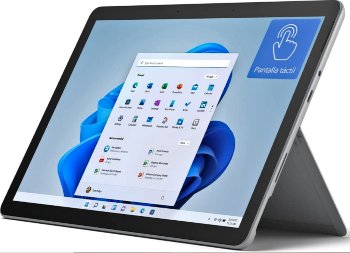 Key Specifications
Display: 10.5″ (1920 x 1280) Touchscreen | CPU: Intel Pentium Gold 6500Y Dual-Core | GPU: Intel UHD Graphics 615 | RAM: 4GB LPDDR3 2133MHz | Storage: 64GB eMMC SSD | Weight: 1.18 pounds | Dimensions: 7.98 x 10.82 x 1.89 inches | OS: Windows 11 Home S Mode
Pros
Amazing touchscreen display
Small portable device
Performs very well on daily tasks
Contain USB Type-C port
Up to 10 hours of battery life
Cons
Need to buy a separate keyboard
Not perfect for serious users
If you're in need of a lightweight and efficient device that can handle everyday tasks without lagging, the Microsoft Surface Go 3 is worth considering. This 10.5-inch tablet weighs only 1.18 pounds, making it easy to carry with you wherever you go, whether it's to the closest cafe or halfway around the world. Its touchscreen is incredibly responsive and provides a smooth user experience. The HD display boasts a resolution of 1920 x 1280 pixels and supports full sRGB color reproduction, ensuring that everything on the screen is clear and vibrant. Whether you need to take notes, browse the web, or stream videos, the Microsoft Surface Go 3 is an excellent choice.
It's a Windows notebook with 4GB of RAM and 64GB eMMC SSD storage options. Microsoft's Surface Go 3 can handle all of your everyday tasks and study and business activities. If you are doing something that requires a lot of processing power, such as video editing or gaming, you will need a more versatile machine because it is not for such demanding work. Unfortunately, you will have to purchase a stylus pen and an attachable keyboard separately if you need them.
The overall design and build quality are top-notch, as with any Microsoft Surface model. It would be nice to have a more bass frequency; otherwise, the speakers offer incredible sound quality. The laptop's long-lasting of around 8-10 hours battery life is another benefit, sufficient for a whole school or office day. In terms of ports, it comes with one USB Type-A port and two USB Type-C ports to connect the charger, mouse, USB drive, and other compatible devices. Try this model if you have been searching for a small portable notebook.
9. Lenovo Flex 5:
Best Convertible Laptop Under $400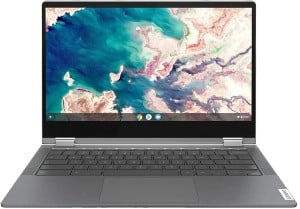 Key Specifications
Display: 13.3″ FHD (1920 x 1080) Touchscreen LED | CPU: Intel Core i3-10110U 2.1GHz​ | GPU: Intel UHD Graphics | RAM: 4GB DDR4 2400MHz | Storage: 64GB eMMC SSD | Weight: 2.97 pounds | Dimensions: 12.2 x 8.43 x 0.67 inches | OS: Chrome OS
Pros
Decent build quality
Great vibrant screen
Comfortable keyboard
Excellent response time
Cons
Sound quality suffers
Limited memory
Featuring a lightweight and beautiful design, this Lenovo Flex 5 Chromebook is the top choice for anyone looking for the ideal laptop for just around $400. This Chromebook has a powerful 10th Gen Intel Core i3-10110U processor and a built-in GPU to give you the best experience and reliable performance. By looking at the memory and storage options, this Lenovo Flex 5 comes with 4GB of RAM alongside the 64GB of SSD. As the 4GB memory is limited, the performance suffers when many tabs are opened or multiple programs run simultaneously.
Additionally, this convertible Chromebook includes a 13.3-inch FHD display, letting users work more conveniently. The hinge enables 360-degree movement due to its extreme flexibility. You can watch all of your preferred TV shows and movies in sharp, bright, and rich clarity with fewer problems because of its small bezels. With the use of a stylus, the foldable touchscreen display proved to be extremely beneficial. Featuring upgraded stereo speakers, the Flex 5 delivers excellent sound quality and experience.
Additionally, even with constant use at maximum brightness, the battery can survive up to 8 hours which is great and perfect to use without having to worry about the next charge. There are two USB 3.1 Gen 1 Type-C ports, a single USB 3.1 Gen 1 Type-A port, and one audio jack available on this notebook. You will experience the fast transmission of data, streaming, and battery recharging, all in one USB 3.1 Gen 1 Type-C port. It's a great device to buy if you're previously engaged in the Google environment.
10. HP Stream 14:
Best Budget Laptop Under $300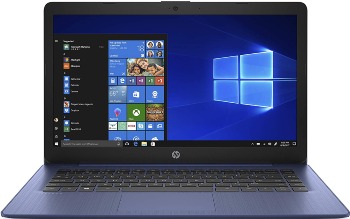 Key Specifications
Display: 14″ HD (1366 x 768) WLED-backlit | CPU: Intel Celeron N4000 up to 2.6 GHz​ | GPU: Intel UHD Graphics | RAM: 4GB DDR4 2400MHz | Storage: 64GB eMMC SSD | Weight: 3.17 pounds | Dimensions: 8.9 x 13.27 x 0.7 inches | OS: Windows 10 Home
Pros
Worth the value
Very portable and light
Long battery life
Cons
Sound quality is bad
Limited storage
The HP Stream laptop presents an economically viable solution for those in search of a portable and lightweight computing option at a modest price point of approximately $250. Equipped with an Intel Celeron N4000 processor, 4GB of RAM, and 64GB of eMMC storage, this device may not match the computing power of its more formidable counterparts, yet it efficiently handles everyday tasks such as browsing the internet, editing documents, and streaming videos. The 14-inch HD display enhances the user experience with clear visuals, making it ideal for general activities, as well as for school and office work.
One of the biggest advantages of this HP Stream notebook is its portability. It is lightweight and easy to carry around, making it a great option for students or professionals who are always on the go. Additionally, it has a long battery life, so you can use it for extended periods without needing to plug it in. However, the speakers need to be better to offer a pleasant sound, and the touchpad is also not the one we usually want to use.
The operating system of the HP Stream is Windows 10 S, a streamlined version that restricts installations solely to the Microsoft Store. While this may constrain software and applications available on the device, it also enhances its protection against malicious threats. However, this HP laptop is subject to a drawback of limited storage capacity, allowing for only 64GB of storage. This may present challenges if an abundance of files and videos are required to save. During that time, the only solution that remains is to use an external drive or cloud storage.
11. Dell Latitude E7270:
Best Dell Laptop Under $400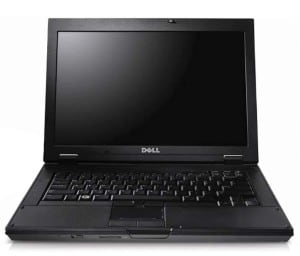 Key Specifications
Display: 12.5″ HD (1366 x 768) LCD | CPU: Intel Core i5-6300U up to 3.00GHz​ | GPU: Intel HD Graphics 520 | RAM: 8GB DDR4 2400MHz | Storage: 256GB SATA SSD | Weight: 2.0 pounds | Dimensions: 12.3 x 8.7 x 0.5 inches | OS: Windows 10 Pro
Pros
Features Intel Core i5-6300U
Good viewing angles
Contains a fast 256GB SSD
Weighs only 2 pounds
Cons
No USB-C port
Touchpad is not so good
Dell Latitude E7270 is a business-class Ultrabook designed for professionals who need a powerful and durable laptop for their work. The frame is made from plastic and gives a nice appeal, even though it is fingerprint-prone. With a 330 nits brightness and a 12.5-inch HD display, this budget ultrabook is ideal for outdoor work regardless of whether the display is kept out of the bright sun. The screen barely occupies 58% of the sRGB color range, which is below average.
The 6th Gen Intel Core i5-6300U processor with a 2.4GHz base clock speed and up to 3GHz turbo frequency performs well in the normal routine. When you evaluate the results of this Intel processor with traditional 10th Gen Intel Core i3, you will notice that they are nearly the same at productivity. Thanks to 8GB DDR4 RAM and 256GB of SSD storage, it will wake up quickly and launch applications without sluggishness. It's ideal for running Microsoft Office and other activities like checking email and watching videos or movies.
The laptop's embedded Intel HD 520 Graphics makes it suitable for playing classic PC games. The battery life is adequate, lasting about 4-5 hours on a single charge. This Dell Latitude E7270 features a camera and microphone but no optical drive or USB Type-C port. The touchpad on this notebook is also weak, but it isn't a serious part to consider. The display should have been brighter, but it's enough to put your attention on this model.
12. HP 14:
Best $400 Laptop for Home & Office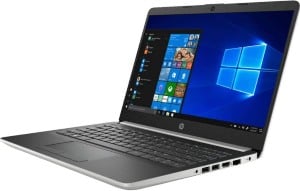 Key Specifications
Display: 14″ HD (1366 x 768) Touchscreen LED | CPU: AMD Ryzen 3 3200U up to 3.5GHz​ | GPU: AMD Radeon Vega 3 | RAM: 8GB DDR4 2400MHz | Storage: 128GB SSD | Weight: 3.25 pounds | Dimensions: 12.75 x 8.89 x 0.78 inches | OS: Windows 10
Pros
Comes with a touchscreen display
Can easily handle everyday tasks
Lightweight to carry anywhere
Great ports collection
Cons
Short battery life
Low display colors
HP 14 is a budget-friendly laptop perfect for home and office use. It offers a great balance of performance, design, and value for its price. With a retail price of under $400, it is an affordable option for those looking for a basic laptop for everyday use. On the hardware end, it includes an AMD Ryzen 3 3200U CPU with a 2.6GHz base clock speed that can overclock up to 3.5GHz turbo boost. The 14nm dual-core chipset is powerful enough to handle any regular task you throw at it. Alongside this 3rd Gen AMD processor, including Radeon Vega 3 Graphics increases complete productivity and offer the best possible graphics.
Regarding memory and storage, it contains 8GB of DDR4 RAM and a 128GB SSD, which provides fast processing. The storage is sufficient to save your important files and documents, but you can upgrade it later on if required. Furthermore, it features a 14-inch HD IPS touchscreen display panel with a 1366×768 px resolution. The colors for its display are not too bright but acceptable for a system that costs just $350. It also has a built-in webcam, but don't offer good quality to make it easy for you to perform video conversations.
To connect external devices to the laptop, you will see various ports on the side, including USB 3.1, USB 2.0, HDMI, a headphone jack, and an SD card reader, making it easy to connect to peripherals and external displays. It also has built-in WiFi and Bluetooth, allowing you to connect wirelessly to the internet and other devices. Considering its small size and lightweight, this is an excellent laptop for students who attend classes at school or college every day.
Things to Consider Before Buying a Laptop Under $400
No matter how much a laptop costs. Whenever you buy a new laptop, you should look at various things about the system before making your purchase. It includes several major hardware components on which the laptop's performance depends. So I am going to discuss them below:
Processor
We already know that the performance of any system largely depends on its processor. The more powerful chipset a laptop contains, the more high-end tasks it can handle with ease. If your budget is around or under $400, go with at least an i3 processor suitable for light activities. But if your purchase of a laptop is for gaming or other high-demanding tasks, the best option for you will be AMD Ryzen CPUs, primarily known for gaming performance.
RAM
Another essential hardware component that plays a crucial role in handling processes is the RAM, known as "Random Access Memory." You can get many laptops with 8GB of RAM under a $400 budget. Because of speed and performance optimizations for better task management, always look for DDR4 RAM. As much RAM as possible would be ideal. A lot of games would benefit from this because it would eliminate latency. Most low-cost gaming laptops don't have this capability.
Storage
When it comes to storage, quicker SSDs are preferable to slower HDDs. Because SSD drives' data processing speed is breakneck, you will usually see 128GB of SSD storage for under $400 price laptop. But you can expand it to 256GB if you need more than that for you. If you are a serious gamer and want to play different games on your laptop, you should require 512GB of space at least. But professional gamers add 1TB of hard drives to their gaming PCs to install many of their favorite games.
Display
Another critical feature to keep an eye out for is the display. For the best laptop under 400 dollars, a Full HD display screen of at least 15 inches in size is a good option for you. But the screen size depends on the user's choice or preferences. You may be the one who likes a small notebook or may want a large display laptop.
The best thing is that almost all the laptops mentioned above contain FHD display panels. Moreover, you can only go for the system with an IPS/HD display if gaming is also your concern. You will get the best refresh rate when playing games with IPS/HD display panels. Because of their low resolution, you should ignore TN/HD and HD+ monitors.
Battery
Decent battery life is another important factor you should consider before buying a laptop for around $400. The good thing for you is that most of the laptops mentioned above offer great battery timing on a single charge. You can also easily carry them during travel without worrying about charging.
Frequently Asked Questions
Q. Are Laptops Under 400 Dollars Good Enough?
Yes, a $400 laptop can still be used for simple administrative and knowledge work. Although, you have to check out our list of top recommendations before making a purchase.
Q. Is a $400 Laptop Capable of Handling Professional Activities?
We can use these budget notebooks for basic everyday tasks such as managing emails, web browsing, preparing assignments, word processing, and playing videos. These laptops are excellent for such work because these activities don't necessarily involve a lot of technical extravagances.
Q. In a Laptop Under $400, What are the Important Features to Look for?
Well, buying a cheaper laptop doesn't mean that you should have to make some major sacrifices. No matter how much budget you have, you always have to look for a good CPU, GPU, a decent amount of RAM/Storage, an HD display, and great battery life. Many options which we have discussed cover all of these factors so you can with any of them.
Q. Is it Possible to Play Games on a Low-cost Laptop?
Given the absence of a top-level graphics card, a budget laptop can only accept low-end basic games. It's not capable of playing most in-demanding video games. With a built-in GPU, frame rates cannot be processed quickly. As our list contains the best laptops under 400 USD, so each one is unsuitable for serious and advanced games.
Q. Should I Buy a Chromebook or a Laptop?
You'll need a standard laptop if you would like the advanced picture and video editing features. Primary photo and video editing are great, but Chromebooks usually lack the graphics horsepower needed for challenging activities, as well as the ability to run Windows or Mac games and applications.
On the other end, it is possible to use Chromebooks for much more than Android and online games thanks to streaming-game applications such as Google Stadia and Nvidia GeForce. There are indeed numerous photo and video editing applications for Android, such as Adobe choices.
Access to Microsoft Office is one of the major roadblocks for most users. However, you cannot install the full office app on a Chromebook. Microsoft provides browser and android variants in the Chrome and Play Store. However, in general, you shouldn't buy a Chromebook if you need a particular Windows or Mac program and there isn't a convenient web or app replacement, and you don't like to use VMware.
Is a Laptop Under $400 Worth It?
As the technology landscape evolves, there are many options available for anyone who is on a tight budget and need a cheap laptop. Whether you're a student, a professional, or in need of a secondary device, the market offers a wide range of the best laptops under $400 in 2023. Selecting the right device requires careful consideration, as there is a multitude of manufacturers and models to choose from. Ultimately, your final decision will be based on your individual professional and personal needs. If you require a lightweight and compact notebook, the Acer Aspire 5 Slim is an excellent choice. Alternatively, if flexibility is of utmost importance, the Microsoft Surface Go 3 is a top contender.
To help you with your spending plan and the most satisfactory results, we've compiled a list of the class-leading best laptop under $400 that you should take advantage of. These budget models offer a great balance of performance, design, and value for the price. Each of these laptops offers a range of features that make them suitable for different needs, such as a powerful processor, ample storage space, long battery life, and durable design. It's important to consider your specific needs and preferences when choosing a portable computer to suit your budget and requirements.