We've all been there— experiencing a slower-than-usual device that takes time to complete some of the simplest tasks. That's right; you've probably had a first-hand experience with this ordeal or seen that annoying message indicating that your disk space is almost full.
Running out of hard drive space can affect your daily computing activities. If your Mac hard drive reaches about 80% of its capacity, it'll begin slowing down significantly and denying you the faster experiences you earlier had.
The good thing is that you have multiple ways to check available storage space on your Mac. However, you shouldn't ignore it when your device starts behaving in a way that suggests the hard drive space is almost full.
In this blog, we have all the actionable tips you need to reclaim the depleted hard drive space and get your device back to normal functioning.
Steps to Clear Disk Space on Mac
There's nothing unusual with your Mac's hard drive space running low. Like other devices, there comes a time in your Mac's life when it is full of files and programs.
This means you can't install other applications or download photos, videos, or music. A limited free hard drive space also means the system will start slowing down. So, it's best to conduct some house cleaning and keep your device in its best shape.
You can begin by scanning your device for unnecessary files to delete manually. Mac's built-in tools or Mac cleanup software are also handy solutions for finding and removing cluttered stuff on your device.
Below are some of our favorite ways to clear hard drive space on your Mac with the extra benefit of better performance.
Start by Checking the Available Storage Space
The first step towards freeing up your Mac's space is understanding how your storage is utilized. Your macOS lives on the hard drive. If it gets too full, you'll experience some noticeable performance issues with your device.
The most notable is a slow performance, often necessitated by cluttered storage. One way to prevent this is to monitor how much free space you have on your Mac.
Here are a few steps to get you through this process:

Go to System Settings and click General

Here, you'll have an overview of your disk usage, showing which types of files are taking up the most space. You'll know how much space is given to system applications, photos, videos, music, etc.
 Optimize Storage with Built-in Tools
MacOS offers optimization features that allow you to manage the disk space on your device.
This means that regardless of your free hard drive storage space, you can always use more.
Here is a simple process to open storage optimization on your Mac:
Click on the Apple icon
Select About This Mac
Now select the Storage tab
Click the Manage button.
You'll see a list of recommendations and what's using up your hard drive space. Sort each category to open storage management options.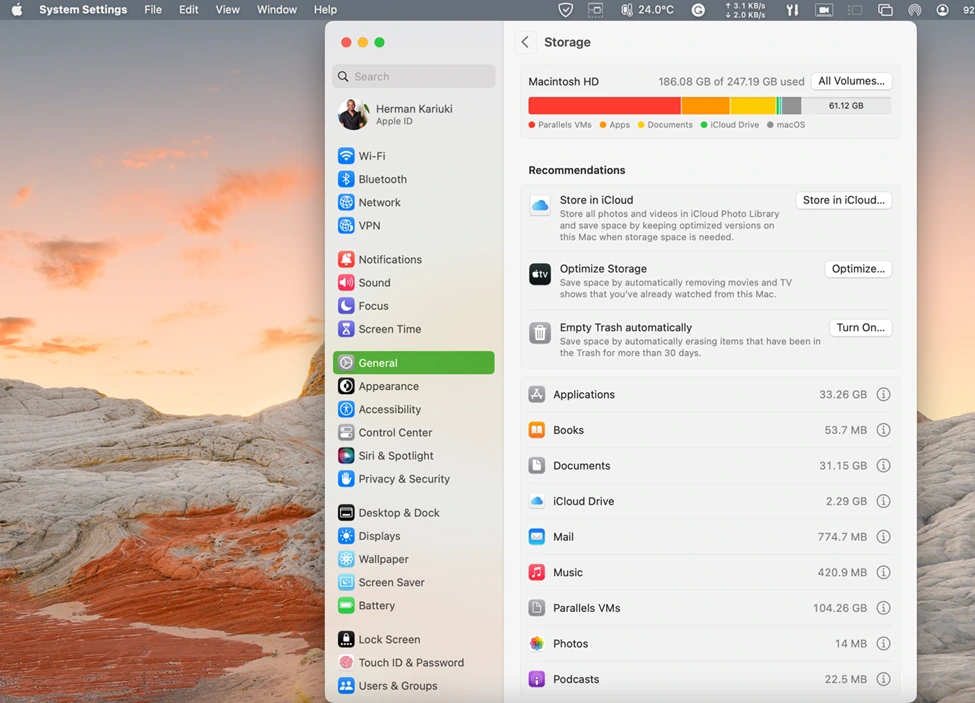 Clear Browser Cache and Cookies
Your Safari web browsers store cache, cookies, and browsing history, which consume substantial disk space over time. And if you're a heavy browser, chances are your Mac's drive is likely full of these temporary files.
There's nothing entirely wrong with having browser caches on your device. In fact, they make it easier for you to load previously visited pages faster. However, having excess cache files on your disk reduces the available storage space.
Deleting them is one of the best ways to save space on your Mac's hard drive. To get started, open your preferred Mac browser and access the history. Proceed to clear the browsing data by choosing what you want to remove.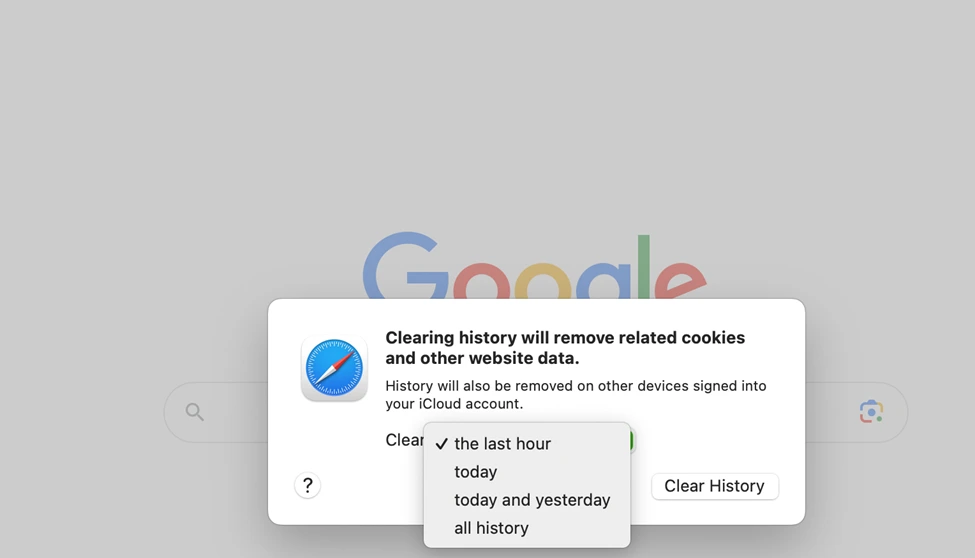 Move Files to the Cloud
One option Mac users have when freeing up disk space is moving files to cloud storage. Apple's Store in iCloud option helps, especially if you have limited storage but don't want to delete your files entirely.

MacOS can also automatically store files from your desktop, documents folder, photos, and even messages on iCloud. The only challenge is that you'll only have a limited storage space, but you can still buy more iCloud storage.
Here are simple steps to set up iCloud storage on your Mac
Click the Apple icon
Select About This Mac
Select the Storage tab
Click Manage
Click the Store in iCloud button under Recommendations.
 Find and Delete Duplicate Files
Managing duplicate files is essential to clear up valuable hard drive space on your Mac. We all know the frustration of accidentally downloading the same attachment multiple times or losing track of where we saved a file.

These duplicates take up significant space on your hard drive; clearing them out is the only option to reclaim storage. This not only retrieves space but also improves your Mac's overall performance and organization.
You can do it manually by sifting through folders to find and delete these duplicates. Alternatively, you can automate duplicate detection by utilizing specialized software designed to identify and remove duplicate files on your Mac automatically.
Archive Large Files
Some of the memory-filled files on your Mac, such as 4K videos and HD photos, consume a considerable chunk of your precious disk space. If left there, they may take up the hard drive storage and impact your Mac's performance.

While they are great memories to cherish, you must strike a perfect balance between keeping them and optimizing your Mac's storage. Archiving them allows you to elegantly tuck away these files onto external hard drives or into the cloud storage services.
This gives your Mac some breathing room, creating space for capturing new memories without worrying about filling up your local storage. You'll still be able to relive those cherished moments even if they're not right at your fingertips.
Final thoughts
Mac's built-in tools are handy solutions that help you manage and optimize your device's hard drive space. However, you need to do more to extend what they can do and enjoy a better-performing device.
Storage maintenance will optimize your system and provide a smooth and enjoyable user experience. With these straightforward and effective methods, you can easily clear hard drive space on your Mac and improve its overall performance.