Is your Minecraft server not working? If yes, then read this article as it will provide you with some methods to fix this server issue within minutes.
Minecraft is a sandbox video game developed by Mojang Studios. It is one of the most famous games in the world. The company has sold more than 150 million copies of the game so far. It is an online game that provides both single-player and multiplayer game features. You can build your own world in this game as well as it allows you to compete with other players.
However, every game has some bugs and glitches, the same is with Minecraft as well. There are times when you will face some difficulties in connecting with the Minecraft server. If you are sure you have connected to the right server address. Then, this issue could be because of a faulty computer or network connection. Today this guide will help you with some troubleshooting techniques that will help you resolve this problem.
Fixes to Resolve the Minecraft Server Not Working Issue
Minecraft servers can be tricky, and because they are so sensitive, problems often happen. Connecting to Minecraft servers is one of the most common problems that people have with them.
There can be many reasons why gamers are unable to connect with the Minecraft server. But don't worry, luckily all these reasons come with a solution. In this post, we have highlighted the 3 major reasons and methods to get rid of this issue.
Fix1: Check the System Requirements of the Game
Minimum and recommended system requirements play a very important role while playing any sort of game. It is necessary that your computer meets the minimum system requirements to run a game. But at the same time, to get a smooth gaming experience your computer should match the recommended system requirements.
Not matching the system requirements can also result in Minecraft won't launch error. Below are the minimum and recommended system requirements needed by Minecraft to get better connectivity with the servers.
Minimum Requirements:
Download Speed: 3 Mbps
Upload Speed: 500 Kbps
Latency: 150 Milliseconds or less
RAM: 4GB
Processor: AMD A8-7600 APU or Intel Core i3 3rd Gen
Graphics Card: AMD Radeon HD 7000 series, NVIDIA GeForce 400 Series, AMD Radeon R5 Series, or Intel HD Graphics 4000
OS: Windows 7 or up
Recommended Requirements:
Download Speed: 5 to 12 Mbps
Upload Speed: 2 to 5 Mbps
Latency: 70 milliseconds or less
RAM: 8GB
Processor: AMD A10 7800 or Intel Core i5 4th Gen
Graphics Card: AMD Radeon Rx 200 Series or NVIDIA GeForce 700 Series
OS: 64-bit Windows 10
If your computer and your internet connection meet the recommended requirements but you are still facing difficulties connecting with the server. Then, you should move on to the next fixes below.
Fix2: Update Your Minecraft With the Latest Version
One of the most common problems behind Minecraft servers not working or connecting properly is the outdated Minecraft servers. Even though you downloaded the game a few days or weeks ago, you still need to check for any new updates. To update your Minecraft server you need to follow the steps given below:
Visit the Minecraft Java Edition Server page using any browser. Then, check if there is any new version available.
Click on the download button over there and wait for the update to download. Then, go to the Downloads folder on your PC and install it.
After the completion of the process, Restart your computer and check if you are able to connect with the server.
If you are still facing issues, then there is a chance that your connection drivers are outdated or corrupted. In this case, you need to update them and for that, you can take the help of the next fix.
Fix 3: Update Your Windows Drivers
If you won't keep your Windows driver up-to-date you will face various kinds of problems and errors, including Blue Screen of Death. Due to these errors, you would not be able to even start up your PC. So, it is very much recommended that you should always keep your drivers updated.
There are two methods to execute this process. The first one is to update the drivers using the Device Manager tool which is considered the manual process. Whereas, for the second one or for the automatic process you need to download a driver updater software. These third-party applications will offer you features that will keep your drivers updated at all times.
Update Network Drivers Manually
First, we will see the process of updating the drivers using the Device Manager tool. Below are some steps that will help you use the Device Manager for the update process:
Search Control Panel in the taskbar and press Enter.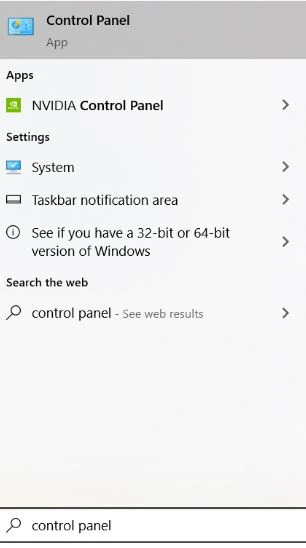 On the Control Panel page, change the icon size by selecting the Large Icons option from the "View by" dropdown menu.
Now, search and click on the Device Manager to open it.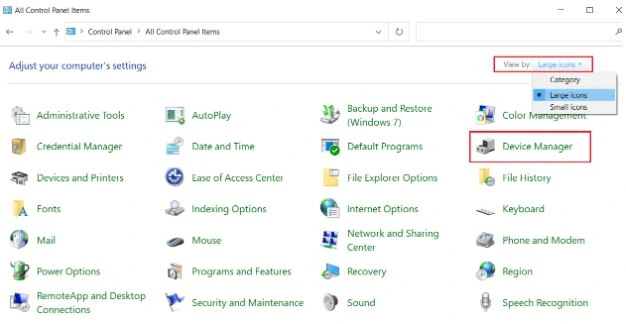 On the device manager window, double-click on the Network adapter driver to expand it. Then, right-click on the network device you are using and select the Update driver option.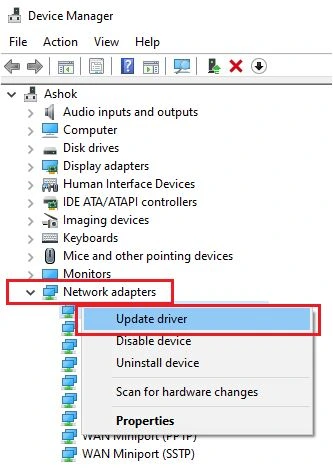 A new window will appear, choose the "Search automatically for drivers" option.
Wait for a few minutes, then follow the on-screen instructions shown by your computer to complete the process
When the process is finished, Restart your computer and your PC will install the new drivers
For some users, this process can be a little technical or lengthy. If you feel the same, then you can go for the automatic process which is mentioned below.
Update Network Drivers Automatically
Now it's time for the automatic process, where you are required to download the best driver updater software as per your choice. These apps come with different tools and features that make your job easier. They also allow you to update the drivers individually and altogether. Some of these programs provide you with the backup of the old drivers and restore them as per your need. All you need to do is to choose one of the best programs mentioned below and install it on your Windows PC.
Conclusion
We hope the different fixes mentioned in this post have helped you resolve your Minecraft server not working issue. It is also recommended that you should keep your operating system updated and for that, you can use the Windows integrated update tool. If you are still facing issues in connecting with the Minecraft server, then you should either contact Minecraft support or Windows support for a professional opinion. If you feel there is something else that we should have added to this article, then you can share your views with us.