HEIC images often have smaller sizes and better qualities than JPG, but it doesn't mean that we don't need JPG anymore. Reversely, we need to convert HEIC to JPG in many situations, because not all devices and apps are well compatible with the HEIC format.
For example, we cannot open or view HEIC images directly on some Windows 10 PC, unless we install an image extension tool. So how can we handily convert HEIC to JPG on a Windows 10 PC? This is not a conundrum. What's more, we have found solutions.
1. Use MobiKin HEIC to JPG Converter (Batch Convert)
Is there a tool that can convert all HEIC images to JPG at a time? Yes, there is, and MobiKin HEIC to JPG Converter is such a powerful conversion program. It enables you to add quantities of HEIC files via drag and drop, and it will display them on the interface.
Furthermore, when converting HEIC to JPG or JPEG, you can choose to keep Exif data of your pictures. Plus, it provides a slider for you to select a quality, so you can surely convert images with original quality. The trial version can convert 10 images, and the full version can convert unlimited HEIC files. By the way, it can also convert HEIC to PNG without trouble.
To convert HEIC to JPG via this software, please download it on your Windows 10 PC.
Launch it, drag your HEIC files to the specific area, and click the "Drag and drop here" icon. Or you can tap the "Add HEIC" icon to select your HEIC images.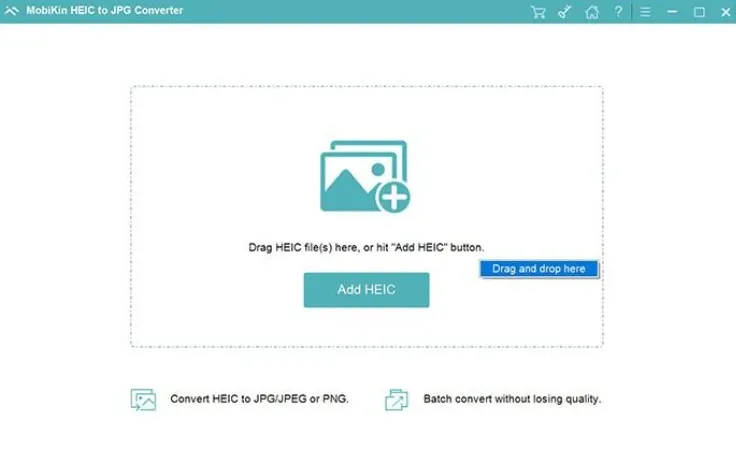 Then the software will list your pictures on the interface. Please select the "JPEG/JPG" as the output format, a quality you like, and a folder to save your photos. Finally, tap the "Convert" icon to start the conversion.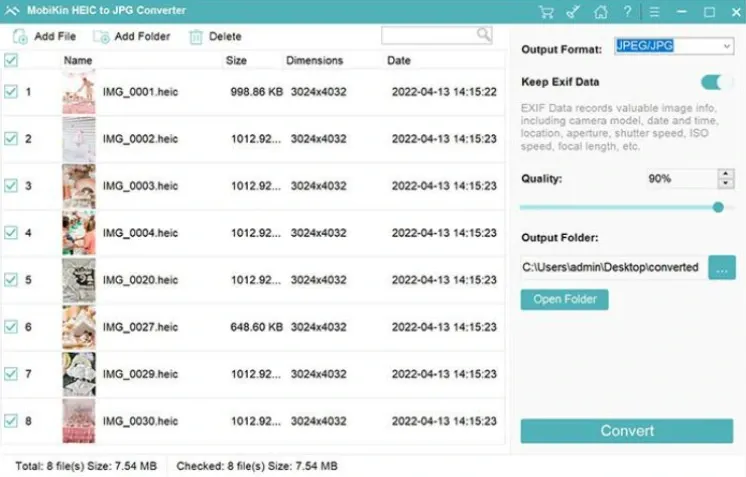 After finishing, you can tap the "Show in folder" option to check your images.
2. Use HEICtoJPEG Website
HEICtoJPEG is an online web that you can visit on your Windows 10 browser. As long as you open it, you can convert HEIC photos to JPEG without harming quality. But please note that you can only convert 5 pictures at once. And it requires a steady network or the processing will be failed.
If you want to convert HEIC more efficiently, you can download its pro version. This version can convert up to 200 HEIC files. However, the converted files will automatically replace your original files.
To convert HEIC to JPG on Windows 10, you can visit the heictojpg web, and click the "+" icon to choose your HEIC files.
Wait for the processing to end, and tap the "DOWNLOAD JPEG" icon to save the converted images to your PC.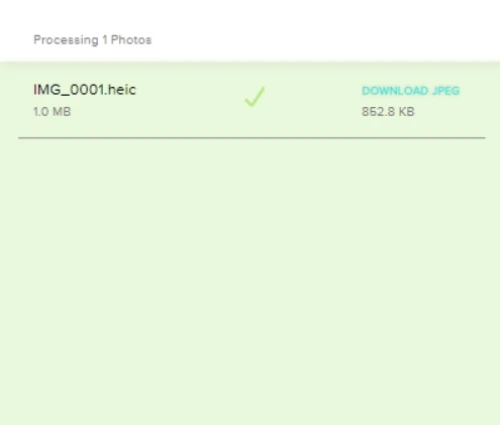 3. Use Microsoft HEIC to JPG
Some image converters are available on Microsoft App Store, such as this HEIC to JPG. After you log in to your Microsoft account, you can get the desktop app. This software will also preserve the EXIF data for your images, and it promises not to upload anything to the internet.
More importantly, this tool can convert HEIC files to multiple formats, including JPEG, JPG, AI, WEBP, PNG, BMP, etc. Additionally, it has free and paid versions. The free version allows you to do 10 conversions every day, and the paid one is capable of unlimited conversions. If you want, you can also change the light mode to Dark Mode.
To start the conversion, you can run this software on your Windows 10 computer, and tap the "Options" feature on the top menu to set output location, name casing, and the like.
After completing the settings, please go back to the "Quick Convert" interface, and drag your HEIC images to it. Then click the "JPG" option to convert the HEIC files to JPG.
4. Use HEIF Image Extensions
The HEIF Image Extensions tool can help Windows 10 PC read your HEIC files without hassle, but it is not a conversion app for HEIC to JPG. With it, you can directly open your HEIC files on the PC. Moreover, it is a free tool for installation and use.

But one shortcoming is that you are also required to install HEVC Video Extensions. You can view your HEIC images unless both packages are installed.
Final Words
It is no longer difficult to convert HEIC to JPG on Windows 10 computers. Apart from the methods mentioned above, many other ways make the conversion come true. If we discover more practical conversion approaches later, we will also share them with you.
Honestly, we hope that more devices and apps are compatible with HEIC images, and then we needn't do any conversion, which is better than finding a tool, right? If you have any useful suggestions for us, please write them down in the comments area. We'll appreciate that so much.