A question that many MHW fans usually ask "Is Monster Hunter World cross-platform? Is there any MHW crossplay support? Can you play this amazing action-adventure game with your friends on different platforms?" So, this guide covers everything you need to know about the game's cross-platform multiplayer feature, and hopefully, this article will clear all of your confusion.
Monster Hunter World, an action role-playing game developed by Capcom, has left a name for itself since its release in 2018 on PlayStation 4, Xbox One, and PC. Players from all around the world have joined the game to track down roaming monsters and kill or capture them. The multiplayer aspect of MHW is what gives the game its true heart and soul, and it's built on the foundation of shared thrills and friendship among players, not just the excitement of the hunt.
If a game involves such a big community, the question arises of which platforms the game is playable on. Whether the game supports cross-platform or not? The reason is simple – players always look to play multiplayer and different modes with their friends across multiple platforms. Below, this guide will explain all about the Monster Hunter World crossplay functionality.
Is Monster Hunter World Cross-Platform in 2023?
As fans of Monster Hunter World are aware, the immersive gameplay and robust multiplayer experience are at the heart of this title's charm. However, when it comes to cross-platform play, the answer is, unfortunately, no. As of the time of writing, Monster Hunter World does not support cross-platform play across PC, PlayStation, and Xbox.
To play with your friends, all of you must have the same systems or gaming consoles. You can only play single-player campaigns, and there is no method for you to play with other players or with your friends on different platforms to hunt down all those massive monsters. In other words, if you're playing the game on PlayStation, you can join forces with other PlayStation users, but you won't be able to play with friends who are gaming on Xbox or PC.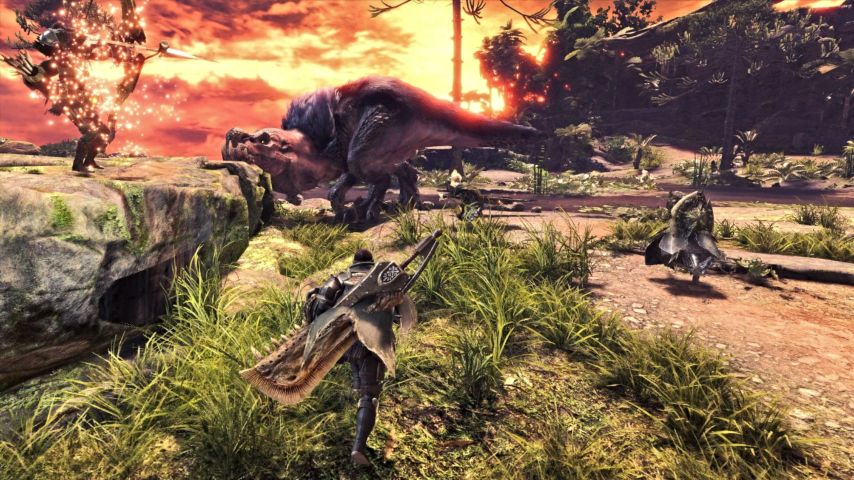 The official stance from Capcom, the game's developer, has been consistent on this matter. Although Monster Hunter World supports multiplayer gaming within the same platform, it does not currently allow players on different platforms to hunt together. As the game was released for different platforms such as PC, PS4, and Xbox One and has gained huge success, players want to enjoy this action role-playing game with their buddies regardless of which system they are using to run it. But they are not allowed to do that, and this thing makes a lot of fans disappointed.
Is Monster Hunter Rise Cross-Platform or Crossplay? All Explained
Despite the considerable advancements in gaming technology and the growing trend towards cross-play gaming, MHW has not yet embraced this feature. The reasons behind this decision are multifaceted and we'll explore these in the next section. Regardless, the absence of cross-platform play remains a prominent discussion point among the game's community and has evoked diverse reactions from its player base. You can also play the Geometry Dash game online for free.
Why is there no Cross-Platform Available in Monster Hunter World?
In an era where cross-platform compatibility has become a norm in many popular gaming titles, its absence in Monster Hunter World invites the question: Why? The answers, however, are not straightforward and encompass a range of technical and game balance considerations.
From a technical perspective, implementing cross-play support in an already-established game like Monster Hunter World is a complex task. Different gaming platforms have unique hardware architectures and ecosystems, and ensuring seamless integration can be a herculean undertaking. This would likely require substantial development resources and time investment, possibly diverting attention from other key aspects such as bug fixes, game enhancements, and new content creation.
Furthermore, the issue of game balance comes into play. PC gamers, for example, have the option to use mods and different input devices, potentially providing them with an edge over console players. Balancing these disparities to ensure fair gameplay across platforms can prove to be a challenging process.
Another significant factor is the distinct update and patch release schedules for these systems. For example, the PC version often falls behind the gaming consoles when it comes to content updates, which makes implementing cross-platform play more difficult. These are a few reasons we think and wanted to discuss that could potentially be the reason why Monster Hunter World does not currently support cross-platform multiplayer.
Will Monster Hunter World Be Crossplay in the Future?
Unfortunately, it's not looking possible for now that the developers will include cross-platform multiplayer in the game even in the future. But, we can not say much about that because Capcom has not given any official statement regarding this. However, we can talk about the various facts that come to mind.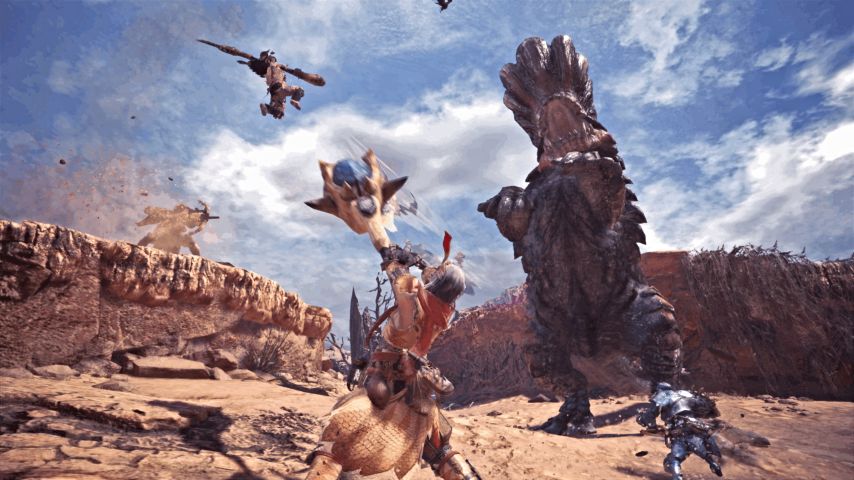 The first thing is that enabling a crossplay option in any game demands a significant investment of time and resources. Monster Hunter World is available on all massive platforms (PC, Xbox One, and PlayStation). However, these devices run the games using different engines and services. So, it's not easy to make this game compatible with these platforms as it demands a lot of hard work and an enormous budget.
Is Dying Light 2 Cross-Platform or Crossplay? (PC, PS4, PS5, Xbox)
Another factor is that the game was first launched only for Xbox One and PS4. Capcom released the PC version a few months later. The game's console version uses PSN and the Xbox One console's online service (PSN and Xbox Live). On the other hand, the PC version utilizes the Steam service. All of these platforms make use of different servers and hardware. So, that's another main reason why the MHW cross-platform is not possible between them.
However, Capcom has a track record of taking player feedback seriously, and the continual discussion surrounding cross-platform multiplayer in Monster Hunter World could certainly influence future development decisions. The game's community continues to express its desire for this feature, and Capcom may eventually choose to respond to this demand. Whether this feature becomes a part of that future remains to be seen.
Bottom Line
So this is a detailed and comprehensive guide and after reading this post, we hope that you have got your answer about "Is Monster Hunter World cross-platform or crossplay?" Monster Hunter World currently lacks cross-platform functionality, given the industry trend and clear interest among gamers. What this means is that players on different platforms, such as PC, PS4, and Xbox One, cannot play together to enjoy the game's adventure and join hard battles as a team.
Whatever the future holds for Monster Hunter World, its dedicated audience will always hold a special place in their hearts for the game. Whether battling fearsome monsters on the same platform or, possibly one day, across different ones, the essence of MHW lies in the shared thrill of the hunt. And that's a feature all players can agree on.
Frequently Asked Questions
Is Monster Hunter World Cross-Platform PC and PS4?
Unfortunately, there is no MHW cross-platform option for PC players to play with their friends who are playing on PS4. However, the game is available for both platforms, which means the players can play with one another if they are on the same platform.
Is Monster Hunter World Cross-Platform PC and Xbox One?
Same as in the previous case, PC gamers can't be able to play with others who are on the Xbox One console. The game has received excellent feedback on Steam and is available on both PC and Xbox One. But, there is no official declaration about the crossplay of Monster Hunter World we have heard so far. If you are on PC, you are not allowed to play with your friends on Xbox One.
Is Monster Hunter World Cross-Platform PS4 and Xbox One?
As stated earlier, Capcom does not allow cross-platform support to make the game playable on multiple platforms. So, players on Xbox One and PlayStation 4 cannot have fun in the game with each other. One reason is that both devices use different engines to run the games. So, it's not an easy task to make MHW cross-platform for both systems as it requires a good investment of money, time, and effort.
More Related Guides: