Are you a PUBG player and still have not succeeded in getting M416 glacier skin? Are you here to know how to get free glacier M416 in PUBG Mobile or BGMI?  This ultimate guide is only for you. Today, we are here with some best and special tricks to grab your own M4 glacier skin for free.
No doubt, M416 is the favorite gun in the game for all PUBG players. Almost, everyone loves to use it, especially for long-range sprays by equipping a 3x, 4x, or 6x scope on it. If you have the correct attachments on the gun alongside these scopes, you can easily control the M416 recoil even when you spray at long distances. The best thing about this gun is that its recoil is very easy to control, can reload very fast, and is not difficult to handle. If you have enough skills and consider yourself a pro player in PUBG, you can even do 1v3 or 1v4 clutches with an M416 gun.
In order to get a free M416 glacier skin, many players open classic crates and try their luck every day. But they only succeed in getting some silver coins, stickers, and other unwanted items. Every M416 lover wants this gun skin but not be able to get it. Only a few lucky players are able to put their hands on it. Many players use different tricks such as opening crates using VPN or other things but can't get it. But here are a few best ways that may help you to get free glacier M416 skin.
Why Do All PUBG Fans Love M416 Glacier?
We have seen so many upgraded PUBG gun skins so far and still, we are seeing a new max gun on a regular basis in the game in different crates and spins. But the question is why PUBG glacier skin is so much popular and loved by all players even if it's old skin and we have seen many other M416 gun skins.
In simple words, the M416 glacier skin has a very cool white effect which gives an amazing and interesting feel to every player. On hitting the enemy, it produces a white color smoke which gives a nice appearance and its white color kill message is the best one among all the others. Another great aspect is that you can get it from the classic crate without spending a single UC if you are lucky.
Moreover, if you have some extra cash and can spend it to buy the UC, you can upgrade the M4 glacier skin to level 7. By doing that, you will get a unique and spectacular elimination crate that features an appealing iceman. This kill treasure crate of PUBG/BGMI M416 glacier max is better than most of the other upgradable guns' crates.
Also read: Is PUBG Mobile Crossplay?
Tips to Get M416 Glacier Skin in PUBG Mobile/BGMI for Free
Well, it looks like PUBG has decided to not give you glacier M416 skin for free even if you open a large number of crates. But luckily, I succeeded in getting this amazing M416 gun skin from the classic crates several months ago.  So, if you are lucky enough like me, you will also get it permanently for free using the classic opening crates.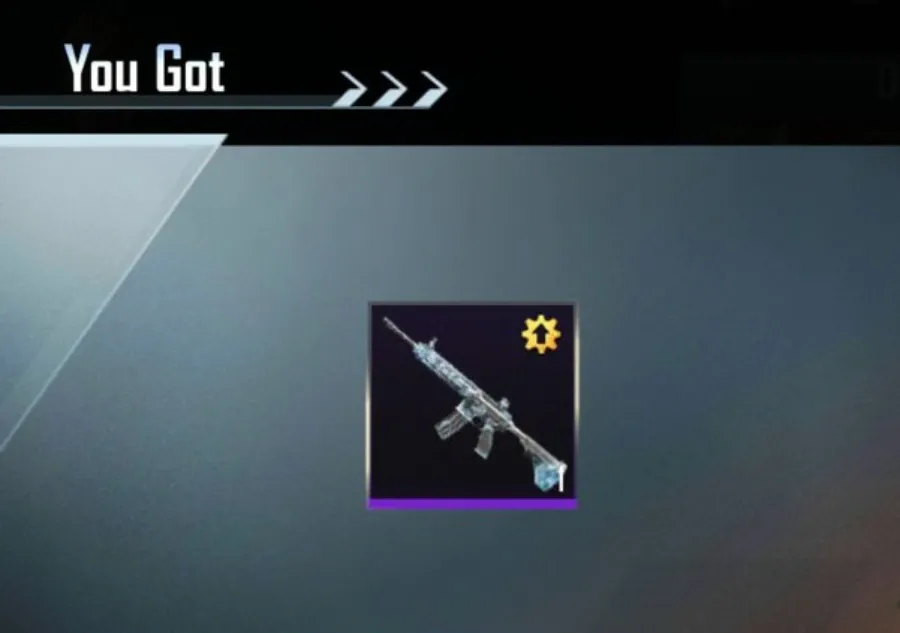 Further, if you try it by spending the UC, you can't probably get it easily because the legendary M416 glacier skin has a very low chance of obtaining it from the crates. But, if you are eager to get this gun skin, follow the below tips and methods:
1. Change Your Avatar and Its Frame
Before opening the classic crates and trying your luck for M4 glacier skin, change your avatar and also set its frame to simple. Show that you are a new PUBG player. It's just a trick and I think it increases the chance to get PUBG glacier skin from the crates.
Most of the players do not do that, they open the crates when having heavy or shiny avatars or frames. So, they don't get any good items from the crates.
2. Remove Every Item You Have Equipped
The second thing to do after changing the avatar or frame is to completely remove your outfit or headgear. It's another trick that may increase the chances for you to grab the M416 glacier skin for free.
It actually works most of the time and players get some good items when they open crates or even M416 skin.
3. Have Some Patience
If players have a big amount of crates, they start opening them together all at once. In this way, they lose all of their crates and have minor chances to get something good from PUBG Mobile.
So, be patient! Instead of doing that, I suggest you open the crates one after the other (one by one). Also, don't click on skip to remove the crate opening animation. Just follow the trick and open your crates to try your luck for PUBG glacier M416.
4. Tap on the M416 Glacier 3-5 Times
Maybe, you have already heard from many people that tapping on the M416 glacier skin 10 or more times before opening the crate does the job. But I think that it may not a successful approach.
Rather than tapping ten or even more times, I recommend you only do this to 3-5 times. After that, start opening crates you have gathered to obtain M416 gun skin for free in PUBG Mobile/ BGMI by using this trick.
3. Open the Crates at Best Suitable Time
Well, it is recommended by most experienced players that late night or morning is the best perfect time to open the classic crates and your chances will be high that you will become successful to get your hands on the M4 glacier skin free of cost. This time is suitable because the majority of the players are not in the game and only a few PUBG players are online during that period.
Also read: Pubg Mobile Requirements for Android, iOS, and PC
How to Get Free M416 Glacier Using Redeem Codes?
On the official social media platforms of PUBG Mobile, they share redeem codes for different in-game items most often. So, follow them on all social signals and check their accounts on daily basis to get redeem codes whenever they share. Maybe, you will also get a PUBG M416 glacier skin free redeem code any day. In the future, if PUBG devs will share codes to redeem the M416 glacier, you can go to this link to redeem your free gun skin.
Final Words
So, that's the conclusion of this guide about how do I get M416 glacier skin for free in PUBG Mobile or BGMI. If you try the above-mentioned tricks when opening classic crates, you can increase your chances and may succeed in getting the glacier M416 skin.
Another way is to regularly check out the redeem codes on the official PUBG Mobile social platforms and hopes that they will also share the M416 glacier skin redeem code in the upcoming time. I am also a regular PUBG player and I have this OP skin. I will be really happy if some of you also get the M4 glacier after reading this post and using these tricks.