After landing on your targeted spot and searching for the equipment and weapons. PUBG flare gun is the most desired thing that every player wishes. It's a very rare but a most important item for your team in a match. A flare gun can be a game-changer for you and can get you very close to the "Winner Winner, Chicken Dinner".
This gun can be found at any place over the map and gives you the opportunity to call a flare drop. This drop comes up with the heaviest weapons of PUBG Mobile such as AWM, Groza, Mk14, M249, AUG, and a Ghillie Suit. A few times ago, PUBG new gun which is S12K had come into the game, it's a short gun with the ability to fire twice at a time. During its early days, we could only get this gun from flare drop. But after some time, It was removed from the drop and was added to the normal loot of the map. Now, you can see this gun anywhere in this match.
Why flare drop is very important?
Because you can't find these weapons on the map when looting. These weapons only come in the flare drop and the damage of these guns is higher than the other guns which you find in the match. Moreover, the Ghillie Suit hides you from the enemies when you prone down in the grass. That's why the flare gun and flare drop are most important in PUBG Mobile and everyone loves to find this gun for him.
As this gun is a very rare and valuable item, it's also very important to use it correctly and at the right place in order to get maximum benefits from it. Because when you shoot it in the air, many squads will come to you to kill you and will steal your drop. That's the part and style of this amazing mobile game. When someone fires a gun, you go there and try to get their drop guns. Similarly, when you shoot a flare gun in the air to call drop, other teams come to get your drop. Lost of many lives occur, many squads wipe-out. Third-parties are a very common thing in this situation.
PUBG Flare Gun Photo
The following image shows how this gun looks like: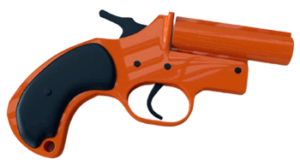 PUBG Flare Gun Locations Erangel
As we know, Erangel is the oldest and most playing map of this game. So, I'm going to tell the PUBG flare gun locations where you have a maximum chance to find it on the Erangel map.
Where are the Flare Guns in PUBG Mobile in Erangel?
Here are the best spots of Erangel to find out flare guns:
1. Georgopol
Georgopol is the place where you can find a flare gun most of the time but not every time. Sometimes, you can even find 2 or 3 guns from here but it's up to you. This is the area where the action begins from the start of the match. Because with too many warehouses and containers, many squads normally land there in order to get a good amount of loot and also a good number of kills. More, they also have flare gun in mind.
2. Novorepnoye
This place is very similar to Georgopol with too many containers and some warehouses but this spot also has many houses. The chances of finding a flare gun are quite high here. For your enjoyment, let me tell you – once my squad got four guns in one match from here. Usually, if you get two or three guns from here it is a normal thing in Novorepnoye most of the time. Like Georgopol, this place is also packed with full of action from the beginning of the match due to the landing of too many teams most of the time.
3. Sosnovka Military Base
Sosnovka Military Base is a very big place and popular with its three main buildings in C-shape form knows as "C-buildings". Other than these, it also has other large buildings and garages with a big amount of loot on both sides of buildings. It's a very popular and high-risk location of this map with also a great chance to find one or more flares. With large buildings, caves, garages, and factories, you have a very good chance to find at least a single gun almost every time in Military Base. It also packs with a number of enemies surrounding you so make sure always remain with your squad. Because if you are in trouble, they can give you cover.
4. Shooting Range
Shooting Range is a small area with not a good amount of loot. Only one or two players can get a good loot here, not the whole squad. That's why no one normally prefers to land here. But the noticeable thing is that you can find a flare gun here. It also has a cave where you have the chance to find one for yourself. Interestingly, the day before I was writing this article, I had found a gun in the shooting range's cave about which I'm telling you. The top of the boxes is also the best place for a flare, for being a small area it is easy to loot here quickly and be on your way. The risk factor is not too high here because many pro players don't prefer to land at this location rather they go to other places.
5. Mylta Power
Before the Erangel 2.0, the Mylta Power had only a single large building and 2 or 3 warehouses. Most of the loot was found in this large building, but rather than the building, flare gun was also found in warehouses. This place has totally changed in the new Erangel map. Now, the large building is completely different from the previous one and there are too many warehouses surrounding the building. There is more greenery or grass present in this spot. The new place is larger than the previous one, which means loot is also increased in this location as compared to the oldest one.
Best Tips for Using a Flare
♦ Go into the Open Space
When firing a flare gun, always make sure that you are in an open space. Because you have to shoot the gun straight towards the sky otherwise you will destroy the flare. Moreover, If you fire the flare near a building that's roof can't be reached. You may get a drop on the roof and then you won't be able to get it.
♦ Pick a Suitable Location to Fire in the Air
The first necessary thing before firing the flare is to select a suitable and open location. Also, make sure the place also has covers for safety when squads rush on you. The gunfire is very noisy, so it attracts other teams that are near your area. After shooting, the flare will remain in the air and you will see the plane is coming towards the red light of the gun. When the plane reaches the mark, it will leave the airdrop.
♦ Loot the Drop Quickly
When you shoot the flare, it draws the eyes of many squads on your airdrop. There are great chances that other teams will rush on you and try to kill you to loot your airdrop. In order to survive and defeat your enemies, always throw the smoke first on your drop when it is reaching the ground. After that, try to loot it as quickly as possible and relocate instantly.
♦ The Fantastic Ambush
If you want to get some kills along with the airdrop's loot, instead of looting the flare after firing it, sit in ambush in a safe place or in a cover. When the enemies rush, first clear them and then enjoy the loot.
♦ Play Like a Real Team
Many times every player wants to get all the loot of the airdrop. But that can ruin your match. When any team member finds the flare, first inform your team and decide the area where to use it. After that, decide which players shoot loot the drop. When flare drop comes, the decided members should loot it and other players give them cover from enemies. What allows you to win is your teamwork and cooperation with each other.
♦ Remain Alert Until Drop Reaches
After firing the flare in the air, it takes some time for the drop to come. The plane is seen approaching from a distance and it throws an airdrop at the flare mark and then it takes some time for the drop to hit the ground. All this process takes some time. During this time, other squads may reach you to eliminate you from the match and then loot your drop. So, you should need to remain alert all the time and should continuously change your location or hide in the house until the drop reaches.
What Does the Flare Gun Do in PUBG?
The flare gun is an exceptionally rare gun. It is fired in the air to call a custom airdrop. This drop comes up with highly valuable guns or equipment that you can't find during the normal loot of the match. The damage of these guns that come in this drop is very higher than the other weapons which you get in the match.
Can a Flare Gun Kill in PUBG?
No, these guns are not to kill your enemies. If you try to shoot at your enemies, it will not give any damage to him but you will destroy the gun. You need to aim straight towards the sky and fire it. Then wait some time for the drop to come and after that loot it very carefully by also eyeing on your enemies.
Related Topics: