In this day and age, with gaming more connected than ever, there's one question on every Ark player's lips: Is Ark cross-platform or crossplay? In other words, can players on different gaming systems like PC, PlayStation, Xbox, or even mobile, band together or face off in the dinosaur-laden landscapes of the game? And if so, to what extent? This article will dig into these questions and more, exploring Ark: Survival Evolved's approach to cross-platform play delving into player experiences and speculating on the future of these features in the game.
In the wild, an adrenaline-fueled world of Ark: Survival Evolved, the ultimate goal is to stay alive amidst prehistoric creatures and harsh environmental conditions. From taming dinosaurs to crafting tools and building shelters, players from across the globe have been thoroughly immersed in this survival game that has quickly climbed the ranks in the gaming world. Developed by Studio Wildcard and released for several platforms in 2017, its availability on Windows, Linux, macOS, PS4, and Xbox One, along with its later release on Nintendo, Android, and iOS in 2018, contributed to the game's worldwide success.
Due to the game's rising popularity, and since cross-platform support is becoming more and more necessary to players, it's crucial to define whether or not Ark supports it. This guide explains everything about it. Whether you're a seasoned ARK player or a curious gamer, stick around as we unravel the mysteries of crossplay in Ark: Survival Evolved.
Explanation of Cross-platform in Gaming
First things first – what exactly is crossplay? In the grand scheme of gaming, this is the golden ticket that lets you play the same game across different devices. Whether you're on a beefed-up gaming rig, a console like the Xbox or PlayStation, or even on the move with your mobile phone, cross-platform compatibility ensures you have access to your favorite game, anytime, anywhere.
The perks of cross-platform play are obvious. The more, the merrier, right? This capability brings gamers together from all corners of the globe, irrespective of the platform they prefer. You're no longer bound by the confines of one system. The significance of these features in contemporary gaming can't be overstated. The gamers break down barriers and create a shared space where everyone, no matter what system they game on, can engage in the same epic battles, high-octane races, or, in our case, daring dino-taming.
However, like every power-up in gaming, there's a flip side. Crossplay can sometimes lead to compatibility issues, and let's not forget the ongoing debate about balancing – because let's face it, playing with a controller versus a keyboard and mouse can be a whole different ball game. Plenty of today's top-tier titles have embraced cross-platform support. Fortnite, Call of Duty: Warzone, Rocket League – these games have set the standard, breaking down the walls between platforms and letting gamers come together in ways we've never seen before. But what about our beloved dino survival game, Ark: Survival Evolved? Can we tame a Giganotosaurus with our buddies on different systems? Let's dive into that.
Is Ark: Survival Evolved Cross-Platform or Crossplay 2023?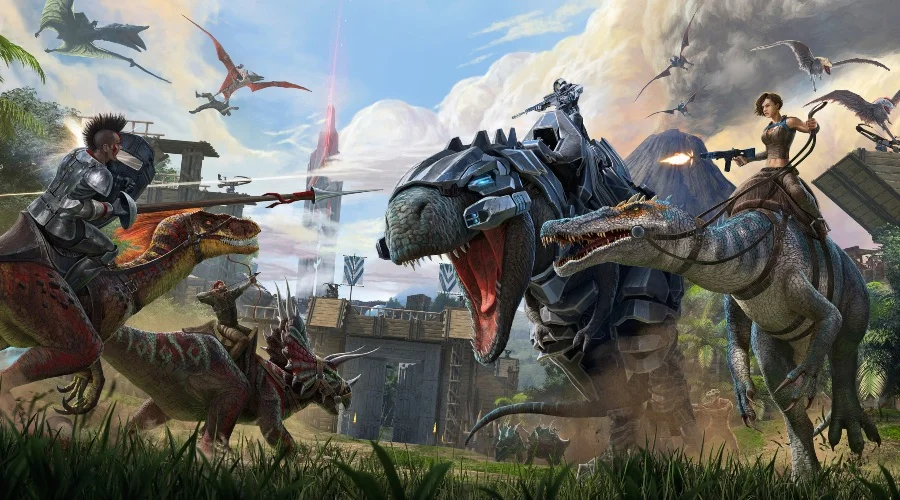 The million-dollar question we've all been waiting for – is Ark: Survival Evolved cross-platform? Drumroll, please… the answer is yes, but with a caveat. While ARK is available across several platforms, it's not entirely crossplay in the sense you might expect. Xbox players can join forces with those on Windows 10 PCs, thanks to Microsoft's Play Anywhere initiative. But before you go popping the champagne, it's crucial to note that PlayStation gamers are left in the cold here. They can't venture into the prehistoric world of ARK alongside their friends on Xbox or PC. Furthermore, Android and iOS players are
Even though Ark: Survival Evolved is out in full force on both PS4 and PS5, Sony's community isn't able to join the cross-play bandwagon, which is a shame. And for our comrades on Nintendo Switch or Switch Lite, it's the same dino-sized disappointment. You'd think in this era of gaming, everyone could play nice together, right? Sure, these cross-play roadblocks could be due to tech hurdles or different ways online services are run on these consoles. Despite these hitches, Ark still holds its ground as a kickass survival game that keeps us glued to our screens, regardless of the platform we're rocking. So, whatever your gaming weapon of choice, the game is here to deliver the prehistoric thrill ride of a lifetime.
Will Ark: Survival Evolved Crossplay Expand in the Future?
What's the horizon look like for Ark: Survival Evolved when it comes to cross-platform features? As it stands, the developers at Studio Wildcard haven't dropped any major hints about expanding these capabilities. However, that doesn't mean it's off the table. Given the growing demand for crossplay features across the gaming sphere, it wouldn't be surprising to see changes in the pipeline.
The potential impact on the player base would be significant if these changes were to be implemented. ARK players on PlayStation could finally join their brethren on Xbox and PC, making the experience truly universal and inclusive. More importantly, it'd bring the game in line with many of its competitors, who have already embraced the crossplay revolution.
Industry trends point toward an increasingly interconnected gaming landscape. More and more developers are realizing the benefits of crossplay – not only does it expand the player base, but it also fosters a more unified gaming community. If Ark wants to stay competitive and relevant, it might be high time for the developers to consider enabling comprehensive cross-platform multiplayer support. So here's hoping the future holds some exciting updates for our prehistoric survival quest.
Is Ark Cross-Platform Xbox and PC?
Alright, PC and Xbox gamers, you're the big winners in the Ark's crossplay lottery. You guys get to reap the benefits of the crossplay feature. Whether you're a keyboard warrior or a console champ, you can team up and tame those dinos together, thanks to that sweet compatibility.
But, this only works if PC gamers snag their copy of the game from the Microsoft Windows Store. Microsoft owns both Windows and Xbox, so those systems play nicely together. But, if you get the game from the Steam or Epic store, well, you're out of luck. These platforms just don't gel with Xbox One, and that means no crossplay between PC and Xbox console systems.
Is Ark Cross-Platform PS4/PS5 and PC?
For all PC gamers with PS4 friends on their playing list, we've got some tough news for you. If you play on a PC and want to play with a friend who has a PS4, you might be out of luck. The PlayStation 4 community is left out of the fun because the developers of Ark have not yet implemented cross-play support for this system. Sony's restrictions on cross-console play could be to blame for this. It's bad for PS4 users, but it's more important than ever that developers put safety and reliability at the top of their priority lists to prevent any disruptions to the gaming experience.
Is Ark Cross-Platform Xbox and PS4/PS5?
Very sad to say, it's the same deal as with PC and PS4. The crossplay support of Ark: Survival Evolved is not available between Xbox and PS4. It means Xbox players are restricted from playing with other players who are on PS4. We don't know about the actual reasons for this but that's the deal with the crossplay feature of Ark in this situation. No progress and no rumors to cling to. All we can do is keep our gaming senses sharp, cross our fingers, and hope that the game devs drop some juicy info soon.
Is Ark Crossplay Steam/Epic and Xbox?
For PC gamers, there are three different platforms from which they can buy this game. These are Microsoft Windows Store, Steam Store, and Epic Games Store. Neither Steam players nor Epic Games users can play the game with those who have bought Ark from Microsoft Store. As a Steam user, you are not allowed to play with other PC and Xbox players who own the game from Microsoft Windows Store. Only the Steam and Epic players can play with each other but not with those on any other platforms. Similarly, the players of Epic Games can not play Ark with friends who are using Xbox consoles.
Is ARK Crossplay Android and iOS?
There is good news for Android and iOS players. Ark has a cross-platform between Android and iOS devices. It means it doesn't matter if you are on an Android phone and your friend uses iPhone. Both of you can play with each other. In that manner, mobile players can also play with iPad users. You get the option to launch the game by using Facebook or Google account, PlayStation Network, and Epic account. It is your choice which accounts you use for the game.
Is Ark Crossplay Mobile and PC?
Unfortunately, Ark: Survival Evolved cross-platform does not work between PC and mobile. This is due to the huge difference in the operating systems used by these devices. While smartphones operate on Android, PCs run on Windows, which requires a significant refactoring of the core logic to enable crossplay support between these devices. That's why it's not on the to-do list right now to provide this functionality.
Conclusion
Alright, let's wrap this up. When it comes to Ark: Survival Evolved's status in the realm of cross-platform, it's a mixed bag. Yes, there's some crossplay functionality, but it's restricted to Windows PC and Xbox users and for Android or iOS players. PlayStation and Switch gamers, unfortunately, are left standing at the gates, unable to join their friends on the other side.
This partial implementation of features has substantial implications for the player base. It's a tale of two tribes: those who can enjoy the cooperative survival experience with friends on different platforms, and those who can't. And with the gaming industry moving more and more towards inclusive, boundary-breaking crossplay, this is a divide that's increasingly difficult to ignore.
So there you have it, Ark stands at the precipice of the crossplay revolution, having taken some steps into the fray but not yet fully committing. As we continue our journey through the Jurassic period, one can only hope that we'll see the walls between platforms crumble, allowing every player, no matter their gaming device, to join in the grand survival adventure. Until then, keep taming those dinos and building those bases.
More Related Guides: