In the presence of other role-playing games available in the industry, you can not ignore Ark: Survival Evolved which is an amazing multiplayer game that you can play with your friends. Ark fans regularly ask the most important question on the internet "Is ARK cross-platform? Is there any Ark crossplay support available?" Many players are very confused about the cross-platform support of the game to play across different platforms. This guide explains everything about it.
Ark: Survival Evolved gained popularity within a short period of time after its launch on Windows, Linux, macOS, PS4, and Xbox One in 2017. Later in 2018, the developers also released it on Nintendo, Android, and iOS. Having huge demand for the game, the fans are very keen to know about the Ark crossplay support. The players want to play this game with their friends on multiple platforms.
The benefit of the crossplay multiplayer feature is that it makes it easy for gamers to play with each other even if they are on different platforms. It's also a fact for the great success of any game because players will recommend it to their friends who are on different systems and then they all want to play together. Now, we will discuss the fans' most demanding question regarding the Ark cross-platform in the below section.
Is Ark Cross-Platform?
Every day, this question has been asked on the ARK official forum and in other communities because players want to know whether they can play Ark: Survival Evolved with their friends across multiple platforms or not. Because so many gamers use different systems of their preference for gaming, so a need for cross-platform support arises because it makes things very simple and easy. If a game comes with crossplay multiplayer, players can play with each other without thinking about the platforms or systems they are on.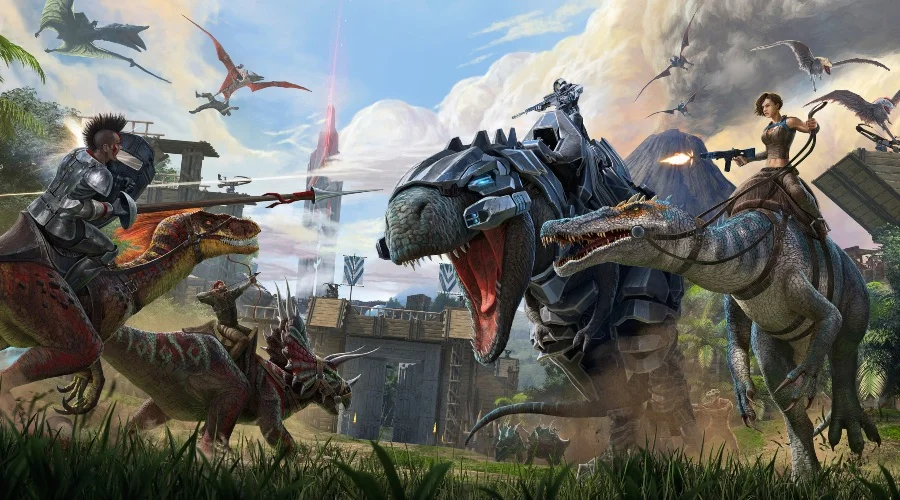 So, the case with this game is that there is ARK cross-platform feature available but not for everyone. Only PC and Xbox or Android and iOS players can play the game with each. However, you can only play with Xbox players if you have purchased the game from the Microsoft store. If you are on a PC and buy the game from Steam or Epic Games, you will not get this feature. The reason is the incompatibility of Xbox One with Steam and Epic platforms.
On the other end, the PlayStation players are not the luckiest ones as they can not enjoy this functionality for Ark: Survival Evolved on both PS4 and PS5. The same situation is in the case of the Nintendo Switch and Switch Lite console systems. To discuss it in more detail, read the below explanation.
Is Ark Cross-Platform Xbox and PC?
The PC and Xbox gamers are happy users because they can get benefit from the Ark crossplay feature. They can play with each other because these systems support cross-platform. But a specific condition applies in this case, PC players can only play with their friends on Xbox if they purchase Ark: Survival Evolved from the Microsoft Windows Store.
The reason is that Microsoft is the owner of both Windows and Xbox, so there is compatibility between them. But if PC gamers buy it from Steam or Epic store, these systems are not convenient with the Xbox One, and that's why the players can't be able to play across PC and Xbox console systems.
Is Ark Cross-Platform PS4 and PC?
If you are playing on the PC and you want to play with a friend who is on PS4, then you are not allowed to do that. The developers have not released the Ark cross-platform for the PlayStation 4 console. The PS4 players are not lucky if they want to play across multiple platforms. The players can only be able to play together if they all are using PS4. Maybe, one of the facts is the limitations imposed by Sony for crossplay in console devices.
Is Ark Cross-Platform PS4/PS5 and Xbox?
Very sad to say, there is the same scenario as with PC and PS4. The crossplay support of Ark: Survival Evolved is not available between Xbox and PS4. It means Xbox players are restricted from playing with other players who are on PS4. We don't know whether it is due to Sony restrictions for the cross-platform or some other reason. But that's the deal with Ark's crossplay feature in this situation.
We can not even expect any good news in the upcoming time because there are not any rumors regarding this. But we can only wait and hope that the developers will give us some updates in the future related to this multiplayer functionality between Xbox and PS4.
Is Ark Cross-Platform PS4/PS5 and PC?
You may think if PC and Xbox players can enjoy this game by playing together, the case will be the same for PlayStation as well. But unfortunately, this is not true as there is no type of cross-platform multiplayer of Ark: Survival Evolved between the PC and PS4/PS5 consoles. Furthermore, we are not confident that the developers will allow this support in the near future as it is not easy at all and we also have not received any information about that.
Is Ark Crossplay Steam/Epic and Xbox?
For PC gamers, there are three different platforms from which they can buy this game. These are Microsoft Windows Store, Steam Store, and Epic Games Store. Neither Steam players nor Epic Games users can play the game with those who have bought Ark from Microsoft Store. As a Steam user, you are not allowed to play with other PC and Xbox players who own the game from Microsoft Windows Store. Only the Steam and Epic players can play with each other but not with those on any other platforms. Similarly, the players of Epic Games can not play Ark with friends who are using Xbox consoles.
Is Ark Crossplay Steam and Epic?
The ARK cross-platform feature is available if players buy the game from the Steam or Epic store. So, the situation is that if you obtain Ark: Survival Evolved from Steam Store and your friend purchases it from Epic Games Store. Then, there is crossplay support available for the game and both of you can play together because of the compatibility between these two PC gaming platforms.
Is ARK: Survival Evolved Crossplay Android and iOS?
There is good news for Android and iOS players. Ark has a cross-platform between Android and iOS devices. It means it doesn't matter if you are on an Android phone and your friend uses iPhone. Both of you can play with each other. In that manner, mobile players can also play with iPad users. You get the option to launch the game by using Facebook or Google account, PlayStation Network, and Epic account. It is your choice which accounts you use for the game.
Is Ark Crossplay Mobile and PC?
Unfortunately, Ark: Survival Evolved does not work on both PC and mobile. Unlike smartphones which operate on Android, a desktop computer or PC is a system that runs on Windows. Due to the considerable refactoring of the core logic required, Ark crossplay support for Xbox and mobile devices is not currently planned.
Conclusion
So, this is a detailed guide about "Is Ark cross-platform" between PS4, PS5 Xbox, PC, Android, and iOS platforms. I hope this article has cleared your confusion about the crossplay support of Ark.
Ark: Survival Evolved offers cross-platform compatibility on a small scale, and it is only available for Xbox/PC players who purchase the game from Microsoft Store. In another scenario, both Steam and Epic users can play with each other. It also contains crossplay functionality across Android and iOS devices.
In the end, I will say that ARK: Survival Evolved is great fun to play with your friends and explore the open world of the game. So, we only hope that the game will feature crossplay multiplayer across all the platforms in the upcoming time.
More Guides: