Monster Hunter World is a game that allows players to engage in thrilling battles against giant creatures while wearing custom armor. Imagine a world where you, clad in specially crafted armor, go face-to-face with gigantic and dangerous beasts. Throughout the gameplay, you will face many fire-breathing wyverns, colossal elder monsters, and other fearsome foes. This game combines strategy, skill, and stunning visuals in an entertaining way, giving all its fans an authentic gaming atmosphere.
But Monster Hunter World is deep—really deep. There is much to learn, from selecting your ideal weapon to becoming an expert hunter. This is not your average hack-and-slash; it's a game that rewards careful planning, knowledge, and a little bit of bravado. And that's exactly what this Monster Hunter World guide aims to explain in the below sections.
Monster Hunter World: A Brief Introduction
Monster Hunter World offers endless possibilities, an entire universe with jaw-dropping places, and frightful monsters that make you gasp or tremble. Before you start picking out your weapon and dreaming about that perfectly cooked steak your character gets to eat, pause for a second. Take in how insanely beautiful and deep this game world is. I mean, there's a whole ecosystem working in the background. But make sure to check out the system requirements for the game to enjoy it in full flow without any hiccups.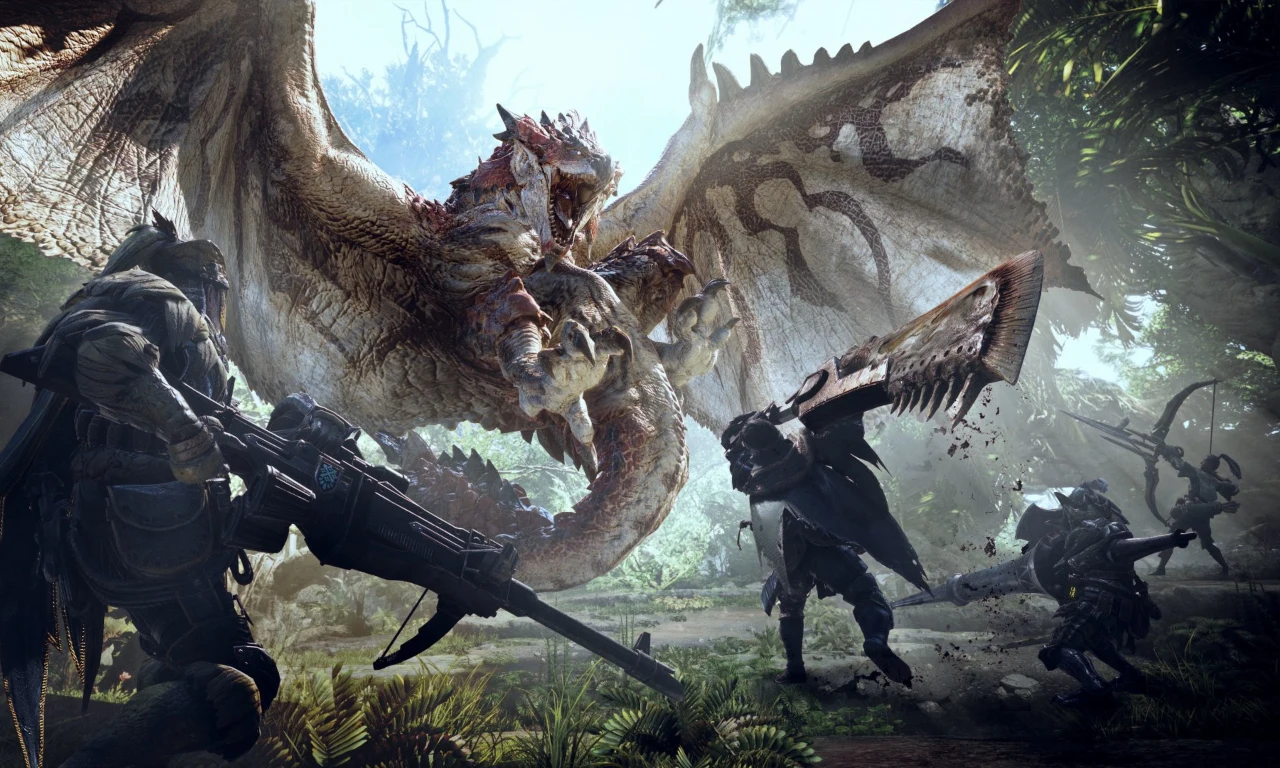 Lore and World-building
Monster Hunter World isn't just about smashing giant, scary monsters—though, that's a huge perk. But there's also this killer storyline that keeps pulling you in. You're not just some lone-wolf slayer but part of this elite squad called the Research Commission. Your mission is to dig deep into this wild, untamed world and figure out what's what.
Interestingly, the deeper you go, the more everything starts getting connected. Every monster you hunt, every area you explore, and every quest you complete feed into this more prominent, epic story. It's like the game rewards you the more time and effort you put into it. So you're not just invested in the game; the game's instilled in you, too.
Major Locations
You'll start your adventure in Astera, the bustling hub filled with vendors, artisans, and researchers just as keen as you to unlock the New World's secrets. Think of Astera as your home away from home—a place to unwind, gear up, and chow down on delicious food before your next big hunt.
Later, you'll encounter Seliana, a cozy, winter-themed hub that offers its unique charm and amenities. Each hub is a living, breathing ecosystem of its own, having characters who'll offer you quests, advice, and, sometimes, a good laugh.
The Ecosystems
From the sweltering heat of the Wildspire Waste to the bone-chilling cold of the Hoarfrost Reach, each area is a masterpiece of design. But these gorgeous landscapes aren't just for show; they play a massive role in your hunting strategies. Some creatures thrive in specific environments; every region has distinct fauna, plants, and natural dangers.
These ecosystems aren't static; they're dynamic and ever-changing. Thunderstorms roll in, affecting your visibility while day turns into night and the monster's behavior changes. There is a reason for the existence of each part of these environmental systems, whether it's to help you in your objectives or to increase the difficulty.
Gameplay Basics
After entering the game, you've taken in the nice-looking landscapes, and you're good to go for some serious havoc on those menacing monsters. But do you know your long sword from your lance? Your potions from your poogie? If this sounds like something new to you, we're here to explain the Monster Hunter World gameplay details.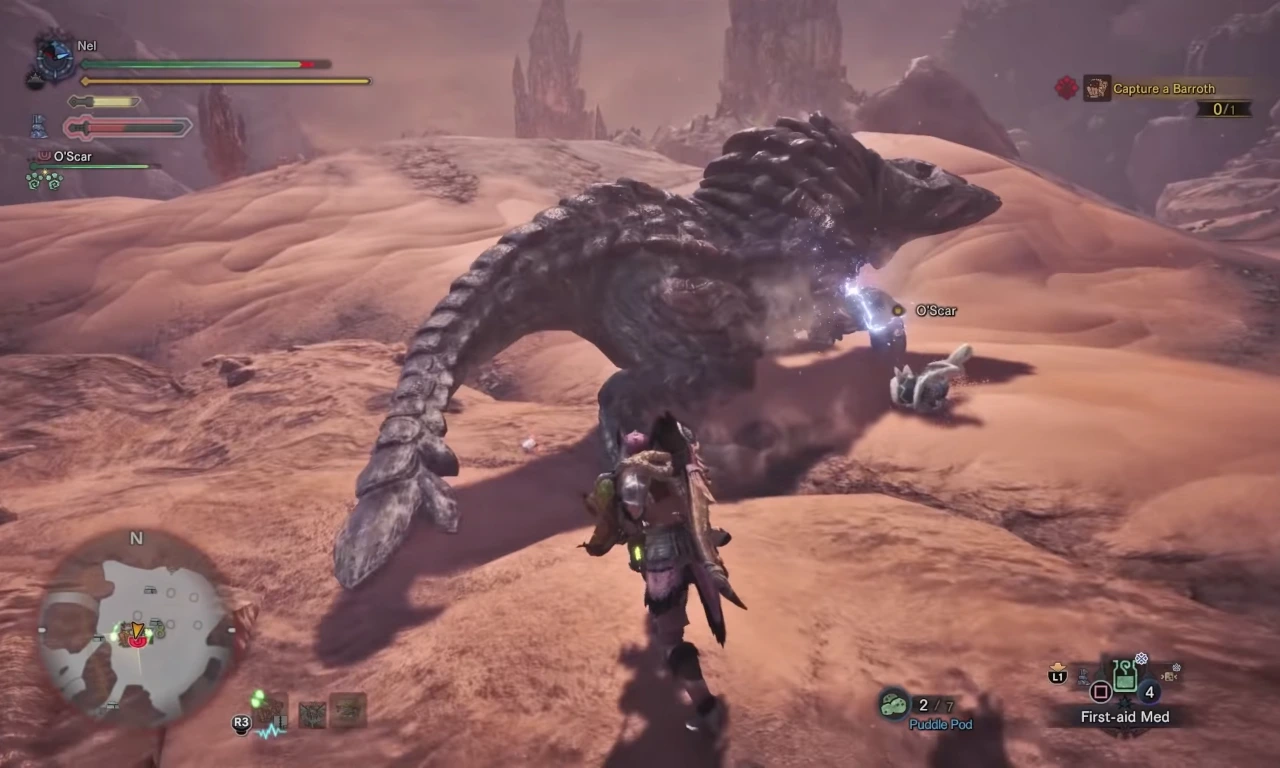 Character Creation
Monster Hunter World gives you many options to customize your character, including facial appearance, hairstyle, and even voice. But don't sweat the small stuff too much—you'll be decked out in monster hides and flashy armor soon enough. Let's not forget your Palico—the feline friend who'll accompany you on your solo adventures. Yes, you get to customize your kitty too.
User Interface
Once you're in the game, you'll notice there's quite a bit going on your screen. Health bars, stamina, mini-maps, and what's that shiny thing? That's the Scoutfly, which'll help lead you to your prey—or safety. It may look overwhelming initially, but we promise it'll become second nature as you progress.
Basic Controls and Movement
This game isn't where you can hit buttons and expect to come out on top. Each weapon has unique combos; understanding them is part of the fun. Spend time in the Training Area to get a feel for your chosen weapon. And it's not just about attacking. Mastering movements like dodging, blocking, and sprinting could mean the difference between proudly carving a monster and becoming carted back to camp in defeat.
Inventory Management
Last but certainly not least, you'll want to get the hang of your item pouch. You'll stash all those life-saving potions, traps, and snacks here. Managing your inventory is crucial because there's nothing worse than realizing you're out of healing items when you're toe-to-toe with a ferocious beast.
Tip: Use the item wheel for quick access to essential items during a hunt.
Monster Hunter World Weapons
A hunter is only as good as their weapon, and in Monster Hunter World, you've got options. It's like a candy store for hunters with 14 distinct weapon types, each with its flavor, style, and mechanics. From the flash of a long sword to the boom of a heavy Bowgun, each weapon type offers unique hunting gameplay. We're here to guide you through this treasure trove and help you pick the weapon with monsters shaking in their scales.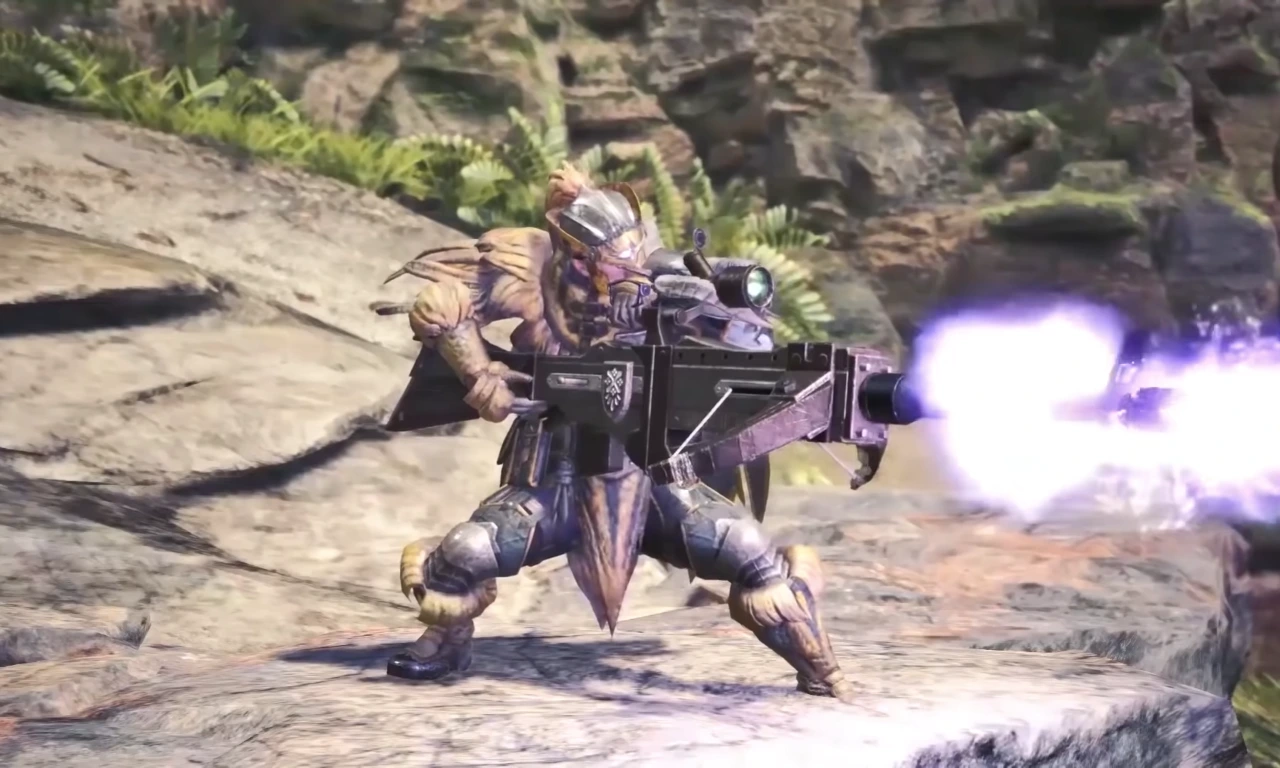 Great Sword: Slow but delivers colossal damage.
Long Sword: Graceful, with a unique Spirit Gauge.
Sword & Shield: Balanced offense and defense with quick item use.
Dual Blades: Dance-like speed for flurry attacks.
Hammer: Blunt force to knock out monsters.
Hunting Horn: Buff your team with sweet melodies.
Lance: Sturdy shield and long reach.
Gunlance: It's a lance, with explosions!
Switch Axe: Switch between axe and sword mode.
Charge Blade: Complex but extremely rewarding, with powerful bursts.
Insect Glaive: Take to the skies with aerial acrobatics.
Bow: Rain arrows and use coatings.
Light Bowgun: Versatile ranged weapon with rapid shots.
Heavy Bowgun: Bring out the big guns with devastating firepower.
Like any other thing, each weapon shines in some areas but also has a few weaknesses. The massive Great Sword can cut tails with a single swipe but requires careful positioning. In contrast, the agile Dual Blades let you zip around monsters but may not pack the same punch.
While it's tempting to pick based on sheer power, consider each weapon's playstyle. Do you want to be in the thick of it or prefer striking from a distance? Are you playing solo or with a team? Answering these questions will help you narrow down your choice.
Picking Your Match
There's no one-size-fits-all here. Just because your buddy swears by the Hunting Horn doesn't mean it's your jam. We advise you to try them; head to the Training Area and give each weapon a whirl. Find their true potential, check out their combos, and trust your instincts. Remember, the best weapon is the one that feels right for you.
As you progress, you might discover some weapon that's best to fight against a particular monster or a new playstyle you want to explore. The world is your oyster—or, in this case, your monster-packed playground.
MHW Hunting Adventure
Think of Monster Hunter World as an extreme version of a camping trip. Would you venture into the woods without a good stock of essentials? Probably not. This game requires gathering herbs, mining ores, and collecting all sorts of resources you'll find as you explore the terrain. These materials mean more than only collectibles; they're the bread and butter of your crafting system. You'll turn these items into potions and traps and upgrade your beloved weapons and armor.
Crafting Equipment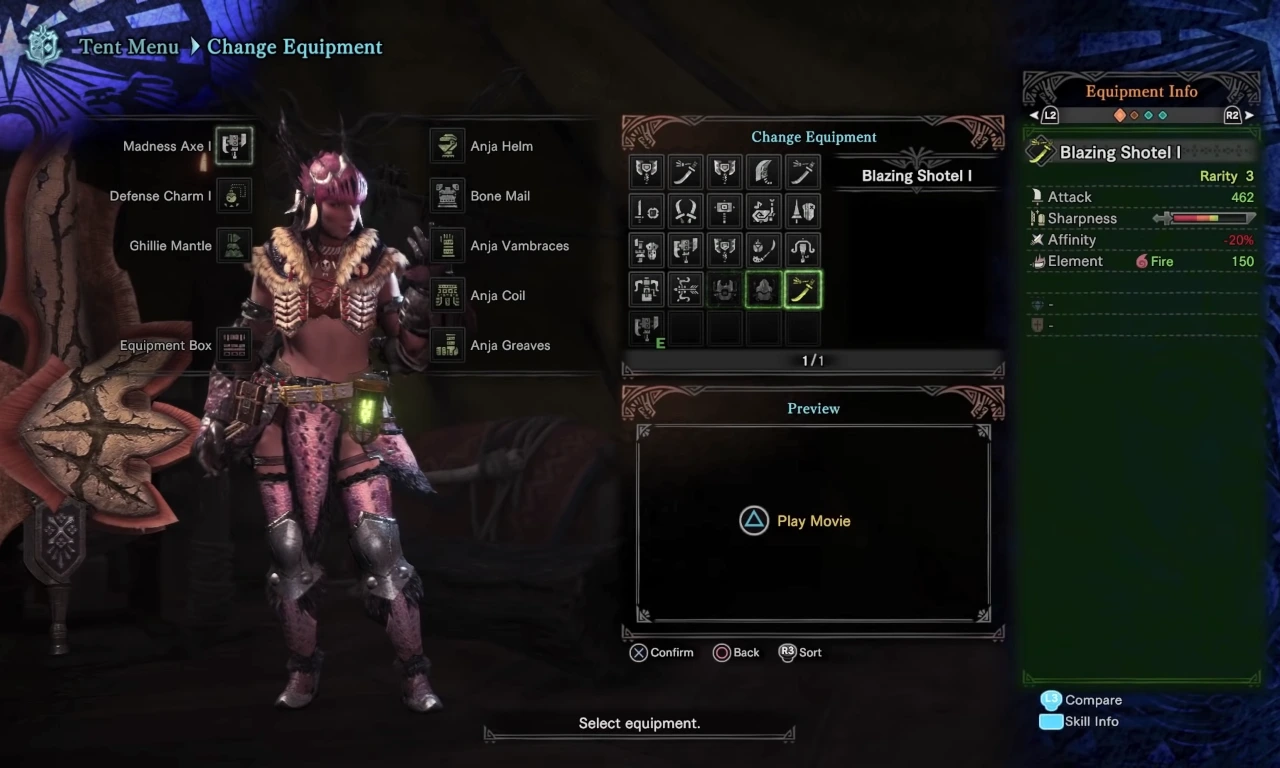 Crafting turns a pocket of weeds and rocks into life-saving elixirs and devastating bombs. Open your crafting list, and you'll see a host of items you can make. Potions, antidotes, various types of ammunition—if you can think of it, you can probably craft it.
Quick tip: Be sure to set up autocrafting for essential items like potions and mega potions. This way, they'll be crafted automatically as you pick up the necessary materials.
Regarding the bone sword or iron hammer you started with—they're nice and all, but they won't cut it (literally) as you progress. Make frequent pit stops at the Smithy to see what upgrades are available. You'll be surprised how a minor tweak can turn your okay-ish weapon into a monster-mauling masterpiece. The same scenario is with the armor; upgrading your armor strengthens your defense and gives you unique skills and abilities.
Furthermore, don't head out without grabbing a meal at the Canteen. Eating meals gives you temporary buffs to health, stamina, attack, and more. In addition, you can acquire bonus abilities that may prove decisive in a fight.
Monsters: The Core of the Game
Monsters are the stars of the show in this game – the reasons we venture out, sword in hand and hope in heart. If Monster Hunter World was just about scenic vistas and item crafting, we'd miss out on the real thrill. These beasts are the core of the game, the meat on this scrumptious gaming bone.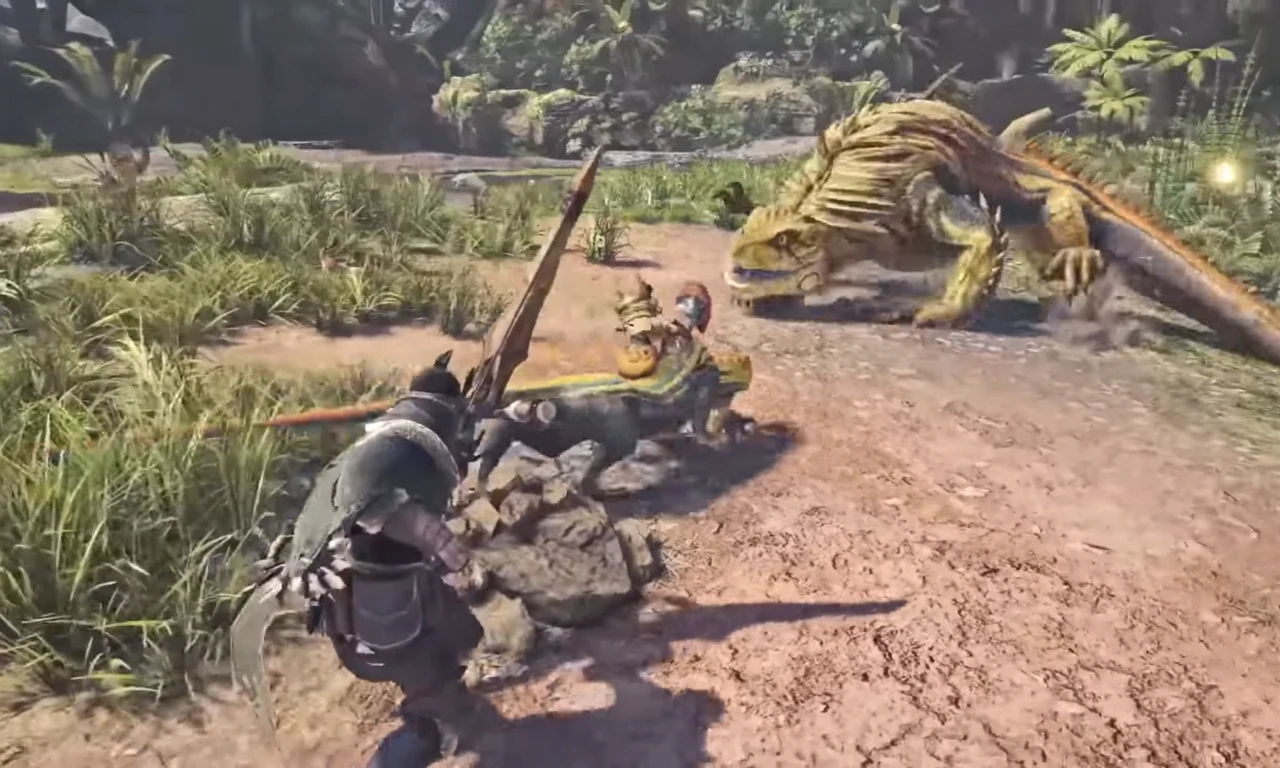 Not All Monsters are Equal
Each monster is a unique experience in Monster Hunter World, complete with its behaviors, habitats, and tempers. Some monsters are territorial, some are shy, and others seem to have it out for you from the moment you set foot on their home turf. And then there are the Elder Dragons – these big baddies are essentially the royalty of MHW. You'll know you've made it when you're squaring off against one of these majestic, terrifying beasts.
Research, Scoutflies, and You
Before you run off to slay the monster, spend some time in reconnaissance. Your scout flies can collect tracks and other signs that monsters leave behind. This research helps you locate the creature and unlocks valuable information like weaknesses and breakable body parts. The more you know about your opponent, the better your odds of success.
Tackling the Beast
In this game, brute force can only get you so far. Depending on the monster you're facing, you might need to adapt your approach. Some monsters are susceptible to traps and environmental hazards, while others require you to target specific body parts to weaken them effectively.
Rewards and Achievements
You've slain the beast and lived to tell the tale? Well done! Now comes the fun part: carving. Monsters provide the valuable items you'll need to craft and upgrade your gear. Moreover, you will make achievements and receive trophies with the progress, which add an extra sprinkle of glory to your monster-hunting exploits. Each monster you conquer is another notch on your belt, another story to regale your fellow hunters.
Monster Hunter World Co-op Play
While going solo can be a thrill all its own, Monster Hunter World shines even brighter when you join forces with others. Whether it's friends you've known for years or kind-hearted strangers who swoop in just when you need a hand, the game's co-op play adds a whole new layer of fun, strategy, and camaraderie. But sadly, there is no Monster Hunter World cross-platform support available right now, which means you can only have fun together with friends on similar devices.
However, you can join an online session via the game's main menu, or if you're already in a game, head to a Quest Board and select "Join a Quest." Invite friends through your console or PC's invite system, or share your session ID for others to join. There's also the SOS Flare, a neat feature that lets you call for help from other players mid-quest.
Co-op play isn't just a free-for-all melee. Well, it can be, but where's the strategy in that? Different weapons and playstyles naturally lend themselves to other roles in a team:
Tank: Typically wields a Lance or Gunlance and focuses on drawing the monster's attention.
DPS (Damage Per Second): Armed with high-damage weapons like the Great Sword or Dual Blades, aims to deal as much damage as possible.
Support: The Hunting Horn or Sword & Shield often provides buffs and healing.
Ranged: Keeps distance using the Bow or Bowguns, provides strategic damage and status effects.
Communication can make or break your team in the heat of the hunt. Use the in-game chat or emotes to coordinate your moves. A well-timed "Now!" could cue everyone to simultaneously strike their most potent attacks. You can also use preset shoutouts for standard commands like "Heal!" or "Trap here!"
When you hunt in a team, everyone can carve the monster and collect rewards. It's an ideal situation because playing with a group makes it possible to do more than you could do alone.
Co-op play is where the game's rich gameplay and community come together, turning its epic hunts into unforgettable shared experiences. So whether you're a lone wolf curious about the pack life or a social butterfly eager to team up, co-op offers a different flavor of fun.