Monster Hunter: World is not just any video game; it's an exhilarating saga that takes you through mythical landscapes, have you face-off against towering creatures, and engages in cooperative multiplayer hunting missions that truly test your mettle. It is a spectacular symphony of monster hunting action and complex game mechanics, creating an immersive experience that has captivated millions across the globe.
But, just as a hunter needs to be well-prepared with the proper arsenal before venturing into unknown territories, a gamer must ensure their system is primed and ready for the demands of such a resource-intensive game. Understanding the Monster Hunter: World system requirements is not merely a suggestion, it's an essential prerequisite. The PC specifications can significantly impact your gaming sessions, dictating everything from the smoothness of animations to the load times for sprawling in-game environments.
Thus, we've prepared this comprehensive guide to the system requirements of Monster Hunter: World. Let's ensure that your machine is ready for the monstrous adventure that awaits, and let's guarantee the optimal gameplay experience that you, as a gamer, genuinely deserve.
Monster Hunter: World – A Brief Introduction
From the name itself, it's clear that you, as the player, are cast in the thrilling role of a monster hunter, roaming through various environments that teem with gigantic, awe-inspiring creatures. The game combines the excitement of tracking, trapping, and battling these leviathans with the satisfaction of crafting equipment from the beasts you vanquish.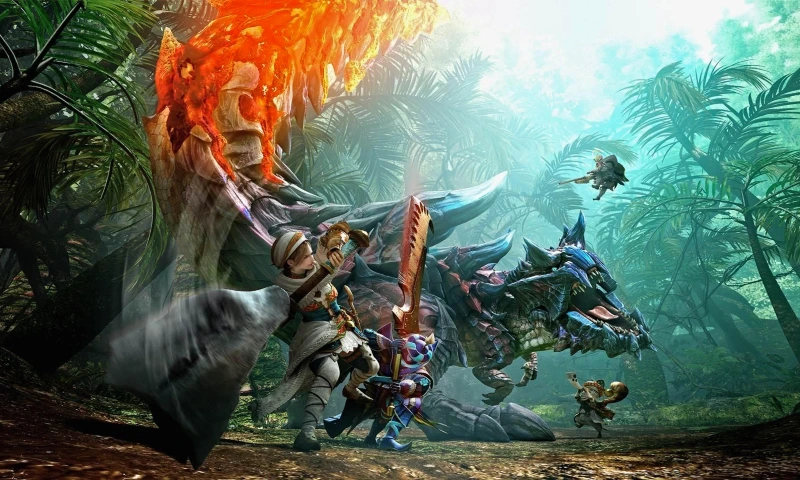 First released in 2018, Monster Hunter: World rapidly garnered worldwide acclaim for its rich world-building, challenging gameplay, and breathtaking graphics. It presents players with a vast, interconnected environment, wherein each individual ecosystem is teeming with life and dynamically interacts with the player. From the lush ancient forests to the eerily beautiful coral highlands, the world is your hunting ground, and it is alive.
Monster Hunter: World boasts a comprehensive and intricate system of weapon mechanics, armor crafting, and multiplayer collaborations, all underscored by an intriguing narrative that provides depth to your monster-hunting exploits. This game is more than a series of exciting quests; it's an all-encompassing adventure of breathtaking settings, tactical combat, and teamwork.
It's not enough to be happy if your PC can run MHW. However, knowing the game's required specifications will let you enjoy this fantastic role-playing adventure in all its intended graphical richness. It's important that your journey into this enigmatic universe goes as smoothly and interestingly as it should, so let's have a more thorough look at the Monster Hunter: World system requirements.
Monster Hunter: World Minimum System Requirements
Here are the minimum system requirements for MHW. It's the baseline—the least you need to run the game and not have it stuttering or freezing mid-battle. It's possible that even if you fulfill these requirements for playing the game, you won't have the smooth, tactile experience you're after. So, below are the specs at least your gaming system should possess:
Operating System: You need a PC with Windows 7, 8, 8.1, or 10 (64-bit) installed. That's where you'll find the heart of your computer's operations.
Processor (CPU): You will need a minimum of an Intel® Core™ i5 4460 or an AMD FX™-6300. These processors will ensure your rig can keep up with the game's demands.
Memory (RAM): To help process all that monster-hunting goodness, you'll need at least 8GB of RAM. This is your rig's short-term memory, letting it process the game in real-time.
Graphics Card (GPU): For the game to render correctly, you'll need at least an NVIDIA® GeForce® GTX 760 or AMD Radeon™ R7 260x (VRAM 2GB).
DirectX Version: DirectX is key to managing the game's complex visual and audio elements. You'll need DirectX Version 11 at a minimum.
Storage: All those monsters, environments, and epic quests occupy space! You need to have at least 20GB of free space on your hard drive.
 Sound Card: Look for a DirectSound supported (should support DirectX® 9.0c or higher) sound card to pick up each rumble, crash, and ambient noise in the game.
That's the bare bones of what your gaming computer needs to have to properly operate Monster Hunter: World, so you should be ready. If your setup meets these requirements, you're in the thick of things. But, if you're looking for fully smooth and high graphics gameplay, proceed to the next section to check out the recommended requirements for the game.
Monster Hunter: World Recommended System Requirements
You're looking forward to diving deeply into ultra-high resolution gaming, zipping around visually breathtaking sceneries with no fps drops, marveling at spectacularly realistic in-game objects, and losing all sense of time and space in the virtual realm. To get ready for such a massive Monster Hunter: World expedition, you should check out the recommended hardware and software specifications:
Operating System: You'll get the best compatibility and performance with Windows 10 (64-bit). It's like giving your game a smooth roadway to run on.
Processor (CPU): Aim for an Intel® Core™ i7 3770 or an AMD™ FX-9590 or even better. A stronger processor means a smoother ride through the game.
Graphics Card (GPU): For eye-popping graphics, consider getting an NVIDIA® GeForce® GTX 1060 3GB or AMD Radeon™ RX 570X 4GB. These can make the game visuals crisp and animations silky smooth.
Memory (RAM): Having at least 8GB of RAM will make your gameplay more efficient and keep lag at bay. It's like a superpower for your PC to juggle game tasks in real-time.
Storage Space: Just like before, reserve at least 20GB of space for the game. Extra space can speed up load times and overall game performance.
DirectX Version: Sticking with DirectX Version 11 can keep your game's visual and audio elements performing their best. It's like having a maestro conduct the game's audio-visual symphony.
Sound Card: Go with a DirectSound compatible card (DirectX® 9.0c or higher) for crystal clear game audio. After all, those monster roars should sound as realistic as possible, right?
Make sure your PC meets or exceeds the required specifications to equip yourself for the ultimate victory. Don't let inferior gear get in the way of your monster-slaying ambitions—make sure you have the best gear for success.
Bottom Line
Whether you're just dipping your toes into this sprawling monster-filled world or ready to dive into the deep end with the highest resolution and smoothest gameplay, knowing your system requirements is your first step on this epic journey.
Think of this guide as your digital blacksmith, forging your tech armor, so to speak. Put another way, it's giving you the tools necessary to maximize your enjoyment of this action-adventure title. Given that obviously, nobody likes to take on a flaming wyvern that runs at a snail's pace or has jerky fps. Moreover, you can also check our other about Monster Hunter World cross-platform and follow our guides hub for more.