Your first thought is possibly, "Why would I unpair my Apple Watch?" Well, there can be a lot of reasons for this. Maybe you have caught your eye on the latest Apple model and are considering the upgrade. Or perhaps you're planning to pass your current Apple Watch to a friend or family member. It could even be that you're facing some technical issues and you're hoping a fresh start might clear things up.
It's super important to unpair your Apple Watch the right way. Imagine this: you hastily erase your watch, only to find yourself grappling with Apple's Activation Lock. Sure, it's a lifesaver when your watch goes AWOL, keeping your data out of the wrong hands. Yet, if you're eyeing a new iPhone, planning to pass on your watch, or hoping to sell it, that Activation Lock becomes more of a roadblock than a safety net. Take it from me, unpair your Apple watch correctly, and save yourself from future headaches.
Furthermore, if you've misplaced your iPhone, but life goes on and you've got a shiny new one. The catch? Your trusty Apple Watch is still paired with the lost phone but you have to link with the latest device. We're here to guide you through the unpairing process, whether you've got your old iPhone or not.
How to Unpair Apple Watch with iPhone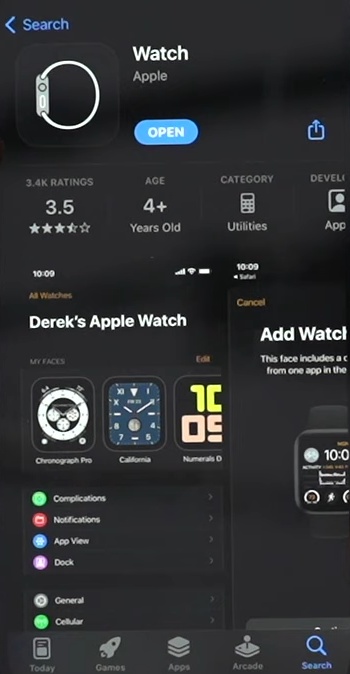 Start by opening the Watch app on your iPhone. It's the one with the little watch icon.
Once you're in, tap on the 'My Watch' tab at the bottom of the screen.
Next, select 'All Watches'.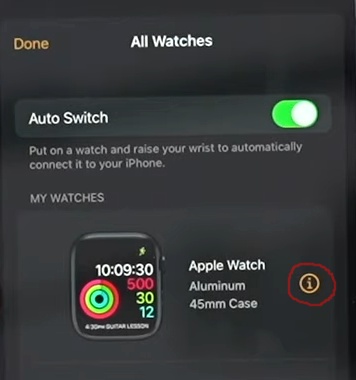 You'll see a little 'i' symbol next to your watch – that's the info button. Tap on that.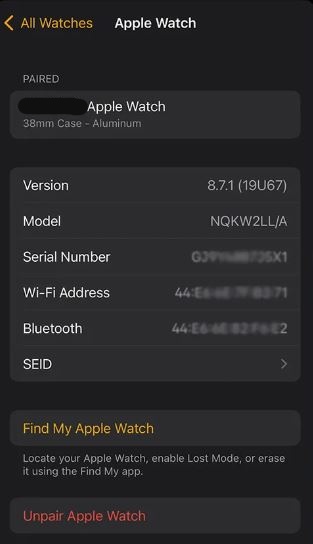 Now, you will see the option to 'Unpair Apple Watch'. Give that a tap.
If your Apple Watch has cellular data, you'll see a prompt asking what you want to do with your cellular plan. If you're planning to pair this same watch with your iPhone again in the future, choose 'Keep Plan'. However, choose "Remove Plan" if you want to use another Apple Watch with your iPhone.
A prompt to enter your Apple ID password will show up after that, so enter it. That's important because it's what allows you to turn off features like Activation Lock and Find My Watch.
Now, all you need to do is wait. Your iPhone will first complete a full backup of your watch's data before beginning the process of unpairing. When your Apple Watch reboots to the language selection screen after being disconnected from the phone, it indicates you've done it right.
How to Unpair Your Apple Watch Without iPhone
So, you're in a situation where your iPhone isn't within reach, but you need to unpair your Apple Watch. Don't sweat it, there's a way to do this directly from the watch itself. Let's walk through the easy steps and do it right now:
Kick things off by heading over to the iCloud website. You'll need to log in using your Apple ID.
Once you have access to your account, you have to click on 'Find iPhone'. This tool is usually used to locate lost devices, but it's also going to be our secret weapon for this task.
Next, you'll see an option for 'All Devices'. Click on that, and a drop-down menu will appear.
From this list, you need to select your Apple Watch.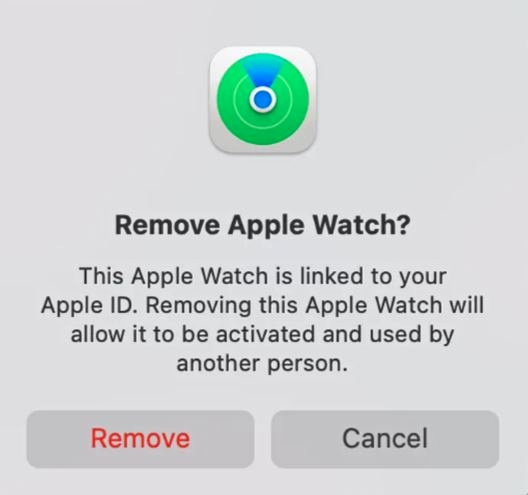 Now, here's the crucial step: you'll see an option to 'Remove Apple Watch'. Go ahead and click on that. This action will effectively unpair your watch from your iPhone.
By following the above process, you can successfully manage to unpair your Apple Watch without using your iPhone. However, you should only use this as a backup strategy. It is recommended that you use your iPhone to unpair your watch whenever possible. This will ensure that your watch data remains secure because the iPhone backs up it all.
How to Unpair Apple Watch from iPhone Using the Watch
Here's another cool thing, you can unpair your Apple Watch, erase all its data, and restore to its factory settings directly from the watch itself. Although, this won't remove the Activation Lock. For this, you'll need to complete the unpairing process from your iPhone, as we've outlined above.
Now, this particular method is a great fit if you are thinking to pair your Apple Watch with any other iPhone in your tech armory, or perhaps a shiny, new iPhone you've just unboxed.
Tap on the Crown icon on your Apple Watch, which will bring you to the Home screen.
Next, touch your thumb on the gear icon to open the Settings.
Once you're in the Settings menu, scroll down and tap on 'General'.
In the General settings, you'll see an option for 'Reset'. Go ahead and hit on that.
Now, there will be an option to 'Erase All Content and Settings', select that.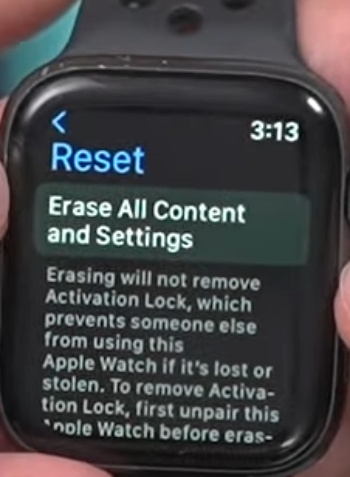 You will now be prompted to enter your password. Go ahead and enter it.
If you have a cellular plan on your watch, you'll see an option to keep or remove it. Make your selection based on your needs.
Finally, tap on 'Erase All' or 'Erase All & Keep Plan' based on your previous selection.
Before your smartwatch is wiped clean, a handy backup of all your precious data is safely tucked away in your iPhone. Consider it like a digital safety net, ensuring none of your important details are lost in the process.
How to Disconnect Apple Watch without the Password
Let's talk about what to do if you have forgotten your password but need to unpair your Apple Watch. It can happen to anyone, but thankfully, there is a way to rectify the problem. This is how you can deal with it:
Press and hold the watch's side button, as if you were going to turn it off.
Release the button once you see the Apple mark on the screen.
After a couple of moments, again press and keep holding that button until you see an option that says 'Erase all content and settings'.
Once you see that option, tap on it and then hit the 'Reset' option.
Now, just wait for a bit as your Apple Watch will start the process and restore it to factory settings.
Even if you've forgotten your passcode, you've now successfully unpaired your Apple Watch. It's ready to be set up again, just like new.
What to do If Apple Watch Won't Pair with iPhone?
Ever found yourself in a pickle trying to sync your Apple Watch with your iPhone? Let's dive into some common issues you might encounter and how to tackle them head-on.
Despite your super efforts, sometimes your Apple Watch just won't play nice with your iPhone. It's a common snag, and yes, it can be quite the head-scratcher. But, you can try some fixes to tackle this in hopes that you can solve the problem.
For instance, maybe your devices aren't close enough together. They need to be within a certain range for the Bluetooth to connect. Or perhaps one or both of your devices aren't charged at good capacity. A low battery can sometimes interfere with the pairing process.
Is your software playing hard to get? There may be occasions when your iPhone and Apple Watch don't understand each other. Always use the most recent iOS version to make sure both Apple devices are on the same page. This might just be the key to a harmonious connection.
Exhausted all options and still hitting a wall? Fear not, a classic restart could be your knight in shining armor. Power off both your iPhone and Apple Watch, give them a short breather, then turn them back on. Now, try that pairing method again and see what happens.
Keep in mind, troubleshooting is like a detective game – it's all about finding the right clues and removing the causes of the issue. Therefore, keep trying various methods till you find the one that works. Do not worry; the connection between your Apple Watch and iPhone will be done faster than you could say "Hey, Siri!"
Frequently Asked Questions
What Happens When I Unpair My Apple Watch?
As you unpair the watch, every piece of data on your watch removes and it disconnects from your Apple ID. But here's the silver lining – when you unpair via your iPhone, a safety net is cast. A backup of all your precious watch data is created, ready to be restored should you ever need it.
Can I Unpair My Apple Watch Without iPhone?
You can unpair your Apple Watch even when your iPhone isn't around. Whether you're working directly from your wrist gadget, or maneuvering remotely via iCloud.com, you've got this. But remember, this cool trick doesn't back up your watch data, so doing this with your iPhone is always best if you want to keep your valuable data.
What does the 'Remove Apple Watch' Option do on iCloud?
The 'Remove Apple Watch' option on iCloud deletes all data and settings from your Apple Watch and disconnects it from your Apple ID. In the event that your watch gets stolen or lost, or if you just don't have your iPhone on you, this feature will come in handy.
Read More