Video files are one of the important file types that you can use to save your precious moments. You can use these saved videos to entertain yourself when you are bored. However, like all other data types, video files may also get corrupt and fail to play on your device.
A corrupted video file keeps displaying an error message on your screen until you apply proper video file repair methods to fix it.
The corrupted video file can be of any type, including MP4, MOV, MKV, M4A (and other supported extensions), and can occur on both Windows and Mac devices.
Wondering How to Fix Corrupt Video Files for Windows & Mac OS?
Don't worry!
There are several methods and video repair software available that can easily fix corrupted video files on your device. In this article, we have mentioned common reasons for video file corruption and several methods to fix corrupted videos including important tips to avoid such issues in the future.

Common Causes of Video File Corruption
When a video file gets corrupted, it may stop playing on your device. In such cases, it became very important to find the exact cause of such corruption. Usually, your video may become corrupt if it loses information that is required for reading. Some other reasons for video file corruption are:
When your videos are not properly converted to other file formats
Sudden system failure while editing and transferring videos
Videos are prone to damage if it has broken or damaged header
Viruses or malware may also prevent you from reading or writing the process and thus damages the video file.
System crashes are also one of the main reasons for your videos getting corrupted
Also, incomplete download of videos on your device damages the videos on your device
Lastly, bad sectors on your drive are the main reason for videos corruption
How Do I Repair Corrupt Video Files?
Losing a good video file due to corruption can put you in trouble. Now that you have learned about the causes of video file corruption. It is time to learn various methods to fix corrupted video files.
Hers, we are providing all possible methods that will help you in video repair. Let's check these methods in detail:
Method 01: Repair Corrupt Video Files with VLC Media Player
Windows VLC Media Player is a must-have multi-functional app that allows you to play any type of video. However, not only just playing video files, you can use a VLC player to fix several video-related issues on your device.
You can use its in-built index repair features to fix AVI video files with ease. If you have videos of any other format, you can change them to an AVI file and then try to fix their corruption issues. Go through the following steps to know the video file repair process using the VLC player:
Firstly, right-click on the video file that you need to repair and select the "Rename" option.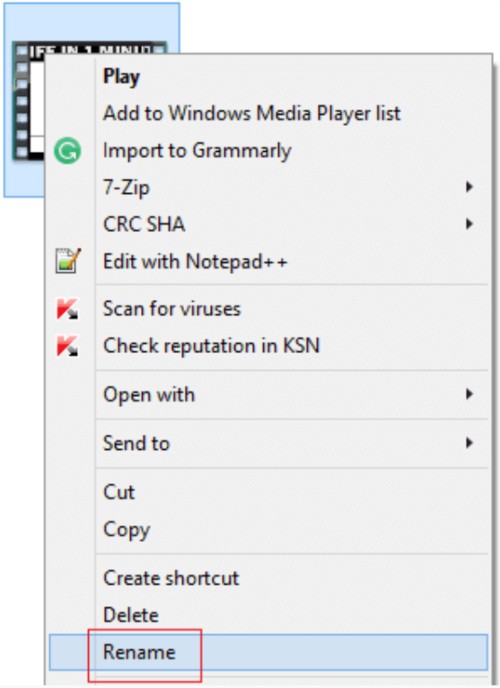 Change the file format to .AVI and press ENTER button.
Open the VLC player on your device. Click on Tools and then select "Preferences".
Go to the "Input/Codecs" section. From the Inputs & Codecs Settings box, select the "Always Fix" option in the "Damaged or incomplete AVI file" option.

Finally, press the Save button to save the changes.
After saving the changes, play the video file on your computer with VLC. It should run perfectly, else, you can try other methods.
Method 02: Configure Video Output Settings in VLC
Sometimes changing the Video Output Settings in the VLC media player can help you to fix your video files. All you have to do is:
Open the VLC player tool on your device and click on Tools from the top menu bar.
Select Preferences and then click on Video.
From the Video Settings window that appears on the screen, click on the drop-down menu next to Output. Select DirectX (DirectDraw) video output.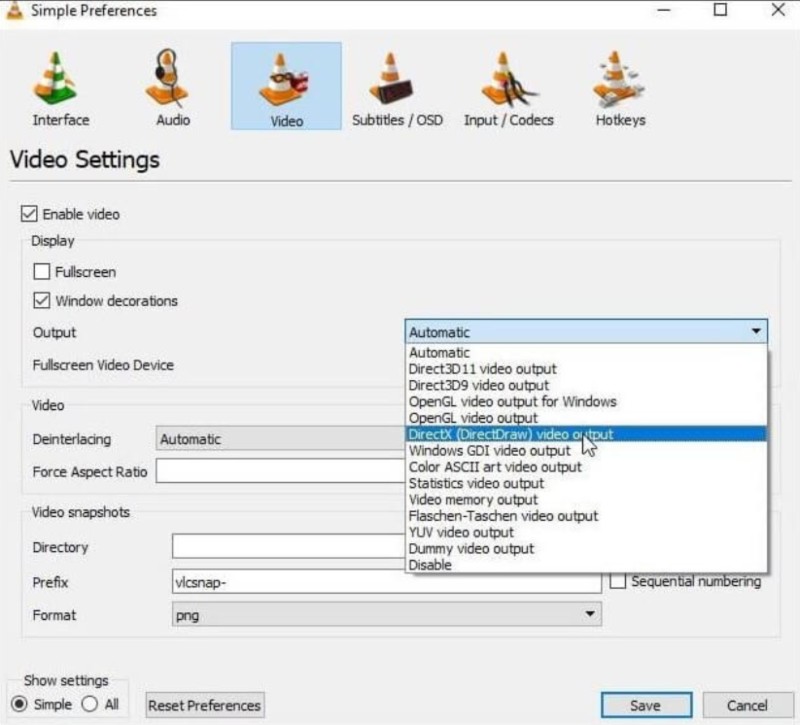 Click the Save button and restart your device. Try playing your video file in the VLC player.
Method 03: Repair Video Corruption Using Professional Video Repairing Software
Video repair software can also help you to fix your corrupt video files to their original playable form. Among several such software available online, we recommend you use Stellar Repair for Video software.
This advanced video repair tool can help you to fix corruption issues in several video formats, including MP4, MOV, AVI, MKV, and more. You can use this tool to repair videos corrupted due to damaged file headers, video sliders, frames, or any other video components.
Besides, this professional video repair software is quite easy to use and can uncorrupt video files in a few simple clicks. It restores damaged video files stored in any device, including memory card, SD card, HHD, SSD, and much more. The software is compatible with Windows (Windows 11, 10, 8 & 7) and Mac OS (macOS Monterey, Big Sur, Catalina & older versions).
Let's check the following three steps to know how to fix corrupt video files for Windows & Mac OS using this software:
First, you have to download Stellar Repair for Video software on your Mac or Windows device.
From the home screen of the software, click Add File button and select the corrupt or damaged video file. You can even select multiple files at a time.
Now, press the Repair button, after which the repair process will get started.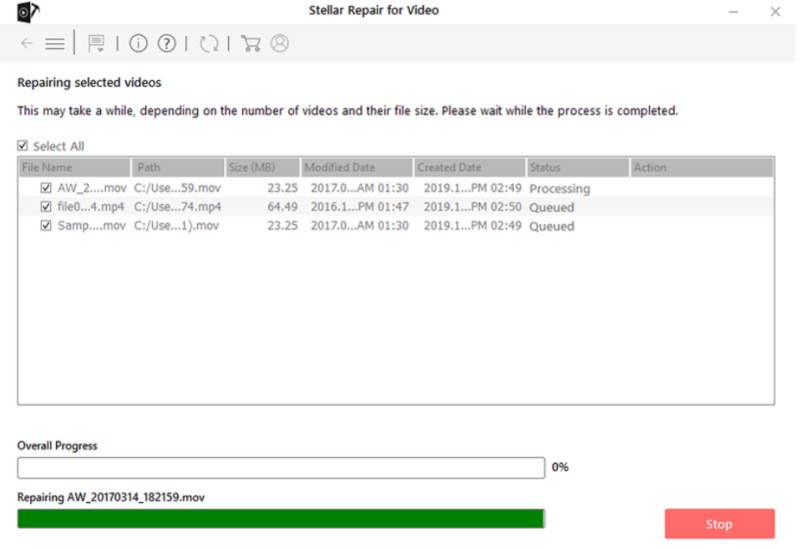 Once the repair process finishes, click Preview to view the repaired video. Moreover, if your video file is severely corrupted, you can use the "Advanced Repair" option for further repair.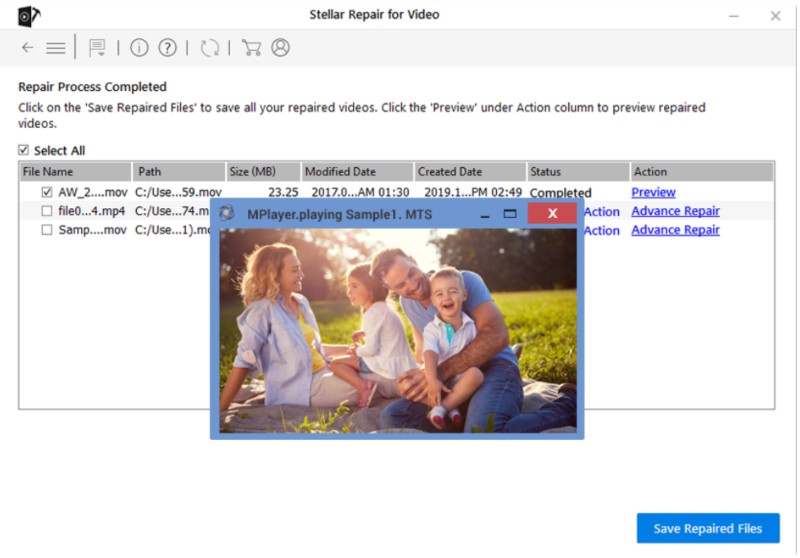 After getting the desired result, click on the Save Repaired Files button. You can then save your recovered videos at any location on your device or external drive.
How to Repair Corrupt Videos on Mac via QuickTime?
Just like VLC Media Player on Windows PC, you can use QuickTime player to check damaged and corrupted video files on Mac. Let's quickly check the steps to repair video files with the QuickTime player:
Open QuickTime player and upload the corrupt or damaged video file that you need to repair.
Go to the Windows tab and click the "Show Movie Inspector" button. This will display a detailed description of your video file on the device screen.
If you get a black screen, it means your video is corrupted. In such cases, click the Edit option under the QuickTime menu.
Select Preferences and then hit the QuickTime Preferences button. Click on the Update button to update your player.
Finally, restart the QuickTime player and check if you are able to play your videos.
If the above manual methods fail to fix your corrupted video on the Mac device, you can use the Mac version of Stellar Repair for Video software to get your videos repaired.
Tips to Avoid Video Corruption on Windows and Mac
Now that you are familiar with the video file repair methods and tools, it is important to follow some protocols that would help you to avoid such issues in the future. Given below are some of the tips to avoid video corruption on Windows and Mac devices:
It is important to make sure that your device has an adequate power supply while transferring or saving data.
Use an updated version of anti-virus software for performing regular scans.
Avoid any sort of interruptions while moving, copying, or editing video files.
Always establish a reliable electrical connection on your device to avoid unexpected shutdowns.
Also, ensure you have backups of important video files on more than one backup media before editing them.
Keep scanning your hard disk on regular basis to avoid such data corruption issues.
Conclusion
In this blog, we have provided various methods that you can try on your Windows or Mac PC to fix corrupt video files with ease. Fixing the corrupt or damaged video files on your device is very easy; all you need to do is apply some basic steps.
If these methods get fail, you can use a video repair tool, like Stellar Repair for Video to bring your video back to a playable state. See which method works best for you.