So you've been exploring the wonders of artificial intelligence and stumbled upon OpenAI's ChatGPT. It's pretty awesome, isn't it? This state-of-the-art language model can spit out text as if it were a human typing on the other end. Be it customer support, content creation, or any other application you can think of, ChatGPT is there to lend a hand.
But, it's not always smooth sailing. Every now and then, you might run into a frustrating error message saying 'There Was an Error Generating a Response' on ChatGPT. If so, you are not alone to face this problem. It's like trying to have a chat with a friend and suddenly they stop replying—pretty frustrating.
So in this article, we will break down this ChatGPT error generating response message for you, look at why it pops up, and more importantly, how to fix it. Think of this guide as your friendly neighborhood mechanic but for ChatGPT. If you are also facing this error, either your internet connection is down or ChatGPT is experiencing technical difficulties. There are a few ways given below you can try to sort out this issue.
ChatGPT There Was an Error Generating a Response: Explained
Okay, so let's talk about this 'There Was an Error Generating a Response' problem. This error message might look intimidating, but really, it's just ChatGPT's way of saying, "Oops, something went wrong and I need a moment."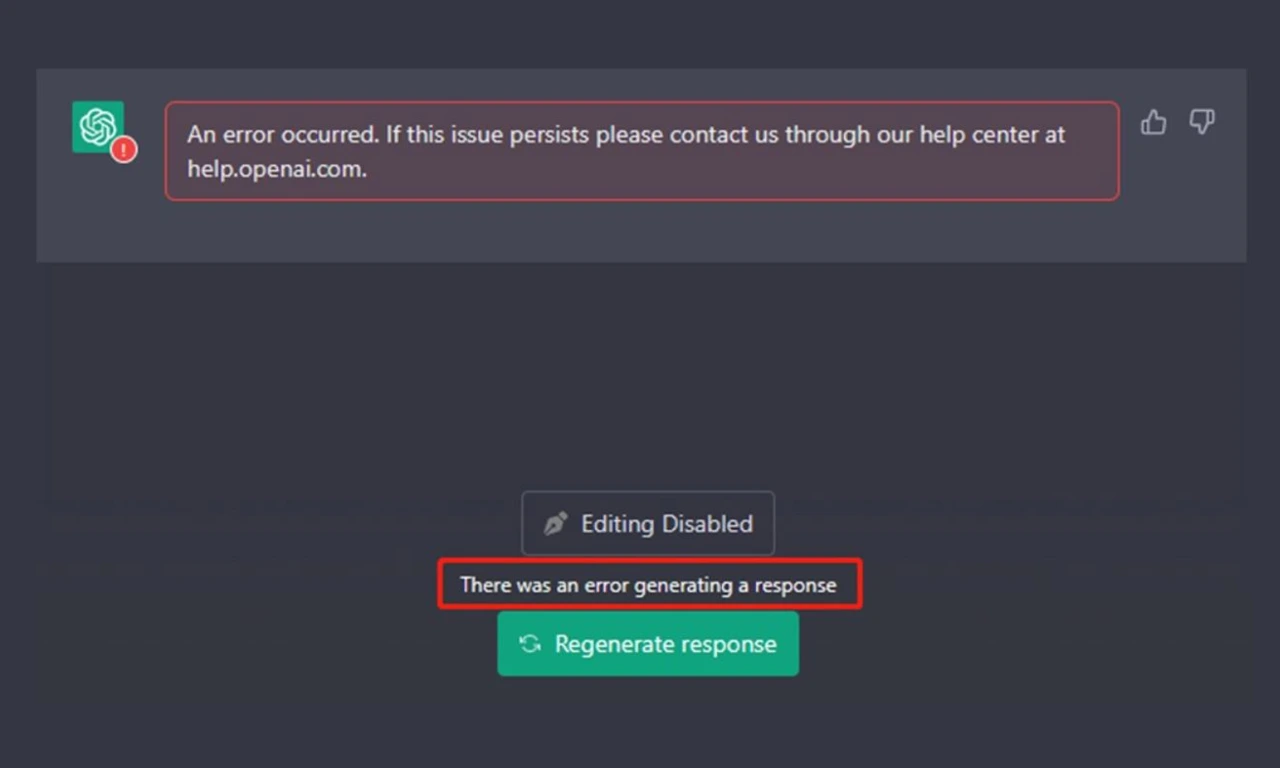 You might see this message happening every once in a while. Sometimes it could be when you're just having a casual conversation with ChatGPT, and other times when you're trying to generate a hefty piece of text. Basically, it's the equivalent of a traffic jam on a highway; you were cruising along fine, and then suddenly, gridlock.
So why does it happen? Well, there can be a couple of reasons why this takes place. It could be something as simple as a weak internet connection, or it could be due to some issues on the server side of OpenAI. The implications of this error are pretty straightforward—it halts your interaction with ChatGPT until the issue is resolved. It's not ideal, especially when you're mid-flow with a task or a thought.
How to Fix ChatGPT Error Generating Response
Now that we've had a chat about what causes the error, let's get down to the fun part—fixing it! Don't worry, we're going to take this step by step.
Refresh Your ChatGPT Page
Sometimes, the most straightforward solutions are the best ones. If you ever run into the 'there was an error generating a response' message, relax, as it's probably a glitch for the time being. Try giving the page a quick refresh, then re-enter your request and run the command. With some luck, ChatGPT will snap back into action, and that error will vanish.
Check Internet Connectivity
Firstly, how's your internet connection? It's like the lifeline to your ChatGPT, and if it's slow or intermittent, you could end up seeing a ChatGPT error. If that's the cause, you should move closer to the Wi-Fi router or switch to a wired connection using an Ethernet cable. If the issue remains, try resetting the router, which, unexpectedly, often resolves such issues.
Wait a Few Minutes and Try Again
We have all heard the saying, "Patience is a virtue," and it perfectly applies to this situation. If the OpenAI servers are swamped with too many requests, it's the same as a popular restaurant on a Saturday night – you may have to wait your turn. So take a breather, catch up on that book you've meant to read, or grab a snack, then try again later.
Ensure the System is Not Overloaded or the Servers are Working Fine
Next up, we have got system overload. Imagine you're trying to carry all your groceries in one trip. You pile more and more bags onto your arms until something drops. That happens if you hit ChatGPT with too many requests at once. It drops the ball. If you're sending many requests, try spacing them out.
What could be causing this error sometimes? It could be the platform's servers are having a bad day. Here's how to check that – visit the OpenAI Status site. It's like a health report for all OpenAI services.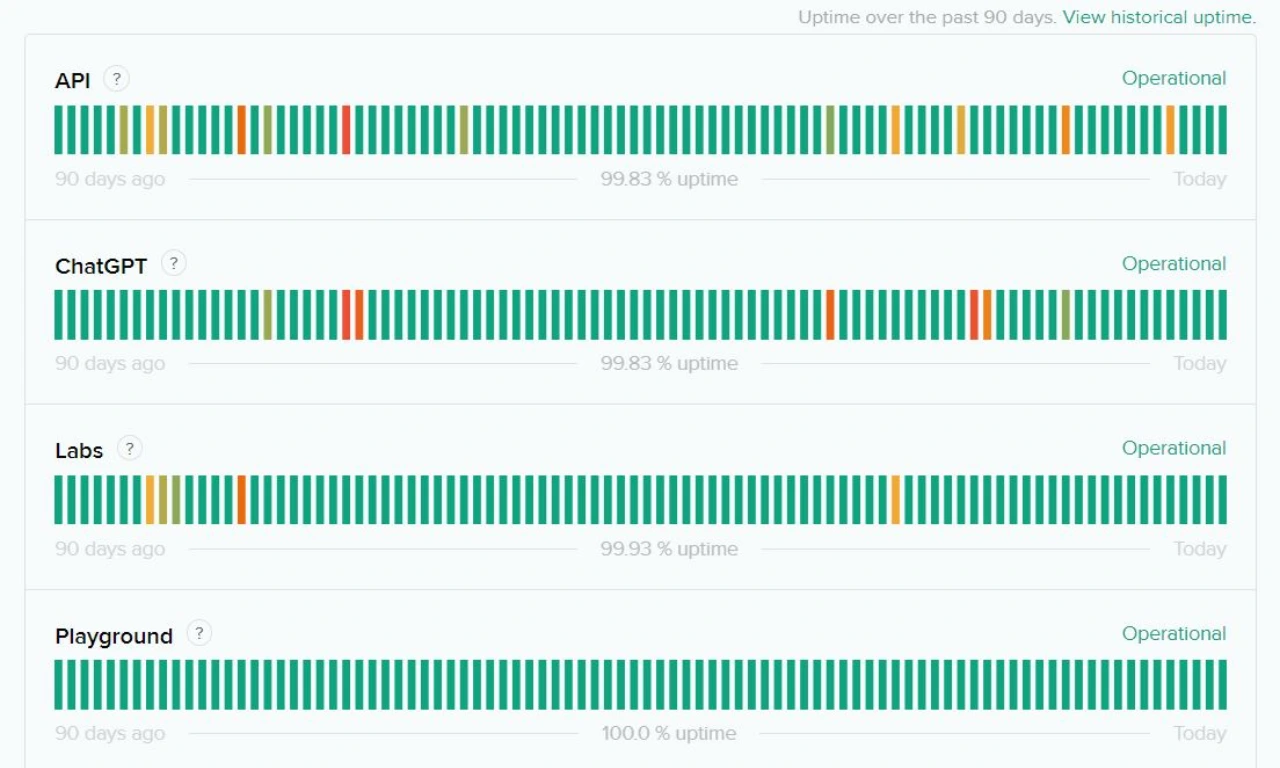 If ChatGPT is under stress and facing server issues, it'll show up right there, and that is what's causing this ChatGPT error generating a response problem. The downside? If there are server issues, we'd need to hang tight and wait for the people at OpenAI to work their magic and get ChatGPT back on its feet.
Provide Clear Instructions for Your Input
When spending time with ChatGPT to get some valuable information, imagine it like having a conversation with a super helpful friend, but this friend needs all the details to give you the best advice. The more specific your question is, the better ChatGPT can assist you.
So, when you're firing away queries or requests at ChatGPT, make sure you're painting a clear picture. If ChatGPT doesn't get the full scoop, it might throw the 'there was an error generating a response' error at you. If that's the case, wait for a moment to think about what instructions you have to enter. If you ask a clear query, it will be much easier for the program to provide the ideal answer.
Don't Try to Generate Long Details in a Single Request
Here's a little secret when dealing with ChatGPT – sometimes, less is more. If you see that annoying failure to generate a response message, it might be because you're asking for a long-drawn response, like a full-length blog post or a 5-page document. ChatGPT can feel overwhelmed like being asked to eat an entire pizza in one bite.
To help ChatGPT help you, try breaking down your requests. Ask for smaller pieces of content rather than long answers all at once. And remember that number – 2048. That's the maximum character limit per input for ChatGPT. So, keep your questions brief and concise under this limit, and you'll see that error less often. It's a win-win for both you and ChatGPT.
Delete Your Conversation
If you've tried everything and you're still looking at that annoying error message, it might be time for a clean slate. Think of it like spring cleaning but for your ChatGPT conversation. Sometimes, the tool can get tripped up trying to analyze all the data in your thread, leading to an error generating a response issue on ChatGPT.
Before hitting delete, you should save any important bits of the conversation. But remember, you should keep it light – we don't want to overwhelm ChatGPT again.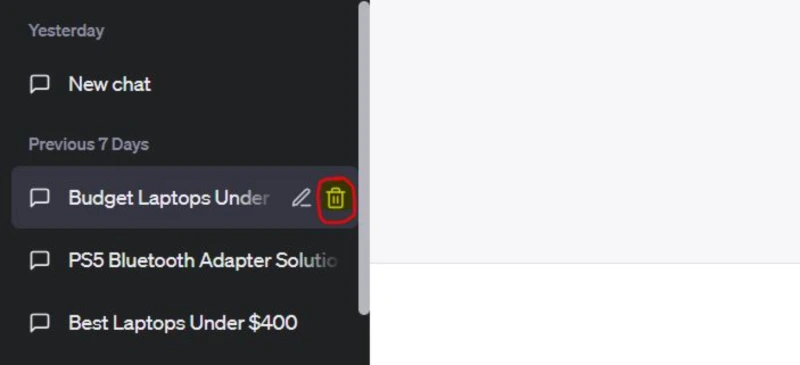 After that, hover your cursor over your current conversation in ChatGPT's left sidebar, and you'll see a little delete icon next to the conversation name.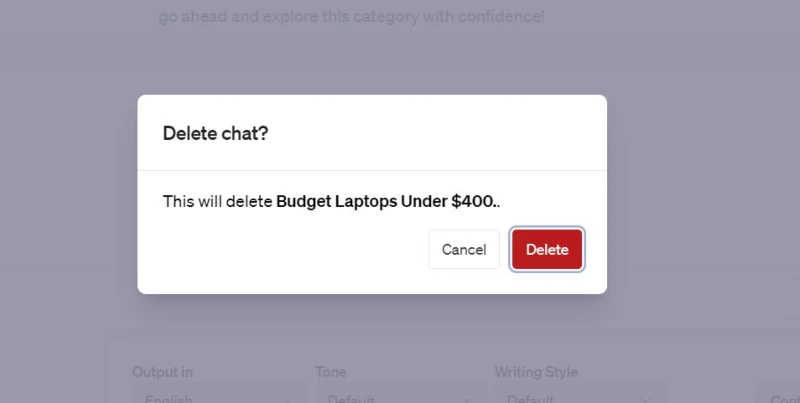 Click on that icon, and a pop-up will appear with the 'Delete' button in red (to be clear, it's a new way of deleting the conversations in ChatGPT, which the developers have added in a recent update). All you have to do is click that tempting red button, and your current conversation will be gone, hopefully taking that stubborn error message with it.
Try Another Web Browser
If you've tried all our tricks and are still at a standoff with that error message, it might be time to switch up your game plan. In this case, it means trying out a different web browser. If you are using Google Chrome at the time of facing this issue, Microsoft Edge is always another best solid option.
Although, if you have tried everything we've talked about and that 'there was an error generating a response' message on ChatGPT is still sticking around like a bad habit. It's time to bring in the big guns and contact the OpenAI support team. They are like the superheroes of the ChatGPT world, and they've got your back.
Read More