People who appreciate the design of the Pixel 6 but are put off by its high price point may be pleased to learn that Google is working on a lower-cost version of the phone.
When it comes to inexpensive mobile phones, Google's Pixel 'a' line is the answer – for example, with the Pixel 6 lineup considerably pricier than previous counterparts, the Pixel 6a becomes equally vital.
The Google Pixel 6a's style and many of its specifications and features have begun to leak, so we're getting a better picture of what to expect.
All we've known thus far regarding the Google Pixel 6a release is mentioned here, including a probable release date and cost, but we'll update this post instantly after we learn more.
Google Pixel 6a Release Date & Price
According to a recent rumor, the Pixel 6a will be available in May 2022. Max Jambor claims that the device will be available in May, a well-known leaker of smartphone details.
The Google Pixel 5a and the Pixel 4a were announced in August. That suggests that Google will likely delay its release until early that year and will probably dodge the expected Google Pixel 7 at the end of 2022.
As Google just offered the Pixel 5a in the United States and Japan, though a more commonly accessible mid-range variant may be on the way shortly.
It is possible to launch at Google I/O 2022 in May, which is when the company traditionally holds its own expo. Although Google hasn't given us a specific timeline, we can assume it will be in the latter part of the month. When the Pixel 3a was unveiled, Google did the same.
However, the Google Pixel 5a sold in stores for $449 (about £325 / AU$610), and the Pixel 4a 5G was $499 (approximately £499 / AU$799, thus anywhere in this range looks reasonable).
Features And Specifications
Code spotted in the Google Camera app hints that the Google Pixel 6a might stay true to its Pixel 6 moniker if it features similar hardware and design to the other Pixel 6 phones.
This could indicate the presence of a Tensor chip, which would enable advanced capabilities such as Live Translation.
With Android 12 pre-installed, the Pixel 6a may sport an in-screen fingerprint sensor, storage of 128 GB, and a RAM of 6 or 8 gigabytes. We'd anticipate having 5G connectivity because that's a standard feature nowadays.
Display And Design
It's possible to get a good picture of how the Google Pixel 6a will seem, according to leaks from OnLeaks and 91Mobiles. You can see some images below, and the design is highly similar to that of the Pixel 6 and Pixel 6 Pro.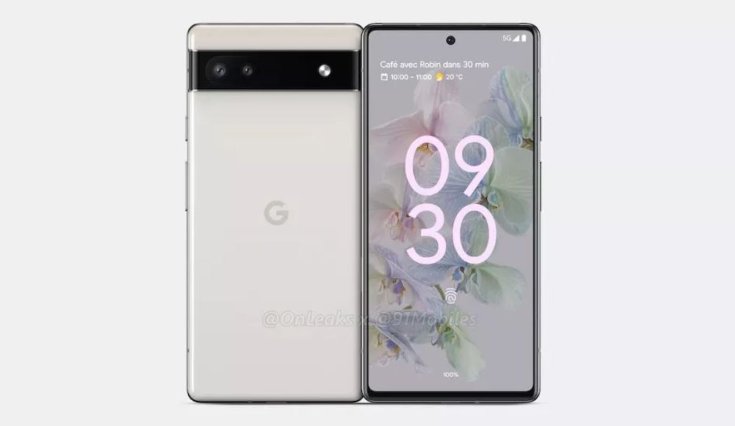 A dual-lens camera is seen on the back case in a vast camera block that extends horizontally. In addition, there is a three-tone color scheme, a front-facing camera with a punch-hole, and a smooth display.
In addition to the power and volume controls on the right side, there is a USB-C slot on the lower edge and speaker and microphone grills. There is no headphone jack to be found.
According to the report, it has a glassy rear side and measures 152.2 x 71.8 x 8.7mm (or including the bulge on the back of the camera, which measures 10.4 mm). According to rumors, this device features a 6.2-inch OLED display, making it somewhat smaller than the Pixel 6.
A Dual-lens Camera And The Battery
Some evidence implies the Pixel 6a would have a 12.2MP primary camera similar to that on Google's previous Pixel 5a and other Pixel phones. While this is likely true, code uncovered in the Google Camera app indicates it may not be.
Replacement for the 50MP camera featured on the current versions. Code reveals that this phone will have a 12MP ultra-wide camera like the Pixel 6 and an 8MP front selfie camera. Thus, it may just have a different primary sensor from its predecessor.
Considering it does have a smaller screen than the Pixel 6, which has been believed to offer a lower battery. In comparison, the Pixel 6 has a 4,614mAh battery, so anywhere between that value and 4,000mAh is probably the most plausible.