Do you want to use your same WhatsApp account on more than one Android phone? That used to be a bit tricky, but thankfully WhatsApp has listened to user feedback and made it a whole lot easier!
They have expanded the device linking feature, so now it's not just for desktop PCs, laptops, and tablets anymore. You can actually have the same WhatsApp account across multiple phones. And the best part? It's pretty straightforward!
But hold on, there's a teeny-tiny trade-off. A couple of features like live location sharing and status updates won't work on the linked devices, as they are still exclusive to your main mobile phone.
Don't sweat about security, though. Just like when linking with any other devices, your chats will still be end-to-end encrypted when you link an extra phone or more. And it doesn't matter whether you're an iPhone or Android user, or even if you mix them up – you can link as many devices as you want.
What is WhatsApp Companion Mode?
This incredible new feature called 'WhatsApp Companion mode" is about letting you use one WhatsApp account across multiple devices. So all your chats, contacts, and groups sync up no matter which device you're using. You can easily connect a maximum of five devices with your same phone number.
You might think it's just like the 'Linked devices' feature we already have. But, nope! This Companion mode is a whole different animal, and it's specially designed for phones. They rolled this out officially on April 25, 2023.
How to Use the Same WhatsApp Account on Two Android Phones
Install WhatsApp on the Second Phone – Got a second Android phone – great, let's get started! Download and open the WhatsApp app on it. You'll need to choose your language first and then accept the terms of use. Just tap on 'Agree and Continue' and you're all set.
Link the Second Mobile Phone – Don't rush into putting in your contact number! Instead, go for the option that says 'Link this device to an existing account'. If you're using a smartphone, just tap on those three dots at the top right. A menu should pop up with the 'Link to existing account' option. After you select it, the QR code will appear right up on your screen.
Scan the QR Code – Now, let's move on to your primary phone – the one where you're already using WhatsApp. Go ahead and tap on 'Settings' if you're on iPhone or those three little dots on Android. Then, select 'Linked Devices' and proceed to 'Link a Device.' Then, your phone's camera view will pop up. Point it toward the QR code on your second phone. They will automatically link up, and your chats will start loading – it might take a little while to open.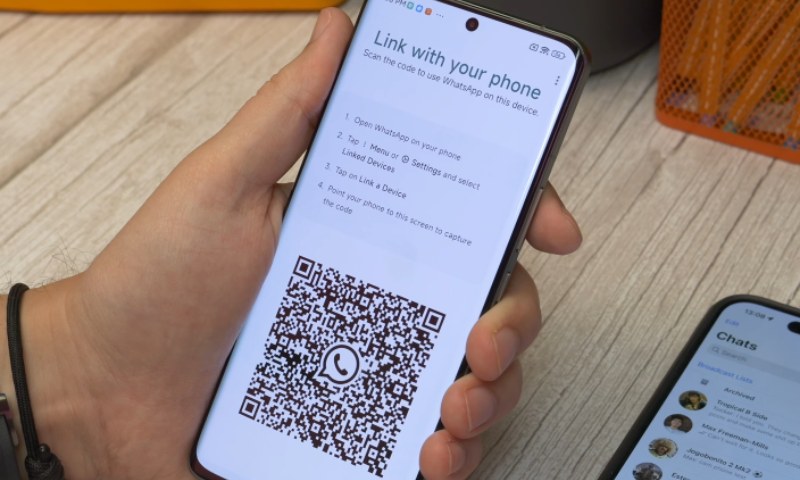 You can also link up a PC, laptop, or tablet similarly. And get this – you can connect up to five devices, including your primary phone and four linked devices.
Just one thing to remember, you don't need your leading smartphone to be close by or even keep turned on to use WhatsApp on linked devices. But to keep using it on that separate mobile phone/s, you must log into WhatsApp at least every two weeks. Doing so prevents it from being auto-logged out, which will require re-linking if you ever need to use it.
Read More