If you're not ready to break the bank on a gaming laptop but still want to enjoy all your favorite games, then the Acer Nitro 5 is for you. Beginning at an affordable $899.99 price point, this budget-friendly device offers great performance and will let you play any game – though maybe only with some of the settings maxed out!
This year's design is more subtle than past years, with a less-stereotypical gaming style look and instead opting for something much simpler that fits almost everywhere. I'm thrilled to see this pattern in many of the recent laptop designs – they are toning down on the red-and-black motif, and it's refreshing.
This budget-friendly option packs a powerful punch, with enough features and hardware that make it one of our top picks for best Acer gaming laptops. Plus, if you're willing to do some additional uninstalling when you get it home, this machine will deliver unbeatable value – remember: less bloatware means more fun!
Acer Nitro 5 (2022) Design and Build
Acer's iconic Nitro 5 has undergone a stylish makeover in its 2022's release. The classic, gaming-inspired red and black color scheme has been replaced with sleek black plastic – featuring only subtle hints of the signature Acer Red in its venting at the back. Topping off this elegant look is an eye-catching logo reflected on top for a touch of extra flair! Underneath it all lies an interior that hides smudges and finger oil remarkably well – giving you more time to focus on your gameplay instead wiping down your laptop now and then.
The Acer Nitro 5 sports a 15.6-inch Full HD (1920 x 1080) anti-glare display with an IPS panel and support for 100% of the sRGB color gamut. It is a great choice for those looking to enjoy content on their laptop, and there are very few bezels around it. I wish Acer would develop a new version of this laptop, complete with a modernized aesthetic of a 16:10 aspect ratio and no substantial bottom bezel. The laptop also comes with a large keyboard, four distinct, separated lighting zones along the keys, and a full-size number pad for more user comfort when typing or gaming. The palm rest and deck are made from black plastic, which adds durability to the laptop's overall design and will ensure longevity.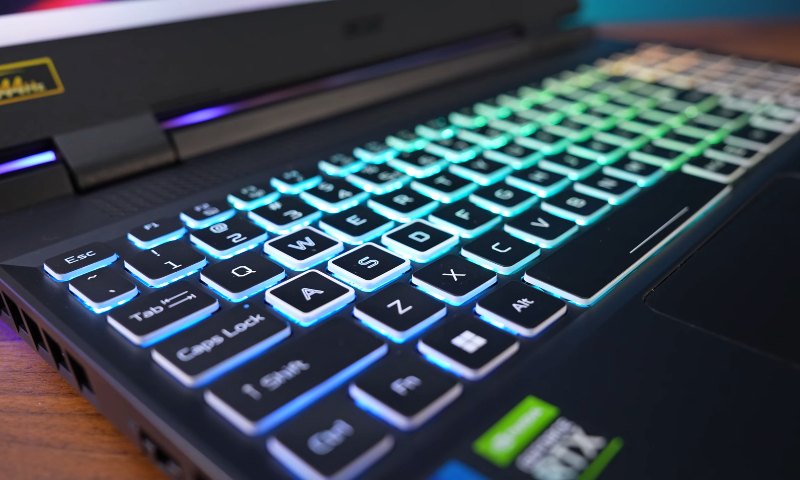 The keyboard on this budget laptop pleasantly exceeds expectations. It has a nice bounce to the keys, allowing for comfortable typing efficiently and ergonomically. As an added benefit, it has four customizable RGB backlighting zones, which make for a more enjoyable experience. The touchpad is large and responsive and suitable for its purpose. The build quality of this laptop is decent, although nothing particularly exceptional.
Here, you may find several ports for connectivity. The charging adapter and two more ports—one USB Type-C Thunderbolt 4 and one HDMI—are located on the device's rear. There is a slot for a lock, an Ethernet jack, a USB Type-A port, and a headphone jack on the left side, while the right side of the laptop has two USB Type-A connectors.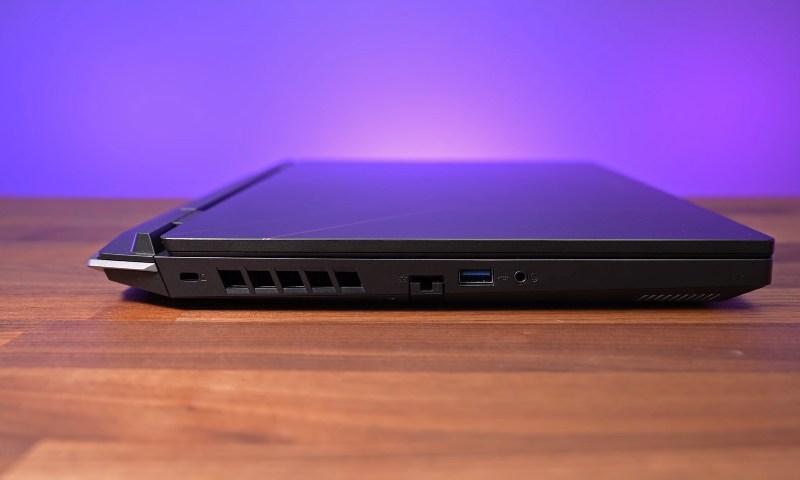 The Nitro 5 is a light yet effective gaming laptop with powerful features. The Nitro 5 weighs 5.51 pounds and has a thickness of 1.06 inches, making it a bit cumbersome to carry around though reasonable for a 15-inch gaming laptop. It's even lighter than the Asus TUF Gaming F17, which weighs an impressive 5.73 pounds but also has a larger 17-inch display. The MSI Pulse GL66 marks itself as the smallest, weighing only 4.63 pounds and measuring 0.94 inches thick – perfect for commuters looking to pack their gaming notebook easily into any backpack without taking up too much space.
Acer Nitro 5 (AN515-58) Display
The Acer Nitro 5's 15.6-inch, 1920 x 1080 display greatly compromises brightness and color accuracy. On the one hand, it has a high refresh rate of 144Hz, which ensures that images remain smooth while gaming or watching videos. And on the other hand, while its colors are not particularly vivid, they still offer enough vibrancy to display visuals properly. While they may be serviceable for gaming, they will leave little to be desired to make this system the best laptop for video editing. Fortunately, the display gets nice and bright, so you'll still be able to see your games and movies without even squinting in direct sunlight.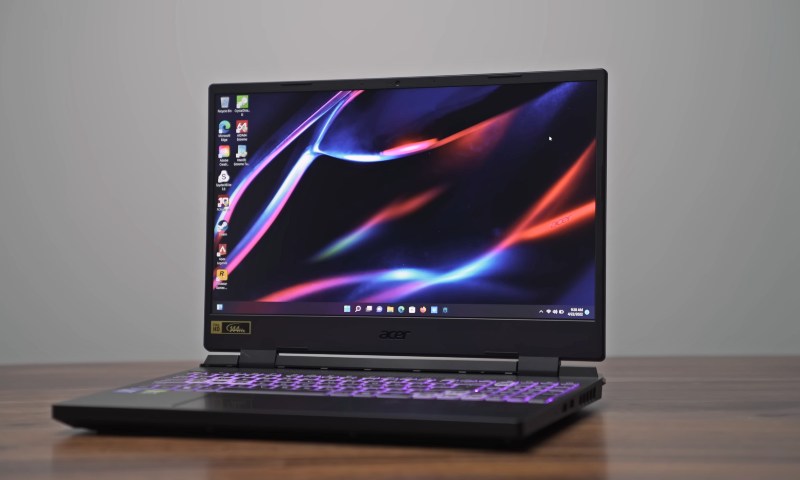 A 15.6-inch screen, the industry standard for many years, fits neatly inside this chassis. The panel offers a reliable and portable size with gaming laptops, making it an ideal choice for those looking to remain mobile while still enjoying a quality display. 17.3-inch screens have already become popular, along with 14-inch and 16-inch screens as of late, but this size remains to be the reliable, portable gaming laptop size. This IPS panel is full HD (1920×1080-pixel) and refreshes at an astounding rate of 144Hz, ensuring a smooth viewing experience every time.
With the available higher refresh rate, the screen can refresh the image more quickly during gameplay. This leads to smoother visuals with less lag time if the CPU and GPU powering it can maintain the things. These specs can be a great entry-level choice for gaming laptops as they allow you to enjoy good graphics quality without investing in expensive hardware.
Acer Nitro 5 Performance & Hardware
Our test unit is equipped with the latest 12th Gen Intel Core i5-12500H processor, 16GB of RAM for smoother multitasking, a powerful Nvidia GeForce RTX 3050 Ti GPU, and 512GB SSD storage. This impressive collection makes it an unbeatable option at this price point: not only does its top-notch graphics card provide great value for money but also 16GB of memory instead of 8GB offers increased productivity. All this power is configured at 95 watts, so you can expect serious performance upgrades whenever it gets tough out there on the field.
The Acer Nitro 5 (2022) demonstrated impressive performance on the Geekbench 5, scoring an outstanding single-core result of 1,652 and a multi-core score of 9,148. These results surpassed those for the TUF Gaming F17 (Core i5 -11260H) with its multi-core score of 5,045 and MSI Pulse GL66 running Intel Core i7 11800H. Additionally, when it came to copying files, this laptop was in another league, copying large files at a speed of 1240Mbps, again leaving competitors behind.
The Nitro 5's new 12th Gen Core i5 chip impressively held its testing, allowing for fast and efficient everyday use. There was minimal difference between it and more advanced CPUs on certain tests – making this an incredibly cost-effective choice. However, if PC gaming is your main goal, you might need to look elsewhere, as the laptop may need to have what it takes!
Gaming Performance
The Nitro 5 packs a punch for budget gamers, with an Intel Core i5-12500H and Nvidia GeForce RTX 3050 Ti under the hood. It's not the top gaming laptop assuming you want to stay under $1000. Nevertheless, it will still provide a decent experience if you lessen some of the settings – that means most titles should be playable without issue!
During the gaming tests, it clocked an impressive 42 frames per second on the Assassin's Creed Valhalla benchmark (Ultra settings, 1080p) and delivered an average of 60 fps on the GTA 5 gameplay (Very High, 1080p). When we were playing the Shadow of the Tomb Raider at 1080p and its highest graphics, it fell short at 52 fps compared to its competitors like the Katana GF66 and Victus 16, scoring 69 fps and 67 fps, respectively. Lastly, it managed 45 frames per second on Borderlands 3's Badass quality at 1080p, topping the average of 43 fps by just two numbers. All in all, though, it remains a great budget option for gamers looking to get some value-based performance out of their purchase.
Gamers will find this interesting, and the Nitro 5 performs well compared to its cost. The Acer's ratings are unsurprising given its position as the most affordable option here because, in all honesty, there aren't too many gaming laptops available for under $900 these days. It performs a decent job overall, although maintaining 60 frame rates at top parameters is a stretch for the RTX 3050 Ti.
Even so, you should not consider operating games with all their advanced features on a laptop that is inexpensive, and simply lowering the visual settings to medium will result in playable frame rates. If higher frame rates are needed, look for laptops equipped with RTX 3060 or better GPUs that can crank up the performance and make gaming far more enjoyable. Such GPUs allow users to drastically push their game's visual settings up without sacrificing performance.
Acer Nitro 5 2022 (AN515-58) Audio & Speakers
The Nitro 5's speakers may not be top-of-the-line, but if you desire maximum sound quality, investment in a good set of headphones is recommended. To optimize audio performance for whatever device it is connected to, this laptop has Maxx Audio from Waves built-in – though turning up all the knobs won't magically make your music and movies come alive with crystal clear clarity. Still, given its price range, there are no expectations that it should go beyond what standard laptop acoustics can deliver.
Acer Nitro 5 (2022) Battery Life
For gaming laptops, the Acer Nitro 5 has earned praise for its battery performance, topping the charts regarding how long it can last on a single charge. With web browsing, light graphics work, and streaming video over Wi-Fi on a relatively modest display brightness setting, we were able to get a full five hours and thirty minutes out of it in our testing. This is better than expected from other similarly configured machines and marks the Nitro 5 as among one of the best-performing notebooks in this regard.
Though you're looking for a laptop with decent battery life, this one is a good option, even if there are longer-lasting choices. The Nitro 5's battery life surpasses the minimum acceptable level, an issue for affordable laptops.
Bottom Line
Acer's Nitro 5 is the perfect entry-level gaming laptop for those looking to get into PC gaming but who don't have a massive budget for a higher-end PC. With solid specs and a sleek design, the Nitro 5 offers performance that belies its modest price tag. It may not be as powerful as some of its higher-end competitors, but it still packs enough power to deliver quality performance for various gamers.
Although it has a poor display and speakers, its main selling point is that it offers gamers a good range of features on a budget. The styling is more modest than some of its predecessors, as it doesn't try to catch too much attention and comes with all-plastic construction. Despite this, it still provides decent ports, a comfortable backlit keyboard, and great overall value for your money. It won't run every game on max settings, but it's a great bang for your buck at under $1000.