Razer, known for its gaming laptops, has just announced its newest duo — the Razer Blade 16 with a mini-LED display. Razer has been hard at work on a new range of gaming laptops, which will use Nvidia RTX 4090 graphics processing units and Intel's 13th generation Core processors. The Razer Blade 18 is set to lead the pack in terms of power, but the display of the Blade 16 is worth noting for its impressive two-monitor build. Both laptops offer excellent features for gamers, including plenty of power and an immersive multi-monitor experience. It's definitely worth watching out for what Razer has in store with this latest lineup.
Sometimes it can be frustrating trying to find your way through the best gaming laptop market, particularly if you need flexibility. High-end gaming laptops such as the upcoming Razer Blade 18 offer all the power of a desktop experience in an easily portable design and demand far less from your wallet. But if you're seeking both a higher resolution for the latest games and a native 1080p monitor suited to more competitive titles, then you'll need to compromise either towards the extra resolution or improved hardware for smooth FPS.
Get ready to experience the future of gaming with Razer's next-level Blade 16 laptop! This top-of-the-line system features a revolutionary dual-mode mini LED display, which will be the "first-of-its-kind" screen. Break free from the restrictions of only one native resolution! With this system, you can effortlessly toggle between 4K 120Hz and 1080p 240Hz. That's two fantastic panels at your disposal – all within a single incredible laptop.
Having the opportunity to toggle between two different resolutions can be beneficial for gaming purposes. 4K 120Hz and 1080p 240Hz offer a variety of diverse options to best suit an individual's specific needs and preferences. A laptop with this setup provides choice, allowing gamers to tailor their gaming laptop according to what kind of resolution works best for them. By having this flexibility in terms of resolution, the users are provided with the opportunity to choose according to their personal playing style and preferences.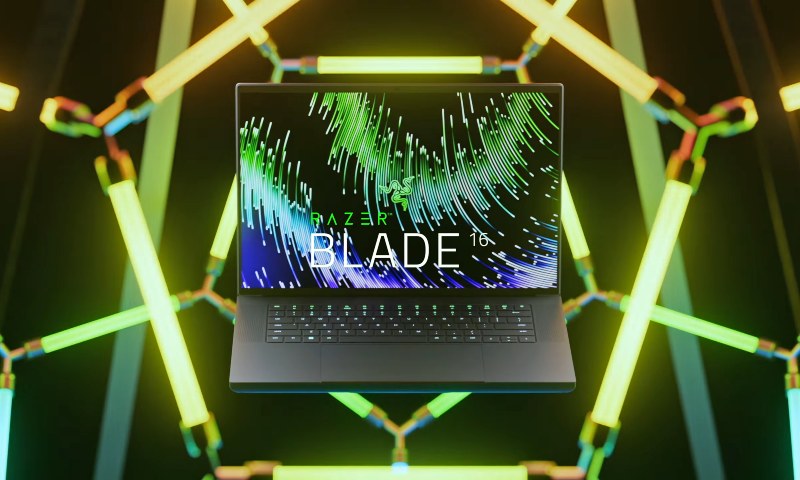 It's possible that some gamers won't mind lowering the resolution on their 4K monitor, especially if they aren't trying to achieve a reasonably high frame rate. However, for optimal viewing, we suggest you adjust your game settings to fit the native specs of your screen in order to avoid image quality decline and steer clear of upscaling. It is highly beneficial to have the ability to switch between two different refresh rates since a Geforce RTX 4090 GPU isn't capable of creating the necessary amount of frame rates to fulfill 240Hz during the whole gaming session.
Despite their differences in flipping prowess, the Razer Blade 16 and 18 both have the same mini-LED technology that could serve as a suitable alternative to OLED displays, boasting 1,000 nits brightness, full DCI-P3 Color Gamut coverage, and HDR 10 support – just as good as OLED setups! Both versions come standard with an Intel Core i9 HX processor, an Nvidia RTX 4090 GPU, and DDR5 5600MHz RAM. The starting price of a Razer Blade 16 is $2,699.99 USD, which is to be expected given the device's specifications. The Blade 18 will cost a bit more – $2,899.99 USD – however, you won't have the advantage of accessing its two-way display which is so thrilling.