For the latest Apple iPhone 14 review, we should need to compare it to its predecessors so that we can analyze which extra features have been added and what improvements are made from the previous year's iPhone. In this regard, the 2022 iPhone 14 is nearly identical to the Apple iPhone 13, where it becomes somewhat monotonous. An iPhone with the same look, display, and chipset as the previous year isn't too exciting. Still, the new base 14 model appears to be an extremely capable handset.
Considering its similar design to the standard iPhone 13 with no other significant upgrades, there is no good reason to switch to the latest iPhone if you already own an iPhone 13. But still, it's exactly not the case at all. Even though it does not have many extensive features, a few may force you to consider this new Apple iPhone 14, as these improvements should result in a more satisfying experience.
This new iPhone 14, with minimal incremental changes, approves what Apple has been doing for the past few years regarding its iPhone models. As previously, this phone arrives with a little step up from the iPhone 13 while keeping the same reliable aluminum chassis and decent look. Aside from that, you will also get a telephoto camera and display with the same 60Hz refresh rate (no change here), and it can be an excellent final product for many buyers. With the conclusion of this short intro, let's dive into our actual iPhone 14 review and see what benefits the new handset offer and where it falls short.
[letsreview]
iPhone 14 Specifications
Display: 6.1-inch Super Retina XDR (OLED) (460ppi)
Dimensions: 146.7 x 71.5 x 7.8mm
Processor: Apple A15 Bionic
RAM: 6GB
Storage: 128, 256 or 512GB
Camera: Dual 12MP rear with OIS, 12MP front-facing camera
Operating System: iOS 16
Connectivity: 5G, wifi 6, NFC, Bluetooth 5.3, Lightning, UWB, and GNSS
Water Resistance: IP68 (6 meters for 30 mins)
Weight: 172g
Apple iPhone 14 Price
128GB: $799 / £849 / AU$1,339
256GB: $899 / £959 / AU$1,579
512GB: $1,099 / £1,179 / AU$1,899
Like the iPhone 12 and 13, the iPhone 14 begins at $799. With that same price tag, it also includes the same old 60Hz display panel and the same chipset which are not bad for the base edition. However, it can't beat most of the flagship Android phones in this region as you will find so many smartphones that provide a brilliant 120Hz refresh rate at this same or even lower price. In terms of storage, it comes in three different variants such as 128GB ($799), 256GB ($899), and 512GB ($1,099). But the iPhone 14 has received an upgrade of 6GB of RAM as the previous iPhone 13's base model featured 4GB.
If you're looking for more substantial upgrades, the heavily priced iPhone 14 Pro and 14 Pro Max come packed with a bunch of new features. It's frustrating that Apple intentionally excludes support for capabilities that this iPhone's hardware is capable of handling to push you toward switching to the iPhone 14 Pro.
iPhone 14 Design and Build
The iPhone 14 maintains the same design aesthetic as the iPhone 12, which includes a sleek aluminum back and front with rounded corners. The glossy metal edges and matt rear side contrast the otherwise premium feel of the iPhone 14 lineup. It's also much easier to carry around than the Pro model because of its low weight, and that's a great plus point of this Apple iPhone 14 design and build.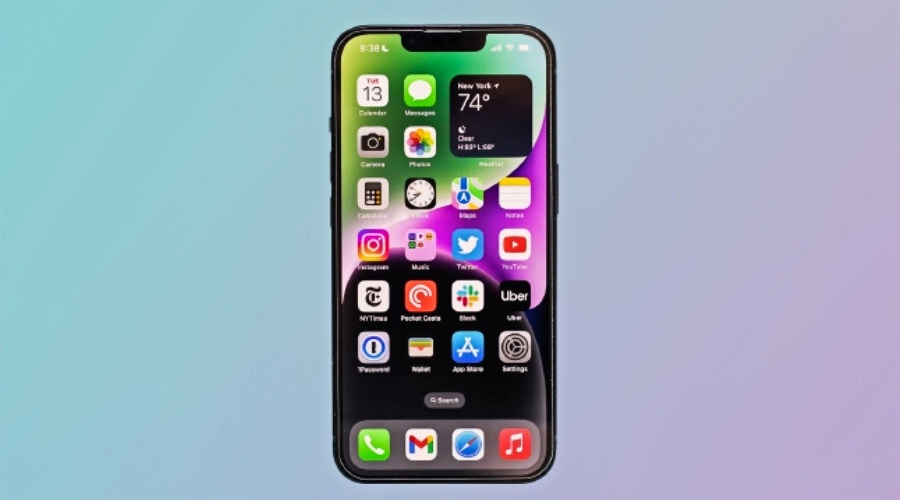 There is nothing Mini, Max, or Plus about this iPhone; it's just the standard iPhone model we know from the past. Following the iPhone 12/13 Mini release, Apple has changed its plan this year and discontinued its small model. Instead, we have seen a new edition named iPhone 14 Plus.
Compared to the iPhone 13, the iPhone 14's notch is precisely the same to accommodate the front-selfie camera and Face ID sensor. It also doesn't have the iPhone 14 Pro's unique Dynamic Island cut-out camera and sensor, which features innovative software gimmicks and creative techniques to show an in-display island on top, presenting the data. Furthermore, Apple has also introduced an Always-On display feature which we have been getting in Android phones for the past few years, but this is also only available in the 14 Pro editions.
You'll find two more camera lenses on the back when you flip it over. These lenses are housed on a dump making the phone unstable if not protected by an iPhone 14 case. There's a more significant tilt, meaning no iPhone 13 cases will defend it. The casing and the rear flow into one another beautifully, thus creating a sense of uniformity and polish.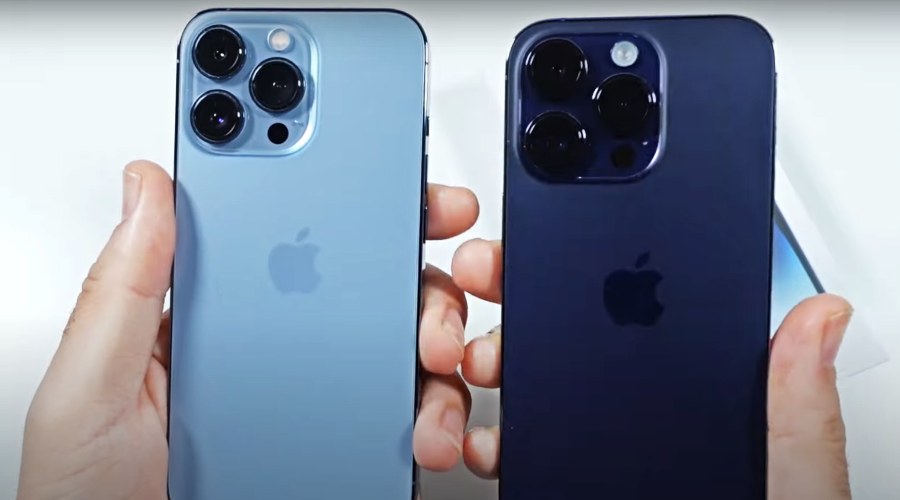 The power button is on the top right side, while the volume controls and silent/vibration toggle key are on the left. Apple has solely switched to eSIM for its North American models, although the company has included a physical SIM tray in all other countries. The front-facing speaker is located just above the display notch, and the stereo speakers flank the Lightning connector.
Its dimensions are 146.7 x 71.5 x 7.8mm, making it slightly wider than the iPhone 13. The redesigned heat structure within the device is likely responsible for the phone's reduced weight of 2 grams compared to the previous one. The Ceramic Shield protecting the screen and the same level of resistance to dust and water is also carried from the previous model with no enhancement. In addition to the standard blue, starlight silver, midnight black, and red, the Apple iPhone 14 is also available in a brand-new, gorgeous purple. While not a big difference from iPhone 13, this model has a lot to like.
Apple iPhone 14 Display
There is no new modification in the display department, and the iPhone 14 features the Super Retina XDR 460ppi display having 2532 x 1170 resolution, the same we see in iPhone 13. It's very disappointing to have a 60Hz refresh rate at such a high cost. Display panels with a refresh rate of 90Hz or 120Hz, like those found on the iPhone 14 Pro and most flagship Android smartphones, help the comfortable scrolling, especially in interfaces with a large amount of text, and provide a pleasant experience.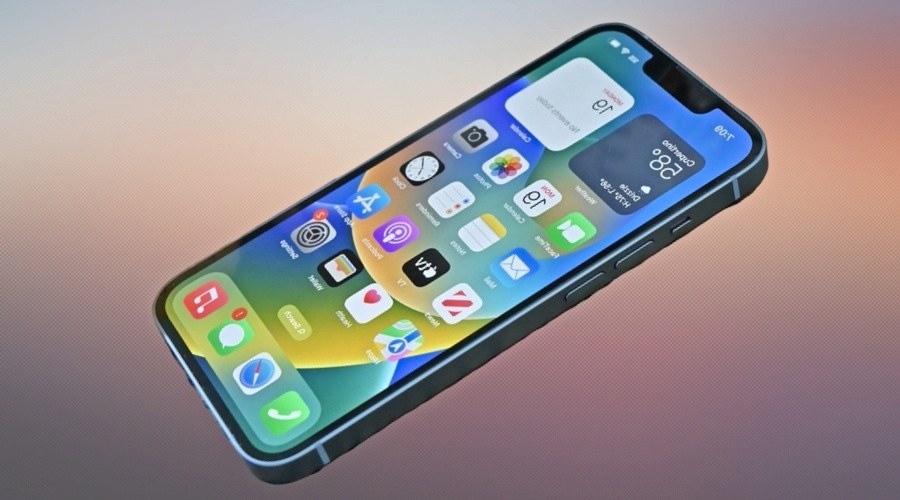 The display's top-notch, eliminated from the Pro models, is still present in its old layout. It includes the best speaker, an improved TrueDepth 12MP camera with a more robust lens and focusing, an infrared (IR) sensor, and a flood illuminator.
The 6.1-inch OLED screen is quite crisp and brilliant, and the rounded edges are a welcome addition that coincides with Apple's design philosophy beginning with the iPhone X. The device's dual speakers are fine for casual listening to music or podcasts over FaceTime. However, the sound becomes distorted and irritating when Apple Music is played at a high intensity.
Furthermore, Apple innovations such as True Tone and Haptic Touch are also available in the device. Additionally, HDR compatibility is included, which is typical for premium devices these days. The Apple iPhone 14 display is impressive. However, it lacks the wow factor of the Pro model.
Apple iPhone 14 Camera
The iPhone 14 Pro model cameras have gotten much attention, but the standard iPhone 14 holds its own. Compared to their forerunners, the latest iPhone lenses offer a significant improvement, particularly in sensor and low-light capabilities. The front-facing 12MP camera features autofocus, simplifying the process of taking group photos. Features such as Night Mode, Deep Fusion, and Photographic Styles are available in the front sensor. The Photonic Engine now prioritizes processing Deep Fusion neural images to deal with uncompressed photos.
If you'd like to tweak your images but can't afford a 14 Pro, you will be disappointed to learn that you won't receive the 48Mp primary camera or the ability to shoot in Apple's RAW format. It's disheartening that the iPhone 14 doesn't support RAW shooting despite having the necessary hardware—especially because the camera module is similar to the one found in the RAW-capable iPhone 13 Pro.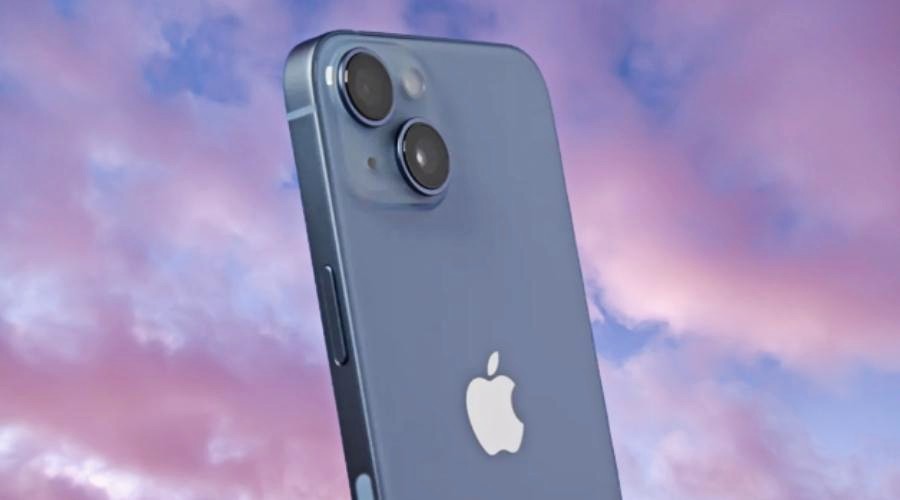 The iPhone 14 takes decent photos, but after using the iPhone 14 Pro, you can find yourself longing for optical zoom and macro features. However, this degree of photography prowess and the excellent quality of the results ought to be sufficient to fulfill the needs of the vast majority of buyers. Similar to the other iPhone 14 models, this one can record 4K video at a maximum of 30 frames per second (fps) with the enhanced Cinematic Mode.
Even using Apple's lens correction techniques, many ultra-wide photos from the specialized lens show signs of distortion at the image's corners. Even if Apple withholds some aspects from the standard model, the iPhone 14 does have a video stabilization mode called Action Mode. To enable it in the camera's video mode, tap the icon of a sprinting person; it significantly lessens the effects of hand-held camera wobble. Remarkable outcomes can be obtained for various projects, from capturing a dancing performance to filming a riding clip.
Apple iPhone 14 Performance and Battery
Unlike the Pro version, this standard iPhone 14 does not feature Apple's latest A16 Bionic processor, signaling a company strategy shift. Let's be crystal clear: the A15 Bionic chipset is outstanding, which was included in the last year's Apple iPhone 13 Pro. It's a robust processor that routinely outperforms the most excellent Qualcomm chipset. It has plenty of spare capacity to handle demanding mobile games such as Call of Duty: Mobile and PUBG Mobile without lagging. It can take the stress of operating multiple apps simultaneously and the high-intensity games mentioned without overheating.
By including the faster A15 processor seen in the iPhone 13 Pro, Apple may have made a wise decision with the iPhone 14. This method of cutting prices is innovative and will satisfy everyone. The new iPhone 14's A15 Bionic chip uses a different thermal architecture to dissipate heat better than previous iPhones. Apple doesn't publicly disclose the amount of RAM in their devices. However, independent tests have shown 6GB to be present. The disassembly by iFixit also revealed that Apple had improved the repairability of the iPhone 14 by redesigning its internal components.
Moving from app to app is intuitive, and the phone remembers your last activity in each app by keeping the info saved in memory so you can pick up right wherever you left off. Notifications also never failed to arrive, unlike on certain Android phones where applications would aggressively sleep in the backdrop.
The iPhone 14's battery life impressed me greatly. On average, it can last more than a day with normal usage before refilling the battery again. The battery capacity is 3,279 mAh, significantly below the standard 5,000 mAh found in most modern smartphones. As a result of having absolute authority over its hardware and iOS software, Apple can produce highly efficient batteries, allowing it to attain impressive run times while using fewer cells.
There is no power adapter included with the iPhone 14, only a Lightning to USB-C cable for charging. You can purchase a separate 5W charger, or you can get almost 50% juice within half an hour using an Apple 20W charger. In addition to wired charging, the phone may charge wirelessly using either the MagSafe connector or a Qi charger.