Apple iPhone 14 lineup has arrived with four different models to choose from. The one you should buy depends on your choice and budget. The iPhone 14 has improved battery life and performance, and it now comes with two new security measures from Apple: Crash Detection and Emergency SOS through satellite. Even though your brand-new smartphone can safeguard you, what measures are you taking to ensure the safety of your device from its physical damage?
One factor always considered when buying a new phone is protecting its back with the case. That's for what we are here with this guide. Below, we have some of the best iPhone 14 cases you should never want to miss. We have researched and analyzed many cases to pick a few great ones for you. Because we were hoping you could choose an option that perfectly fits your needs, we have compiled this by selecting our top picks. Several are designed to take the role of a traditional wallet, others are tailored to the wimpiest, and others even have accessory sections.
Many of these iPhone 14 cases are constructed from recyclable materials or are compostable, which is excellent. Considering that each new iPhone model has a slightly different form factor than its predecessor, this is extremely vital to remember.
Read also: Why the iPhone's Always-on Display Beats Even the Best Android Phones
Best iPhone 14 Cases: Our Picks
Check out the options listed below to choose a good fit, and if you consider any others that need mention, please share them in the discussion section.
1. Simtect Ultra Clear Designed Case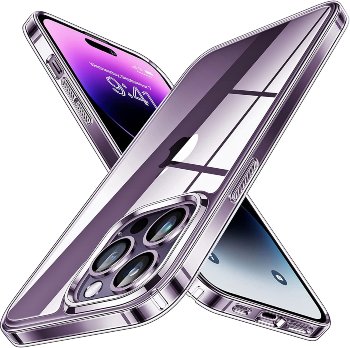 This case is tailored to fit the iPhone 14 Pro Max and is crafted from top DE Bayer materials received certificates for their safety. Transparency is maximized with the help of proprietary micro-dot laser craftsmanship and a 2% Blu-ray molecular infusion. For this reason, the Simtect iPhone 14 Pro Max case is more transparent than alternatives on the market, allowing the actual color to shine through.
You can place it down on the desk or any flat area, and the cameras won't touch the surface because of its sleek look and modest thickness. There is a robust, sturdy sensation with no extra weight at the rear. They must have thought about ergonomics because the case is comfortable to hold, and the button and control spots are in convenient locations. Overall, it's a fine iPhone 14 Pro Max case that can be taken as a top choice.
2. CaseBorne ArmadilloTek V iPhone 14 Case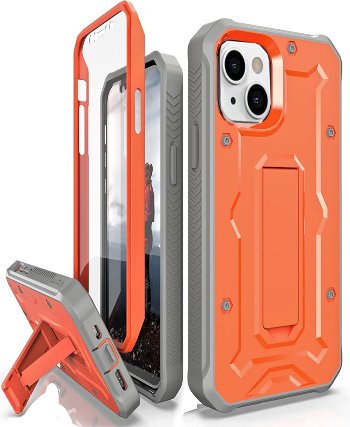 The screen protector is incorporated right into this case, and the edges and interior are also strengthened for extra protection. You should get this case if you value your phone's security above all else and do not even care about the appearance of a more aggressive or industrial design. Thanks to its sturdy construction, you can count on this case lasting a very long time.
The transparent plastic screen protector is mainly ineffective. Even if you want to replace it with a new tempered glass, you can easily pull it off from the screen. This plastic layer may serve as temporary screen protection (against cracks but not falls) if you have not yet purchased a protector separately. It is cumbersome due to its robust construction. Yet, it's challenging to strike a balance between sturdiness and slimness. It isn't a small compact case, so bear this in mind.
3. Red2Fire Shockproof Case
Red2Fire iPhone 14 case's military-grade fall safety is achieved using a premium elastic TPU bumper and integrated shock-resistant airbags on all four edges. Thus, these offer a powerful defense against shocks, scrapes, and other damage to your phone. It features a double-layer construction with a solid outer back and a soft inner covering, both of which are of German origin. The handset won't get dirty or slip out of your hand thanks to the glassy surface, and fingerprints won't be able to stick to it.
This case is of a high enough quality to ensure the safety and life of your pricey iPhone. You can rest assured that your screen and camera will be safe from scratches and scuffs thanks to the extra included accessories. It is strongly suggested as a safety net for your new Apple iPhone 14. It is an excellent option if you care less about showiness.
4. Catalyst Influence Case for iPhone 14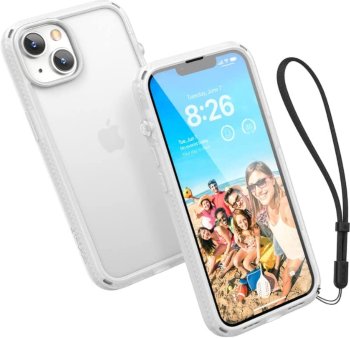 Catalyst Influence Case is transparent, so it won't draw attention to itself visually. Although its distinctive sound will ensure that it stands out in any crowd. Further, the case's innovative design enables a 30% loudness increase in phone calls, audio, and podcasts. You can quickly find the rotational mute control if you need to turn off alerts on your phone.
Everyone prefers a transparent case that doesn't show any fingerprint and grime, and this one meets the criteria perfectly. This premium iPhone case reduces unwanted noise, making it ideal for listening to music or making calls. A free tether is included to ensure that your Apple device is always safely attached to you. This sturdier case is thin without sacrificing protection. The Catalyst Influence Case's ultra-lightweight design makes putting it on and taking it off a breeze. So, another fine option that is considered one of the best iPhone 14 cases you can buy right now
5. LK 3-in-1 iPhone 14 Pro Case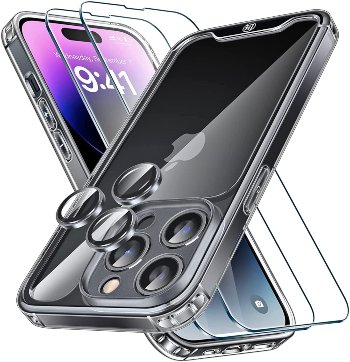 The LK iPhone 14 Pro case's anti-yellowing and anti-oxidant qualities last for the phone's lifetime, protecting it from sweat-induced yellowing and 99.9% UV rays. The tiny lens caps fit snugly on each camera sensor, protecting them from damage while allowing you to use your flashlight when taking photos in the dark. The holes and controls are located precisely where they should be for maximum convenience. It's pleasant to see not one but two screen protectors included in the package, alongside a high-quality case.
You will receive something nice at a price of less than $20. I love the quality of the screen and camera protectors. The pack contains everything you need to wipe and dry your phone before installing the case, protector, and camera lens cover. The screen protector and camera are not as good in quality as the case itself, but they are still well enough to guard your iPhone 14 Pro for some duration. It feels great as a phone case and glides effortlessly in and out of your pocket. There's a bit extra squareness to the edges than I'd prefer. Although it is reasonably priced and just what you would require.
6. TORRAS Magnetic iPhone 14 Pro Max Case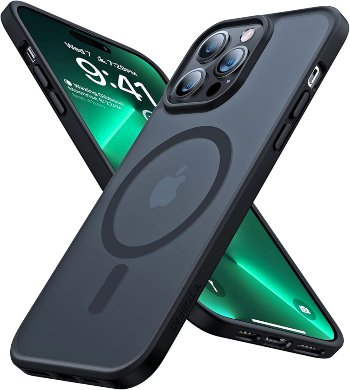 The TORRAS Magnetic iPhone 14 Pro Max case is formed from 38 discrete N52 ultra-strong magnets and can withstand a vertical force of up to 13N, whereas a typical magnet can only withstand 8N. Your magnetic iPhone 14 pro max case will remain securely connected thanks to the alignment of the magnets, which provides a tremendous grip. Furthermore, it offers certified military-grade drop protection. Screen edges raised by 1.2 millimeters and camera bezels by 0.8 millimeters protect the device from scrapes, smudges, and accidental drops.
It provides excellent security without adding a lot of bulk to the appearance. The magnet inside the casing is really strong. In contrast to my expectations, it is neither bulky nor hefty. The outer silicone is smooth and luxurious to the touch. Further, the textured edges provide a tighter hold. Spending just under $30 is a good deal considering the high-priced iPhone 14 Pro Max retails for over $1,000.
7. Mous Protective Case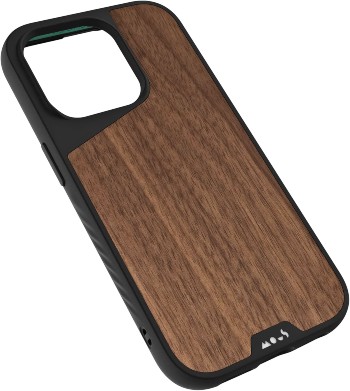 To keep your iPhone's display safe, the Mous Limitless case is equipped with lifted corners and shock-absorbing features. The iPhone has been protected from harm thanks to the AiroShock technology included in this case. There are seven other colors; however, the woody texture offers a classic and unique vibe that is hard to beat.
In addition, it comes in various chic and modern styles and is crafted from the finest materials. You may rest assured that your shipment will arrive in fully recyclable packing. This phone case is a good option if you are looking for something with a realistic, woody brown finish.
8. OTOFLY Silicon Case for iPhone Pro Max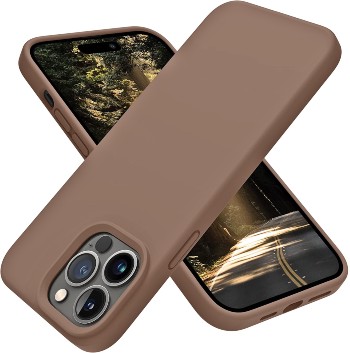 The simple and stretchable design of this iPhone 14 Pro Max cover results from its construction from premium silicone lubricant, which also gives the phone a more comfortable grip than rigid cases. Its interior microfiber filling will keep your phone scratch-free, and the case's sleek design won't add unnecessary bulk while providing a firm grip. Polycarbonate is used for the strength of the body, while shock-absorbing Silicone lips wrap the outside.
The fingerprint-proof and anti-dust build protect your iPhone's beautiful and spotless display, and you'll have a wonderful in-hand experience. It's affordable, high-quality, and available in a range of colors to choose from. This case is essential for you if you are prone to dropping your phone frequently. The design is flawless, the cover allows for charging, the camera's lenses are safe, and there are no fingerprints on the device.
So, that is all from our side in this post. Hopefully, you will love the above-listed best iPhone 14 cases and will also be able to choose the right one for your device.