Isn't it amazing how we have a world of weather information right at our fingertips? You can check the forecast for rain, snow, or sunshine with your smartphone, wherever you are, with the help of the Android weather app. Here's the catch: not every weather application is built the same. Some are great for warning you about a storm on its approach, whereas some are designed specifically for those who like to surf, hike, or ride bikes and want to be aware of the weather before they go.
Below in this post, check out the best weather apps for Android phones for each predicament you might find yourself in. What's even better? In addition to providing forecasts, several of these applications provide additional weather-related data, such as wind speed, allergic facts, radar maps, and more. A high-tech weather station in your basement isn't necessary for predicting the upcoming weather condition.
1. AccuWeather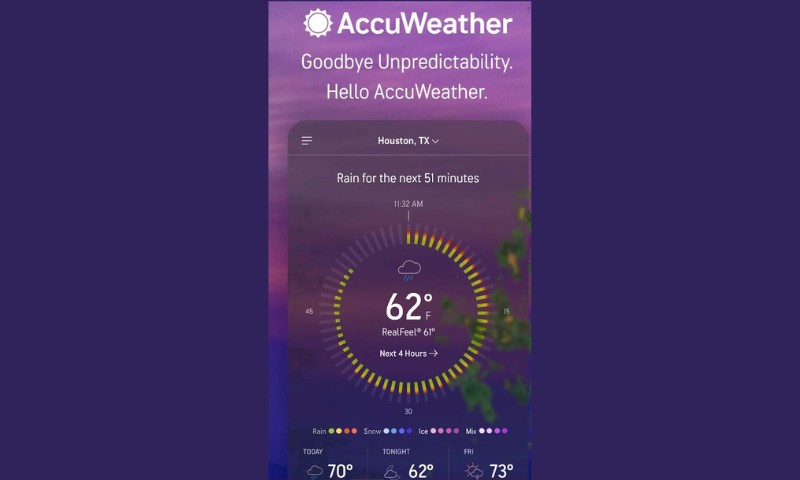 AccuWeather app is one of the top weather apps for a good reason. Whether planning a trip, working outdoors, running, or even organizing a tour, AccuWeather tells you all the necessary information you need to know about the weather.
One of its standout features is the MinuteCast, which gives you a minute-by-minute forecast for the next four hours. It's like having your personal weather reporter tell you exactly when the rain starts or stops and the temperature at specific times. Plus, you can easily plan your day with radar data from the past hour and projections for the next two.
The main screen is a treasure trove of information – current temperature, how it feels, today's highs and lows, and the likelihood of precipitation in the next few hours. It's all there at a glance. The handy menu at the bottom gives you quick access to radar, hourly and daily forecasts, and even hurricane details when necessary. No need to navigate through long options – everything is right there, upfront. A quick scroll and you can see what's in store for the rest of the day, with hourly and daily forecasts neatly presented in a long, scrollable list. There's even a graph to check how the temperature fluctuates quickly over time.
In addition to reporting weather conditions, AccuWeather can inform you when the sun will rise and set and warn you of potentially dangerous allergens, including tree pollen, dust, mold, and more. Find out what the weather is like in a variety of places across the world and read up on the latest climate-related events.
The free version of AccuWeather is pretty comprehensive, but if you want to delve deeper, the paid version offers expert analysis of weather events. However, it's worth noting that some critical information, like guidance during dangerous weather conditions, is only available in the paid version. While it's understandable that some features need to be exclusive to the paid version, keeping such crucial information behind a paywall does feel a bit off.
2. The Weather Channel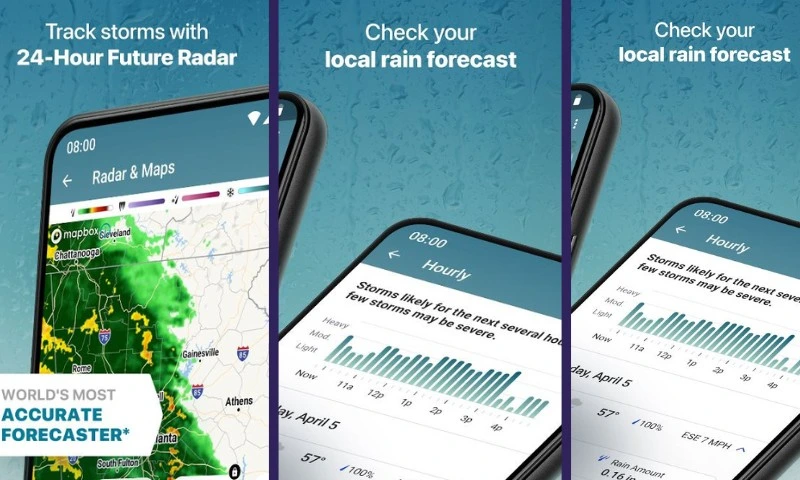 Calling The Weather Channel app a 'weather app' doesn't quite do it justice. It's like having a mini Weather Channel in your pocket. The app includes a news section where you can access the latest headlines; these tend to focus on the environment and wildlife, though you may also find interesting pieces on health and wellness. Considering the weather stuff, this app is like your personal weather station. It's got everything you need – hourly temperatures, rain probabilities for a whole day, a live weather radar, and any severe weather alerts in your area – it's all there.
The app's ability to provide timely local weather forecasts is an important competitive advantage for The Weather Channel. It will give all important details, such as storm warnings, hourly updates, and 15 days weather forecasts. Keep an eye on the widgets on your home screen that provide access to several radars for monitoring impending rains and storms; they could save your life. All this info is neatly organized in a single, detailed menu. This app is your go-to buddy if you're all about keeping tabs on your local weather and planning ahead.
Let's address the obvious problem: the free version is plagued by advertisements, and their presence might be disruptive. You will end up facing multiple ads when navigating through the app. But if ads aren't your thing, you can always opt for the paid version of the app, and voila! No more ads.
3. Weather Underground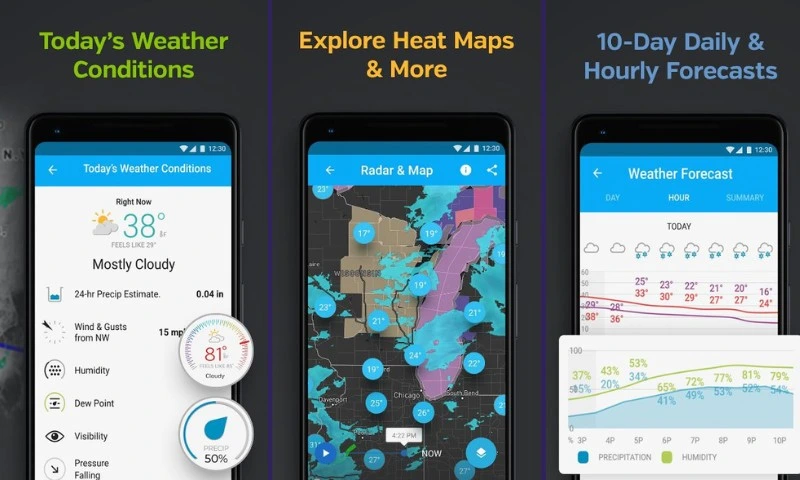 Weather Underground is another great weather app that's all about tracking specific conditions. The Smart Forecasts feature is the app's crowning glory. This software will inform you when to go outdoors based on the variables you specify, including the likelihood of rainfall, wind velocity, temperature, and air pollution levels.
Let's say you're a biker who wants to stay safe from weather conditions but must go from point A to point B in one piece. You can customize your Weather Underground prediction to account for your individual preferences. It will inform you when in the day and over the next few days would be ideal for a cycling or bike ride – that's awesome!
But that's not all you can do with this top weather app for your phone. As a highly precise meteorological system, it collects information from thousands of weather stations worldwide. You can examine weather-related reports such as humidity, radar systems, satellite, heat charts, webcams, storms, and more on an interactive map.
At a glance, the mobile application displays your present position, an overview of the radar, and a forecast for the day's weather. Just give the screen a little scroll, and you'll find a 10-day forecast, both daily and hourly. There's also a handy temperature graph, the air quality index for today, and even Smart Forecasts. They've even thrown in some weather videos, health details, webcams, and important data regarding hurricanes and tropical cyclones.
What's even better? These highly flexible tiles allow you to rearrange and conceal content that doesn't pique your attention. Even while the basic version of Weather Underground for iOS and Android is free, a premium version is available for a cost that eliminates commercials and adds functionality like Smart Forecasts and longer hourly estimates. You need to figure out how to make the application useful to you.
4. OpenSummit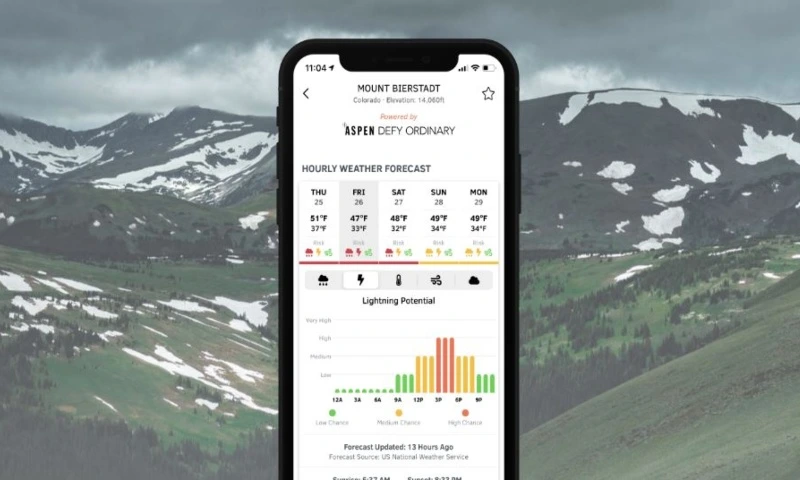 If you're a hiker, I've got the perfect app for you – OpenSummit. This app is like your personal guide for hikes. Weather for more than a thousand locations in the United States is included, and the app's core functions are completely free. You can search for a specific mountain/hill or wander about. You can add your favorite hill areas to the wishlist and monitor the climate of these spots. It's like having your personal weather wizard!
You may check the current and forecasted temperature, humidity, wind speed (steady, gusty, and over 30 mph), and thunderstorm risk with OpenSummit. Also, if you have an Instagram account, you may connect it to this app and view recent photos in the area. The app also provides helpful reminders to bring essentials, such as food and water, on your hike and safety advice.
While their focus is currently on places within the United States, they plan to extend to hundreds of locations internationally. Both the Android and iOS versions of the app are free, but OpenSummit All-Access unlocks bonus features, including hourly forecasts for the next five days and additional layers of map data.
5. NOAA Weather & Tides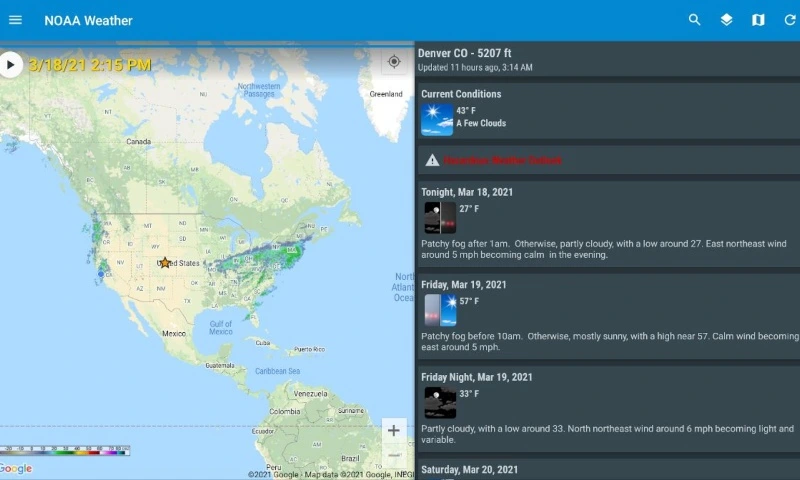 The NOAA Weather & Tides app is an excellent resource for predicting the weather, knowing when the tides rise and fall, and learning about the water's currents and degrees. This app's great feature is that it pulls information from the NOAA (the National Oceanic and Atmospheric Administration). That's why you can rest assured that the data you rely on is as current and reliable as possible.
In addition to the weather forecast, it also provides information on the tides, which is helpful for those who like activities such as swimming, fishing, or just relaxing at the beach. You may schedule your activities accordingly if you know when the high and low tides are. The accurate weather predictions provided by this app are a major appealing aspect. The app updates its information every hour, so you'll always know whether to bring an umbrella or sunscreen.
Although advertisements are present in the app's free edition, they are absent in the paid version, which includes extra features. If you're interested in weather forecasting or monitoring tides, then you should download the NOAA Weather & Tides app.