Have you ever stumbled upon a laptop that makes you raise an eyebrow, questioning whether it's designed for the artsy folks or the gamer in you? Well, here is the Asus Vivobook Pro 16X! At first glance, it might seem like that sleek, minimalist laptop you'd see a graphic designer use at a hipster cafe. But don't be fooled; this beauty packs a punch that'll delight your inner gamer.
Often, gaming laptops scream "Look at me, I'm for gaming!" with their flashy RGB lights and aggressive designs. But this Vivobook Pro 16X is like that silent genius in class who's both a top grader and a rockstar on weekends. So, whether you're a professional creating masterpieces or just someone looking to sneak in a quick game during your lunch break, let's discuss and see what this 'serious yet fun' laptop has to offer.
Designed for the professional who doesn't shy away from after-hours gaming, it offers an enticing OLED display and robust performance. If you're seeking a machine that seamlessly switches from client meetings to intense gaming sessions, this might just be your tech soulmate. But for dedicated gamers or those mindful of budget, there are other contenders in the ring.

Stylish professional look

Impressive 16-inch OLED display

Handles gaming and creative tasks with ease

Poor battery life for gamers

Costly compared to other models
ASUS Vivobook Pro 16X OLED Specs
CPU: Intel Core i9-13980HX
GPU: Nvidia GeForce RT 4070 8GB
Memory: 16GB DDR5 RAM
Storage: 1TB M.2 NVMe PCIe 4.0 SSD
Display: 16-inch OLED 120Hz
Resolution: 3200 x 2000
Connectivity: 2x USB 3.2 Gen 1 Type-A, 2x Thunderbolt 4, HDMI 2.1, Ethernet, SD card reader, 3.5mm headset jack, Wi-Fi 6E, Bluetooth 5.3
Dimensions: 13.98 x 0.86 x 9.8 inches
Weight: 8.50 ounces
Design and Display
You know how most high-end gaming laptops come with all those flashy lights and look like they're about to take off into space? The Asus Vivobook Pro 16X is the total opposite. Imagine a notebook wearing a tuxedo; that's how sleek and classy this one is.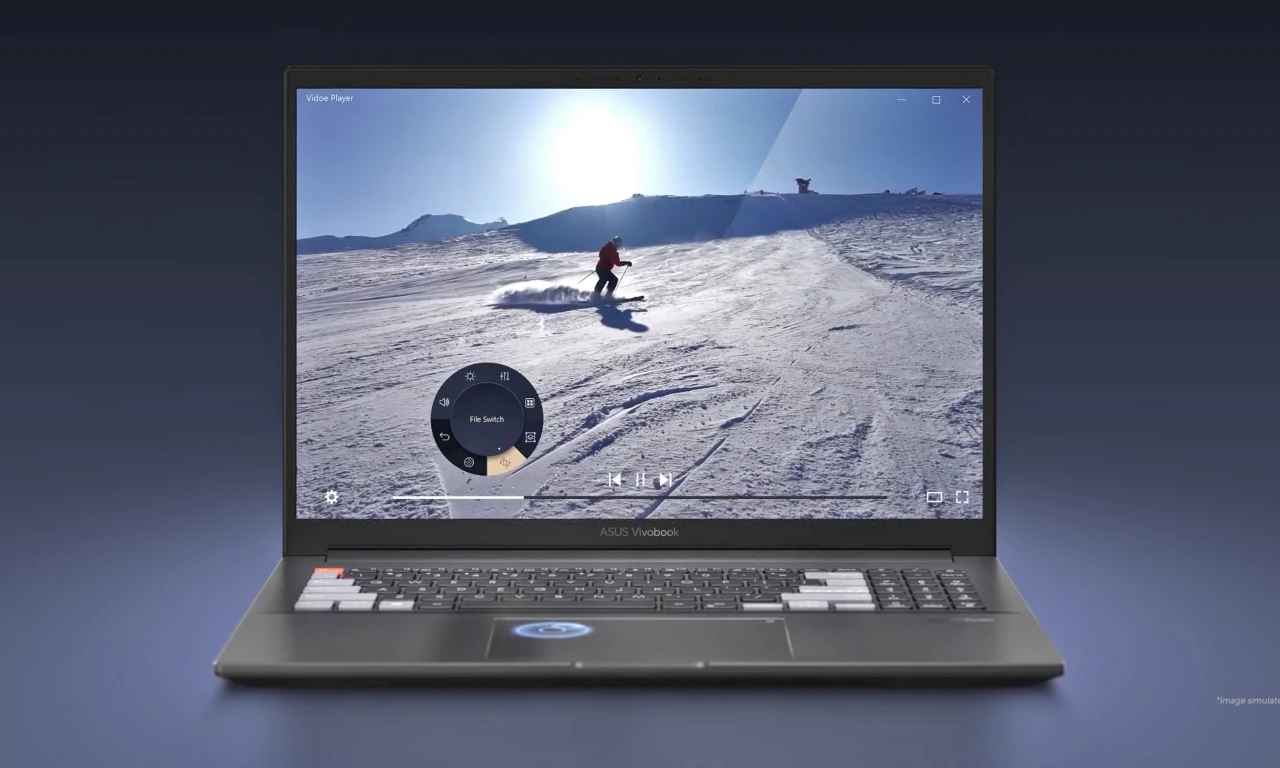 The first thing that caught my eye was its minimalist exterior made with silver, and the branding is so subtle. There's just this tiny plate on the lid that whispers, "Hey, I'm an Asus Vivobook." But then, someone at Asus decided to add some philosophical touch by carving phrases like pushing the boundaries and looking into the different prospects. A bit random, but maybe they were just having a deep day?
Now, here's where things get a tad quirky. Amidst its serious, business silver and grey vibe, there's this orange "Esc" key. It's like the laptop's tiny rebellious streak as it stands out but in a fun way. Plus, it has a practical side – making it easy to find when you're in a rush. And while we're on the subject of orange, they've also added little orange rubber feet and a webcam shutter in the same shade. That privacy shutter is a discreet nod to privacy concerns in our digital age.
But here's the show's star: that gorgeous 16-inch 120Hz OLED display panel. Its 3200 x 2000 resolution makes it a treat for the eyes. Think about binge-watching your favorite series or playing a graphics-intensive game on this display. And if you're like me and struggle with numbers, just know this – the screen's aspect ratio might throw a curveball at some games. But when it works, it's a sight to behold. So, overall, the Vivobook is like that cool, artsy friend who also happens to be a secret gamer.
Hardware
The Vivobook Pro 16X is equipped with the 13th-gen Intel Core i9-13980HX and Nvidia GeForce RTX 4070 with 8GB of VRAM. If those words sound like tech gibberish to you, here's the translation: It's like putting a sports car engine into a luxury sedan.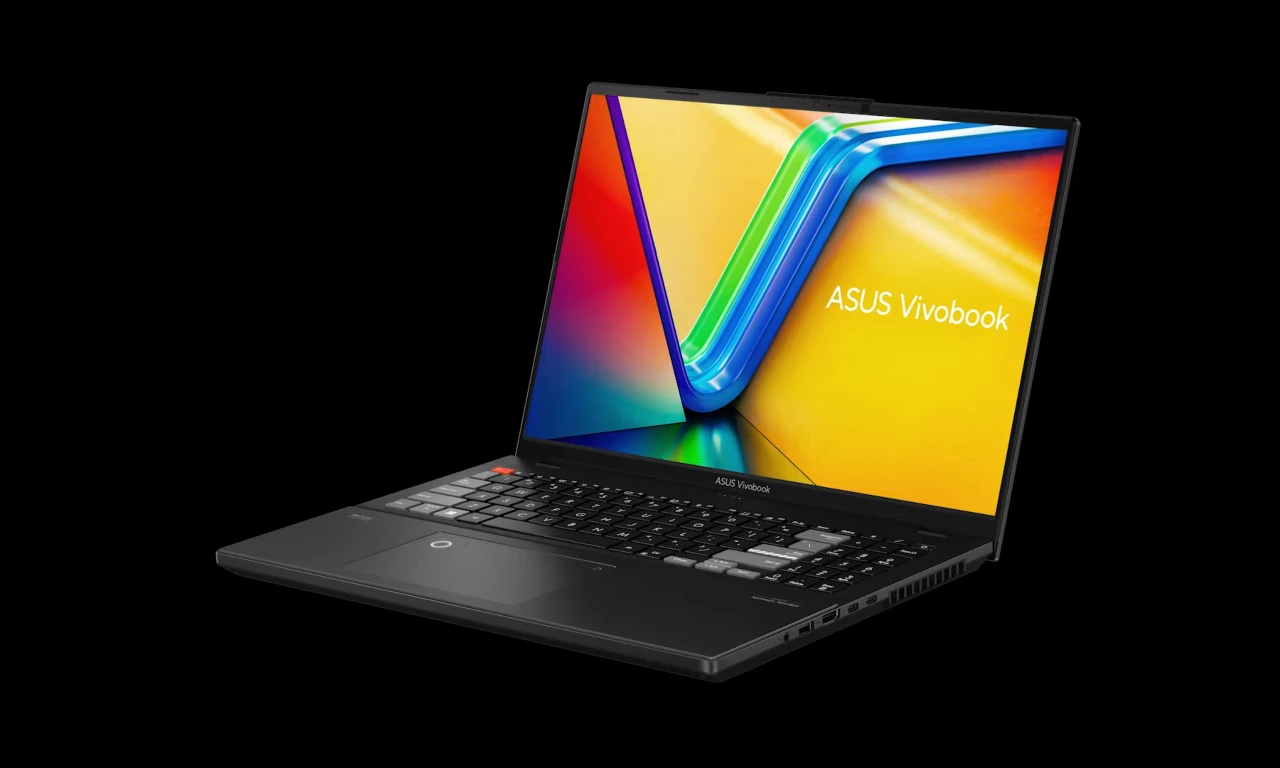 Here's something I found intriguing: straight out of the box, it comes with this Studio graphics driver. Think of it as the laptop's default setting for users dabbling in creative projects. But gamers, fret not! With a quick swap to the game-ready driver (which is a breeze), this machine transforms into a gaming rig. Had to reinstall GeForce Experience in the process, but, a small price to pay for that boost in performance.
But how does it actually fare when you're in the heat of a gaming session or working on a demanding project? The quick answer is: brilliantly! Remember that RTX 4070 I mentioned? It gives your games a buttery-smooth feel. Whether dodging enemy fire or watching a high-res video, this machine delivers a performance that'll make you go, "Is this real life or is this just fantasy?"
In short, if you were wondering whether this laptop is all style and no substance, think again. The Vivobook Pro 16X packs a punch that's sure to impress, whether you're a gamer, a creator, or someone who loves a top-notch device.
Keyboard and Trackpad
At first, you might ask, "Where's the specific dial many Asus models have?" They swapped it for this cool drawn circle on the touchpad. Swipe from the right end side, and voilà, an LED pops up beneath it. Drag or spin your finger around, and you can control volume, screen brightness, and more. It's like having a tiny DJ booth on your notebook. It might not be perfect for your playthroughs, but it's sure a good feature, especially when chilling with some tunes or streaming your favorite shows or movies.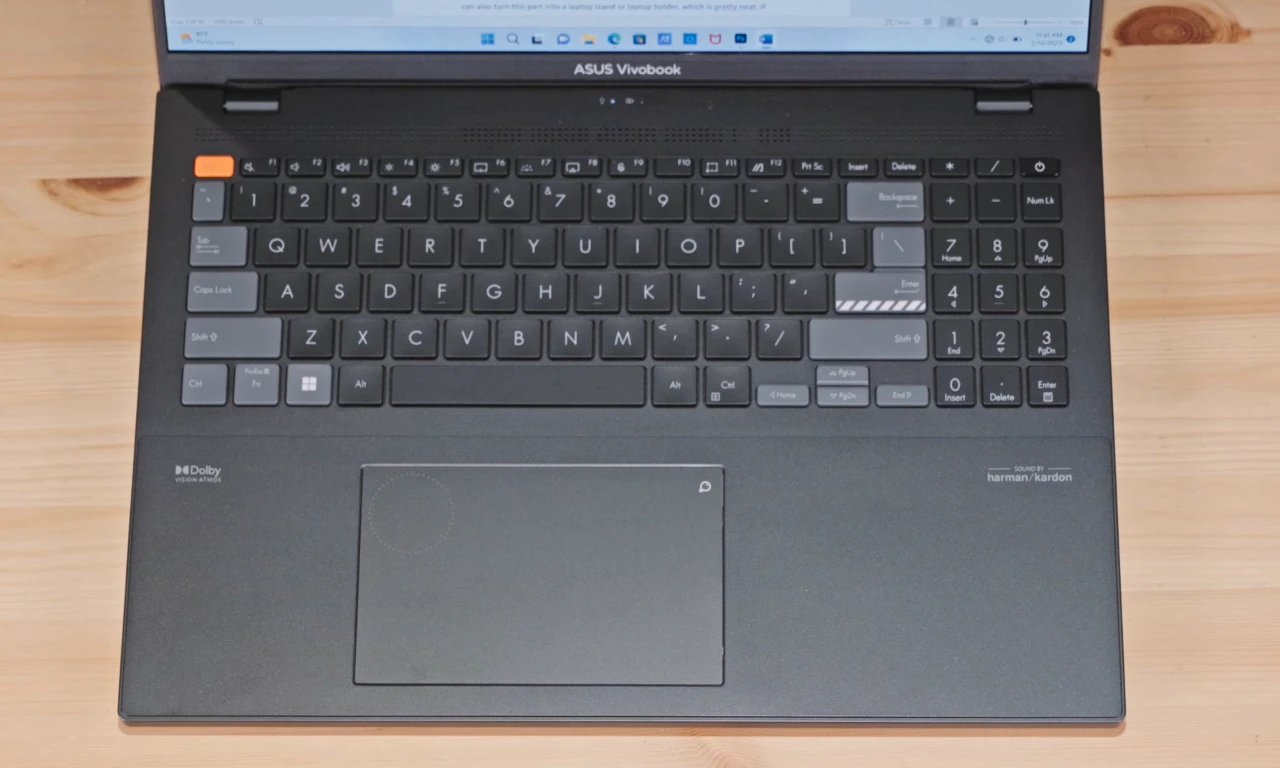 Then there's the keyboard, and it's great. It is incredibly comfortable to type on and has a warm, ambient backlight, making it ideal for midnight typing sessions or playing sessions. And for those who love some extra keys, there's a handy mini numpad snugly fit on the side.
Ports
For all my fellow techies who love their ports (and who doesn't?), this Vivobook has got you covered. There is a full-sized HDMI 2.1 port, a couple of Thunderbolt 4 ports (fast data transfers), a charging connector, and a few USB Type-A ports. These aren't obsolete USB ports—they're up-to-date with the 3.2 standards; they thought of everything. Connectivity-wise, whether you're streaming, gaming, or hopping onto a video call, this laptop ensures you stay connected. With an Ethernet socket, Wi-Fi 6E, and the latest Bluetooth version, it's like the Swiss Army knife of connectivity.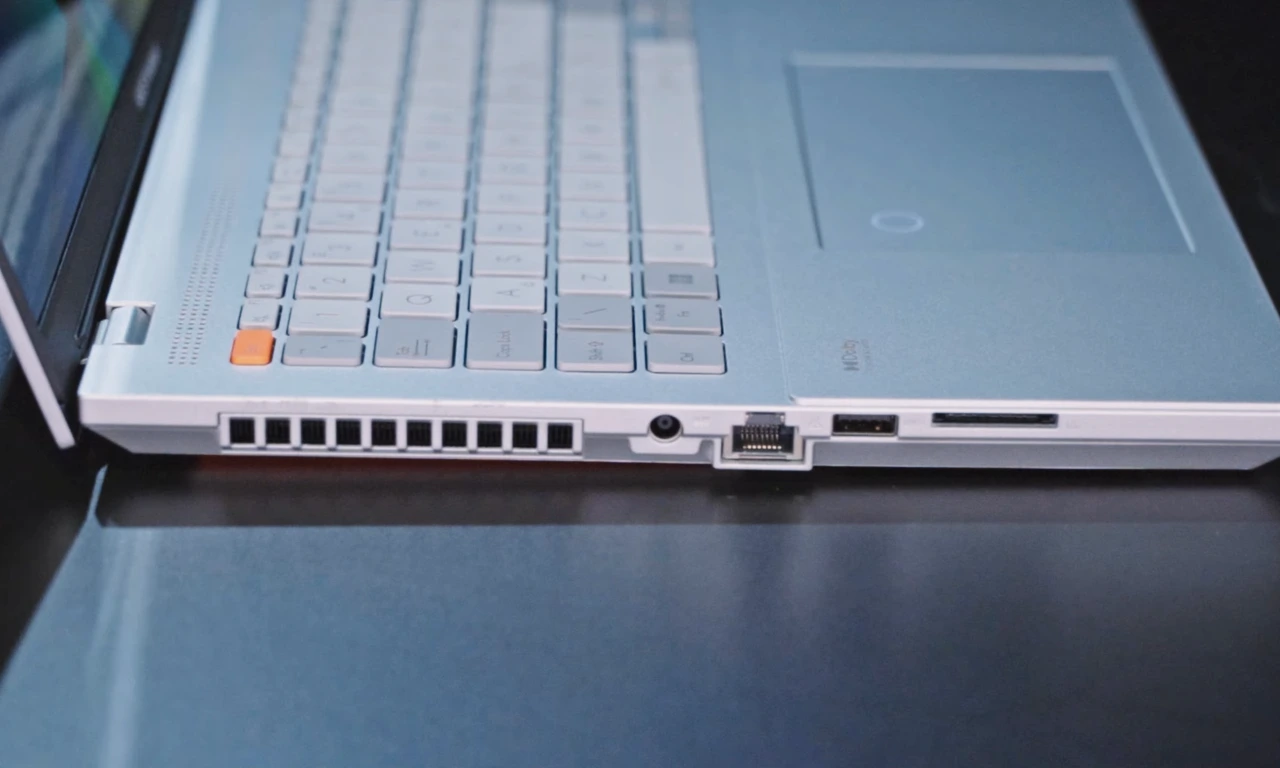 Performance and Battery Life
You might wonder, "Sure, the Asus Vivobook Pro 16X sounds great on paper, but how does it really stack up in real-world performance?"
Assume you own not one but two race cars. While their exteriors may be different, they share the same engine working within their bodies. That's how the RTX 4070 in this Vivobook compares to its gaming counterparts. Once you've jazzed it up with the right driver, this machine is ready to zoom alongside the big gaming models like the Razor Blades, Acer, and Lenovo Legions's gaming rigs.
How fast are we talking? Our tests showed this laptop flexing its muscles, keeping pace with some of the top gaming machines out there. Whether you're battling it out in an online arena or multitasking between heavy apps, the Core i9 CPU and GeForce RTX 4070 GPU combination delivers.
While the Vivobook is a powerhouse, don't expect it to last a full day on a single charge if you push it to the limits. Its battery life is decent, but, let's face it, with all that power and that gorgeous OLED screen, it's like a superhero using its powers – energy-draining but oh-so worth it. In our tests, it hung in there for about 2 hours, and for standard office tasks, it stretched to 5 hours on a single charge. Not marathon levels, but not too shabby, either. Think of it as a sprinter with an impressive dash but not necessarily built for the long haul.
Verdict
If we're boiling it down, the ASUS Vivobook Pro 16X is a bit like that swanky suit-wearing individual who also rocks out at concerts on the weekend. It's got the professional polish for your 9-to-5, yet the muscle to run your favorite games post-work.
That said, it's not a one-size-fits-all solution. If you're all about max gaming aesthetics or want to save a few bucks without compromising on raw power, there are other contenders in the ring worth a peek at. But if you're hunting for a device that straddles the worlds of work and play, turning heads in boardrooms and gaming lobbies, this might be your match. Remember, the tech world is a buffet of choices. And like any great buffet, it's all about finding what satisfies your unique appetite. The Asus Vivobook Pro 16X might be that delectable dish for many, but everyone's palate differs.
ASUS Vivibook Pro 16X OLED Review
Designed for the professional who doesn't shy away from after-hours gaming, it offers an enticing OLED display and robust performance. If you're seeking a machine that seamlessly switch from client meetings to intense gaming sessions, this might just be your tech soulmate. But for dedicated gamers or those mindful of budget, there are other contenders in the ring.