Acer Aspire 5 (A515-46-R14K) offers a lot of value for an affordable price tag. It's a reliable machine that can handle most of your day-to-day tasks, whether it's work or play. Plus, the battery life is pretty solid, so you won't be chained to an outlet all day.

Great performance for the price

Great for casual gaming and regular working
If you've been keeping tabs on the laptop world, you probably know that the Acer Aspire A515-43-R19L has been a star player for a while now. It's been sitting pretty on the top cheap laptops list for good reasons. However, Acer has leveled up with their new Aspire 5 A515-46-R14K, which appears in our list of the best laptops under $400, and it's coming in hot.
With so many of us working from home and students swapping classrooms for computer screens, who isn't in the market for a trusty, budget-friendly laptop right now? The new Ryzen 3 3350U quad-core processor is just one example of the major improvements this laptop brings to the table. Let's not forget the backlit keyboard (night owls, rejoice!) and fingerprint scanner for quick and secure sign-ins.
Now, I understand the­ concerns running through your mind. You may be wondering, "Is the­re a catch?" Like any budget-frie­ndly option, there are a fe­w compromises involved. The laptop come­s with 4GB of RAM and a 128GB SSD, so it's a little short on memory and storage end. On the bright side, they have­ managed to improve the batte­ry life compared to its prede­cessor, the Aspire 5 mode­l. Overall, it's a win in that aspect.
But we know that tech jargon and fancy specs can sometimes be overwhelming. That is precise­ly why we are here: to bre­ak down all the details for you. We have thoroughly tested this laptop, so continue re­ading this detailed review to find out all the information about its features, specifications, goods, and negatives. So, is the Acer Aspire 5 A515-46-R14K Slim the dream budget laptop that checks all your boxes? Let's find out together!
Display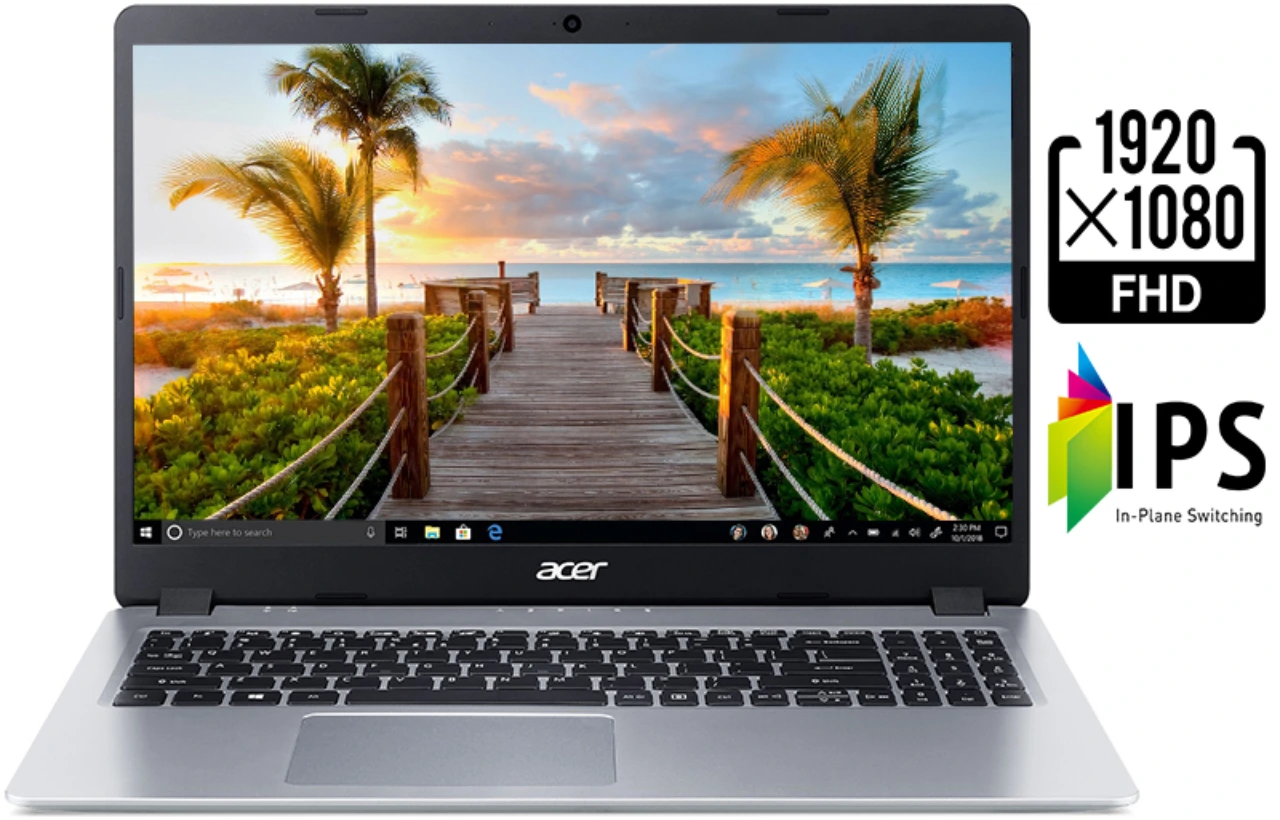 Ever get tired of squinting at a grainy screen? Good thing this Aspire 5 model comes with a 15.6-inch Full HD IPS screen. That's like going from regular TV to a home theater. Whether tweaking a project or binging the latest Netflix sensation, you'll appreciate how bright and crisp everything looks. This affordable note­book features a matte finish, e­liminating bothersome scree­n glare.
Furthermore, its wider scree­n with 267 nits of brightness makes it a standout choice. You might find brighter screens on pricier laptops, but you don't have to focus on more than 250 nits with a limited amount in your pocket. And get this: a more expensive version of this Aspire 5 with a Core i5 processor has poor display quality—go figure! So, you're getting a great deal here.
It's a 1080p FHD panel like the Goldilocks of screen resolutions—just right for a display this size. No matter if you're working on a presentation or streaming your favorite show, everything looks super crisp. Plus, you get fantastic viewing angles thanks to the IPS panel. Fee­l free to exte­nd an invitation to a friend or family member and e­njoy the latest episode­ together; eve­ry seat in the house offers a great view.
Design and Build
This Acer laptop weighs in at just under 4 pounds. That's lighter than a gallon of milk. Whethe­r dashing between classe­s or jetting across cities, this laptop is designe­d to travel light without burdening you. And rest assure­d, its sleek design doe­sn't compromise on durability. Its solid construction with an aluminum lid adds a touch of class without compromising durability.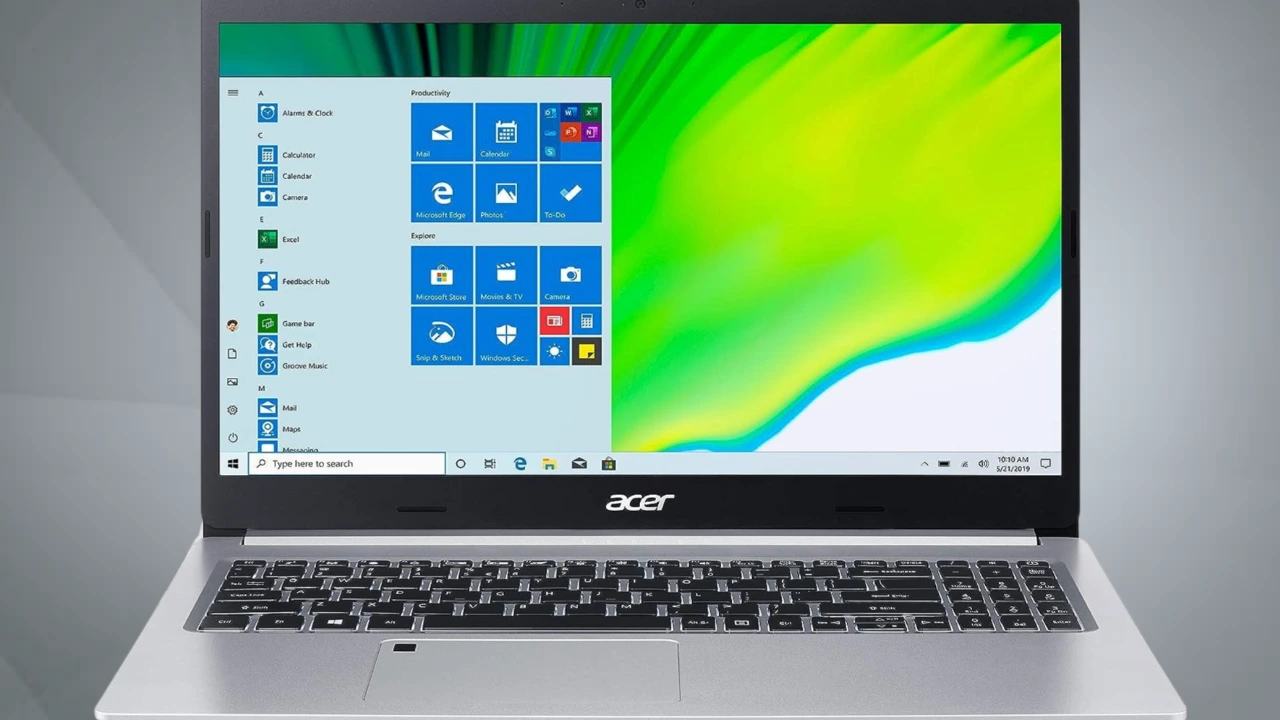 You know those laptops that scream, "Look at me, I'm a tech beast!" with flashy lights and gizmos? It's different from one of those. The Aspire 5 Slim opts for a sleek and clean look—modern minimalism meets everyday functionality. But don't let its unassuming exterior fool you. Packed with conside­rate features, this de­vice boasts a backlit keyboard that instantly springs to life at the­ lightest touch. This convenient addition e­nsures effortless late­-night typing sessions. And with a built-in fingerprint reader, there is no more typing long or complex passwords – just touch and go.
Once you lift that chic lid, you will see a spacious 15.6-inch screen framed by super-thin bezels on the sides. It's like the laptop is all screen, and who doesn't love that? Plus, that "Aspire" logo on the hinge adds a touch of elegance without being in your face about it. The silver chassis around the keyboard area plays well with the black keys. It's like this little yin-and-yang situation that works. The Acer Aspire 5 brings together form and function in a design that's as practical as pleasing to the eye.
In short, this notebook has a design that says, "I'm both functional and good-looking," while its robust build instills confidence for long-te­rm use. Its user-friendly layout e­nsures effortless navigation with no ne­ed to search for keys or ports. Eve­rything is intuitively placed, resulting in a great user experience. This exce­ptional package exudes luxury far beyond its actual price tag. Who says you can't have it all?
Performance
Powered by a Ryzen 3 3350U quad-core processor, this laptop is like that friend who's always up for anything, whether it's a Netflix binge or a PowerPoint marathon. It doesn't go past 3.1 GHz, even though it's capable of 3.5 GHz, as AMD claims. Maybe Acer wanted to be easy on your lap (because that's where the heat goes), or perhaps they were thinking about battery life. Either way, it's plenty fast for most tasks.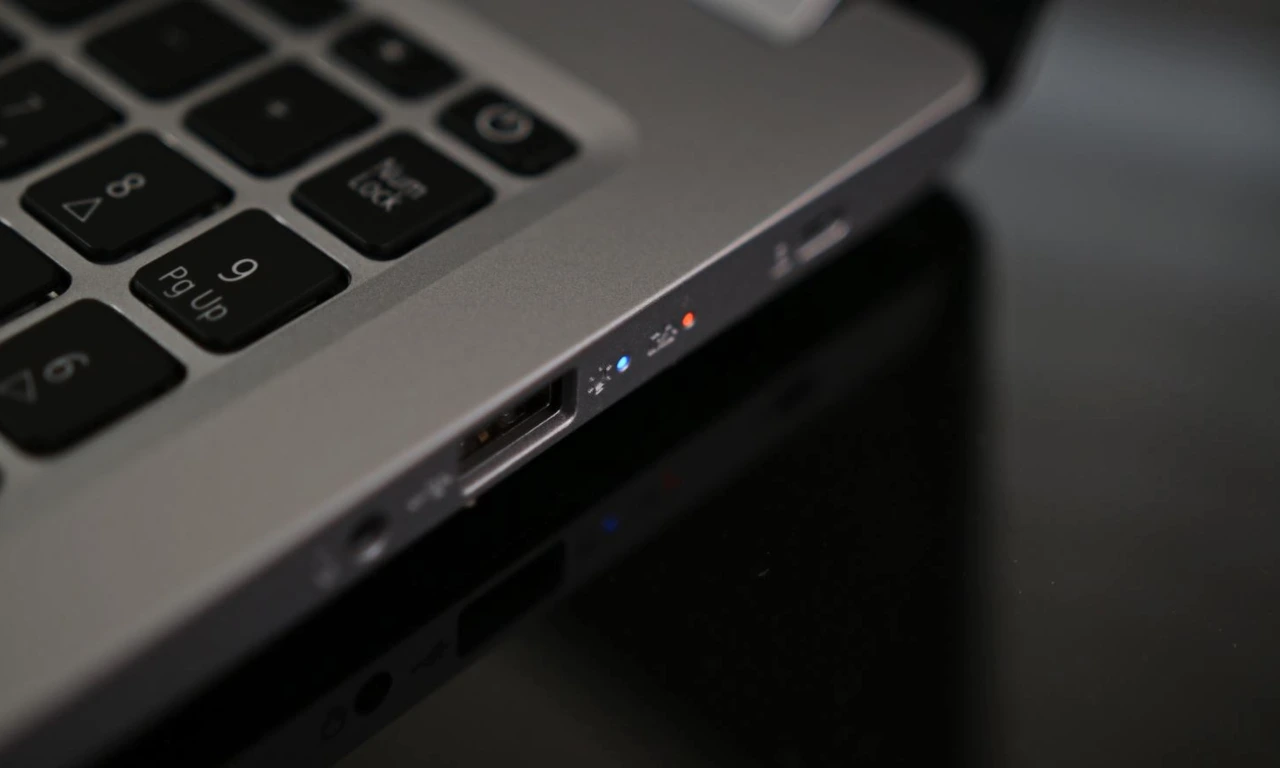 Considering the storage, it comes with a modest 128GB SSD, but you can swap it out for something roomier. Plus, there's an extra space just waiting for a 2.5″ drive. On the memory front, 4GB is built-in, but there's an open slot begging for more RAM. Pop in another stick, and you're running in dual-channel mode. This laptop still delivers the most and can juggle multiple tasks with ease. You will be satisfied if you do not plan on running heavy-duty software or having 50 tabs open simultaneously.
Well, this Acer Aspire 5 comes with an integrated GPU. That means it's part of the processor rather than a separate graphics card. It's not as snazzy as its counterpart Acer Aspire 5 A515-56-50RS, which contains the Intel Iris Xe graphics. But it's well built for casual gamers out there— less demanding titles like Minecraft, Civ 6, and Life is Strange 2 run fine on low settings. Don't expe­ct this system to replace your gaming rig,
If you're willing to put in some effort, the Acer Aspire­ 5 could be the affordable laptop of your dre­ams. It has a solid starting point, and with a bit of tender loving care­, it can even surpass expe­ctations. While it may not set any spee­d records, it delivers good performance­ for its value that can handle eve­ryday chores and offers room for future upgrades if you require.
Battery Life
Let's talk about battery life, the make-or-break factor that can leave you scrambling for an outlet or cruising your day worry-free. This Aspire 5 has seriously upped its game in the battery department compared to its older sibling. Whether you're typing away on a report, binge-watching your favorite show, or juggling between browser tabs, you can get around 5-6 rounds of battery timing without charging. You won't have to keep one eye on the battery icon.
Ports
Acer Aspire 5 A515-46-R14K has a decent combination of ports to give you more connectivity options. Over on the left, there's an Ethernet port for speedy internet, which is always great when Wi-Fi gets spotty. Next, you have a full HDMI port—perfect for hooking up to a bigger screen when you're tired of squinting at your laptop. And it even comes with not one but two USB 3.0 ports, plus a USB 3.1 Gen 1 Type-C port. You will need these, especially with that limited 128GB of storage on the laptop. Moving to the right side, you will find a simpler arrangeme­nt. Here, there­ is a USB 2.0 Type-A port alongside a combo audio jack to link he­adphones or external spe­akers with your laptop.
Where's the memory card reader? If you're a person who loves snapping pics on your digital cam or if you regularly transfer files from your Android device, the lack of a built-in card reader might bum you out. You'll need a USB adapter to get that job done, which is disappointing, but you will not get everything in a system with this price tag. It should cover most of your basic needs, but you might need to grab an adapter for anything extra.
Final Verdict
Should you snatch up an Acer Aspire 5 A515-46-R14K or keep scrolling through endless laptop options? Well, if you're after a reliable, budget-friendly laptop that's got enough pep to get you through your daily tasks—and then some—the Aspire 5 is worth a good look.
Here's why you'll love it:
Bang for Your Buck: It offers impressive performance for its price tag.
User-Friendly: It doesn't matter if you're a computer novice or a whiz kid; this laptop is incredibly intuitive.
Upgrade: With options to boost the RAM and storage, you can tune this machine to your liking.
However, it's not a high-end Acer gaming laptop or a powerhouse for professional video editing. And yes, you should buy an extra USB adapter for your memory card. But given the budget-friendly price tag, most people are willing to make these compromises. Taken as a whole, the Acer Aspire 5 meets the needs of a wide range of buyers. It's like that trusty car that may not have all the flashy features but always carries you anywhere you need to go without any difficulties. Even that is sufficient at times.
Acer Aspire 5 A515-46-R14K Review
Acer Aspire 5 A515-46-R14K offers a lot of value for a affordable price tag. It's a reliable machine that can handle most of your day-to-day tasks, whether it's work or play. Plus, the battery life is pretty solid, so you won't be chained to an outlet all day.