One simple click can turn off the annoying element of the home screen in the latest Apple's iOS 16 update.
iOS 16 is available now for download, you will likely discover some brand-new features and customization options that you truly enjoy, and a few that you don't. Even if you are upgrading to the iPhone 14, this factor still stands.
The introduction of the new Search button in iOS 16 at your iPhone's home screen bottom, just over the dock has been met with much controversy. With the new iOS update, Apple decided to change the main display of its devices, and the addition of a search option is one aspect of that. But the majority of iPad and iPhone users are not pleased with that and feel the new home screen is very irritating with this feature.
Despite the fact that iOS 16's Search function is helpful for quickly locating messages, files, settings, websites, and even photos but it is awkwardly positioned. Thus, it becomes very usual to tap on it by mistake as you swipe between screens and don't want to hit that button.
Whenever the Search button is accidentally pressed, it expands to fill the entire display. And after that, to return to the main screen, you must perform the irksome action of swiping away from the option.
Thankfully, there is a simple workaround for permanently removing the Search button from your home screen.
How to Remove the New Search Button in iOS 16
If you have updated your iPhone or iPad device to iOS 16 and want to get rid of the new Search feature, then open your device Settings. After that, navigate to 'Home Screen', and disable the 'Show on Home Screen' under the 'Search' option.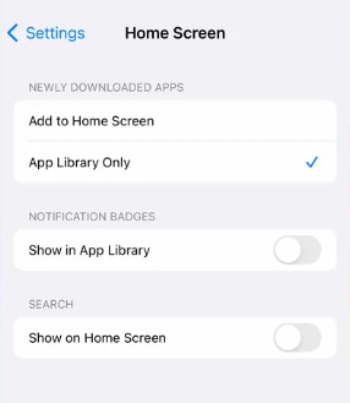 The Search button will now be replaced by a series of dots that serve as indicators of the different home screen pages. Now, it doesn't matter where and how many times you tap on that area accidentally as nothing will happen after that.
Despite the absence of a dedicated home button, the Search option can still be accessed in a typical manner by swiping down from any screen location.