If you're all about hitting epic goals with your turbo-charged cars and showing off those wild soccer-with-vehicles skills, you're probably wondering, "Is Rocket League cross-platform? Can you team up and compete with friends across different gaming systems?" We have got the details for you.
Rocket League is a wild mix of football and driving – a place where cars and sports collide in the best way. It's super fun, but it might take a little time to get the hang of its gameplay mechanics and controls. Once you do, though, you'll be racing and scoring goals before you know it.
It truly is the game that brings players together, no matter the platform. Whether you're a PlayStation enthusiast, an Xbox aficionado, a PC gamer, or a Nintendo Switch fan, having Rocket League's crossplay capabilities means you can play with or against your friends, regardless of the console they use. This guide will explain everything you need to know regarding cross-platform play in Rocket League.
Is Rocket League Cross-Platform or Crossplay?
The short answer is yes, Rocket League is totally cross-platform and lets you play together whether you're on PlayStation, Xbox, Nintendo Switch, PC, or Mac. If you find the crossplay option turned off, there's no need to panic. Flipping it back on is a breeze, so you'll be back to sharing the field with friends in no time.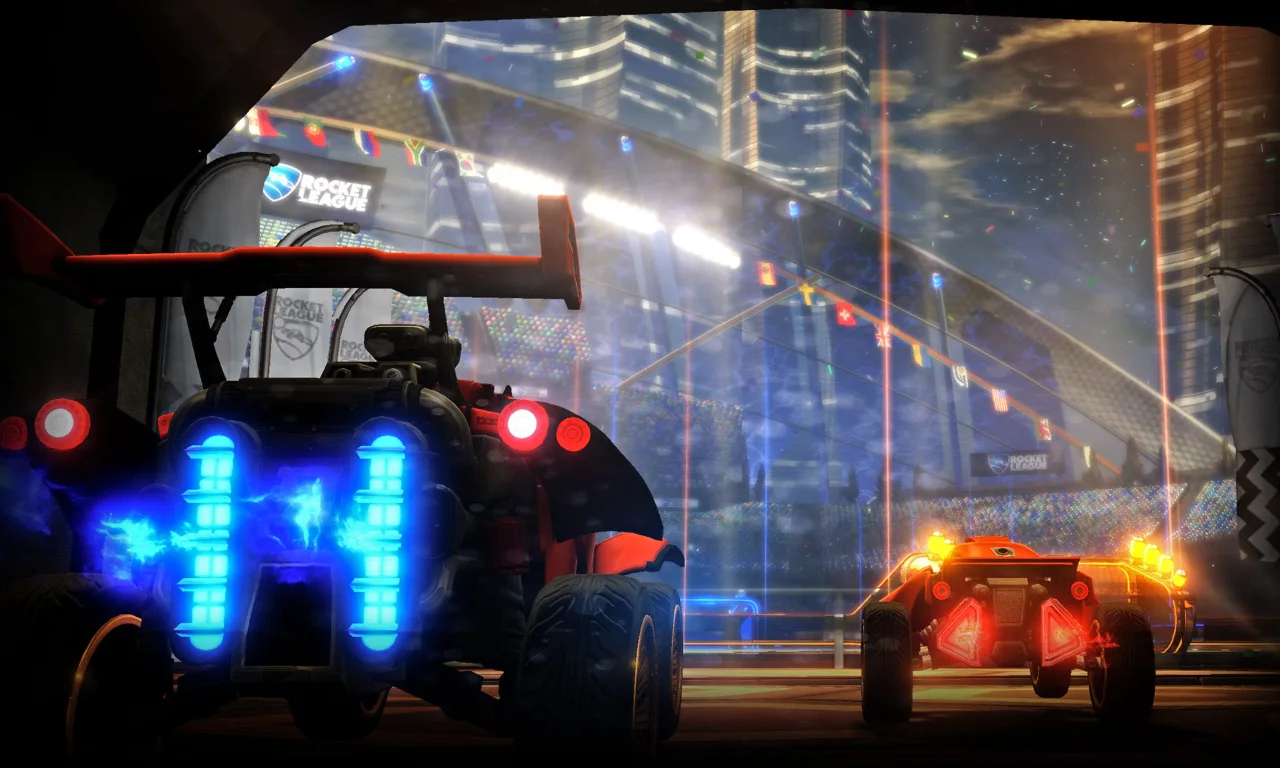 Enabling Rocket League Crossplay
By default, Rocket League is enabled and set to play nice with friends on other systems. But sometimes, settings can change without us noticing. If you're ready to dive into football matches with players between different platforms and it's not happening, here's a quick fix:
Open Rocket League and hit the Main Menu.
Go to Settings and look for the Gameplay tab.
Find the option 'Cross-Platform Play' and give that checkbox a tick.
You're all set to hit the field with friends, whether they're on Xbox, PlayStation, PC, or Switch.
If you're in the mood for some private matches with just your buddies, Rocket League's got you covered regardless of the consoles you're all using. Here's how to get the party started:
Hit up the Main Menu when you launch Rocket League.
Click on 'Play'.
Choose 'Private Match'.
You can either join an existing one or create a new lobby where your friends can jump in – and they can do so from any platform they're playing on.
Does Rocket League have Cross-Progression?
Rocket League isn't just about playing together across multiple platforms – it also lets you keep your progress wherever you go with cross-progression. When the game switched to free-to-play, they rolled out this awesome feature.
Here's the scoop on how to keep your cool stuff or progress transfer across different devices:
First up, you'll need an Epic Games account. If you don't have one, no worries – it's super easy to set up. You can create one on their website, or the game will let you make one when you first start it up.
Once you've got your Epic Games account, you'll want to link your Rocket League account to it. Just head over to their site page to do the linking thing.
After everything's linked up, you can log in to the game on any device, and like magic, all your progress, items, and ranks will be waiting for you.
And there you have it – that's the lowdown on cross-platform in Rocket League. Keep your game strong and your cars flashy, no matter where you play.
Related: