Even if you are not crazy about Elden Ring you must have heard its name already as it is all over the Internet. Elden? Elder's Scrolls? Nope. Rings? Anything related to our favorite Lord of The Rings saga? Not at all! So, what is it all about?
Elden Ring is an upcoming action role-playing game that a majority of gamers around the world are waiting for at the edge of their seats. But what's with all the buzz? Well, the game is made by FromSoftware, the guys who gave us Dark Souls, Bloodborne, and Sekiro, so it is safe to say that this might be their most polished game if we are to follow the trend.
The Japanese developers are raising the bar higher and higher with each game so far. What's really special here is that FromSoftware is joining forces with the guy who wrote the Game of Thrones novels, George R. R. Martin himself, in a collaborative effort to create an immersive world and story.
Did we get you hooked yet? No? Just wait until you read the further details below, but make sure to get your PlayStation Gift Cards from OffGamers while looking for the Elden Ring release date.
World and Story
Despite being showcased back in 2019's E3, we had no idea what the story or the world of the game would be like until recently. Of course, it was clear that big things are coming when it was revealed that George R. R. Martin is in it, but we're definitely hungry to hear more.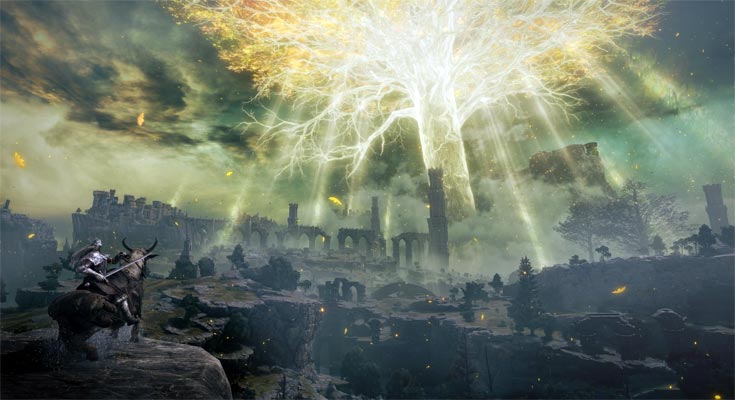 In a recent interview with the British writer, he shared with us that the game is a sequel to Dark Souls, and its fantasy setting will be as complex as Tolkien's Middle Earth and the Hyborian Age of Robert E. Howard. This definitely speaks for itself! He clarified that he took extra care in the world-building of the game and finished his part in this ''years ago''.
The game will take place in a twisted fantasy world called Lands Between, being ruled by Queen Marika the Eternal. Her children – the Demigods had stolen the pieces of the powerful relic – the Elden Ring. And by doing so, each of them was granted enormous power, at the cost of being corrupted.
The ring itself is connected with Eritrea, an enormous tree that connects the earth with the sky. The shattering of the ring started a great war in the Lands Between. The resemblance to Tolkien's Lord of The Rings is glaringly obvious, which can be a good thing.
Alright, we know who the bad guys are. What about the good guys? The main protagonist is a part of the "Tarnished", which are some of the few remaining human beings in Elden Ring's world that are being mostly described as 'the undead'. He was granted the task of recovering the Elden Ring and becoming the Elden Lord. It was hinted to fans that the Tarnished are possibly outcasts of the "Golden Order", who were the true guardians of the Elden Ring in the past.
Gameplay and Combat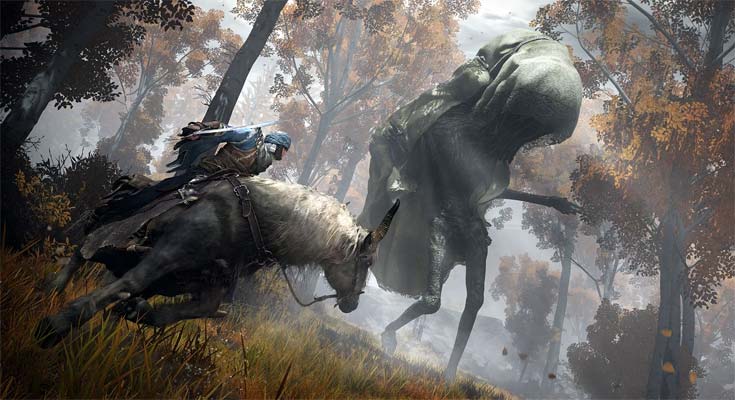 We never got to know much about the gameplay until we got that awesome gameplay trailer on the 17th of June. The game would no doubt step on the very foundations of the Dark Souls games, a solid formula that won't be changed but apparently expanded further.
What the trailer showed us was that the combat will be much more complex as it will be heavily branched to conventional weapon attacks, stealth attacks, ranged combat and what really shined was the magic that will apparently be playing a huge role in combat.
Exploration is going to be a major gameplay element which also indicates that the game will feature a huge partially or completely open-world setting. Considering how high today's standards are in terms of open-world game scales you can definitely bet that the horse will be your best friend here. Mounted combat? Check!
Will you be dying a lot in Elden Ring? Most likely, yes, but the trailer showed that just like in Sekiro, you will be able to jump, dash around enemies and dodge their attacks. So there might be a way to survive enemy attacks if you are fast and nimble enough…or at least a mere delay for your death.
Multiplayer Mode
Even though having a multiplayer mode in a Dark Souls game will not be a first, it is expected that this time FromSoftware's newest game will be more co-op oriented than ever before.
Rather than having the option of just having friendly ghosts to move and fight alongside, this time we will be able to actually explore the game's vast world with up to 4 friends in co-op. Two swords fight better than one, let alone four! We are still to get more details regarding the true form of the Elden Ring multiplayer mode, but so far it looks quite promising.
Elden Ring Release Date and Platforms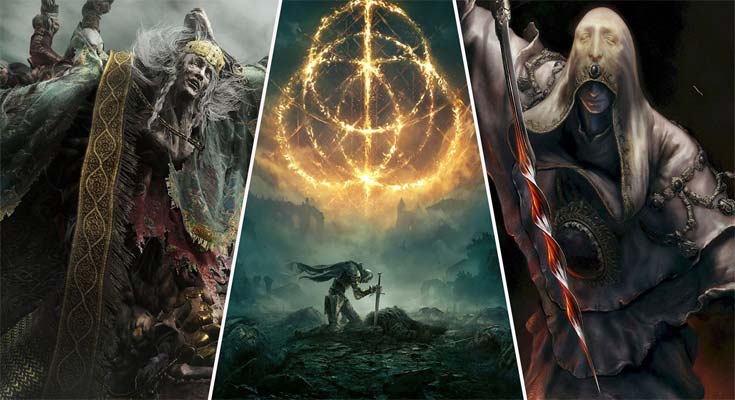 If what you read above already made you a fan of Elden Ring then you most probably are already asking the big question – What is the Elden Ring release data? When is it coming and what will be the Elden Ring platforms? Until the most recent trailer, we knew that the game was coming simply for PS4, Xbox One, and PC, but now we can safely say that it is also coming for the Xbox S/X and PS5. If you buy a PS4 or Xbox One version, you are also getting a free upgrade to the next-gen version. Happiness is in the little things they say, huh?
The Elden Ring release date was also revealed – January 21, 2022. Don't get over-excited as lately a lot of games are getting delayed. So prepare yourself mentally if this is not exactly the actual release date.
Elden Ring's Hype
Everything you read above is inevitably leading to crazy amounts of hype. This is not a bad thing at all, but can sometimes lead to quite controversial outcomes, just like what happened with Cyberpunk 2077. The moral of the CD Projekt Red story was not to over-hype fans as it can lead to apocalyptic scenarios.
Fingers and toes crossed that Elden Ring actually manages to justify all the noise it is making when we enter its glorious monstrous fantasy world and never want to get out of it.