Are you facing the Elden Ring low FPS and performance issues? Don't know how to fix them and improve the game's performance? Don't worry; we are here with some solutions to help you.
Undoubtedly, Elden Ring is one of the top-class games we have seen so far in the decade developed by the FromSoftware. It's worth noting that the game's developers have a reputation for shoddy optimization of the titles. PC gamers were initially displeased by Elden Ring's relatively high minimum system requirements. Many users have reported the Elden Ring low FPS & performance issues on their PCs. So, the result is the overall bad experience of the game.
On desktop PC, Elden Ring performance issues began to deteriorate. Being a professional gamer, you can't imagine anything worse than playing a newly released fantastic game for the first time and then having problems with it. Although these performance concerns have arisen, everyone is not facing them. There are several possible explanations for this. So, if you're also among the unhappy gamers, here are a couple of workarounds to tide you over. Maybe, the devs will progress and improve the performance by providing patch notes soon.
How to Fix Elden Ring Low FPS & Performance Issues?
Even players with heavy graphics cards also face some lag and low FPS problems. Although, you can try the following fixes to overcome these Elden Ring performance & low FPS issues until we get some good news from the franchise.
But before we look at the possible solutions to fix the Elden Ring low FPS and performance problems, it's essential to check out that your PC is good enough with solid hardware to run this game. Initially, FromSoftware provided the Elden Ring system requirements and later removed them. But again, these are eventually being made public by the company. Prepare yourself for the experience by reviewing the specifications of your gaming system.
Elden Ring Minimum Specifications:
Processor: Intel Core I5-8400 or AMD Ryzen 3 3300X
Memory: 12GB RAM
GPU: Nvidia GeForce GTX 1060 3GB or AMD Radeon RX 580 4GB
DirectX: Version 12
Storage: 60GB of available space
OS: Windows 10
Recommended Specifications of Elden Ring:
Processor: Intel Core I7-8700K or AMD Ryzen 5 3600X
Memory: 16GB RAM
GPU: Nvidia GeForce GTX 1070 8GB or AMD Radeon RX VEGA 56 8GB
DirectX: Version 12
Storage: 60GB of available space
OS: Windows 10
Playing this open-world action shooter is fun, but the developers face criticism due to these flaws. If you're also having issues with low frame rates or performance, here are some fixes you can try:
1. Restart Your PC
It's always a good thing to restart your computer if you face any lag or bugs. Rebooting the PC refreshed the whole system, and then it moved back to normal. Many issues can be resolved quickly, especially if you are gaming and facing performance issues in the game. Then, your first step should be to restart the PC. Anytime you face Elden Ring performance issues and any lag, it may fix the problem.
2. Update GPU Drivers
Updating your graphics card's drivers and keeping it up to date is the most crucial factor to keep in mind because this may result in the poor performance of graphics in many games.
Please make sure your Windows is up-to-date in terms of the graphics driver. Probably, your graphics card drivers need to be updated. So, check out if any updates are available? If yes, then update the drivers immediately. A quick update to your GPU drivers may be all you need to resolve this issue. Don't do it, and you may end up with a sluggish game.
All those who have Nvidia GPUs in their systems can update their drivers using Nvidia's GeForce Experience software or visit this link to download from the company's official website.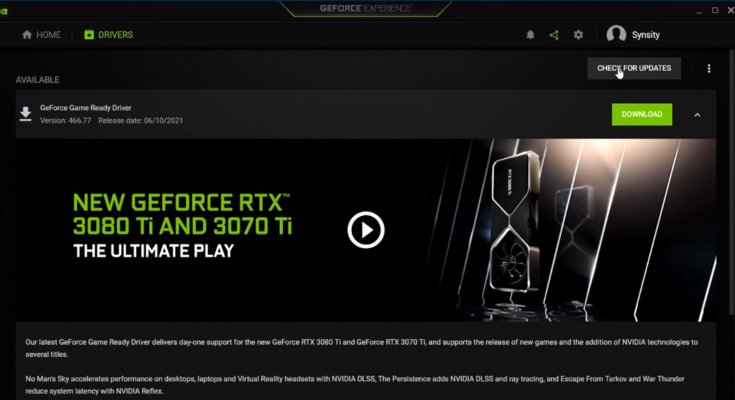 On the other hand, if you have chosen the AMD Radeon graphics card instead of Nvidia GeForce, updating the drivers for AMD GPUs is also very similar and easy, just as to do in the case of GeForce. You can directly update them by using Radeon software or visiting the official site to download.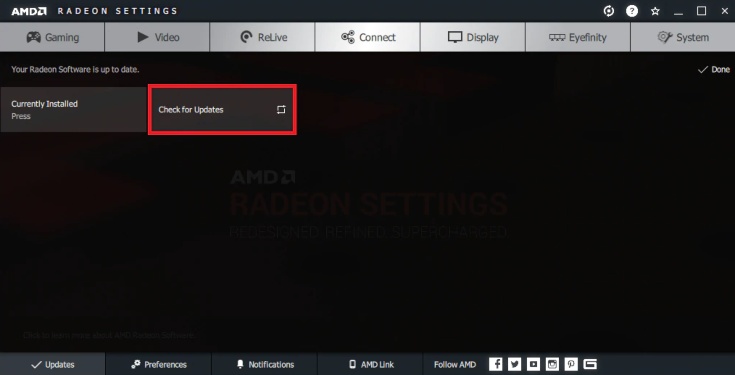 3. Change Graphics Settings
Making the game files run faster by setting them to high-performance mode is one way to see if performance improves. By moving into the "Graphics settings" in Windows, you can do it. Open the desktop app and navigate to the game's file location. For best results, turn it on at its highest setting.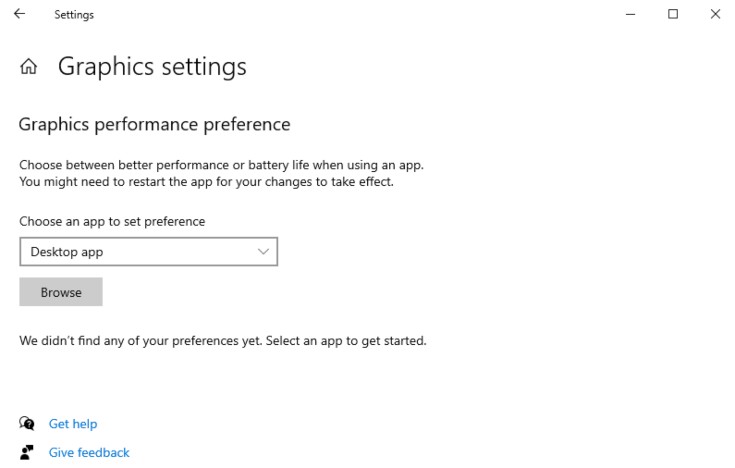 Several gamers instantly fixed their FPS problem after modifying the GPU driver settings. So, below are the recommended settings for both Nvidia and AMD users.
Nvidia GPU:
Move to the Nvidia Control Panel. There, you will see the Adjust Image Settings and Preview option, click on it. From here, select Advanced 3D Settings and apply the following options:
Vertical Sync: On
Texture Filtering Quality: High Performance
Max Framerate: 165
Low-Latency Mode: Ultra
OpenGL Rendering GPU: Graphics Card
Power Management Mode: Maximum Performance
AMD GPU:
In the case of an AMD Radeon graphics card, simply go to the AMD Control Panel and apply the following settings:
Radeon Chill: Disabled
Radeon Boost: Enable
Texture Filtering Quality: Performance
Radeon Anti-Lag: Enabled
Anisotropic Filtering: Disabled
Surface Format Optimization: Enabled
Tessellation Mode: Off
OpenGL Triple Buffering: Disabled
Morphological Anti-Aliasing: Disabled
4. Check Out Windows Updates
Not only your GPU drivers, but your Windows should also be up-to-date all the time. It's essential for the games, but the PC performance depends on Windows. So, go to the "Windows Update settings" from the search bar and check out whether the new updates are available or not.
If your system is up-to-date, then you don't need to worry. If Windows updates are available, then install them right away. It may also cause the Elden Ring low FPS and performance issues you are facing.
5. Set Global Shader Cache Size to Unlimited
The Nvidia control panel is available once Geforce Experience software is installed. Click on the "Manage 3D settings" tab from the control panel. You will see the Global Settings option. Under this, there is a Shader Cache Size option which you can see after scrolling down a little. Set it to global and apply the settings. If you want, set the power performance to high to get more improved results.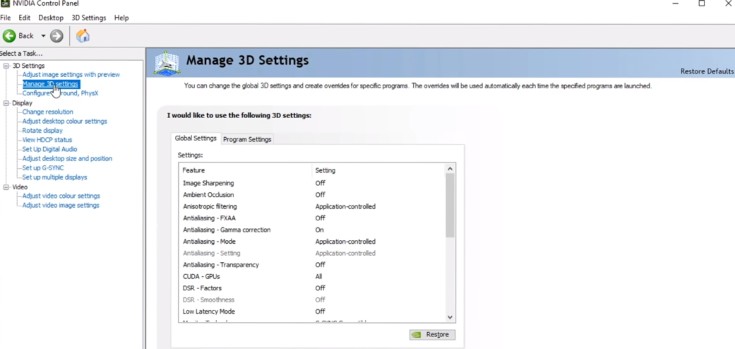 6. Verify Game File Integrity
Here is another possible fix to resolve the Elden Ring performance issues by verifying the game file integrity through Steam Client. This method has done the job for many people. Below are the steps to perform this:
Launch your Steam Client
From the Steam Library, right-click on Bloodhunt and open the properties.
Click on the Local Files and select Verify integrity of the game files.
Hopefully, this trick will resolve the Elden Ring low FPS problem for you.
7. Disable Steam Overlay
The steam overlay can also be the reason for performance issues, especially in the newly launched modern games. Suppose you want to disable the Steam overlay, select Elden Ring in your library, and select Properties. Uncheck the Steam overlay option to turn it off and close the window. Playing the game after disabling this may improve the performance.
In-game Settings of Elden Ring
Now, let's also look at the Elden Ring settings to see if there are any fixes for performance issues and low frame rates. Strike the right balance between fixing Elden Ring low FPS problems and making the game look better by playing around with your hardware. If you've got a GTX 1070 Ti or higher, try these Elden Ring settings for a more gradual boost in frame rate:
Texture Quality – Medium
Antialiasing Quality – Medium
SSAO – Low
Depth of Field – Medium
Motion Blur – Off
Shadow Quality – Medium
Lighting Quality – Medium
Effects Quality – Medium
Volumetric Quality – Low
Reflection Quality – Low
Water Surface Quality – Low
Shadow Quality – Medium
Global Illumination Quality – High
Grass Quality – Low
But only apply the settings as shown in the below image if you have at least RTX 3070 or higher GPU.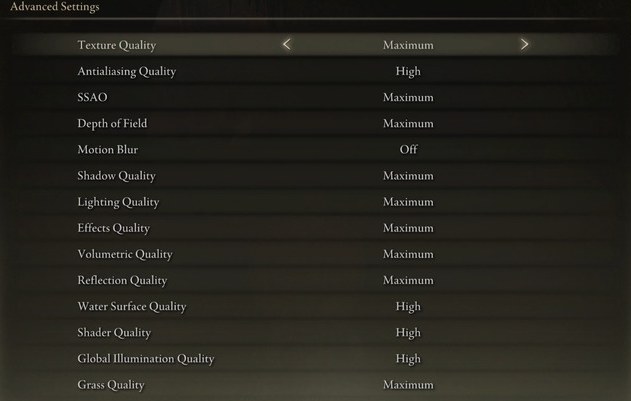 There's no way to know for sure what you'll get until you play. If Elden Ring's FPS is still too low despite your adjustments, you'll have to find another solution. Start by reducing the quality of the textures and shadows and look at what will happen.
Conclusion
Regardless of how you feel about the game, you can't deny that Elden Ring is a great release at the start of the year. So, experiencing stability problems that are so severe is disappointing. In any case, we should be confident that FromSoftware is working hard to improve the game, and the devs will improve it soon.
If in a hurry, we sincerely hope that some of these solutions will improve the Elden Ring performance issues and that you will not experience low frame rates as a result. Many bugs will be addressed in future patches, which might be released relatively soon. However, this guide is especially for all the Elden Ring lovers to get the most out of the game.