Is your Discord app acting up? Showing you an unread Direct Message (DM) even when you've combed through every single one? Well, if you are worried about why your Discord direct message won't go away, a lot of users typically face this tricky Discord issue and it's frustrating, but it's also simple to resolve.
This DM notification on Discord without any new message is usually a prank pulled by the Nitro promotion sent to you. Yes, that's right! This Nitro promotion is the secret squatter causing all this commotion, making it seem like you have a new message, even when you don't. Sometimes, the friend requests can also be a sneaky source of the Discord red dot appearance. In this article, we'll walk you through the steps to fix Discord direct message notification won't go away, and will sort out this problem in no time.
How to Fix the Discord DM Notification Won't Go Away?
Maybe, your mind is stuck to consider this issue because of the new messages, but it's not true in most cases. Most likely, it's the pesky work of a Nitro promotion. Yes, you heard me right. Nitro – that premium subscription service offered by Discord itself. It's not a new message playing hide and seek; it's simply that you've been sent this Nitro promo featuring their paid offers.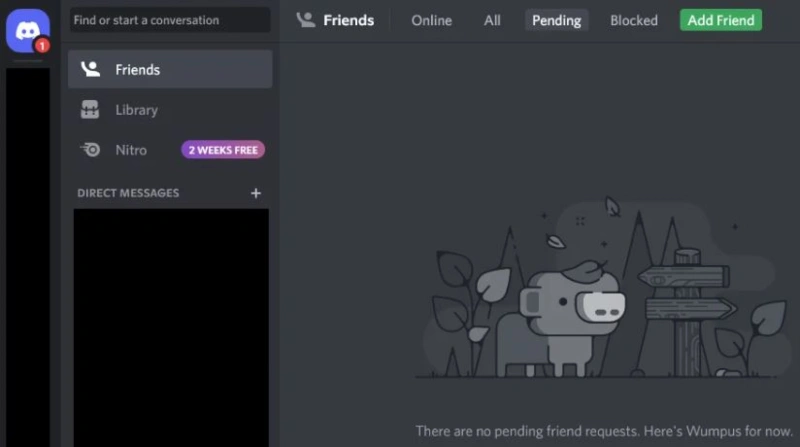 That juicy Nitro package is full of features that make you feel like a VIP among ordinary Discord members. But guess what? They've cleverly hooked these promotion ads right on top, looming over your direct messages. Want to remove that DM notification away? Just hit the 'Nitro' tab in your DMs. You'll find it in the left-hand conversation menu under the 'Friends' tab.
If you're a natural ads-skipper like most people, you probably didn't notice or simply ignore it. And that's why this notification alert appears on your computer screen. Sadly, Discord's a bit of a hard bargainer. It'll keep your direct messages notifications under lock and key till you bother to look at the advertising for the company's Nitro service. So, reluctantly, you're pretty much forced to watch their premium services to shoo away that message notification.
What to Do If Discord Direct Message Notification Still Won't Go Away?
So you've double-checked, and there's no Nitro promo in sight? Clicking that Nitro tab is not doing you any good, and you're positive you've read all your messages? Well, there are some other fixes to get rid of this situation.
First, how about giving good old Discord a little upgrade? Just like we need our morning coffee to function, apps need their updates to work smoothly too. Discord might be throwing a tantrum and showing you a stuck notification simply because it's running on an outdated version. Just navigate to your app store or Discord's official website, and make sure you have the latest version installed. An update not only ensures your app is equipped with the latest features but also patches up any bugs that might be causing issues like this notification.
Now, if updating Discord still doesn't work, let's move on to the next plan of action – clearing Discord's cache files. The cache is like the junk drawer of the app, storing temporary files, which can sometimes cause a hiccup. Clearing the cache can be like a refreshing spa day for Discord, sorting out many problems.
But how exactly do you clear Discord's cache? Firstly, make sure Discord is completely closed on your device. You can do this by right-clicking on the Discord icon in your system tray (bottom-right of your screen) and selecting 'Quit Discord'.
Clearing the Discord cache files on your Windows PC is a piece of cake as it's all about deleting some files manually. To access them, navigate to the AppData folder for Discord. Just paste this into the "File path" field in Windows Explorer to directly head over to your desired folder:
%appdata%\discord
Once you're in, it's time to hunt down three folders: the "Cache," "Code Cache," and "GPUCache". You have to delete each of these by right-clicking on it and clicking "Delete". But we're not done yet. There's one more step you need to take to guarantee the procedure's success. Go to the Recycle Bin and remove all of its files. This ensures every last trace of those files is gone for good.
So there you go! Hopefully, one of these solutions will work its magic, and that Discord direct message notification will finally be gone!
Read More