Blink vs Ring: Which security camera should you choose to protect your home or office?
In earlier times, you had required a full-fledged CCTV camera system installed by an expert to protect the complete house. Further, these cameras are also too much expensive. Each camera is connected to the computer using wires spread throughout the house, this thing gives a bad experience. Now, it's too much easier to secure your home with security cameras which provide such unique features by which, you can monitor your house whether you are not there.
Now, we are in a more advanced world, and there are several best security cameras available. Such cameras can save short video footage either locally or online. You can watch these clips anytime and from anywhere if you have a stable internet connection. The plus point is that they don't need challenging installation like that of CCTV cameras and are also very cheaper than CCTV.
Are you seeking the best and most high-performance security cameras to protect your home? It would be best to go with Blink or Ring, the two most known options in the industry owned by Amazon. Each of these companies has an excellent track record of delivering standard monitoring equipment that is both efficient and cheap. For sure, you will have to select any one of them according to your interest. To help you, we have put together a detailed comparison of Blink vs Ring by taking a lot at different areas.
Blink vs Ring: Price and Range
One area where Blink wins the race is the price, but the cost for the latest upcoming cameras of Blink is getting significantly closer to the Ring. The Blink has a minimal selection in terms of home security systems but is a perfect choice to use in the house because of having tiny cams. One point to mention here is that, unlike the Ring's devices, the Blink cameras are only available in the USA and UK for now.
Blink Cameras
#1. Blink Mini is a fantastic solution to protect your home from the inside because of its minimal size, as the name suggests. It just costs $34.99 or £34.99 and is very much less expensive than the cameras offered by the Ring manufacturer.
#2. If the camera battery is a concern in your mind and you need a device with a long-lasting battery, then you should need to look at the Blink Indoor. It's a second Blink cam in our Ring vs Blink suggestion. It's not much tiny compared to Blink Mini but is small enough compared to most cameras launched by the Ring. You can buy this monochromatic square-shaped camera at the cost of $79.99 or £79.99. According to the Blink manufacturer, its battery can last up to 2 years before you need to change it.
#3. The last Blink camera in our today's list is the Blink Outdoor, a weatherproof device. Everyone who wants to monitor his garden and outside area of the home while sitting inside the room should buy this Blink Outdoor camera. It features AA batteries, and its Sync Module 2 allows many choices for offline storage and costs $99.99 or £99.99.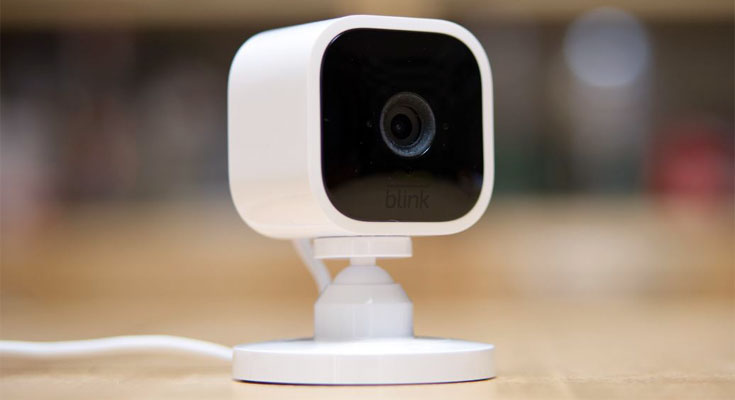 Ring Cameras
The Ring has gained a lot of popularity by developing several great video doorbells. But if we look at their security cameras, the following are some best options.
#1. Ring delivers an Indoor Camera just like Blink Mini. Its features are also very much similar to the Mini-cam. It provides a perfect security camera system inside your house and records HD video clips and two-way audio. The price for this camera is $59.99 or £49.
#2. If you are looking for the best outdoor option from the Ring company, go with the Ring Stick Up Cam. The camera is very flexible, and you can use it either inside or outside of your home. It's an excellent arrival in the industry by Ring but falls short of many features by contrasting with the many other competing systems. This camera is available for $99.99 or £89.
#3. Another home security camera from the Ring is its Spotlight Cam. It is available in both mains-powered as well as battery versions. To discourage thieves, the Ring Spotlight Cam comes with integrated light and siren. If it detects any movement, it starts recording the video clip automatically in total HD result. Moreover, it triggers a loud siren as well as bright light. The price tag for this camera is $199.99 or £179.99.
#4. Ring Floodlight Camera Pro is another choice available but is more costly than those discussed earlier. Rather than one spotlight, it features 1000-lumen floodlights. You can buy this cam at the cost of $249.99 or £219.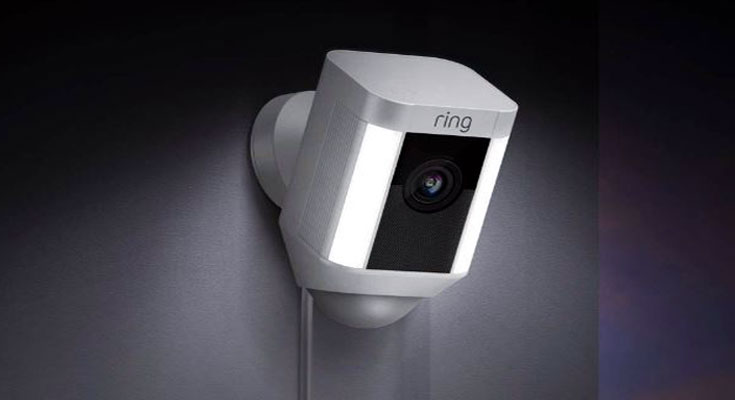 One best thing which Ring introduced but Blink does not offer is the Smart Alarm System. This alarm features motion-detection PIRs, window/door detectors, aided surveillance, and an additional outside siren. It will call automatically three emergency numbers if the alarm is activated. You will have to spend $199.99 or £219 if you want to buy this alarm system.
Ring vs Blink: Video and Audio
When we talk about video and audio quality, you will not notice too many differences between the cameras of these two brands.
Even during the daytime, every camera from both manufacturers shoots video clips in total HD results and with precise colors on every motion. However, a few cameras produced by the Ring, which feature integrated lights, also capture colorful video shots even at night. Sad to say that this fantastic feature is missing in the Blink products.
After testing and using many devices from these companies, the conclusion is there is no video quality issue as these are always sharp and clear. These systems also produce remarkably consistent audio.
Blink vs Ring: Subscription Costs
To watch the video footage later on after the system has recorded it, it should need to be stored first, either locally or online. In this one area, Blink cameras are better than the Ring because they can save video clips locally.
Blink security cameras come with a built-in feature, Sync Module 2, which allows this process. This module comes in the Blink Indoor and Outdoor cams, but you will not get this option if you buy Blink Mini. The solution for Mini users is available at some extra cost, and you can additionally buy this at $34.99 or £34.99. One more thing required is 256 GB of USB storage. If you don't already have one, you can get this at the cost of $25 or £25.
Blink Subscription
In this process, all recorded video footages first need to be saved on the servers before they are playable. It means you will miss tracking most times during the live-view action, and the videos require some time to play. It would help if you bought the Blink Subscription Plan, which costs $3 or £2.5 for one camera per month and $10 or £8 to use with the unlimited cameras. All the clips will remain in the cloud for 30 days when they are captured.
Ring Subscription
If we talk about the Ring, the only choice for you is to get the Ring Protect Subscription because Ring doesn't provide any feature to store the recorded clips locally. The prices for Ring plans are similar to the Blink. The cost to subscribe to Ring Protect is $3 or £2.5 for one camera and, like Blink, $10 or £8 to get this for unlimited security cameras. Now, Ring is launching many of its latest products with a 30-day free trial.
Battery Life
The massive long-lasting battery is the central selling point for Blink's devices. Its home security cameras come with AA batteries. According to the manufacturers, you don't require replacing batteries for almost two years unless the motion detection is not activated more often. It's a standard fact that if the device's main feature is regularly working, it will consume more resources, and the battery's lifetime will decrease.
But if any device performs its functionality for two years without any replacement, it's a fantastic thing. It becomes more valuable for outdoor cameras if you fit them at high vantage points.
On the other hand, Ring's wireless cams are not too good in battery performance. According to the testing, there is a 5-10% of battery drop in one week. But the battery timing for Ring's solar variants of the cameras is much longer only if you have put the panels in the appropriate area.
Blink vs Ring: App
The apps of both companies showcase the range of their respective services. Because of the wide variety of devices, the Ring delivers extra options in its application. The Blink app is very straightforward but still effective. It is perfect for capturing the live view at the required time.
It's not hard to use these apps because they provide effortless and precise options. You can watch the live view of the cameras and be able to play the recorded video clips. But if you are a Ring user, you should need a Ring Protect subscription for that.
The cameras of both productions also send detailed alerts to your smartphones that include a photo of an observed action. It allows you to quickly determine whether or not the warning is on the list of your primary concern.
Ring Takes Over Blink In Some Areas
There are a few circumstances where Ring products outperform the devices from Blink. Out of them, the field of view is the one. There is only a 110-degree restricted field of view in all of Blink's security cameras. On the other end, the indoor Ring cameras have a very much comparable field of view. Still, the outside security camera systems have a 140-degree viewing angle which is very much broader.
Moreover, there is a fantastic feature that Ring has introduced, which is "People Only Mode." This option eliminates unnecessary warnings by only activating the alarm if it detects the person's motion. Such a thing is also not available in the Blink home security cameras.
Regarding the technical aspects, Ring provides a complete and more comprehensive security system. While Blink's security cameras have motion detection are convenient and easy.
Final Verdict
The budget-friendly home security system is the main focus for which almost everyone looks. Blink products are much less expensive than the Ring's devices, but its latest models are getting closer to the Ring in terms of cost.
The home security cameras offered by both brands are very reliable and convenient. Blink devices are smaller and an excellent fit for inside use. Moreover, the feature to store footage locally is a fantastic thing for those users who want to secure their homes without spending an extra amount on a monthly subscription.
While Ring cams come with features that can identify persons from many other movements and minimize unnecessary alarms, most cameras feature a built-in LED light. Due to this, they can capture colorful clips even at night. But the downside is that they are much more costly as well as more extensive than the Blink cams. Further, they don't have the option to store video footage locally, so the only option for you is to use their cloud service by subscribing to Ring Protect and paying every month.
Ring delivers a comprehensive security system for the home and expert tracking and is our recommended brand for those who don't have a tight pocket. But for those individuals who will secure their houses for the first time and have a short budget, Blink is a perfect choice.