Are you looking for some of the best laptops for gamers to pursue your gaming journey? It doesn't matter whether you're into professional gaming or just a gaming enthusiast, a good gaming laptop would completely enhance your gaming experience. As per research the trend of the video game industry is at a boom and has grown from €74.5 billion in 2016 to €107.6 billion in 2020 and more in the upcoming future. In recent years, these factors have encouraged gamers around the world to purchase the best gaming laptops, whether they are interested in pursuing a career in the gaming or just want to enjoy gaming.
These amazing gadgets are the complete package of portability and performance that would enhance your gaming to a new level. They fit well whether you need a colossal workstation or a sleek, ultra-thin gaming notebook to bring the future of gaming to you. Nowadays these gaming devices are quite impressively crafted to compete against high-performing gaming PCs. That's why it doesn't matter which game you desire to play, you have the power to nail in your gameplay. If you want to play some of the best low-end PC games that are available on old laptops and computers, then you can also do that easily, as there are various affordable gaming laptops available to make that possible. Be ready to uncover the absolute gaming fun with the right companion.
As you're in luck, in this blog we have a pretty impressive list of the seven best laptops for gamers to perform satisfactorily in their gaming adventure.
How to Find the Best Gaming Laptops for Gamers?
Here, we have sorted down some of the best gaming laptops that have got a 1080p display along with a high refresh rate. Some of these devices have a 4K screen that allows you to choose between resolution and fidelity as per your requirement. There are various options available from 1080p to 4K. There are some laptops that include OLED for deeper black and more vivid colors. Choose on the basis of processors like Intel or AMD, as they are most common nowadays. Make the right decision choose your desired product from the following mentioned products, which we've sorted down as per their performance:
1. Razer Blade 15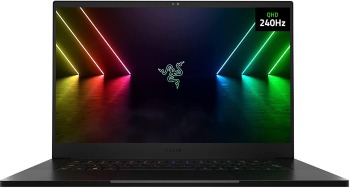 The Blade 15 is an absolute gaming beast that is crafted using Full HD 360Hz, and QHD 240Hz (G-SYNC or OLED) for an unrivaled immersive gaming experience with this thinnest gaming laptop. This device is one of the best gaming laptops for gamers, as it features a Core i7 processor along with an Nvidia GeForce RTX 3070 Ti graphic processing unit.
Its Next-Gen DDR5 (4800 MHz) memory offers enhanced response time for a quicker and smoother experience when running games, loading applications, and performing other everyday PC tasks.
Read our full Razer Blade 15 review.
2. Dell G15 5520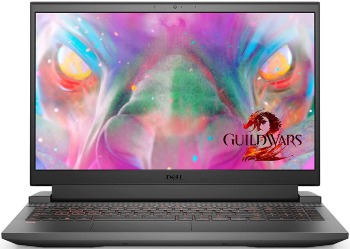 Dell has introduced this impressive gaming PC that has got 3200MHz high-frequency gaming memory that effectively reduces memory latency. This feature also increases memory throughput to maximize the performance of the processor, which makes it one of the best dependable laptops, when it comes to gaming. The feature of a fast solid-state drive allows it to be efficient in performing both gaming and general tasks easily. This device has a dark iridescent finish and a thick central hinge which feel to be a throwback to an old-style design.
This laptop is quite an all-rounder and the best gaming laptop for gamers to play highly graphics-intensive games with ease. Go ahead and search for some trending gaming accessories to enhance your gaming using this laptop like KontrolFreek Performance Thumbstick, Logitech G13 Gameboard, and more. This gaming laptop comprises NVIDIA GeForce RTX 3060, Intel Core i7-12700H, 16GB of RAM and 512GB SSD to get set ready for an unforgettable gaming experience.
3. ASUS ROG Zephyrus G15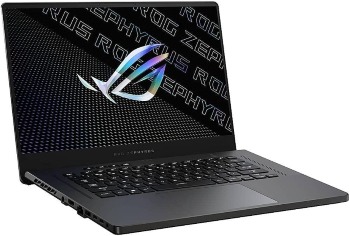 The Zephyrus G15 is an absolute gaming miracle that adds professionalism to your gaming with its backlit keyboard, fingerprint reader, Built-in two 2W tweeters and four 2W woofers, Dolby Atmos, Bluetooth 5.1, and many more interesting features. It is one of the best 15-inch gaming laptops that weigh over four pounds which makes it one of the lightest systems that you can trust with your adventure.
It's one of the best laptops for gamers that doesn't let you compromise on performance, as it's powered by top mobile chips from AMD and Nvidia along with a 165Hz QHD display. All these features allow it to handle even the toughest AAA titles at QHD resolution. This laptop also allows you to play some of the best low-end pc games for old laptops and computers with ease for example World of Warships, Minecraft, Stardew Valley, and more.
4. Lenovo Legion 5 Pro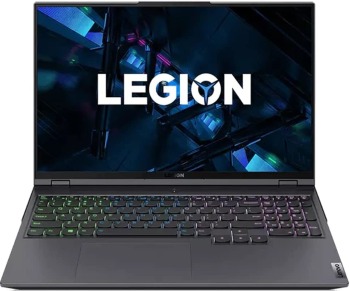 The Lenovo Legion 5 Pro proves to be an absolute gaming device with its Ryzen 7 5800H and RTX 3070 GPU unit. It's pretty efficient in handling all modern gaming requirements like a good GPU unit, excellent processor, quality display for immersive gaming, and so on. The QHD displays make gaming more joyful by delivering enough pixel density to get more details without too much optimizing the graphic card for gaming.
Read our full Lenovo Legion 5 Pro review.
5. MSI GS66 Stealth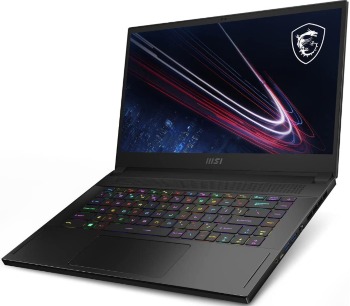 The MSI GS66 Stealth is a must-have for any serious gamer. It packs the latest 11th Generation Intel Core i7-11800H processor and an RTX 3080 GPU for smooth, lag-free gaming. The outstanding 240Hz 1440p panel quite effectively supports the powerful GPU when it comes to games. All of this comes together to make the MSI GS66 Stealth one of the best gamer laptops on the market today. With its slim and lightweight design, you won't have to worry about lugging around a bulky laptop when you're gaming.
It is a stylish gaming laptop that also comes with a quite powerful performance in an 18mm thin chassis. The feature of whisper mode 2.0 allows it to bring gaming down to barely audible levels. Plus, it has all the ports and options you need to stay connected while playing, so you can keep up with your friends no matter where you are. Whether you're into first-person shooters or RPGs, the MSI GS66 Stealth is the perfect choice for gaming on the go.
6. Alienware M15 R7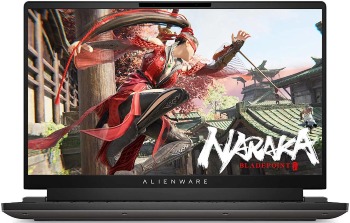 If you're looking for a top-of-the-line laptop that can handle all of your gaming needs, then the Alienware M15 R7 is definitely worth considering. It has a 15.6-inch QHD display that offers excellent resolution and clarity, as well as a 240Hz refresh rate that ensures smooth gameplay performance.
The Intel Core i7-12700H gives it plenty of power to handle any game you throw at it, and 16GB of RAM ensures that your data is always safe and fast. The 512GB SSD provides ample storage space, and the Nvidia GeForce RTX 3070 Ti 8GB GDDR6 graphics card will let you enjoy high-resolution graphics without any lag or delay. Finally, the Alienware M15 R7 comes with HDMI and USB-C ports to allow easy connection to your TV or other devices, as well as a Wi-Fi 6 connection for extra speed and range.
7. Acer Predator Helios 300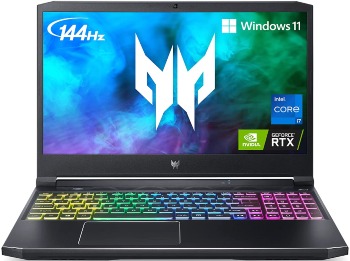 The Acer Predator Helios 300 gaming device offers a unique gaming experience with its Intel 11th Gen Intel Core i7-11800H processor. The RTX 3060 GPU offers a significant boost in gaming along with a 144Hz screen which makes it the best laptop for gamers. This Acer Predator 300 comes with a backside power cord option instead of the side which alters the whole laptop's design concept.
Plus, its 15.6″ FHD 144Hz 3ms IPS display is perfect for smooth gameplay and vivid graphics. And if that's not enough, it also comes with 16GB DDR4 memory and 512GB SSD for faster loading times and storage space. All of this is topped off by Killer WiFi 6, which ensures a lag-free experience when gaming online. Finally, the RGB keyboard adds an extra layer of fun and style to your gaming experience since it offers high-quality keys that are easy to type on even during long sessions.
What to Look for in the Best Laptop for Gamers?
When it comes to choosing the best laptop for gaming, the options are endless. While there are many laptops on the market, it's important to find the one that will provide the best performance, graphics, and features for your needs. To help narrow down the choices, there are several key factors to consider.
First, consider the processor. It's important to find a laptop with a powerful processor so that you can run the most demanding games without any lag. Look for a laptop with a multi-core processor, such as an Intel Core i5 or i7, for a great experience. Second, look for a laptop with plenty of RAM. 8GB of RAM is the minimum for gaming laptops, but more is better for more demanding games. Also, look for a laptop with a dedicated graphics card. A dedicated graphics card can provide better graphics performance than integrated graphics, so you'll be able to enjoy the latest games with stunning visuals.
The display is another important feature to consider when buying a gaming laptop. The best gamer laptop should have a high-resolution display with a fast refresh rate. Look for a laptop with a 1080p or higher resolution display for the best possible gameplay experience. Also, choose a machine with an IPS (in-plane switching) panel for better color accuracy and wider viewing angles. Additionally, it is important to make sure that the laptop has good sound quality, as this will enhance the gaming experience.
Additionally, you should look for a laptop with good battery life. Gaming can be very taxing on a portable computer, so it's important to make sure you have one that can last a while. Look for a laptop with long battery life and a good charging system so you can game for hours without worrying about it running out of charge. The other factor to consider is the size and weight of the system. If you plan on taking your laptop around with you, you should opt for a lightweight laptop that won't weigh you down. If you plan on using your laptop primarily at home, you may want a larger laptop with a higher-resolution display.
Don't forget to look for other features that can enhance your gaming experience. Look for a laptop with a good cooling system to prevent your notebook from overheating during intense gaming sessions, as well as a backlit keyboard with customizable macros so you can quickly access commands. Additionally, look for a laptop with plenty of storage so you can store all your games and other media files. Lastly, it is important to make sure that the laptop has a range of connectivity options, such as Wi-Fi, Bluetooth, and USB ports. This will enable gamers to connect to the internet or other peripherals.
No matter what your needs are, you should always take the time to research a suitable product. By doing your research and keeping these key factors in mind, you can ensure that you get the best gaming laptop for your needs.