When it comes to finding the perfect gaming PC, you don't have to spend a fortune. There are plenty of great options available for under $1000. You've come to the right place if you're looking for a budget-friendly gaming machine that can still handle the latest games. We've rounded up the best gaming PCs under $1000, so you can find the perfect option for your needs and budget.
In this article, we'll look at the different types of gaming systems on the market, highlighting their features and capabilities. We'll also provide tips on getting the most out of your gaming experience, no matter how much you have in your wallet to spend. With so many options available, you're sure to find something that meets your needs and fits within your budget after reading the detailed guide on the best gaming PC under $1000. Each of these gaming computers offers acceptable performance for the price, and they're all capable of running today's most popular games at higher 1080p or 1440p settings with reasonable fps.
Best Gaming PCs Under $1000: Our Top Picks
1. iBUYPOWER Pro SlateMR 291i:
Best Gaming PC Under $1000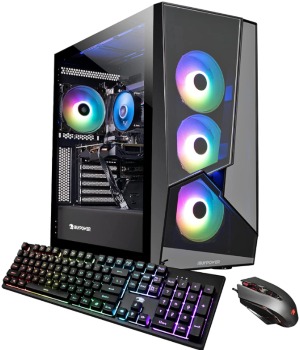 Key Specifications
CPU: Intel i7-12700F 3.6 GHz | GPU: NVIDIA GeForce RTX 3060 Ti 8GB | Memory: 16GB DDR4 3000MHz RAM | Storage: 1TB PCI-E NVMe SSD | OS: Windows 11 Home 64-bit | RGB Lighting: Yes
The iBUYPOWER Pro gaming PC is a fantastic machine for any serious gamer with a limited budget. It is powered by a solid 12th-generation Intel i7-12700F processor that operates at a base speed of 3.6 GHz and provides fast and efficient performance. Further, the computer includes a top-notch GeForce RTX 3060 Ti graphics card with 8GB of VRAM, which provides smooth and crisp graphics in even the most demanding games. This Nvidia's GPU currently lies within the top-of-line models. And the 16GB DDR4 RAM is perfect for gaming, while the 1TB NVMe SSD gives you plenty of room for all your favorite games, movies, and other data.
In terms of design, the iBUYPOWER Pro computer desktop features a tempered glass RGB gaming case with 16 color RGB lighting and a sleek and modern look. You will also get a free iBuyPower gaming keyboard and RGB gaming mouse combo, and the system is free from any bloatware, ensuring a clean and streamlined experience. Moreover, it has a WiFi chip installed on the board, allowing you to connect to your network wirelessly and enjoy fast and stable internet speeds. This system is designed to run today's most demanding games at their native resolutions in 1080P or 1440P without a hitch. For a prebuilt gaming PC costing less than $1,000, that's not terrible at all.
2. Lenovo IdeaCentre Gaming 5i (2022):
Best Value Gaming PC Under $1000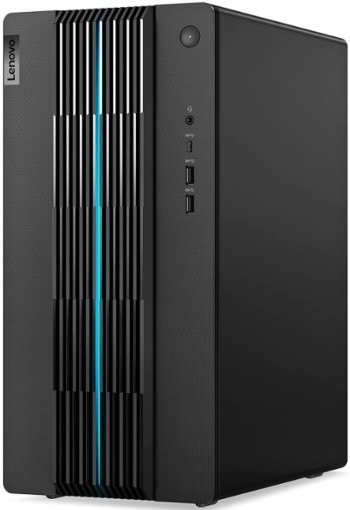 Key Specifications
CPU: Intel Core i5-12400F 2.5GHz | GPU: NVIDIA GeForce RTX 3060 8GB | Memory: 16GB DDR4 RAM | Storage: 500GB PCI-E NVMe SSD + 1TB HDD | OS: Windows 11 | RGB Lighting: No
Are you looking for a robust gaming build that won't break the bank? The 2022's Lenovo IdeaCentre Gaming 5i is one of the best gaming PCs under $1000 that you can buy now. It has a powerful NVIDIA GeForce RTX 3060 graphics card and an Intel i5 12400 processor, making it ideal for gamers who want to experience the latest games at their finest. This GPU can efficiently run games at higher graphics by offering smooth performance, but you can also enjoy some titles at 1440p with reasonable fps.
Additionally, it has 16GB of RAM, allowing you to run multiple applications simultaneously without any delays or slowdown. If you prefer to go with a machine with a good amount of storage, this computer will be your best bet. The Gaming 5i comes with 512GB of super-fast SSD and 1TB of HDD, so you will have a lot of space to play around.
The front panel's lifted ridges, and vertical blue lighting strip in the middle serve as the IdeaCentre Gaming 5i's primary defining features. The case of the computer is very authentic to the conventional tower form. The PC also comes with a free 3-month Xbox GamePass subscription, so you'll have a lot of content to explore. All of these factors combined in a package work together to make this PC one of the best options out there for gaming on a budget.
3. CyberpowerPC Gamer Xtreme VR:
Best VR-Ready Gaming PC Under $1000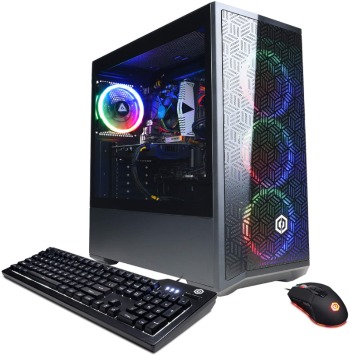 Key Specifications
CPU: Intel Core i5-12400F 2.5GHz | GPU: NVIDIA GeForce RTX 3050 8GB | Memory: 16GB DDR4 RAM | Storage: 500GB PCI-E NVMe SSD | OS: Windows 11 Home 64-bit | RGB Lighting: Yes
The CYBERPOWERPC Gamer Xtreme VR Gaming PC is ideal for those looking to experience VR gaming at its best. It's an excellent choice for a budget-conscious gamer, priced at under $1,000. This rig is powered by an Intel Core i5-12400F processor and a GeForce RTX 3050 graphics card, which make the Gamer Xtreme ideal for immersive gaming. Furthermore, it has 16GB of DDR4 RAM and 500GB SSD to give you great overall productivity even during heavy workloads.
Not only that, but this PC also comes with built-in WiFi and the latest version of Microsoft Windows 11 Home installed to ensure smooth performance right out of the box. These preloaded features allow gamers to enjoy playing the most intense titles without problems. In conclusion, this CyberpowerPC gaming desktop with the Core i5 and the RTX 3050 will deliver more incredible execution than any other best prebuilt gaming PC under $1,000. The system also has an RGB keyboard and mouse to make your gaming sessions more fun and easily customize your experience.
4. SkyTech Archangel 3.0:
Best Windows Gaming PC Under $1000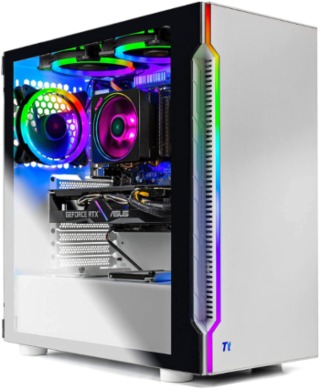 Key Specifications
CPU: AMD Ryzen 5 3600 3.6GHz up to 4.2GHz | GPU: NVIDIA GeForce RTX 2060 6GB GDDR6 | Memory: 16GB DDR4 3000MHz RAM | Storage: 1TB PCI-E NVMe SSD | OS: Windows 10 Home 64-bit | RGB Lighting: Yes
SkyTech Archangel 3.0 is a high-performance gaming computer from SkyTech that comes with an AMD Ryzen 5 3600 processor and an NVIDIA GeForce RTX 2060 6GB graphics card, along with 16GB of 3000MHz DDR4 RAM for smooth productivity. The Ryzen 5 3600 is a 6-core/12-thread CPU with a base clock speed of 3.6GHz, and with Turbo Boost technology, the processor can reach up to 4.2GHz when needed. This impressive combination can handle the latest PC games on high settings and offer excellent multitasking capabilities for power users.
The included 500GB solid-state drive provides fast load times and enough storage for all your programs and data. Additionally, various ports ensure you have enough room to connect all the peripherals you need while gaming or working. It has multiple USB ports, a Wi-Fi/Bluetooth adapter, an HDMI port, and a PRO RGB Sync chassis cooling fan that helps keep your system cool during intense gaming sessions. However, you may not find the keyboard and mouse much comfortable as a gamer, so you would attach your own external ones.
5. AVGPC Max Gaming Computer:
Best Budget Gaming PC Under $1000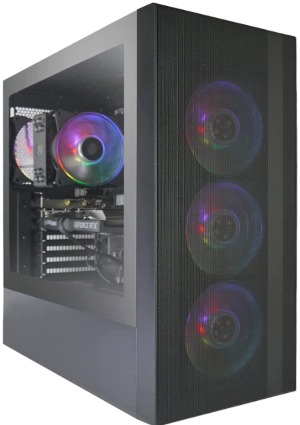 Key Specifications
CPU: AMD Ryzen 5 3600 3.6GHz up to 4.2GHz | GPU: NVIDIA GeForce RTX 2060 Super 8GB GDDR6 | Memory: 16GB DDR4 3200MHz RAM | Storage: 1TB PCI-E NVMe SSD | OS: Windows 10 Pro 64-bit | RGB Lighting: Yes
The AVGPC Max Gaming PC is a good choice for anyone looking to get a competent gaming PC built under $1,000. The AMD Ryzen 5 3600 6-Core 3.6 GHz processor, 16GB 3200Mhz RAM, and RTX 2060 Super graphics card ensure that the system is future-proof and capable of playing the latest games on maximum settings. Although this AMD chipset is not the high-quality one, the included Nvidia card is the real deal breaker as it outperforms the RTX 3050 easily, and it's one of the best graphics cards you can get for this price range.
The 1TB M.2 NVME SSD provides fast boot times and efficient storage, while the NR600 case is designed to keep the system cool and quiet, with plenty of room to work with for future upgrades. The 650W PSU also offers the same power that the GPU needs. The flush tempered glass side panel design helps to showcase the impressive components while providing a sleek and stylish look. Combined with the Windows 10 operating system and WiFi/AC capabilities, this PC is the perfect solution for anyone looking for the ultimate gaming experience.
It's a great buy if you're in the market for a cheap, upgradeable initial computer. There is only one drawback: the sloppy management of cables. Behind the aluminum cover, everything seems to be crammed in and especially around the power supply. But with a few simple tweaks, you can quickly get this machine running neat and tidy. Overall, you will get what you pay and will not be disappointed with the performance of this gaming PC.
What to Consider When Buying a Gaming PC Under $1000
When shopping for a $1000 gaming PC, you must consider the type of processor and graphics card you need. For a high-end gaming experience, look for an Intel i5 or i7 processor and an Nvidia RTX 2060 or higher GPU. Another factor to consider is the amount of RAM that the PC has. 8GB of RAM is generally enough for most games, but 16GB or more will provide significantly better performance. With this extra RAM, your gaming PC can handle demanding titles and use advanced graphical settings, allowing you to experience truly immersive results with smooth frame rates.
Finally, it's also essential to think about storage capacity – a solid-state drive (SSD) is much faster than a traditional hard drive, so if you have the budget, it can be worth investing in one for speedier loading times and smoother gameplay. Usually, all the systems now come with SSD storage, and the models mentioned above also have the same configurations. Keep this in mind when deciding; the difference could be between victory and defeat!
Is a $1000 Gaming PC Worth It?
With a budget of around $1000, there are some great prebuilt desktop computers for the savvy consumer. These gaming PCs can run any game on the highest 1080p graphics and should even provide a smooth experience when paired with a decent gaming monitor with a higher refresh rate. Furthermore, these systems come prebuilt with quality components, ensuring you're getting great value for your money without worrying about compatibility issues or the need for additional upgrades. With a budget of around $1000, you can get a gaming PC that will deliver an immersive gaming experience, no matter what game you're playing.
For the best desktop computing experience, it's important to consider your budget and the games you want to run. If you are playing less-intensive titles, you can be more cost-effective in your purchase. Alternatively, if your goal is to enjoy high-end or competitive games, you may have to invest more to get the best performance. It is also essential to look for the type of processor, graphics card, and RAM your system will need to run games at the optimal level. Lastly, you should read reviews and compare different desktop models to ensure you are getting the right product for your money. With careful consideration and reading, you can easily choose from the best gaming PCs under $1000 listed above to fulfill your demands.