Gamers around the world look for the best gadgets and other devices to enhance their gaming capabilities and get better scores in different games. For instance, PUBG players use mobile triggers and Joysticks, Bluetooth Gaming Joysticks, Touch Screen Game Joysticks, etc. These gadgets let them aim in a better way, move the character around throughout the field, etc. Likewise, gaming headphones let gamers communicate and command their teams, know about their enemy's position, etc.
To get an idea about ways different gadgets can enhance one's gaming capabilities, you can have a look at different videos and product reviews on YouTube using WOW Wifi Internet. Internet services by WOW let users enjoy the best video streaming experience on the internet and buy these gadgets online at major retailers without spending much.
Now, let's have a look at our top picks of the best gaming headphones under $60 you can buy right now to have the best possible gaming experience.
1. Razer Kraken:
Best Gaming Headphone Under $60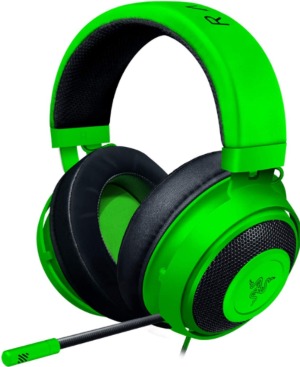 The headphones provide users with a 100 Hz – 10 kHz Frequency Response and provide gamers with a 7.1 surround sound for positional audio. These headphones are designed to let gamers feel comfortable all day using cooling gel-infused cushions that prevent them from overheating and building up pressure during the game.
The best thing about these headphones is that gamer get an improved cardioid mic that reduces the ambient noises and the background sounds to make sure gamers get crystal-clear communication while they are playing. The headphone's in-line audio is controlled by a built-in analog volume control wheel and mic mute switch that lets you control the volume according to your needs. The Razer Kraken Gaming Headsets are made of bauxite aluminum and have a flexible frame that makes the device light in weight and more durable.
2. BENGOO G9000 Stereo:
Best Gaming Headset Under $50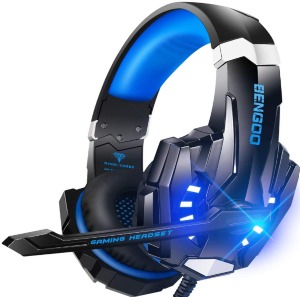 These cool headphones are compatible with the PlayStation 4, PC, the New Xbox One, Laptop, Nintendo 3DS, PSP, iPad, Tablet, and other gadgets you have. If you want to connect your headphones to the Xbox One controller, you might need to use the Microsoft adapter that's not included in the package and you have to buy it separately.
The headphones provide the best and the clearest sound, amazing ambient noise isolation, acoustic positioning precision, etc. to enhance the sensitivity of the speaker unit. This brings in the best sound field and clear sound that works with games like Metal Gear Solid, Halo 5 Guardians, Call of Duty, Overwatch, etc.
The headphones are designed keeping in mind the comfort users need while playing their games. For this, the headphones are made of skin-friendly leather, over-ear pads, glaring LED lights on the earcups, multi-point head beam, etc. The headphones also have easy volume controls and use the anti-winding braided USB cable with rotary volume controls and a one-key mute mechanism.
3. JBL Quantum 100:
Best Over-Ear Gaming Headset Under $60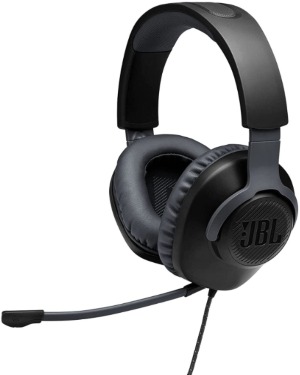 The headphones are designed to work in a highly competitive gaming environment and provide the best sound as well. You can use the headphones to trace out enemies while playing FPS games, engage them in MOBA battles, etc. The headphones are compatible with devices like Mac, PC, PS4, Xbox, and Nintendo Switch and use the JBL Quantum Sound Signature.
JBL Quantum Sound Signature is designed to provide accurate sound, deliver immersive gaming audio, and give users a competitive edge during battles. This is ideal for users who do not want to miss a shot, step, or jump during the gameplay. You can use the gadget's detachable boom microphone with an echo-canceling feature so that users focus on the voice of their teammates without any background noise. The ear cushions are made of memory foam covered in soft PU leather for a comfortable gaming session that can last for longer hours.
4. HyperX Cloud II:
Best Durable Gaming Headset Under $60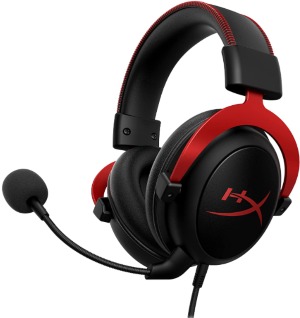 These over-ear headphones provide users with excellent features like the 15-25kKhz Frequency Response, a comfortable design that uses memory foam ear cushions, and a padded leatherette headband. This lets users concentrate more on their game and less on the irritation caused by sweating and pain in the ear.
You can get a better quality and detailed in-game sound and get an edge over other players using the 7.1 virtual surround sound. For passive noise cancellation, the device uses a closed-ear cup design that blocks out distractions caused by sounds created by elements outside. The headphones are made with a solid and durable aluminum frame that can withstand wear and tear caused by different factors and last longer.
5. SteelSeries Arctis 1:
Best Gaming Headset with Removable Mic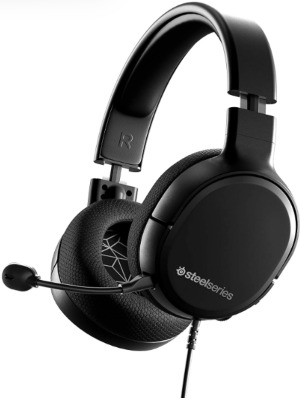 The Arctis 1 gaming headset from SteelSeries is a great choice for gamers who want to take their gaming experience to the next level. Compatible with a range of gaming platforms, including PlayStation 4, PlayStation 5, Xbox controllers, Nintendo Switch, and most gaming laptops, the Arctis 1 offers a premium soundscape with its signature speaker drivers. It comes with a detachable mic so you can remove it when it's not needed such as when watching videos or listening to music. The microphone is also clear and can be easily adjusted to ensure that your voice is always coming through loud and clear.
With Airweave athletics-inspired fabric ear cushions, and a lightweight Steel-Reinforced headband, the SteelSeries Arctis 1 is a great option for both gaming and on-the-go audio. But it lacks useful features like an app or the ability to adjust the volume and tone. Additionally, the dual 3.5mm cable included in the PC version makes it an ideal headset for PC gamers. It is worth paying the extra for the SteelSeries 3 headset, however, as it has a replaceable headphone cable and better construction materials. Overall, this is a great headset for anyone looking for quality sound on a budget.
Conclusion
Finding the best gaming headsets under $60 is a great way to get more out of your gaming experience without breaking the bank. We hope our list has helped you decide on what type of budget headphone is right for you and that it will provide hours of enjoyable gameplay. With so many options available, finding the perfect set of gaming headphones doesn't have to be complicated or expensive. So get ready to take your gaming sessions up a notch with one of these awesome gadgets!