The importance of a top-quality computer monitor can't be overstated. Whether you're a gamer looking for a more immersive experience, a creator seeking more accurate color reproduction, or a home worker looking to get more done, a good monitor can make all the difference.
However, navigating the monitor market can feel like a tech jungle. With a plethora of choices each flaunting unique features, specifications, and price tags, it's akin to being a child in a candy shop, but instead of confectionery, you're engulfed in a sea of screens.
Rest easy, we've done the hard yards for you. After endless hours of rigorous research, meticulous comparison, and thorough testing, we are thrilled to present the absolute cream of the crop in computer monitors for 2023. We've scrutinized every detail, from pixel-perfect resolution and true-to-life color accuracy to versatile connectivity options, and even the flexibility of the stand.
Below, we've compiled a list of top-tier monitors that pack a punch in performance, aesthetics, and user experience. So, why not brew up a comforting cup of joe, kick back, and join us as we embark on this exhilarating journey into the dynamic universe of computer monitors?
What to Look for When Buying a Best Gaming Monitor
Before diving into the top picks, let's discuss what you should look for in a monitor this year. You'll be amazed at how the tech landscape has evolved, especially regarding monitors.
Let's kick things off with resolution – are you familiar with 4K monitors? These beauties are the talk of the town, and it's easy to see why. They boast a higher pixel density, translating to crispier texts and vivid images. And guess what? With the surge in computers that can power multiple screens, say hello to incredible screen real estate. If an upgrade is on your mind, 4K should be your first port of call.
Let's dive into the world of connectivity. In this era where laptops reign supreme as the primary workstations, monitor makers have stepped up their game. They've equipped their products with DisplayPort or Thunderbolt-capable USB-C connectors. These nifty connectors drive your monitor and power your laptop, cutting down on cable clutter. Just remember to check that your monitor's power output is compatible with your laptop's power needs.
Color precision is paramount for creatives, particularly those in photo or video editing. But, even if a monitor comes perfectly calibrated straight from the factory, its color accuracy can shift over time. That's why it's wise to invest in a calibrator. Furthermore, you also have to consider the audio system. Many monitors come with speakers that don't quite hit the mark. So, consider enhancing your auditory experience with a compact desktop soundbar, a 2.1 system, or high-quality headsets.
Now that we've laid the groundwork, it's time to dive into the thrilling part – our top monitor selections for 2023. We've played detective to track down the best monitors for your PC that won't burn a hole in your pocket. We've scoured popular vendors selecting only those models that are easy to get your hands on. Whether you're a business person, a professional creator, or a true gamer, our top picks below will make your screen time much more enjoyable.
1. Best Computer Monitor Overall:
Dell UltraSharp U2723QE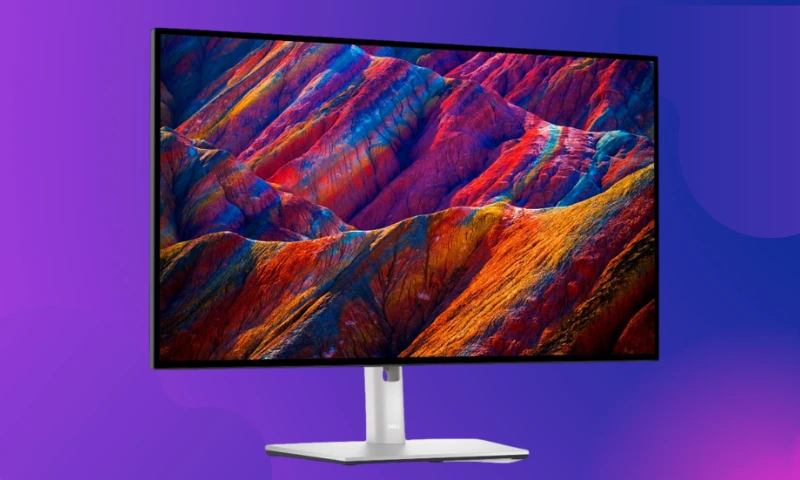 Sharp and detailed image quality with 4K (UHD) resolution

LG's latest IPS Black technology offering superior contrast

The monitor can charge a laptop over its USB-C display connection

Ethernet connectivity is available

It's on the expensive side

It does not include a built-in webcam

Not good option for graphic arts
Picture this: you've spent around $600-$700, but in return, you've gained an all-powerful, feature-packed monitor, the Dell U2723QE. It's more than just a monitor; it's a fully-featured command center with the most ports available on the market and a wide variety of comfortable modifications.
Imagine the convenience of charging your laptop directly through its USB-C display connection. Or, even greater, think about the seamless, interruption-free work you can do thanks to the built-in Ethernet port—especially if your workplace internet is playing hide-and-seek. The price tag is a bit steep, but you know what they say about how you get what you pay for.
You will get a stunning 27-inch 4K (UHD) display, where each pixel bursts with vibrant colors and crisp details. The contrast levels are so superior to regular IPS screens that you'll be astounded. Another thing, the lack of a webcam is truly bad if you have a mind to use a PC monitor for video calls or meetings, but you can't usually find this part in most monitors. Moreover, it's among the pioneering duo to showcase the IPS Black – LG's latest innovation in in-plane switching (IPS) technology.
The U2723QE is a great monitor, but its high price makes it less than ideal if you want to purchase multiple displays for your business or office. But think of it as the ideal partner for individuals in leadership or analytical responsibilities, particularly those who have to juggle artistic stuff as part of their daily routine. The screen isn't designed for graphical work but is adequate for quick media editing tasks.
---
2. Best Value:
ASUS ProArt PA279CV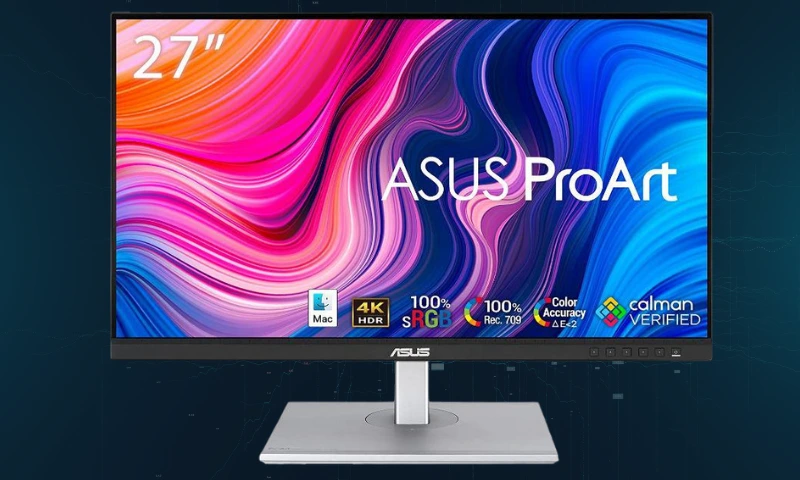 Offers excellent color accuracy

Good for creative professionals

Ergonomic stand offers tilt and height adjustments for a comfortable viewing experience

Includes a variety of ports including HDMI, DisplayPort, and USB-C

60Hz is not best choice for high-end gaming
Let's get things going smoothly by introducing our second top-pick monitor, 'ASUS ProArt PA279CV'. This display will suit many users because of a great compromise between affordability and performance.
In the first place, it's a wide 27-inch 4K monitor which means you'll have plenty of room to work with and ultra-sharp visuals. You can watch movies without leaving the comfort of your chair! It's not even just about the size. This display's in-plane switching (IPS) panel allows for wide viewing angles and accurate color rendition. You're in for something special whether you're using it for editing or watching your favorite movies or shows.
You may be wondering, "But what about gaming?" The ASUS ProArt PA279CV has you covered in that regard, too, as it features Adaptive Sync VRR. However, it's possible that serious gamers won't be satisfied with its 60 Hz refresh rate. This may not be the best gaming monitor, but it should serve you well elsewhere.
In particular, I appreciate the ability to link many devices to this monitor thanks to its connectivity options. DisplayPort over USB-C is included and can supply up to 65W of power. In other words, you can fill your laptop's juice while doing some work simultaneously. The USB 3.1 hub is built right in, making it ideal for connecting your laptop to other devices.
The ASUS ProArt PA279CV isn't a flawless display, but it's better than most. Because of its low refresh rate of only 60 frames per second, it's not the ideal option for gamers. But if you want a reliable, all-purpose display that is accurate and spacious, then this one is worth your consideration.
---
3. Best Curved Gaming Monitor:
Samsung Odyssey G7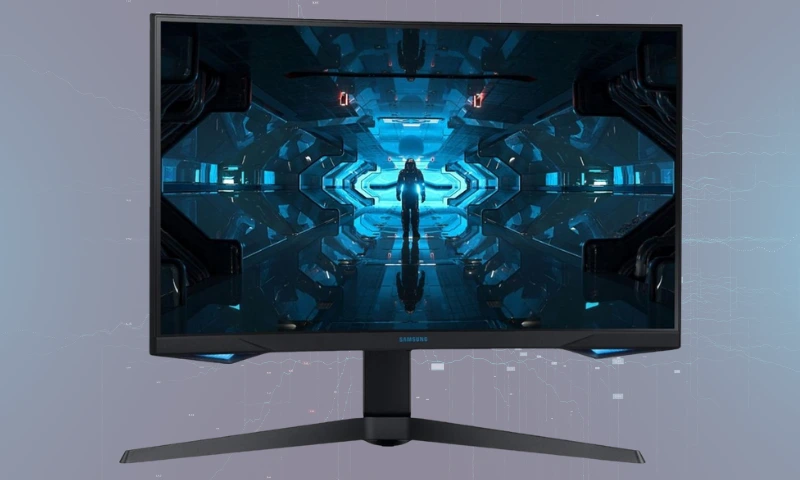 Smooth and lag-free gaming

32-inch 240Hz QLED display

Supports both NVIDIA G-Sync and AMD FreeSync
Ready to send your gaming adventures into overdrive? Allow me to introduce the Samsung Odyssey G7 32-Inch Monitor. This isn't just a monitor, folks – it's a revolution in your gaming world.
First, this beauty has a 32-inch QHD display that will make your games look stunning. But there's more! With a jaw-dropping 240Hz refresh rate and a lightning-fast 1 ms response time, lag and ghosting will be a part of the past. Prepare for smoother, crisper, and more immersive gameplay than you've ever imagined!
What catapults the Odyssey G7 into a league of its own is its groundbreaking 1000R curvature. You're looking at the world's premiere gaming monitor that carries this distinctive curve designed to mimic the natural curve of your eye. Imagine not just playing the game but living it – the comfort and immersive gaming satisfaction this curve provides is truly next-level.
Moreover, the QLED technology packed into this beast ensures accurate color representation and sRGB coverage of 125%, making your games look more realistic than ever. Add to that the NVIDIA G-SYNC and FreeSync Premium Pro support – your gaming nirvana is complete with zero screen tearing, even during the most adrenaline-pumping sessions. The Samsung Odyssey G7 32-Inch Monitor goes beyond the role of a simple display. It's proof of Samsung's dedication to innovation and the need for every dedicated player.
---
4. Best Large-Screen Monitor for Creators:
LG 38WN95C-W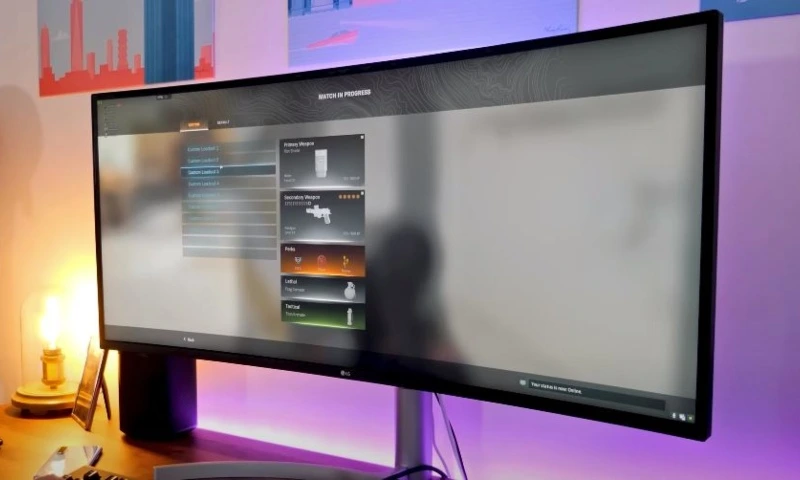 Ample screen real estate for multitasking

WQHD+ (3840x1600) resolution

Large 38-inch 144Hz screen

Not suitable for smaller desks or workspaces

Weak contrast in relation to other contenders
The LG 38WN95C-W isn't your average monitor; instead, it's a wide-screen monitor with a curved display that provides abundant horizontal room. Think about how much more you could accomplish without the bezel separating your two screens on a dual monitor setup. This LG display features a 21:9 aspect ratio with a resolution of 3840×1600. That's significantly broader than most screens' common 16:9 or 16:10 aspect ratios. It's similar to enjoying a skyscraper-high view of your virtual surroundings.
The size of this screen, however, is not its only selling point. It has many traits that set it apart from others. You can easily connect your laptop because it supports Thunderbolt 3 through USB-C and can supply up to 94W. Moreover, its 144Hz refresh rate ensures everything, from media visuals to video games, seems crisp and clear.
Speaking of games, the 38WN95C-W is compatible with Nvidia G-Sync and has FreeSync Premium Pro. The adaptable refresh rate will prevent any shredding on the screen, even during the most intense action sequences. HDR content, including games and movies, will appear stunning on a display certified at the DisplayHDR 600 level.
This monitor will meet your needs for accurate color reproduction. The sRGB gamut is fully covered (100%), and DCI-P3 coverage of 98% with a rapid response time of 1 ms. If you need a monitor with a large display, many useful extras, and top-notch performance, go no further than the LG 38WN95C-W.
---
5. Best Budget Monitor:
Asus VA24DCP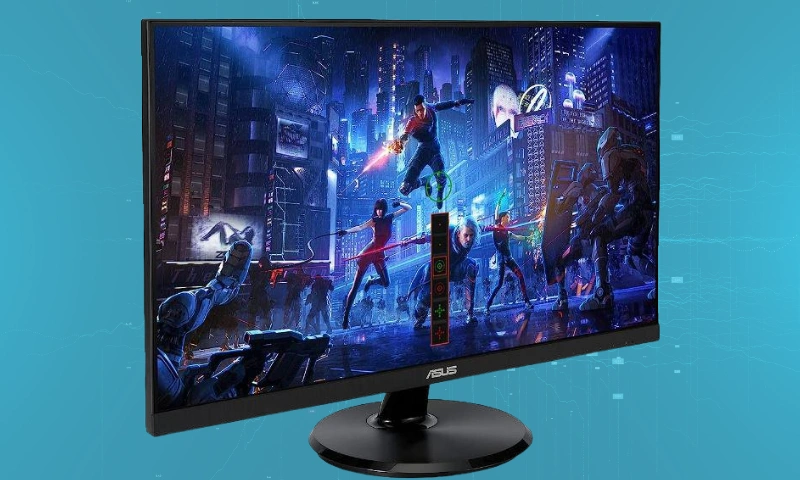 Included USB-C port capable of 65W of charging

Decent color accuracy and contrast

Lacks some features due to low price
Are you a space-savvy worker, a fan of compact screens, or have a very short budget? Perhaps you're someone who values essentials over frills like an adjustable stand. This 24-inch monitor is your perfect match. Think about the luxury of a screen much larger than the biggest laptop without the desk-hogging footprint of a 27-inch monitor. Now that's smart and spacious!
You will get crystal-clear visuals on this 24-inch screen right on your desk. That's what you get with the Asus VA24DCP, a 1080p monitor that packs a punch despite its budget-friendly price. With an integrated USB-C port with robust 65 W charging, this sleek monitor is perfect for notebook users seeking a larger display. The Asus VA24DCP boasts commendable color accuracy and contrast, making it an ideal match for office work and a Netflix binge session. An HDMI port that ensures desktop users and those with older laptops aren't left out of the fun.
Regarding budget monitors, you might have to kiss a few fancy features goodbye. But let's face it; these luxuries don't exactly make or break your daily tech journey. In that sense, trading them off in favor of affordability isn't a bad deal. Now, there's a slight hiccup. The speakers on this budget monitor are not the quality you might expect. You must think again if you plan to rock out to your favorite tunes or experience cinematic audio while watching movies.
---
6. Best OLED Monitor for HDR Gaming:
Gigabyte Aorus FO48U 4K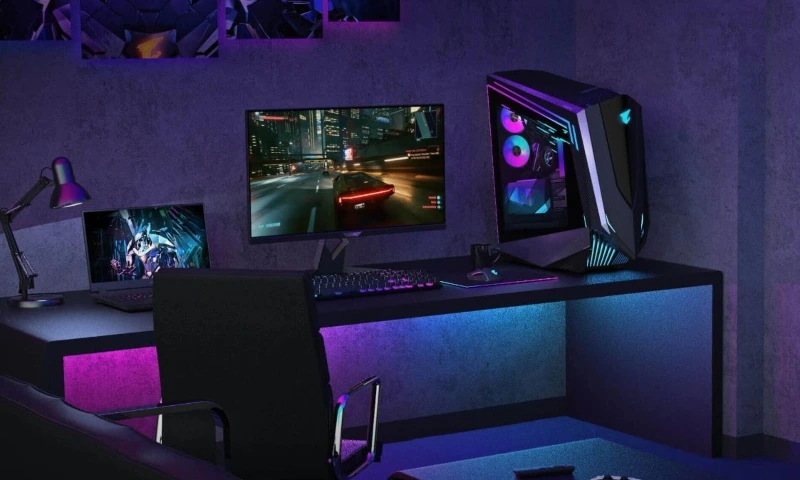 4K resolution provides a sharp and detailed image quality

Bigger 48-inch OLED screen

Good for high-speed HDR gaming

Contains DisplayPort 1.4 and HDMI 2.1

Outstanding audio quality

Lacks Dolby Vision support

Peak brightness is not too high
Gigabyte Aorus FO48U isn't just ordinary but an OLED titan, engineered to serve up a contrast that is nothing short of breathtaking. You will see your HDR content coming alive in a way you've never seen before.
With an OLED panel boasting an astronomical contrast ratio and covering an impressive DCI-P3 color spectrum of over 100%, this monitor delivers an image that's not just vibrant but incredibly accurate straight off the bat. And while it might not outshine some of the premium LCDs in terms of brightness, its performance is still a spectacle to behold. Grayscale tracking? Practically flawless. Your visual experience? Phenomenal.
You will be in a world of vibrant colors and lightning-fast action, and that's what you get with the Aorus FO48U. This beast is a feast for the eyes and a speedster tailor-made for high-octane HDR gaming on your gaming systems. With DisplayPort 1.4 and HDMI 2.1, it keeps pace with the fastest monitors.
Though it doesn't support Dolby Vision or the 50p and 24p TV formats, it more than compensates with a sound experience that's pure bliss. With the three integrated speakers of two 15W and a 20W subwoofer, it ensures your gaming and movie sessions are as audibly stunning as they are visually. In short, if a top-of-the-line visual experience is what you crave, the Gigabyte Aorus FO48U 4K Monitor is your ticket to paradise.
Frequently Asked Questions
What's the difference between TN, VA, and IPS panels?
TN panels are budget-friendly speedsters – they're typically more affordable and boast quick response times. However, they might not hit the spot regarding color representation and viewing angles. Now, the VA panels are the artists in the group. They deliver superior color and contrast but could be slightly slower in response time. Last but not least, we have high-end IPS panels. These showstoppers have the best color and viewing angles, but they come with a higher price tag.
What's a good refresh rate for gaming?
For the gaming enthusiasts among us, it's vital to have a monitor that can keep up with the pace. A refresh rate of at least 120Hz is a game-changer, literally! On the other hand, if gaming is more of a casual pastime for you, a 60Hz monitor will serve your needs perfectly.
Do I need a 4K monitor?
For those who crave lifelike graphics and stunning detail, a 4K monitor is a great choice. These monitors provide a four times standard HD resolution, offering a breathtaking visual experience. A 4K monitor's picture quality is unmatched but costs several times as much as a standard panel. Because of this, you should budget for a slightly higher price.
However, if your primary monitor usage revolves around work or web browsing, a 1080p monitor should suffice. These monitors offer a resolution ideal for everyday tasks like editing documents, surfing the web, or streaming your favorite shows. Not to mention, they are usually more budget-friendly compared to their 4K counterparts.
So here's the scoop, the perfect monitor for you? It's all about what you're into. The dazzling allure of 4K might be just the ticket for hardcore gamers and movie buffs, while a 1080p display has your back for the workaday world and some chill entertainment time.
What kind of ports do I need?
Almost all monitors out there have your back, boasting HDMI and DisplayPort connections. But, if you're a proud owner of a cutting-edge laptop, you might want to consider a monitor equipped with USB ports or even a sleek USB-C port.
How much should I spend on a monitor?
When it comes to investing in a computer monitor, it's not about how much you spend. It's about finding the right fit for your needs. Think size, resolution, refresh rate, and color accuracy.
For those on a budget, you can snag a decent full HD monitor for under $200. If you're a professional designer or a hardcore gamer, you might want to splash the cash on a 4K or even 8K display with a high refresh rate. These can run upwards of $1000, but their performance is top-notch.
Remember, it's not just a purchase; it's an investment in your productivity and enjoyment. Before you go shopping for your brand-new computer monitor, let's take a moment to reflect. What is it that you truly desire from your next monitor? What features would satisfy you with the best results? Let's ensure that every penny of your hard-earned money is invested wisely and brings you joy.