With the latest advances in technology and more demanding modern games are releasing continuously, choosing the right graphics card for your gaming setup that can meet these titles' graphics requirements is essential. Graphics cards are crucial for providing detailed and smooth visuals; as such, they can make a huge difference when it comes to enjoying your gaming sessions. However, for those who are on a budget, buying a top-of-the-line GPU may not be an option. But don't worry! This buying guide will discuss the best budget graphics cards in 2023, which will be the perfect companion for you in the future.
Graphic cards are an essential component of any computer system, but finding one that fits your needs and budget can be complex. With technological advancements, the GPU space has seen tremendous growth in recent years. That's why we've put together this list of the best cheap graphics cards to help you find the perfect option at the right price. From budget-friendly options to more expensive GPUs with quality specs, we'll discuss the most critical factors when choosing the affordable graphics card for your system.
For budget-conscious gamers, the most important thing is to get the best output at a price that won't break the bank. When selecting a card for gaming purposes, it's important to look for one that offers excellent performance without sacrificing too much on quality. To achieve high-quality gaming performance and keep up with the latest games, we will provide you with the best cheap graphics cards you should consider in 2023.
Best Budget Graphics Cards 2023: Our Picks
1. MSI AMD Radeon RX 6600 XT:
Best Budget Graphic Card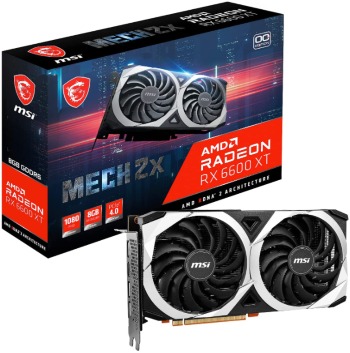 Video Memory: 8GB GDDR6 | Memory Speed: 16 Gbps | Stream Processors: 2048 | Compute Units: 32 | Boost Frequency: Up to 2607 MHz | Power Consumption: 160 W | Recommended PSU: 500 W or greater | Outputs: 1 x HDMI, 2 x DisplayPort 1.4
Pros
Amazing 1080p gaming performance
Worth the value
Best card with low power consumption
Can overclock automatically
Runs very quiet
Cons
Lacks ray tracing capabilities
Not good for 1440p gaming
The AMD Radeon RX 6600 XT is one of the best budget graphics cards of 2023, the latest entry in AMD's lineup of mid-range gaming graphic cards, offering performance on par with some of the best available solutions on the market at a fraction of their cost. While budget-friendly, the card still packs plenty of punch, featuring 8GB GDDR6 video memory, 32 ray tracing compute units, and a boosted frequency of up to 2607 MHz. You can get the best experience at 1440p settings in some titles, but it can deliver impressive frame rates on max 1080p graphics to give you perfect enjoyment.
With AMD's Radeon Super Resolution, PC gamers can finally experience ray tracing at 1080p resolution and not worry about poor performance or choppy gameplay due to the intensive GPU demands. Radeon Super Resolution uses hardware processing algorithms to improve image quality and productivity. At the same time, FidelityFX Super Resolution combines multiple rendering passes to reduce the workload on the graphics card, resulting in improved frame rates. Both AMD technologies provide a great way to get playable fps at higher visuals, even with ray tracing turned on.
The Radeon 6600 XT offers a great gaming experience, with impressive performance and the flexibility of FSR. Despite the lack of DLSS support and poor results considering ray tracing even at 1080p gaming, it's still an attractive card for those who don't need Nvidia-specific features. As such, unless you require an Nvidia GPU for a particular purpose, the RX 6600 XT is typically the better choice.
2. Zotac Geforce GTX 1660 Super:
Best Entry-level GPU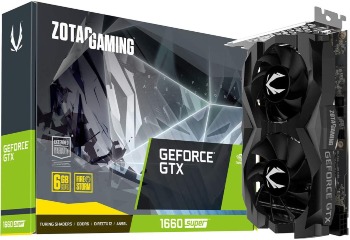 Video Memory: 6GB GDDR6 | Memory Speed: 14 Gbps | Base Clock: 1530 | Boost Frequency: Up to 1785 MHz | CUDA Cores: 1408 | Power Consumption: 125 W | Recommended PSU: 450 W or greater | Outputs: 3 x DisplayPort 1.4, 1 x HDMI 2.0
Pros
Good price-to-performance ratio
Delivers smooth fps at 1080p
A better option than GTX 1660
Cons
Very old GPU
Not for high-end gamers
Zotac GTX 1660 Super 6GB is a great starter option for budget-minded gamers who want to get a taste of the latest graphics card technology. The card offers a noticeable improvement over the GTX 1660 while still being more affordable than the GTX 1660 Ti. With its solid performance and popular price, the GTX 1660 Super is the ideal choice for gamers looking to get into the 1080p gaming scene.
This GPU bridges the gap between the GTX 1660 and GTX 1660 Ti, allowing gamers to enjoy an immersive experience without breaking their cost. The GTX 1660 Super packs a lot of fire to power through modern video games while staying budget-conscious, giving gamers an outstanding balance of performance and affordability. With the GeForce GTX 1660 Super, you don't have to sacrifice results or your wallet when looking for a video card with high throughput capabilities.
Nvidia's GPU offering, the GTX 1660 Super, is priced with an MSRP of just $20 above the original GTX 1660. Zotac's model, which we are discussing here, is available on Amazon for only $289.99, while the 1660 costs $269.99. This price difference between the two GPUs offers a great value proposition for the GTX 1660 Super, as its performance is higher than that of the Geforce GTX 1660. That gives consumers almost no reason to opt for it when the GTX 1660 Super is available to buy.
3. Gigabyte AMD Radeon RX 570:
Best Solid Performer for Budget Gamers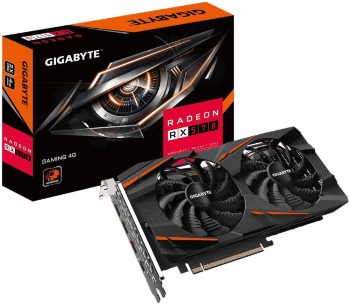 Video Memory: 4GB GDDR5 | Memory Speed: 7 Gbps | Base Clock: 1168 MHz | Boost Frequency: Up to 1255 MHz | Stream Processors: 2048 | Power Consumption: 150 W | Recommended PSU: 450 W or greater | Outputs: 1 x DVI, 1 x HDMI 2.0b, 3 x DisplayPort 1.4a
Pros
Good performance with Polaris architecture
Advanced cooling system
Compatible with most boards
Energy efficient card
Cons
Not good as top-notch GPUs
Poor overclocking
Can't offer good results in VR applications
The AMD Radeon RX 570 has been around for a few years, but it's still one of the most competent value-for-money GPUs that can deliver a stable output even for today's many AAA games. The GDDR5 memory and the 128-bit memory interface provide gamers with high-speed connectivity and fast speeds for streaming. The card features the latest Polaris architecture with 2048 stream processors, 4GB of GDDR5 VRAM clocked at 7000 MHz, and up to 2.5 times higher performance than older Rx 400 series GPUs.
The RX 570 performs well with impressive frame rates in most games when running at 1080p or below resolutions. With just 150 Watts of TDP, the Radeon RX 570 is one of the most energy-efficient GPUs currently available. The RX 570 has dual fan cooling technology and direct touch heat pipes that keep the card quiet and calm even under load. This allows for higher clock speeds and stability during gaming sessions. It offers better results than Nvidia's comparable GTX 1060 3/6GB, coming close in terms of framerates and faster in some titles but less impressive than more expensive options.
While 4GB of video memory should be enough for gaming at 1080p or lower graphics, it does lag behind other GPUs with more memory which will cause performance issues on newer titles with higher textures or when running virtual reality applications. Moreover, there are some gains to be had by overclocking the RX 570, and it is less reliable and efficient than other cards from NVIDIA, such as the GTX 1060 or GTX 1070. However, if gaming on a budget is your goal, then AMD's RX 570 is still the ideal solution.
4. Gigabyte Radeon RX 6500 XT:
Best Value Graphics Card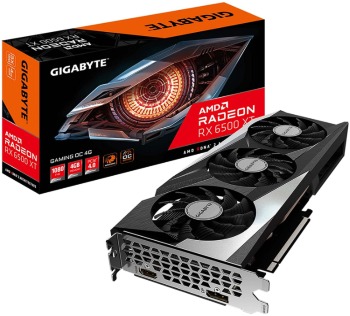 Video Memory: 4GB GDDR6 | Memory Speed: 18 Gbps | Base Clock: 1717 MHz | Boost Frequency: Up to 2825 MHz | Stream Processors: 1024 | Power Consumption: 107 W | Recommended PSU: 400 W or greater | Outputs: 1 x HDMI 2.0b, 1 x DisplayPort 1.4a
Pros
On-par gaming performance
Great clock speed
Ray tracing support
Good cooling system
Cons
Suffers with ray tracing enabled
Only four PCIe 4.0 lanes
4GB video memory is not enough for most current games
Gets hot and generates noise
The Radeon RX 6500 XT is the optimal choice for those seeking a fine cheap GPU at an accessible cost. Its longevity and power exceed its competitors, making it the ideal selection for cost-conscious buyers. Despite its drawbacks, such as lower core speeds and smaller memory size than those of more expensive cards, the 6500 XT outperforms other options within a specific price range. For example, other cards like the RX 6400 and GTX 1630 may be cheaper, but their performance is far inferior, making them more suitable for less demanding tasks such as small form factor machines.
The four-lane configuration for the RX 6500 XT is a real bottleneck for many buyers still using PCIe 3.0, as it limits its performance significantly. Despite supporting PCIe 4.0, there's no reason to limit this card to just four lanes when both the RX 6600 and RTX 3050 have eight lanes without issue—it makes more sense that they should also have eight lanes available. The RX 6500 XT is the only current-gen GPU option available at $200. It's because you will not find any GPU from Nvidia in this category, and the only other AMD offering, the RX 6400, has PCIe compatibility issues, making it a less desirable option.
The RX 6500 XT from AMD is undoubtedly a more budget-friendly option than other available choices from the same manufacturer. It has half as many cores and video memory as the RX 6600 XT but offers slight clock speed improvements. The main drawbacks of this model are its limited memory and PCIe bandwidth, making it less capable of handling complex tasks. Ultimately, it's better suited for general users who need a simple machine with decent performance at a lower price than one designed for intense gaming or heavy workloads.
5. Sapphire Radeon RX 5700:
Best Cheap GPU with No Ray Tracing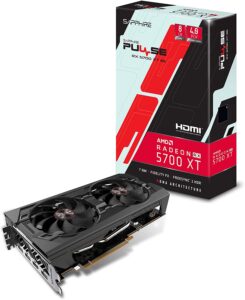 Video Memory: 8GB GDDR6 | Memory Speed: 14 Gbps | Base Clock: 1465 MHz | Boost Frequency: Up to 1725 MHz | Stream Processors: 2304 | Power Consumption: 180 W | Recommended PSU: 600 W or greater | Outputs: 1 x HDMI 2.0 with 4K60 support, 3 x DisplayPort 1.4
Pros
Excellent budget performer
Smooth gameplay even at 1440p settings
Blower card layout directs hot air from the case's rare
FreeSync 2 HDR overcomes screen tearing
Cons
No ray tracing cores
Fan becomes noisy
AMD drivers have issues
The Radeon RX 5700 stands out in the realm of budget-friendly AMD graphics cards. It can run most games on Ultra or Max settings at 1440p resolutions with no problems while providing excellent detail, smooth performance, and low power consumption. Few mid-range cards can match its productivity at such an affordable price. Furthermore, it also comes with features such as Anti-Lag technology which helps minimize input latency while gaming, and FreeSync 2 HDR Protection, which prevents screen tearing while providing smooth visualization at any frame rate.
Affordability is often sought in the tech industry, and the Radeon RX 5700 is no exception. It is a cost-effective choice for many, but it does come with a few trade-offs. It does not offer RT cores for real-time ray tracing nor has support for NVIDIA's DLSS technology which can increase graphical fidelity at higher resolutions without impacting performance negatively as traditional AA methods do. It's disappointing, especially considering the rise of ray tracing in gaming nowadays when the new games require a bunch of specs to run. But, it's understandable, given the low cost and other configurations.
6. ASUS Geforce RTX 2060:
Best Budget VR-Ready Graphics Card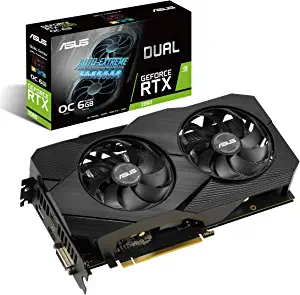 Video Memory: 6GB GDDR6 | Memory Speed: 14 Gbps | Base Clock: 1465 MHz | Boost Frequency: Up to 1725 MHz | CUDA Cores: 1920 | Power Consumption: 160 W | Recommended PSU: 600 W or greater | Outputs: 1 x DVI, 2 x HDMI 2.0b, 1 x DisplayPort 1.4
Pros
Support ray tracing at 1080p settings
Offers 1440p gaming at 30-40 fps
Great value for the price
No issue with the cooling
Cons
Not a cheap price
High-end gamers may require more powerful card
Despite the more recent releases of the RTX 3060 and RTX 3060 Ti GPUs, the GeForce RTX 2060 remains a leading budget GPU option in the market. It can run high-quality virtual reality games and applications, making it ideal for gamers seeking an immersive experience. It features Nvidia's Turing architecture which ensures smooth and realistic rendering of game details compared to other cards in the same price range. The RTX 2060 has 6GB of GDDR6 RAM, which allows it to handle large amounts of data ensuring smooth and uninterrupted performance.
This version of the RTX 2060 offers an elevated boost clock of 1785 MHz, a considerable improvement from the 1680 MHz listed by NVIDIA. The card also supports Ray Tracing technology which helps create natural lighting effects for more realistic visuals. For an immersive gaming experience, this mid-range graphics card is a perfect choice, allowing users to enjoy gorgeous visuals at 1080p, 1440p, and even 4K (with a relatively low fps, around 30-40). Power draw can be higher than some competing models, and its maximum temperature may not allow overclocking to squeeze out the output results.
Despite not being the most glamorous GPU in Nvidia's lineup, the Nvidia GeForce RTX 3060 Ti packs a powerful punch. It effortlessly runs Full HD and QHD games while also providing gamers access to the cutting-edge ray-tracing technology that Nvidia offers. Boasting a robust physical structure, the RTX 2060 can provide a substantial leap in performance when compared to the GTX 1070. Furthermore, Dynamic Super Resolution and Ansel are supported, making things more interesting. While the RTX 2060 might not have the same capabilities as the newer models, it's a great card that delivers on its promises, making it an excellent purchase for any enthusiast.
7. Sapphire Pulse Radeon RX 580:
Best Mid-Range Card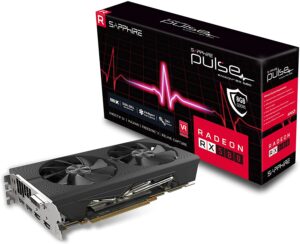 Video Memory: 8GB GDDR5 | Memory Speed: 13 Gbps | Base Clock: 1257 MHz | Boost Frequency: Up to 1366 MHz | Stream Processors: 2304 | Power Consumption: 185 W | Recommended PSU: 500 W or greater | Outputs: 2 x HDMI 2.0, 2 x DisplayPort 1.4, 1 x DVI
Pros
Good performance at 1080p or 1440p
Dual-fan solid cooling system
Very affordable price
Better power saver than some other Radeon cards
Cons
Generates noise
Overclock with limits
Can't beat the Nvidia GTX 1060 6GB
Sapphire Pulse Radeon RX 580 is an inexpensive yet effective way to get into PC gaming without spending too much upfront. It comes with 8GBs GDDR5 RAM clocked at 1366MHz, meaning it's no powerhouse like some other cards. However, it still delivers 1080p graphics with ease across demanding titles like Far Cry 5, Call of Duty, or Metro Exodus while providing smooth frame rates on ultra settings. The Pulse RX 580 from AMD is an excellent choice for maximizing performance yet minimizing power usage compared to its Radeon rivals.
While it requires more power than Nvidia's GeForce GPUs, this card still has impressive visuals and can handle heavy workloads without draining too much from your PC's power supply. The card comes with a solid dual-fan cooling system, allowing for quiet operation under high loads. It competes head-to-head with the 6GB GTX 1060, but it's probably not a good idea for someone who already owns a card from the Radeon RX 400 lineup to upgrade, as there won't be any major performance gains.
8. Gigabyte Geforce RTX 3060:
Best GPU for High-end Gaming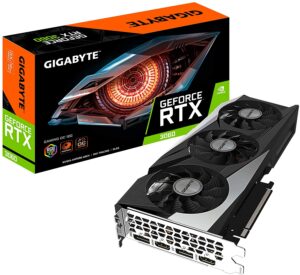 Video Memory: 12GB GDDR6 | Memory Speed: 15 Gbps | Base Clock: 1320 MHz | Boost Frequency: Up to 1837 MHz | CUDA Cores: 3584 | Power Consumption: 170 W | Recommended PSU: 550 W or greater | Outputs: 2 x HDMI 2.0, 2 x DisplayPort 1.4a
Pros
Great for ultra HD gaming
12GB video memory
RGB lighting
Triple fan cooling technology
Offers a premium look
Cons
Cost is a bit high for budget gamers
Gets hot during heavy workload
The Gigabyte GeForce RTX 3060 12GB is an excellent option for gamers who need powerful performance without breaking the bank. It looks similar to the more expensive Vision OC card, except it doesn't have that rectangular edge design. However, its performance is just as impressive thanks to its cutting-edge technology and features like real-time ray tracing and advanced AI support. This card offers the power and reliability demanding gamers crave, so if you're looking for bang for your buck, the Gaming OC should be seriously considered.
Additionally, the Gaming OC comes with a robust power delivery system designed to maintain consistent and stable operation during intense gaming or other graphics operations. Finally, its illuminated RGB lighting fans allow users to customize the look of their machine, matching it with their tastes. Its 12GB GDDR6 memory provides enough strength to handle complex textures and graphics while supporting resolutions up to 8K.
While the RTX 3060 is one of the more affordable options, it's still more expensive than other GPUs on the market, which may not be suitable for budget gamers. But given the card's features, it works efficiently, looks attractive, and doesn't use a large amount of power. This card is excellent for games that require a bit more power, like Call of Duty, Skyrim, Ark, Forza, and GTA 5, as it can handle them all with ease, delivering consistent 60+ fps. Despite its impressive specs, older systems may struggle to use the full capabilities of the graphics card due to compatibility issues with hardware components such as motherboards or other peripherals.
How to Choose the Best Budget Graphics Card
When searching for the best budget graphics card, it can be difficult to make an informed decision without a lot of information. To make the process easier, there are a few key points to consider which can help guide your search. Consider your budget first and the type of gaming or rendering performance you need from a GPU. Generally, a graphics card in the $150-$300 price range will be enough for most gamers and power users who want an upgrade from onboard or integrated graphics solutions.
When it comes to gaming with a PC, playing at the highest possible resolution is often the goal. 1080p is the standard resolution for gaming; it offers a balance between image quality and performance, with games running relatively smoothly between 50-60 fps, depending on the game settings. However, if you want a higher resolution experience, you can try 1440p, which offers improved visuals but requires a more powerful GPU & hardware to run smoothly at 60 fps. If you're only concerned with achieving above 30-40 frame rates, then playing at 1440p might be possible but understand that you may need to make some compromises in image quality or other settings.
Ray tracing is an advanced rendering technique that helps create realistic lighting and shadows in real-time. It can add significant visual fidelity to a game, but it's usually quite expensive to implement. In the case of budget graphics cards, this means compromises must be made to keep costs down. AMD FSR can help ensure that the ray-tracing effects render with lower hardware requirements, but its quality is not as dynamic or robust as Nvidia's DLSS. In addition, any application of ray tracing in this price range would require compromising texture and model quality or relying on consistently low-resolution models and textures.
When assessing your system, it is crucial to consider the specs of all components, not just the graphics card. An older processor or a slow hard drive might prevent your GPU from performing optimally, even with an adequate power supply. Upgrading to a newer processor and faster RAM can significantly improve graphics performance. In addition, you should ensure enough space in your PC case for installing a more powerful GPU; if the card you choose has higher requirements than what your case can support, then it will also be limited in its abilities.
It's essential to choose a power supply unit that is large enough to handle the power requirements of your new graphics card while still staying within budget parameters. Suppose a video card requires more wattage than is available via an existing rig. In that case, you'll have to upgrade this portion separately if opting for multi-card SLI/CrossFire support configurations, which can use two smaller cards than one larger in many cases since larger units require stronger PSUs overall due to power draw rate considerations.
Which Graphics Card is Best for Budget Gaming
As the demand for quality GPUs in the budget and mid-range segments has risen, Nvidia and AMD have, unfortunately, not matched the need. This has resulted in a substandard selection of GPUs, leaving consumers in a bind. Fortunately, there are still some great options available. We recommend AMD GPUs like the RX 6600 XT or the RX 5700, as they offer an excellent value-to-price ratio.
For the Nvidia end, you can go with RTX 2060, which is currently the best available option with many packed specs that can handle the games at 1080p or 1440p with the right tweaks. Alternatively, Nvidia's RTX 3060 is more expensive, but it comes with some of Nvidia's unique features, such as DLSS and ray tracing, which can be invaluable for specific applications.