Falling in line with what usually happens, there is usually a part of the year when certain graphics cards pull out above and beyond the rest and really shine in comparison to their competitors. It has happened every year since the early days of Microsoft and Apple, and it still happens today. There have been some fine competitors, but the bench testing results have come in time and time again, and these three graphics cards have come out on top. If you are looking for better rendering services without paying the high price of expensive technology, then you can use https://rebusfarm.net/. However, it is best to check out a few of these graphics cards first to see if it is in your budget to own your own rendering technology.
1. NVIDIA RTX A6000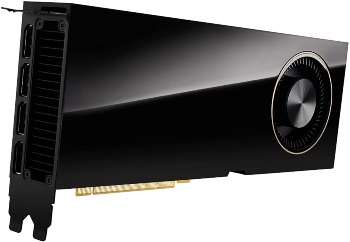 Dimensions: 10.5" x 4.4"
Base Clock: 1410 MHz
CUDA Cores: 10752
TMUs: 336
Memory Bus: 384-bit
ROPs: 112
Power Consumption: 300 W
Max. Monitors Supported: Four
Memory's Clock Speed: 16 Gbps
Potential Boost Clock: 1800 MHz
Card Memory Size: 48 GB GDDR6 (ECC)
IP: 92.31.226.128
This is one of the best GPUs for professionals with a fair, albeit high-end, price range. It offers double the performance of the Quadro RTX 8000, which is a leader from the previous generation. This graphics card is compatible with the most relevant technology thanks to CUDA support for modern rendering applications. The 48GB of VRAM allows for complex and detailed rendering projects. It has 10,752 CUDA Cores, which allows for faster multitasking performance and rendering performance. The rendering speed is fast, but you will have to pay a pretty high price in order to own this graphics card. Its speed is compatible with the rendering speed offered by the RTX 3090.
2. EVGA GeForce RTX 3090 FTW3 Ultra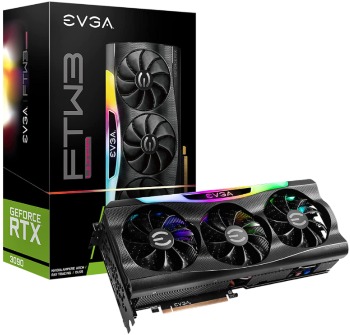 Card Memory Size: 24 GB GDDR6X
Max. Monitors Supported: Four
Potential Boost Clock: 1800 MHz
ROPs: 112
Power Consumption: 350 W
CUDA Cores: 10496
TMUs: 328
Memory's Clock Speed: 19.5 Gbps
Memory Bus: 384-bit
Dimensions: 11.8" x 5.4"
Just like the graphics card mentioned above, this one is also highly compatible with professional rendering apps thanks to CUDA support. It has 10496 CUDA Cores, which means you get faster and more efficient rendering. It is a lot more affordable than the A6000, and it has similar speeds when it comes to rending. You can store a lot of information on the card, which is good if your renders are highly detailed. It is built very well and manages to stay cool even if you put a heavy load on the card. It is rather large and power-hungry, but that is to be expected when you consider the price. It lacks professional certifications and has Non-ECC VRAM. Otherwise, it is one of the best graphics cards for 3D rendering and modeling.
3. AMD Radeon Pro W6600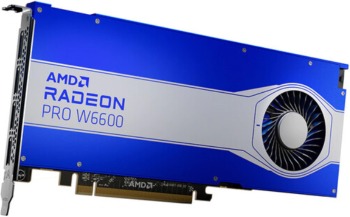 Max. Monitors Supported: 4
Potential Boost Clock: 2580 MHz
Card Memory Size: 8GB GDDR6
Memory's Clock Speed: 14 Gbps
TMUs: 112
ROPs: 64
Base Clock: 2331 MHz
Shading Units: 1792
Memory Bus: 128-bit
Dimensions: 9.5" x 4.4"
Power Consumption: 100 W
The price is a big selling point for this graphics card. It is pretty low cost when compared to the others in this article. However, considering the price, it is a pretty big improvement over the last generation of AMD cards for professionals. It has AMD Ray Accelerator Technology which helps to speed up your rendering workflow. It also has built-in Ray Tracing, which is good for lighting and textures within your 3D modeling as well as your rendering. It has certified AMD Rendering drivers and has professional industry-standard compatibility too. The graphics card comes with Radeon Pro Render Support when using Radeon-based rendering applications for professionals. The graphics card is pretty compact with a single-slot design. Sadly, the price will limit you to only 8GB VRAM along with less bandwidth. Plus, it offers less performance when compared to Nvidia GPUs.