As technology continues to evolve, gaming consoles are becoming more advanced packed with amazing features, and more powerful than ever before. The PlayStation 5 (PS5) is a prime example of this trend, with its lightning-fast speeds and impressive performance capabilities. Nonetheless, even the competent gaming console can be improved upon, and upgrading your PS5's standard hard drive to a fast solid-state drive is a great spot to start. The PlayStation 5 has a ton of fantastic games, but based on how large their individual download sizes are, you may only be able to enjoy a handful at once on the console's limited internal storage. With the best SSD for PS5, you can ensure that you have enough room for all of your favorite games, updates, and apps, while also having plenty of space for screenshots and saves. In this guide, we have listed a range of the best PS5 SSDs that are designed to meet the needs of even the most demanding gamers.
If you're a dedicated gamer, you know how crucial it is to have reliable and quick storage for your console. The additional M.2 SSD slot makes it possible to attach an additional drive to your Sony PlayStation 5, making it comparable to gaming PCs in terms of disk expansion. The best SSDs for PS5 make using an external hard drive obsolete by providing instant loading speeds, fluid saves, and game transfers. But you should need to look for a device that is compatible with the system and includes a heatsink to keep it from burning. Don't fret if you're feeling confused by all the choices; we've taken care of the legwork for you. With the help of our in-depth buying guide, you can locate the most reliable and best PS5 SSD that is appropriate for your system. We can accommodate your needs for either massive amounts of data or blazingly fast processing speeds.
Best SSD for PS5 – Our Recommendations
You can add more space to your PS5 without spending a lot of money or going through a lot of hassle. There is a wide variety of M.2 SSDs on the market that are compatible with the device, so finding one at a price that works for you shouldn't be difficult. However, remember the Sony-mandated minimum speed limit. A PCIe 4.0 solid-state drive with a concurrent read speed of 5,500 MB/s or higher is required. All of the choices we offer satisfy this requirement, making the whole process of upgrading simple.
1. Corsair MP600 PRO LPX - Best SSD for PS5
The Corsair MP600 Pro LPX is a top-tier solid-state drive that outperforms most other options at a reasonable price. This SSD has read and write speeds of 7,100 MB/s and 6,800 MB/s, respectively, which is superior to what you require within your PS5. In addition, with 2 terabytes of huge space, you can save many copies of games you love along with additional stuff. The Corsair MP600 Pro LPX is one of the best and most cost-effective choices on the market right priced at $163 with 2TB disk space on Amazon, giving a fantastic price-to-performance ratio that makes it appealing to economical gamers regardless of its remarkable performance.
The Corsair MP600 Pro LPX's preinstalled heatsink is one of its most notable features because it offers thermal protection and contributes to maintaining optimal performance from the get-go. A fellow gamer here, I feel your pain when your PS5 starts running out of space. But that's not a problem by fitting this SSD in your gaming console as you can keep a lot of favorite titles no matter if their setup sizes exceed 100GB. In conclusion, the Corsair MP600 Pro LPX is a fantastic addition to any PlayStation 5 setup, regardless of how serious or casual a gamer you are. One of the top PS5 SSDs in 2023 thanks to its combination of performance, cost, and longevity.
2. WD_BLACK 1TB SN850X - Best Value SSD for PS5
With read/write speeds of up to 7,300/6,350 MB/s, the WD_BLACK SN850X allows for lightning-fast loading periods and smooth, lag-free gameplay. This SSD is a little more expensive than others, though it more than makes up for it with its 1TB storage space and 7,300MB/s sequential read speeds. Users are unlikely to detect a difference between this and our top pick, the Seagate FireCuda 530 NVMe SSD, despite the latter's slower write speed of 6,350MB/s; its rapid save times are still impressive and same as FirCude 530.
When integrating WD_Black SN850X into your PlayStation 5, you don't have to worry about overheating, as it has a built-in heatsink and cooling fan to keep things nice and toasty even when under duress. And there will be no worries about the drive not fitting in the PS5's M2 port. If you buy now, you can rest assured that the money you spent is protected for the duration of the console's lifespan, as the guarantee includes failures for up to five years.
3. Seagate FireCuda 530 - Best High-Speed SSD for PS5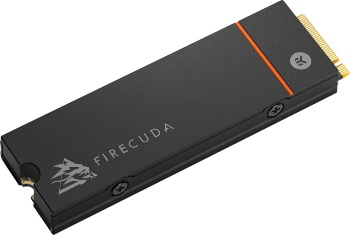 Capacity: 1TB
Interface: M.2 2280 PCIe 4.0 x 4
Sequential Read: 7,300 MB/s
Sequential Write: 6,900 MB/s
The Seagate FireCuda 530 is another outstanding solid-state disk that is our second-best pick in this list with remarkable performance, making it ideal for power users who need the quickest and most efficient storage solutions available. By utilizing state-of-the-art 3D TLC NAND technology, this Gen 4 SSD is capable of delivering mind-blowing read speeds of up to 7,300MB/s, easily outpacing the demands of even the most graphically intensive modern-day video games. Its write speed of 6,900MB/s is also incredible, allowing for a fast and painless data-saving process.
The FireCuda 530 isn't just powerful; it also has a built-in heatsink that keeps it running smoothly and efficiently regardless of how demanding you are with your console. A non-heatsink variant is also offered for expert gamers who like to perform their own system tweaks. The SSD features a powerful penta-core PS5018-E18 chip from Sporting Phison and Micron's lightning-fast 176-Layer TLC flash memory. You can also rest easy knowing that the drive is backed by a five-year warranty and has data rescue assistance for three years. With an incorporated heatsink and other features, however, this SSD is a top choice for those who prioritize speed and stability.
4. SK Hynix Platinum P41 - Best Budget PS5 SSD
All PS5 users who are looking for a middle ground between great performance and low price should seriously consider the SK Hynix Platinum P41. You can acquire the roomy 2TB variant, which is currently available, for roughly $157. However, remember that you'll have to buy an external cooler in order to use this storage device in your PS5.
The Platinum P41 comes in three different storage sizes (500 GB, 1 TB, and 2 TB) and has a sequential throughput of up to 7,000 MBps, much above the Sony PlayStation 5's bare minimum demands. This drive is a great choice for PS5 gamers with its 750 TBW endurance rating and a five-year warranty. You can rely on it for lasting performance and peace of mind.
5. Samsung 990 Pro - Best High-End Samsung SSD for PS5
When compared to akin PS5 SSDs, the Samsung 990 Pro is a clear frontrunner due to its innovative use of NVMe Gen 4.0 technology. No matter if you go with the 1TB or 2TB model, this high-speed storage will blow away the competition. Samsung's 990 Pro is their recent Gen 4 M.2 SSD model, which offers blistering speeds for PlayStation 5 and computer gamers alike.
Initially, it was not the best choice to buy this SSD for PS5 because of the price difference between it and its forerunner, the SN850 but has recently seen consistent and substantial price drops. Consider that the 990 Pro can be purchased with or without a heatsink depending on your preferences. More people prefer the model with the heatsink, particularly PS5 owners who desire a quick and easy setup. However, it's also not a bad deal to get one without a heatsink if it's available at a good discount.
6. Crucial P5 Plus - Best Performance at an Affordable Price
If you're looking for a Gen 4 SSD on a budget, but don't want to sacrifice performance, the Crucial P5 Plus is a wonderful option. These speeds are what Sony aimed for when designing the M.2 slot in the PS5, and this drive uses 3D NAND technology to make it possible. It has faster read and write speeds than the console's built-in storage, so games may be loaded and saved in a flash.
However, keep in mind that the Crucial P5 Plus is lacking a heatsink built in. The good news is that installing your own heatsink is a simple solution, and the market is stocked with a wide variety of low-cost models. Be sure the height of the heatsink you choose is compatible with Sony's specifications.
7. XPG Gammix S70 Blade - Best Affordable SSD for PS5 with Heatsink
ADATA XPG Gammix S70 Blade is the best alternative to Crucial P5 Plus if you are in need of an SSD with a built-in heatsink at no extra cost. Our tests showed even better read speeds after formatting, despite Adata's initial claim that the PS5's operating system would set the drive's advertised 7,400/6,800 MB/s read/write speeds at 6,100 MB/s.
This SSD is fast and performs as well as or better than some premium ones, however, it costs much less. Most of the time, the XPG Gammix S70 Blade's speed and performance can even outstrip the console's built-in memory. You can get the 1TB model at just $129.99 on Amazon which makes it a great choice for thrifty gamers.
What to Consider When Buying a PS5 SSD?
The PlayStation 5 is a state-of-the-art gaming console with beautiful visuals and exciting new gaming experiences. However, due to the ever-increasing file sizes of today's games, the console's internal storage may be insufficient to house all of your favorite titles. For this reason, a Solid State Drive (SSD) is useful; it can be used to increase storage space, enabling more games to be installed without affecting performance. However, there are a few things to think about before diving headfirst into purchasing the first SSD you come across. With the information provided here, you should be able to select the best PS5 SSD for your specific gaming needs.
Not all SSDs are made equal when it comes to adding space to your PlayStation 5. To guarantee compatibility and peak performance, Sony has provided certain recommendations. If you're in the market for an SSD for your PS5 console, what features should you seek out?
NVMe PCIe 4.0 and Speed
The NVMe PCIe 4.0 SSD should have a sequential read performance of 5500MB/s or more, as suggested by Sony. Just how crucial is speed? Loading times that are significantly reduced allow players to get straight into the action without having to wait around. It also guarantees the best possible download times for games and other media. To improve the experience of your playing, it's recommended that you use an SSD with a high read speed.
Physical Compatibility
If you're looking to buy an SSD for your PlayStation 5, be sure it's M.2 compatible. There isn't a ton of room on the inside of the console, so make sure the SSD slides in there comfortably. The slot is around 110 x 25 x 11.25 mm (4.33 x 0.984 x 0.442 inches). Most SSD drives will still be able to fit inside these parameters, though adding a heatsink could make the situation more complicated.
Storage Capacity
Think about how much extra room for PS5 data you'll need. The console has a single M.2 socket for adding a hard drive with capacities ranging from 250GB to 4TB. Smaller size SSDs can be cheaper options if you're just trying to save space for a few of games. On the other hand, if you plan to store all of your video game collection without worrying about space, you should go for the largest space options. From what we've seen, 1TB SSDs are quite prevalent among gamers because they provide a good mix of cost and amount of storage.
Heatsink is Must
A heatsink is an essential addition to your PS5 if you plan to purchase a high-performance SSD. These speedy storage drives produce a lot of heat, and without adequate cooling, their performance may be throttled to protect the drive from overheating. A heatsink serves a purpose beyond maintaining the SSD cool; it also protects your data and guarantees the drive performs at its peak for its entire useful life.
Many of the SSDs that we picked already have heatsinks built in, so they can be installed without any hassle. If the SSD you want doesn't have a heatsink included, you'll need to buy one independently. In that instance, double-check the heatsink's measurements against those of the SSD so that you don't have to face any issues after its purchase.
Bottom Line
Any serious gamer worth his or her salt should upgrade the PS5's internal storage to an SSD. Careful consideration of the recommended specifications, the amount of storage, physical compatibility, and the requirement for a heatsink can help you choose the best SSD for your console. The correct solid-state drive SSD can give you a plethora of advantages, including a slicker gaming experience, quicker load times, and more room for your gaming library. Choose a high-quality SSD that satisfies the specifications put forth by Sony rather than going with the cheapest choice available. With more space on your PS5, you'll be ready to take your gameplay to the next level.