Call of Duty: Modern Warfare 2 is set to release, much to the delight of gamers everywhere, and we've got the inside scoop on everything you need to know to get ready. Infinity Ward is working on a new Modern Warfare installment for Call of Duty, which is expected to release soon.
People familiar with the series will agree that the Modern Warfare installments have been crucial to the series' continued success. With any luck, the past few years have marked the beginning of a new chapter in the Modern Warfare Franchise. In anticipation of the upcoming Call of Duty 2022: Modern Warfare 2, we've compiled a comprehensive guide to everything players need to know. Here's a breakdown of all the early information we have, from the release date to the planned gameplay and the campaign specifics.
Right now is when speculation regarding the next Call of Duty game heats up. Since Call of Duty: Vanguard was released on schedule in 2021, we can safely assume that Modern Warfare 2 is coming to its presence soon. After the unveiling trailer, we learned a lot about Modern Warfare 2, such as the game's release date, improvements, characters, weapons, modes, and more. The following is all our information about Call of Duty: Modern Warfare 2.
Call of Duty: Modern Warfare 2 Release Date
The release date for Call of Duty: Modern Warfare 2 is set for October 28, 2022. It's been standard practice for new Call of Duty games to come out in the year's later stage, and the same is happening again.
The developers revealed the release date using a trailer highlighting the game's compelling visuals and characters. On June 8, Modern Warfare 2 was exposed to the globe, giving gamers a glimpse of what to expect.
On September 15, 2022, during the Call of Duty event, we will have another chance to view the game in action. Like previous Franchise games, Modern Warfare 2 will most certainly be available digitally before its release, allowing players to get in as soon as it goes live in their region.
Call of Duty: Modern Warfare 2 Trailer
After Infinity War presented the game's emblem at the end of April 2022 and the launch date was announced at the end of May, we also have the official trailer. The reveal teaser gives you an early glimpse at the game's story, which takes place in multiple surroundings and promises an action-packed thrill experience.
It was widely speculated that the Call of Duty game in 2022 will be a follow-up to the Modern Warfare debut in 2019. In February 2022, Infinity Ward briefed the press on its intentions for not only Modern Warfare 2 and a fresh incarnation adding in the Warzone, both of which will be released simultaneously.
Call of Duty: Modern Warfare 2 Platforms
In the past, Call of Duty had been released on as many platforms as possible to boost revenue. Although in January 2021, Xbox made public its intention to acquire Activision. The statement shocked the community because it raised the specter that Call of Duty could one day become Xbox-exclusive. Although this may happen in the future, it will not impact COD MW2 even though the 2023 release might also be available on PlayStation. The launch of Modern Warfare 2 has been confirmed for the PS4, PS5, Xbox One, Xbox Series X|S, Battle.Net, and Steam platforms.
At this time, it's impossible to predict what benefits the newest devices will have over the older ones. We can experience anything, from increasing frame rates to make the visuals look better. But there may be a difference between the current-gen and earlier installments: leaks have suggested that the PS4 and Xbox One editions of Modern Warfare 2 will release with numerous discs.
According to Tom Henderson, a well-known industry expert, it could also be the final Call of Duty product to be compatible with older platforms.
Modern Warfare II (2022) is coming to both current-gen and past generation consoles.

It's currently believed that this will be the last Call of Duty coming to past generation consoles, but it will ultimately depend on the console market conditions. pic.twitter.com/YTucmVCcqY

— Tom Henderson (@_Tom_Henderson_) December 10, 2021
Modern Warfare 2 Gameplay
The new Modern Warfare from Infinity Ward will undoubtedly share a great deal of action with its predecessor, although that does not mean there can not be any changes or tweaks made to the formula. The initial Modern Warfare 2 gameplay at Summer Games Fest held on June 9, 2022, has proven true. This gaming demo featured the Dark Water campaign mission.
Even though this is just a preview, we have decent information regarding the upcoming title. Regarding the weapons, the Vector, the highly regarded VLK 3.0 optic mounted on an assault rifle, and Molotov as a form of thrown weaponry are all back.
Call of Duty: Modern Warfare 2 Beta
Open Beta testing for Modern Warfare 2 has been planned, keeping with the ongoing trend. Beginning on September 16th, anyone who preordered the game for PlayStation will have early access for two days. After that, from September 18 to September 20, it will become available to platform users generally. Traditionally, the PlayStation is given quick access during a weekend before the PC and Xbox platforms have their turn the next week.
Call of Duty: Modern Warfare 2 Modes
As rumors provided us with many details, and for the most part, we know which kinds of gameplay modes will be available in MW2.
First announced was Knockout, an enhanced version of the Gunfight playlist that will include in Modern Warfare 2. In this novel twist on the paradigm, the teams have a finite quantity of life opportunities to win the battle. It's up to you to eliminate your enemies or control a package until the time ends.
In addition, a mode similar to Rainbow Six Siege has been confirmed to be in development. This particular mode is called Prisoner Rescue, and it features round-based fighting with a more incredible strategic bent. Two captives spread out over the area, so squads can't just charge in with no plan. New tools, baits, and cams are at a player's disposal for use in reconnaissance missions.
In addition, a claimed extraction mode known as DMZ was contained in a picture that an NFL player grabbed in August 2022. Simultaneously, the photo beneath surfaced, depicting what appears to be a multiplayer lobby, providing a glimpse at the game's upcoming interface.
. @TheGhostOfHope uuuhhhhhhhh pic.twitter.com/jOlcMyxfNB

— Flerrington (@flerrington) August 3, 2022
There are four different maps under construction for DMZ. Famous insider "theGhostOfHope" has pointed up an important detail: these will only be available in DMZ. For this reason, they will not be featured in the multiplayer modes of Warzone 2 or Modern Warfare 2.
How to Pre-order Modern Warfare 2
Beginning on June 8th, you may pre-order Modern Warfare 2 from the Call of Duty web store. Choose your device type and buy the version you want from the website. For the release of MW2, two versions will be available. The Vault Edition may be purchased for $109.99, whereas the Standard Edition costs $70.00. Below, you may compare and contrast the contents of the two versions.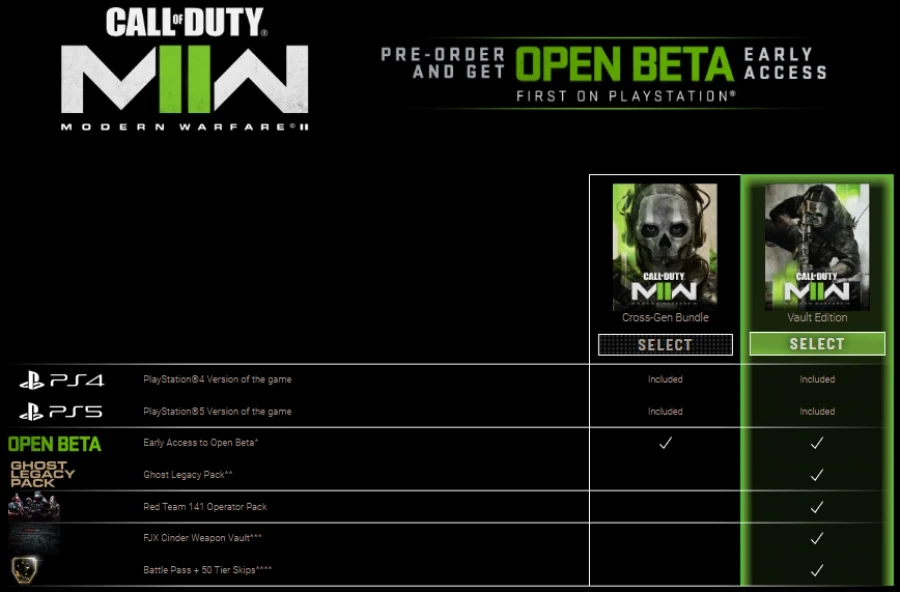 Pre-ordering Modern Warfare 2 will get you into the open beta before everyone else.
Call of Duty: Modern Warfare 2 Leaks
Call of Duty: Modern Warfare 2 map leaks have begun, focusing on those that have previously appeared in the series. According to RalphsValve and Tom Henderson, the original MW2 (2009) maps will appear in the 2022 release.
The comeback of five already featured maps has been confirmed by RalphsValve. These maps tend to be fan favorites and could perhaps make a comeback.
You can check out the following list of MW2 returning maps:
Favela
Shipment
Terminal
Quarry
Highrise
Returning Maps
⁃Favela
⁃Terminal
⁃Highrise
⁃Shipment
⁃Quarry

— Ralph (@RalphsValve) November 2, 2021
According to recent reports from analyst Tom Henderson, these maps will be included in Warzone 2; however, the players will not get them in Modern Warfare 2. So players will need to hold out for their inclusion in multiplayer.
Aside from the maps, we also have a good understanding of the weapons available to players owing to leaks. The AX-50, Bruen Mk9, MP5, and MP7 are just a few of the weaponry that will be making a comeback from 2019's title. Additionally, many other armors will be included, which we have not seen in the Call of Duty.
Undoubtedly, information about this game is incredibly intriguing; therefore, you should regularly check our details to stay informed of all the recent developments concerning the Call of Duty: Modern Warfare 2 release.