You're trying to stay on top of your emails, but your desktop looks like a jungle of PST files. Remembering where you saved that super-important client email is like hunting for a needle in a haystack. Does that sound familiar? Then you're in the right place. Welcome to your life-saver guide on how to merge multiple PST files using Stellar Merge Mailbox for Outlook.
We've all been there, haven't we? Trying to juggle a dozen PST files, each bursting with emails and attachments. It's a real headache. But with this guide, you can finally get that sorted out. Picture this: instead of rummaging through your cluttered mailbox, you'll have all your PST files merged neatly in one place.
In this comprehensive guide, we will journey through the complexities of merging multiple PST files, exploring the features and capabilities of Stellar Merge Mailbox for Outlook. From the basics of PST files to the step-by-step process of merging them, we will equip you with the knowledge and tools to regain control of your email universe.
Why You Need to Merge Multiple PST Files?
Regarding email clients, Microsoft Outlook is one of the few that has remained consistently popular over the years. Outlook has quickly surpassed other platforms as the standard for managing one's inbox, calendar, and contact information due to its wealth of features and streamlined design. Outlook saves the data in the form of PST and OST file types based on different email servers. And, as our online activities grow more complicated, we typically juggle many PST files, leading to a disjointed and messy Outlook experience.
You may have several Personal Folders (.PST) files saved in Outlook, each reflecting an independent inbox or a backup. With everything scattered over various PST files, it's increasingly more difficult to maintain tabs on your inbox, calendar, and contacts. This disarray not only slows down progress but also increases the odds of forgetting some crucial information along the way.
Juggling multiple PST files can be daunting if it is not done properly with the manual methods to merge multiple PST files, resulting in misplaced information, dips in productivity, and a compromised Outlook experience.
But, with the right tool at your disposal, you can turn this hurdle into an advantage, leading to improved organization and streamlined communication. Fortunately, there is a solution that can help consolidate your scattered PST files into a single, unified mailbox: Stellar Merge Mailbox for Outlook. With its advanced merging capabilities, this powerful tool simplifies merging multiple PST files, allowing you to regain control over your Outlook experience.
Introduction to Stellar Merge Mailbox for Outlook
Stellar Merge Mailbox for Outlook is a reliable and feature-rich software that seamlessly combines multiple PST files into a single, comprehensive mailbox. Whether you want to merge PST files from different Outlook profiles, accounts, or backups, this tool offers a user-friendly interface that effortlessly guides you through the merging process.
With the help of this tool, you may quickly and effortlessly combine numerous PST files or complete a mailbox, saving you a great deal of time and effort. The merging process can be accomplished in minutes with the software's intuitive UI. It supports different Outlook versions, profiles, accounts, and backups, which makes it a lot easier for you to combine data from many locations.
it also offers additional features such as file size optimization, duplicate removal, and data preview, ensuring the merged PST file is organized and error-free. Moreover, you will get 24/7 customer support from the software company if you have any questions about something problematic or if anything is causing trouble for you.
This awesome tool lets you merge all your PST files into one master inbox. You can think of it as a one-stop shop for all your emails, contacts, and calendar events, so you won't need to juggle different files or go on a wild email chase. With Stellar Merge Mailbox for Outlook, it's all at your fingertips in one tidy, organized space. It's time to reclaim control over your digital conversations and make Outlook a joy to use again. Trust Stellar Merge Mailbox for quality and dependability when it comes to tidying up your Microsoft mailbox.
Benefits of Merging PST Files
Think of PST files like a bunch of messy cupboards, each holding a different set of your stuff. Now, wouldn't it be way easier if all your information was nicely arranged in one big wardrobe? That's pretty much what merging PST files does for your emails, contacts, and calendar events. Given below are some benefits of having all of your mailbox data in one convenient digital closet:
Easy-peasy Management: All your data packed into one single file makes life a whole lot simpler. Rather than seeing files strewn about, they can be collected in one tidy binder.
Quick and Smart Search: With everything in one place, you can find that pesky email or elusive contact in a jiffy. Put an end to hiding and seeking with your files.
Safety First: With multiple PST files, you're at risk of losing or messing up your data. Merging them puts your data in a safe spot, ready for when you need it.
Super Speed: Too many PST files can make Outlook slow and frustrating. Combine them, and your Outlook speeds up and runs smoothly, giving you a no-stress experience.
Easier Data Migration: If you ever need to move your data to a new computer or email service, having everything in one PST file makes the shift a walk in the park.
Simple Backups: One big file is much simpler to back up than several small ones. This means your precious data is safe and sound, and can be restored easily if you hit a tech bump.
Neat and Tidy: Merge those PST files and clean up your Outlook. With less clutter, it's easier to find what you need and stay productive.
Step-by-Step Guide to Merging PST Files Using Stellar Merge Mailbox for Outlook
Here's your step-by-step guide to merging PST files using Stellar Merge Mailbox for Outlook:
Step 1: Launch the Application
Start by launching the Stellar Merge Mailbox software on your computer. You'll see the home screen where the magic begins.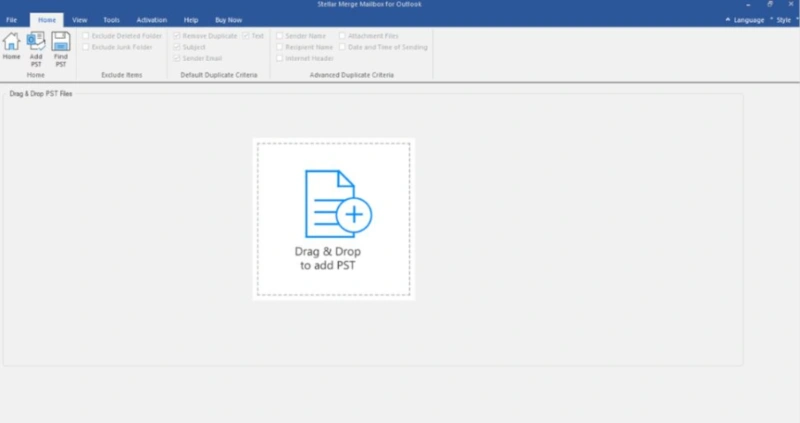 Step 2: Add PST Files
Click on the "Add PST" button to start adding the PST files you want to merge. Navigate to the location of these files on your computer, select them, and then click "Open." You'll see the selected files listed in the software.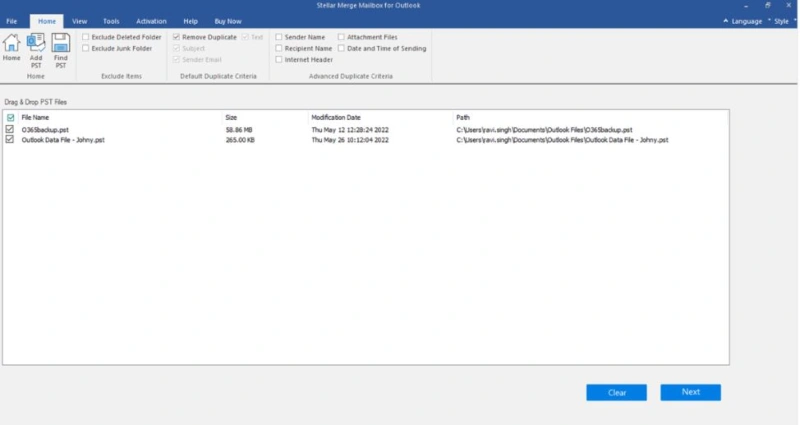 Step 3: Select Merge Option
Now, choose the type of merge you want. You can opt for "Join," where the PST files will be joined as separate folders, or "Merge," where the files are merged into a single PST file. You can also merge all your contacts by selecting the contact folder from the preview section to specifically merge Outlook contacts.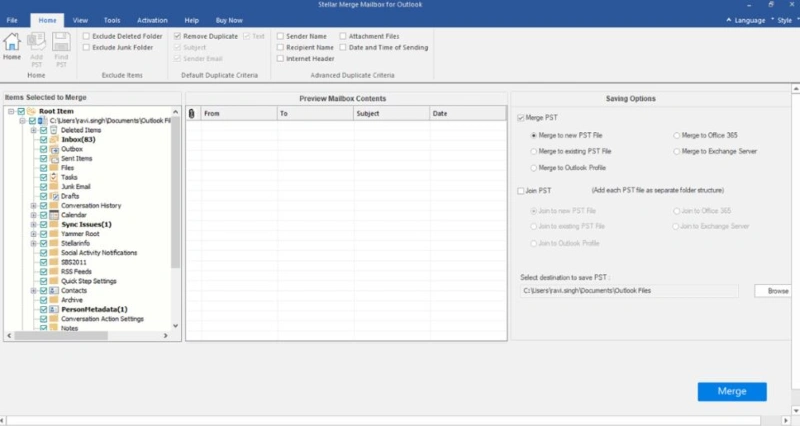 Step 4: Choose Destination Path
Click "Browse" to select the location where you want the merged PST file to be saved. This could be any folder on your computer.
Step 5: Start the Merge Process
Finally, hit the "Merge PST Files" button to start the process. A progress bar will appear, indicating the ongoing merge operation.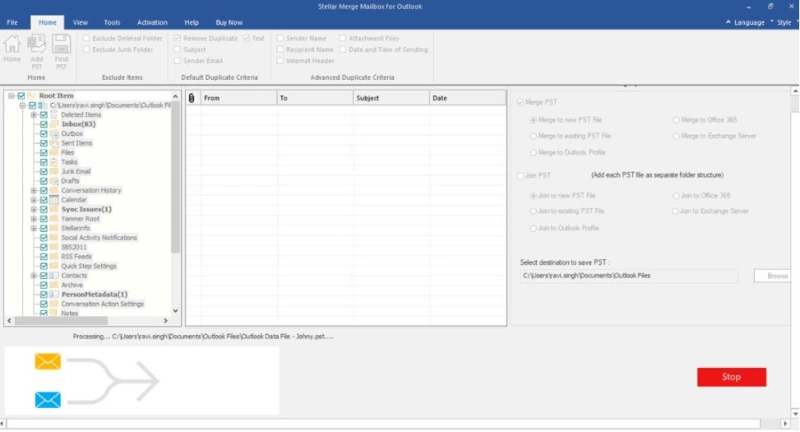 Step 6: Completion of Merge
Once the merge process is complete, a confirmation message will pop up, and the merged PST file will be saved at your chosen location.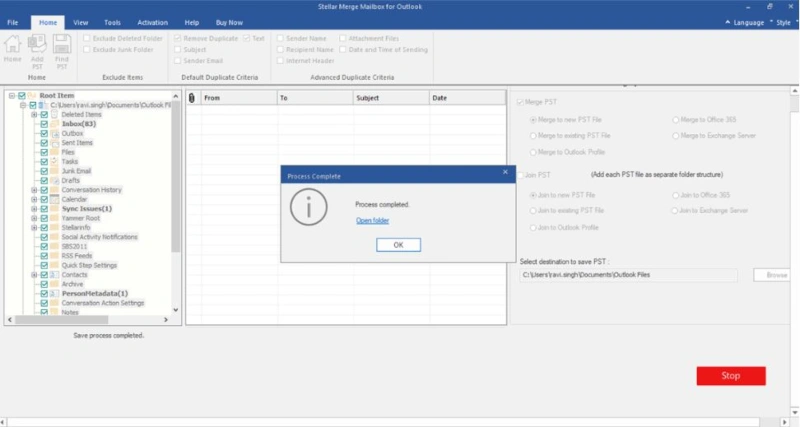 There you have it – a straightforward, confident guide to merging PST files using Stellar Merge Mailbox for Outlook. Remember, the organization is only a few clicks away.
Benefits of Using Stellar Merge MailBox for Outlook
The following are some of the top advantages of using this powerful tool:
User-friendly Interface: Stellar Merge Mailbox for Outlook boasts an intuitive and easy-to-navigate interface. Even if you're not tech-savvy, you can confidently merge PST files without a hitch.
Selective Merging: The software allows for selective merging, meaning you can choose specific files or folders within the PST files to merge. One of the greatest features of this software is it allows you to save the merged PST files to a new or existing PST, Outlook profile, Office 365, or Exchange server. This provides flexibility in managing your data.
Maintains Data Integrity: One of the key benefits of Stellar Merge Mailbox for Outlook is that it ensures the integrity of your data. It retains the original structure, format, and properties of your emails and other data during the merging process.
Previews Data Before Merging: Stellar offers the option to preview your PST files before you merge them. This means you can confirm the contents before proceeding, avoiding any unnecessary complications.
Supports Large PST Files: No matter the size of your PST files, Stellar can handle it. Large files? No problem. Stellar's robust functionality supports the merging of large PST files without any impact on performance.
Duplicates Management: This PST merge tool efficiently deals with duplicate items. It provides an option to remove duplicates during the merging process, ensuring a clean, consolidated file.
Wide Compatibility: The software is compatible with various versions of MS Outlook, including the latest ones. This means you can rely on it regardless of the Outlook version you're using.
High-Speed Operation: Stellar Merge Mailbox performs the merging process swiftly, saving you valuable time. With this software, you can promptly achieve your organized, consolidated Outlook dream.
Final Verdict
In today's rapidly shifting digital terrain, your Outlook data's safety and effective handling is no longer a luxury – it's an absolute necessity.
Merging your PST files isn't just about bringing together emails, contacts, and calendar entries. It's about refining your workflow, decluttering your digital space, and enhancing your Outlook environment.
Stellar Merge Mailbox for Outlook is a game-changing assistant in PST file management for your Mail service. It's dynamic features and user-friendly approach make the process of merging a breeze, offering a swift, efficient solution to your PST dilemmas. With this Outlook PST file merge tool, preserving data integrity, executing selective merging, eliminating duplicates, and managing large PST files becomes effortless, leading to a well-curated, efficient Outlook that enriches your overall digital journey.