⇒ Finally, hexacore processors overtook quad-core CPUs by May 2022.
Observations of gaming PCs from all over the world were collected and published in Steam's latest monthly survey. The mid-to-high-end GeForce RTX 30 family GPUs have seen some of the most significant price rises this month. The new price policies and increased supply have an effect since a few modifications are made. The survey results show that the Hexa-core CPUs have pushed back the quad-core chipsets to the second position and leading in the list.
In May, the Nvidia GeForce RTX 3080 and 3070 were the two fastest-rising graphics cards. The RTX 3060 and the previous GTX 1070 make up the third and fourth spots in the rankings. Until you get too excited about the GTX 1070's gains, keep in mind that as users sell their previous graphics cards to advance their PCs, more of these cards may become available again.
According to the Steam Hardware Survey, the RTX 30 range has grown at a snail's pace over the past few months. It's easy to see why gamers are avoiding upgrading, however. This first half of 2022 has had some extremely positive developments in GPU prices. After a long period of restraint, PC gamers are again making their purchases.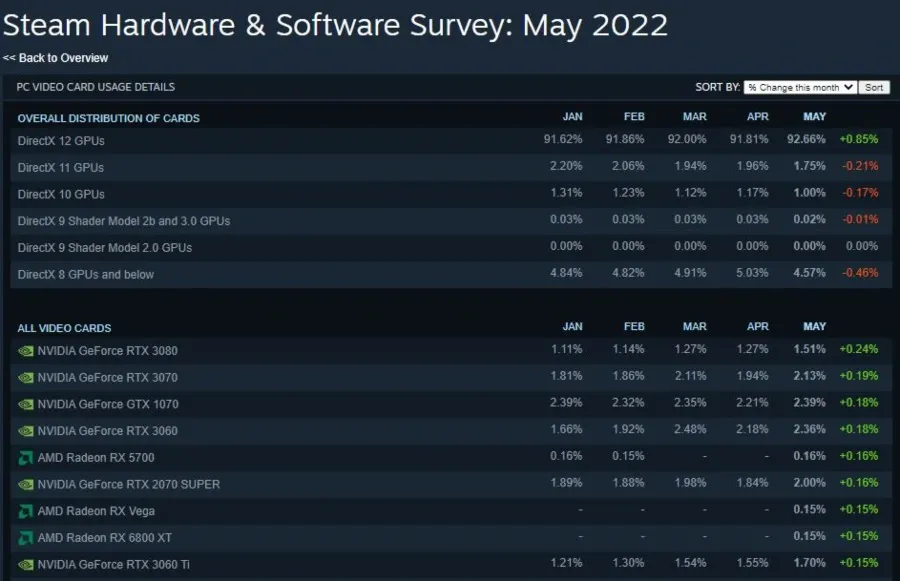 As of May, hexacore processors had reclaimed the top rank in the CPU cores race, dominated by quad-core CPUs since March. We expect Hexa-core CPUs to remain dominant for several months, if not years until octa-core chipsets or greater become commonplace in PCs.
Steam also shows the maker's CPU utilization. The previous month, a 1.24% rise in AMD shipments for Windows gamers outpaced a drop in Intel shipments. Looking at these statistics, you can notice the increasing use of quick Apple M1 in macOS devices. According to the most recent research, Apple Silicon has a market share of more than 40%.
Lastly, Linux users on Steam are gobbling up AMD CPUs like candy. Steam players who have this open-source operating system installed may see Intel and AMD start competing in fame.