If you are here reading this post then you must be in an urge to write weird text for your gaming profile, right?
Gamers are always looking for some fancy and weird fonts to use on their gaming profiles. Doing this, it will not only makes their profile looks better and cool but also enhances their gaming experience.
The gaming industry has grown to eclipse that of Hollywood in recent years. Some of the most popular and critically acclaimed video games of all time have won widespread acclaim because of their innovative and beautiful visual presentation.
And every gamer wants to reach the highest score on all of the latest and trending games therefore, they create a very appealing profile with fancy fonts.
But, the question that arises here is, how gamers can write weird text for their gaming profiles. To know the answer, we should first know what types of weird fonts are available to create text for gaming profiles.
In this post, we will discuss some of the widely use weird text fonts for creating gaming profiles and we will also discuss how you can use a weird text generator to create weird text for your gaming profile.
So, keep on reading!
Best Weird Text Fonts for Gaming Profile
Ethnique Font
Ethnique, as the name suggests, is an ethnic font well suited for ancient and tribally-themed video games.
It supports multiple languages and features a full set of letters (upper and lower case), numbers, and punctuation.
River Adventure Font
This gaming font is ideal for creating profile text for a game set in a jungle or other natural setting.
Its design is large and blocky, and the characters have a rough appearance. Both capital and lowercase characters are present in the font.
Vanderick Font
Fantasy video games served as inspiration for the design of Vanderick, a font. The font included Gothic-style lettering is perfect for making titles for horror and fantasy games, as well as for gaming channels and streams.
Zalgo Font
The unusual font is called "Zalgo Font," while "Crazy Font" is the most common nickname among its users.
This font style makes use of a nonstandard Unicode that can be used to generate diacritic marks. It is possible to use the Zalgo font in post descriptions on social media sites like YouTube and for gaming profiles.
Gameria Font
Online games of all kinds might benefit from using the cheerful and versatile Gameria font. If you place high importance on sticking out from the crowd, it is a worthy candidate for your hard-earned money.
Galactus Font
Galactus is a fantastic starting point for any title with a science fiction theme. It has a sleek cinematic design and a variety of weights (light, regular, bold, italic) to suit your needs.
Ligatures are a part of the font as well, you can definitely use this font to create text for your gaming profile that is both cool and attractive.
These are the few widely used fonts among gamers to create weird and fancy text for their gaming profiles, you can choose any of the above fonts to create text for your gaming profile.
But, how can you create text in such weird fonts?
How to Generate a Weird Text?
In this scenario where you need fancy names with a hectic search, you can take the help of a weird text generator for creating weird text for your gaming profile, or even if you are a developer you can use this tool to create text for the design of your games.
What is a Weird Text Generator?
A weird text generator is a tool that allows you to take any piece of text and transform it into something truly bizarre by replacing regular characters with a variety of strange Unicode symbols.
In real-time, it generates strange writing that looks like letters or numbers.
How to Use Weird Text Generator?
Follow these simple steps to generate a weird text for your gaming profiles with this tool:
Input your text into the box by typing or pasting it from another source.
You will see several weird texts for your given text, copy any weird text from the output box.
Copy the text and paste it wherever you like.
Example: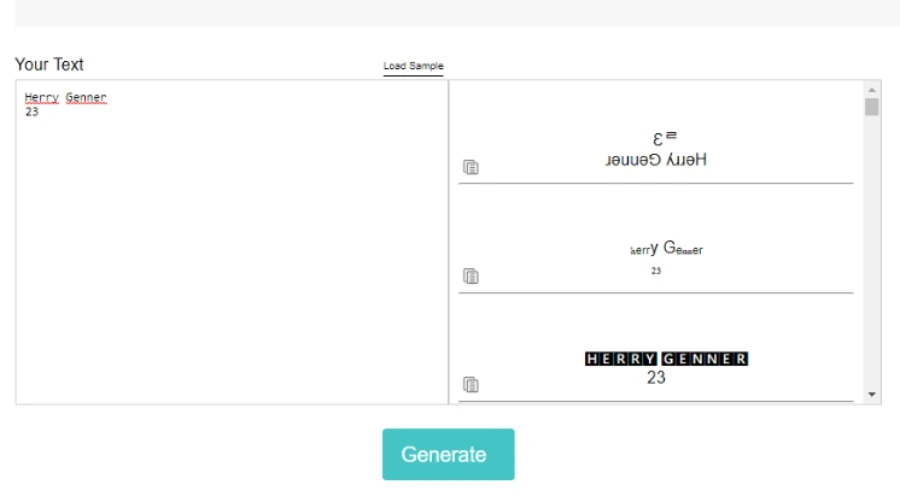 Why Should Gamers Use Weird Text Generator to Create Weird Text for their Gaming Profiles?
In a matter of seconds, this text generator can produce both bizarre and easily understood text.
Also, it has the best features for making odd letters, such as:
Just Cut & Paste: Simply copy and paste some regular text into the input field to make strange symbols.
Offers Data Snippets: You can quickly see if this online tool is functioning correctly by uploading sample data in the input box.
Produces Absurd Text: Using both standard ASCII characters and Unicode characters, the strange font generator produces some very bizarre stuff.
Adds More Weird Fonts: This feature allows you to supplement the output text with even more unusual fonts.
Make your material more presentable and eye-catching with the help of this fashionable text generator.
Where Else We Can Use Weird Text Generator?
You may use the generator to make strange avatars for social media platforms like Facebook and Instagram.
You can use this tool to construct stunning postings with enticing, eye-catching text that you have generated using the tool.
With this generator's advanced capabilities, your writing will have a greater effect than ever before.
To avoid wasting time looking for special fonts, you can utilize this handy tool.
In Adobe Photoshop and other image editors, you can use the crazy fonts produced by this generator to make your text stand out in a creative way.
Bottom Line
Gamers use different fancy and weird fonts to create their gaming profiles because such fonts make their profile more cool and attractive to others.
Therefore, in the above sections, we discussed some widely used fonts among gamers. If you are new to the gaming industry you can pick any font from the above-mentioned to create your gaming profile.
A Weird Text Generator is a very handy and free-to-use tool that supports multiple weird and fancy fonts for users which they can get within a few clicks.