Apple is now offering a second version of its affordable wearable device, two years after debuting the initial model. In many ways, the latest Apple Watch SE 2 is an incremental upgrade over the previous model released in 2020.
A few minor aesthetic tweaks have been made, and it now ships with watchOS 9, so you can expect significant performance improvements and new modifications. Remarkably, the cost of both GPS-only and cellular-enabled editions has decreased.
Here's what you should know before placing your Apple Watch SE 2 (2022) pre-order.
Apple Watch SE 2 (2022) Release Date
At its "Far Out" ceremony on September 7, Apple formally unveiled the second-generation Watch SE, the Watch Series 8, and the latest Watch Ultra.
Pre-orders for the GPS-only and cellular variants can be placed immediately, with deliveries scheduled for September 16. If you get a notification saying the Apple Store is temporarily unavailable, don't worry about that.
Apple Watch SE 2 Price
Apple's New Watch SE 2 prices are comparable to those of the previous model. These are the approximate costs:
Apple Watch SE 2 (40mm, GPS) – from $249/£259
Apple Watch SE 2 (40mm, GPS + Cellular) – from $299/£319
Apple Watch SE 2 (44mm, GPS) – from $299/£319
Apple Watch SE 2 (44mm, GPS + Cellular) – from $329/£349
Prices range is $30 lower in the USA from the initial model, however, in the UK, the costs are $10-£20 higher.
The Apple Watch SE (GPS) can be purchased for as little as $279 (or £249)
The Apple Watch SE (GPS + Cellular) starts at $329 (or £299).
The cost of each variant increases dramatically if you would like a more strong appearance or a new set of bands.
Apple Watch SE 2 (2022) Design & Features
It was expected that Apple would make only minor changes to the design of the Apple Watch SE 2, even though two years had passed since the release of the first model. As it turns out, that is the exact situation, still, this watch features a few noteworthy enhancements that have yet to be discussed.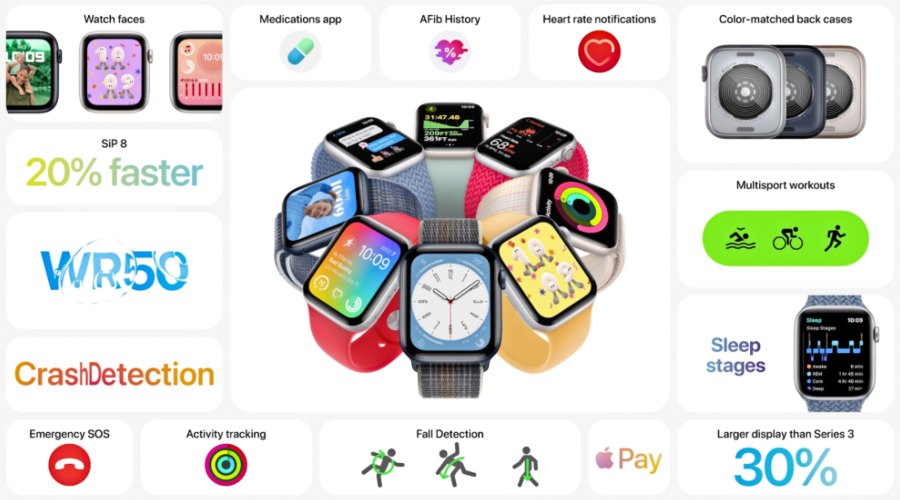 New S8 Chip
Over time, Apple has made potential improvements to its smartwatches, notably in how it processes information. The leading Apple Watch Series 7 had superb all-around functionality, in contrast to earlier models hampered by slow app launch times.
Since the Series 8 Watch will be using Apple's new S8 chipset, this should get much better. Moreover, the Watch SE 2 will run on the same chipset, so there won't be any performance drops. It has to be seen whether the claimed 20% performance boost over the previous stands true in actual use, although Apple is confident it will.
Color-coordinated Back Cases
It's a bit of adjustment, although it will help the Watch SE 2 look less jarringly different from its predecessor. It does not matter if you go with silver, midnight, or starlight—the back case (typically worn on the wrist) will always be a similar color.
Crash Detection
Crash detection is another new option for the Watch Series 8 that will also be available on the Apple Watch SE 2 (2022).
Apple has upgraded the wearable with two additional accelerometer sensors, making it possible to see if a vehicle has been rolled over or is being struck from the side. The Watch SE will then be able to alert the appropriate authorities and people in your network that you have been in an incident.
watchOS9
While not unique to Apple's new Watch SE, it is essential to remember that watchOS 9 will be pre-installed on every unit. While this upgrade to Apple's software may seem tiny, there are a few noteworthy additions to keep in mind.
Among these include the ability to monitor medications, sleep patterns, and workouts in greater detail. Also included are updates to Family Setup, new watch faces, and the possibility of receiving notifications in banner form instead of full-screen overlays.
Apple also revealed a brand-new low-power mode for watchOS 9 in the event. That is a great way to extend the time between charges for those who like to wear their Watch SE to bed with them all night.
All the other features, such as the OLED screen (40mm or 44mm depending on the model), waterproof, fall detection, emergency SOS button, and optical heart sensor, are the same.